Alexander Shorokhov took inspiration from the mighty river Neva, that flows through Saint Petersburg, for the successors of the new NEVA series.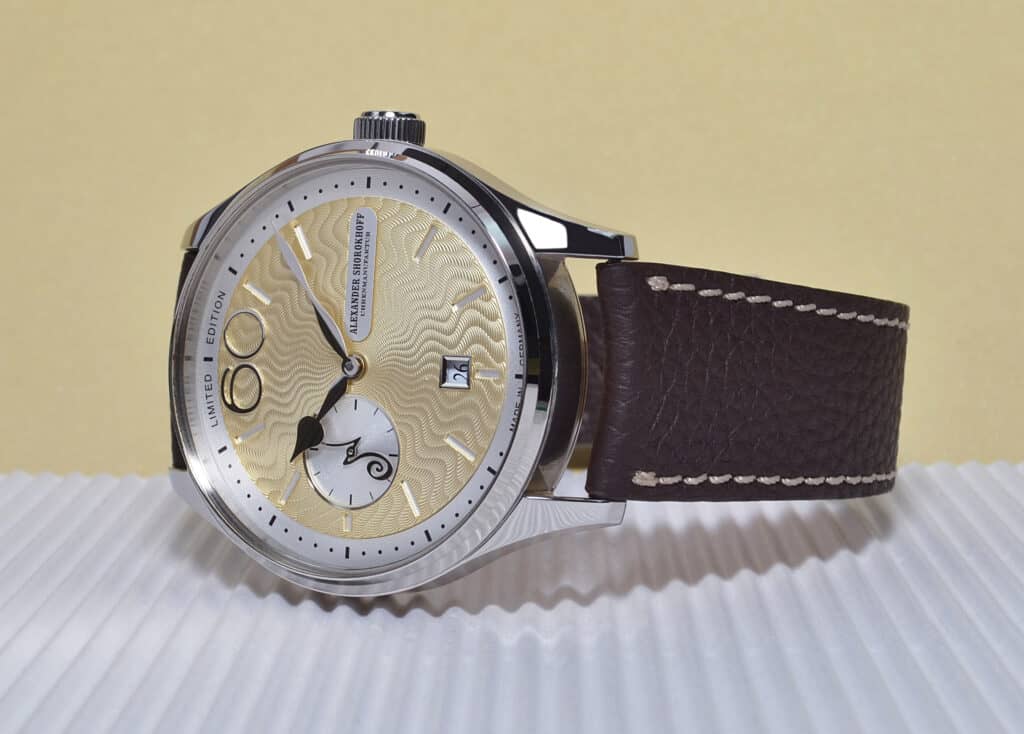 In this new colour version, Alexander Shorokhov has concentrated more on the magnificent, historic centre of Saint Petersburg, which has 2,300 palaces, magnificent buildings and castles that have been registered since 1991 as a UNESCO World Heritage Site under the collective term Historic Centre of Saint Petersburg and Related Groups of Monuments.
Alexander was particularly taken with the Amber Room, which is a state room whose walls were covered with amber, gold and mirror elements. Tsarina Elizabeth had it installed in the Winter Palace in St. Petersburg in 1741 and finally in the Catherine Palace in Tsarskoye Selo (Tsar's Village) in 1755.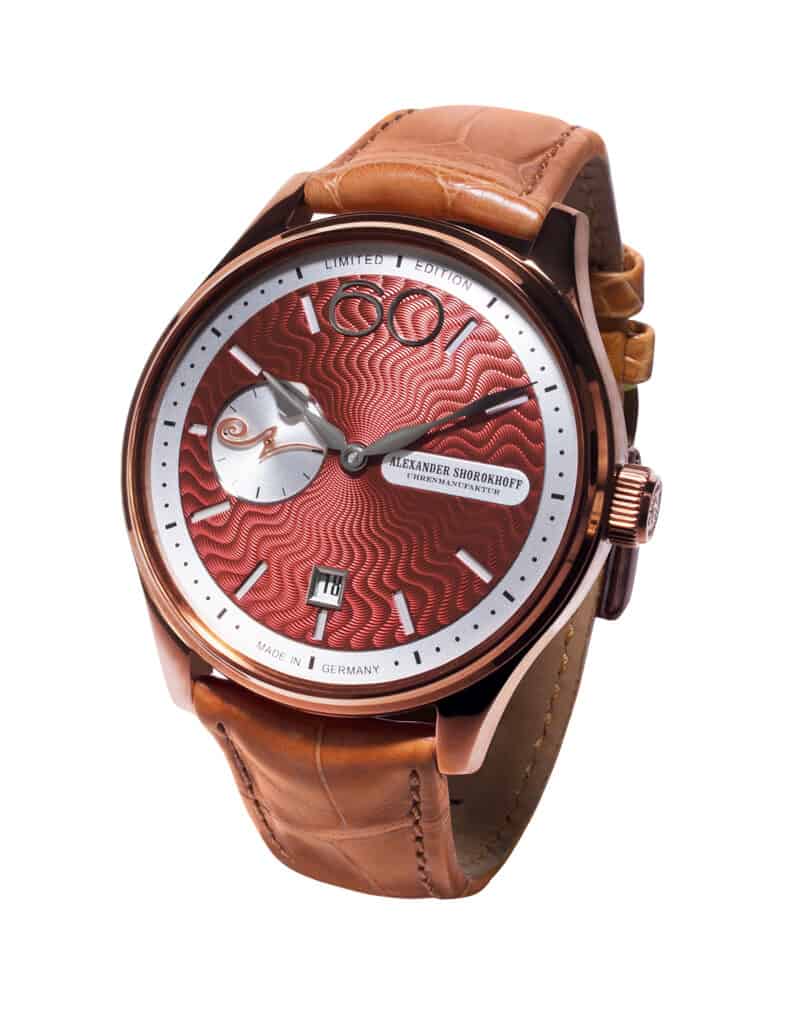 The wavy guilloché of the dial and the small curved second hand, which bears the shape of the letter "N" and thus refers to the name of the watch and the splendor of the city, remain as in the previous models. The other two variants get a brownish IP coating, an ion plating. IP coating is a vacuum-based and plasma-assisted coating technique that belongs to the physical vapor deposition (PVD) processes. First, the surface is cleaned by bombarding ions. Next, the metal to be coated is supplied with the vapor of the higher-quality metal – sometimes gold, but also with other metal ions such as titanium, while it continues to be bombarded with ions. A layer of the second metal is thus formed on the metal. During this process, the metal to be coated is strongly heated. This, together with the continuous ion bombardment, modifies the properties of the newly formed layer and improves its durability.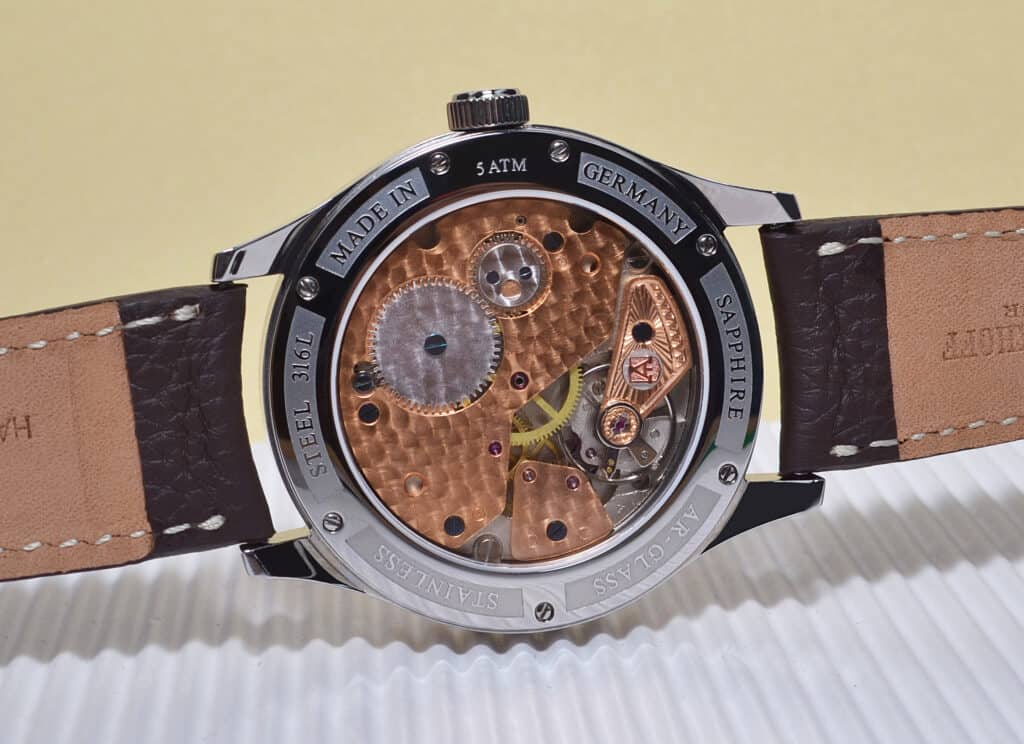 For the movement is used Russian caliber 3105.Poljot, which is derived from the Swiss Valjoux caliber 7734, but without chronograph function. The movement is completely overhauled, re-oiled, adjusted and tested at the "Alexander Shorokhoff" watch manufacture. The bridges, as always with "Alexander Shorokhoff" brand watches, are hand-engraved or cloud-cut, and the screws are polished and blued. This beauty can be viewed through the sapphire crystal bath. These movements are no longer reproduced today. However, the "Alexander Shorokhoff" watch manufactory has secured a limited quantity and produces this series in a small limited edition.
| | |
| --- | --- |
| Technical data NEVA – AS.NEV02-2 Case | Stainless steel case, IP brown plated, brushed and polished with one-sided anti-reflective and cambered sapphire – front glass; sapphire crystal back; 5 atm water resistant; diameter: 43.5 mm; height 11.5 mm |
| Movement | Mechanical hand-wound AS.3105, partially hand-engraved and finished, with blued screws, power reserve approx. 42 hours; Functions: Hours and minutes, decentralized seconds at 9 o'clock, date |
| Strap | Crocodile leather strap |
| Buckle | Engraved solid stainless steel pin buckle |
Limitation: 98 pieces
Price 2021: €1298 EUR
| | |
| --- | --- |
| Technical data NEVA – AS.NEV01-2 Case | Stainless steel case, brushed and polished with one-sided anti-reflective and cambered sapphire – front glass; sapphire crystal back; 5 atm water resistant; diameter: 43.5 mm; height 11.5 mm |
| Movement | Mechanical hand-wound AS.3105, partially hand-engraved and finished, with blued screws, power reserve approx. 42 hours; Functions: Hours and minutes, decentralized seconds at 9 o'clock, date |
| Strap | Calfskin strap with light quilted stitching |
| Buckle | Engraved solid stainless steel pin buckle |
Limitation: 49 pieces
Price 2021: €1150 EUR
| | |
| --- | --- |
| Technical data NEVA – AS.NEV02-4 Case | Stainless steel case, IP brown plated, brushed and polished with one-sided anti-reflective and cambered sapphire – front glass; sapphire crystal back; 5 atm water resistant; diameter: 43.5 mm; height 11.5 mm |
| Movement | Mechanical hand-wound AS.3105, partially hand-engraved and finished, with blued screws, power reserve approx. 42 hours; Functions: Hours and minutes, decentralized seconds at 9 o'clock, date |
| Strap | Crocodile leather strap |
| Buckle | Engraved solid stainless steel pin buckle |
Limitation: 98 pieces
Price 2021: €1298 EUR
| | |
| --- | --- |
| Technical data NEVA – AS.NEV01-4 Case | Stainless steel case, brushed and polished with one-sided anti-reflective and cambered sapphire – front glass; sapphire crystal back; 5 atm water resistant; diameter: 43.5 mm; height 11.5 mm |
| Movement | Mechanical hand-wound AS.3105, partially hand-engraved and finished, with blued screws, power reserve approx. 42 hours; Functions: Hours and minutes, decentralized seconds at 9 o'clock, date |
| Strap | Calfskin strap with light quilted stitching |
| Buckle | Engraved solid stainless steel pin buckle |
Limitation: 49 pieces
Price 2021: €1150 EUR
For more information please visit https://www.alexander-shorokhoff-shop.de