Breguet have created two new timepieces with a minute hand that adopts a variety of shapes in the course of its path around the dial.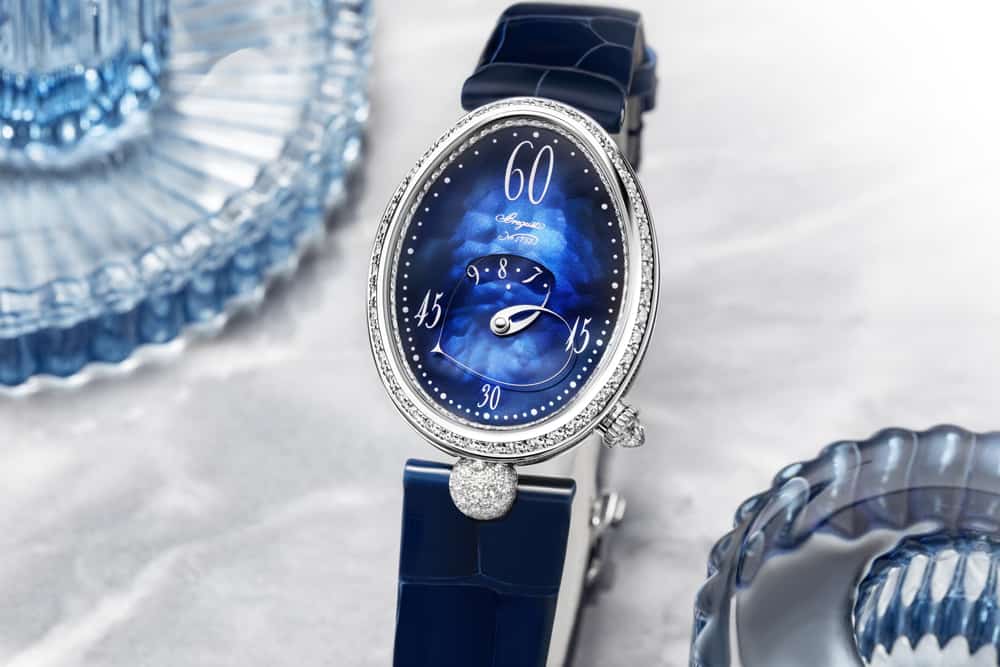 First delivered in 1812 to Napoleon's sister, the elegant Caroline Murat, Queen of Naples, the Reine de Naples collection draws inspiration from the first-ever wristwatch. It is an emblematic example of feminine-oriented watchmaking from Breguet.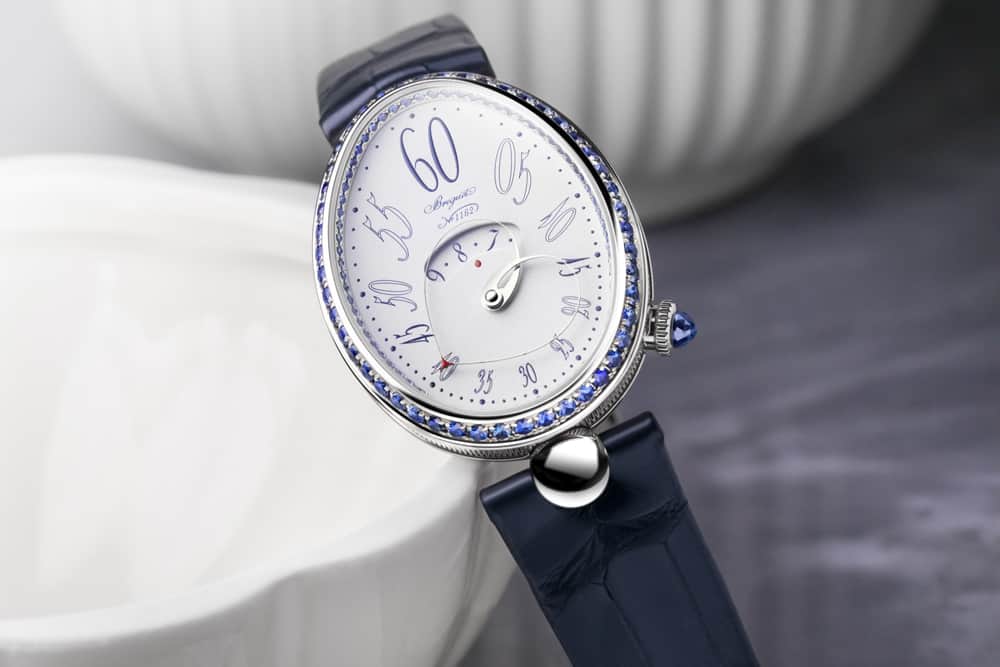 The Reine de Naples was originally oblong in shape, and has now become oval, featuring curves making it instantly recognisable. Each model in the contemporary collection – whether gem set, engraved or lacquered – is exquisite in every detail. This new interpretation by Breguet is no exception to the rule, with these two new timepieces distinguished by their inherent originality.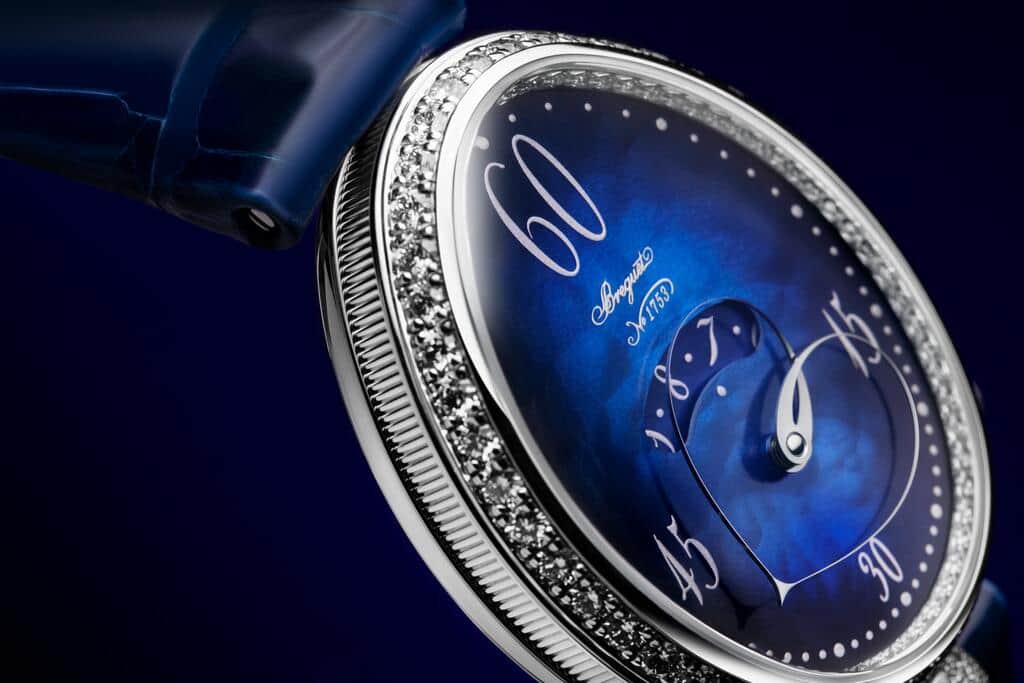 Both models have variable length hands displaying the minute and a disc revealing the hours in a window. The flexible minute hand devised by Breguet – protected by several patents – is as admirable as it is intriguing. The magic of an ingenious mechanism enables it to change shape according to its position on the oblong dial.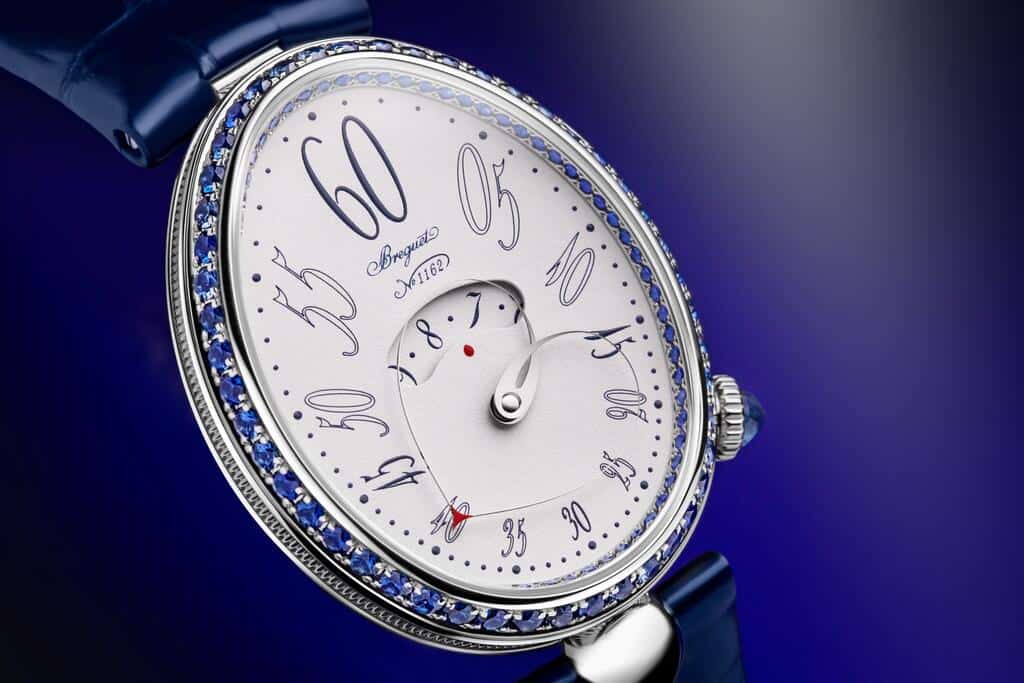 The variable-length minute hand is composed of two arms linked at one end yet independent of each other. These arms change shape thanks to a clever set of gears. The hand thus plays with the dial by appearing in different guises when it is stretched at 12 o'clock and then more rounded at 6 o'clock. 
Technical Specifications:
Reine de Naples: 9835BB/5Y/964 DD0D 
20-piece limited edition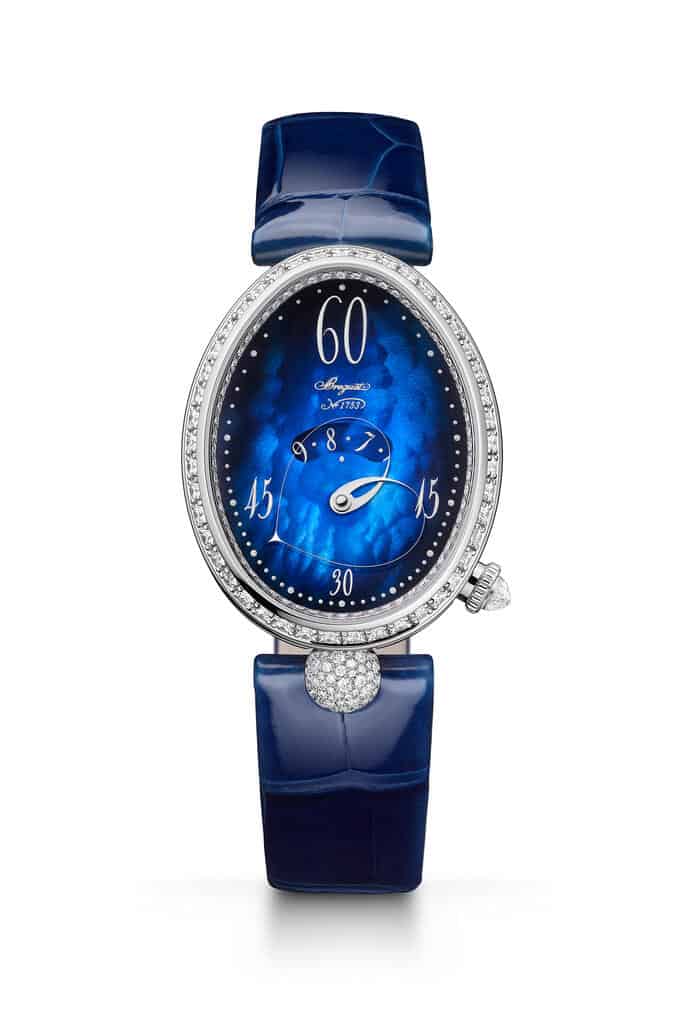 Case: 18K white gold, sapphire caseback, bezel, flange and lugs set with 161 diamonds, crown set with a diamond
Dimensions: 36.5 mm X 28.45 mm
Thickness: 11 mm
Dial: blue mother-of-pearl
Hands: variable-length hand indicating the minutes and disc displaying the hours through an aperture
Movement: self-winding with platinum oscillating weight
Escapement: in-line Swiss lever escapement, with escape-wheel and flat balance spring in silicon
Water resistance: 3 bar (30 m)
Calibre: 78A0 
Frequency: 3.5 Hz 
Power reserve: 40 hours 
Strap: blue alligator leather, folding clasp set with 28 diamonds 
Price: RRP £48,100.00 (incl. VAT)
Reine de Naples: 9838BB/B8/364 S00S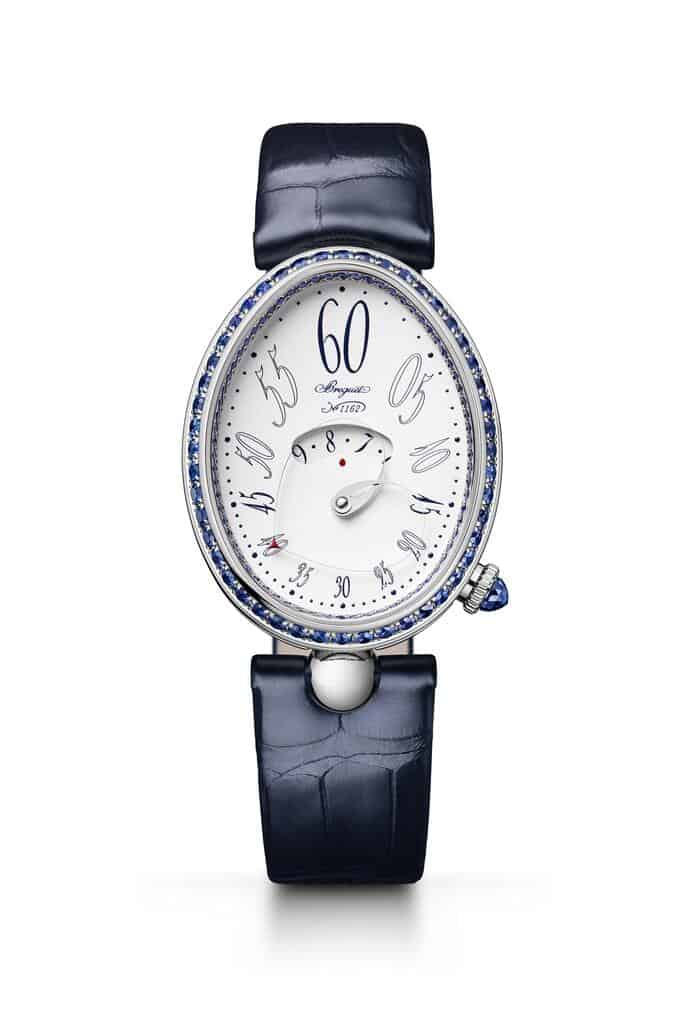 Case: 18K white gold case, fluted caseband, bezel, flange and crown set with blue sapphires
Dimensions: 36.5 mm X 28.45 mm
Thickness: 11 mm
Dial: white lacquered
Hands: variable-length hand indicating the minutes and disc displaying the hours through an aperture
Movement: self-winding with platinum oscillating weight
Escapement: in-line Swiss lever escapement, escape-wheel and flat balance spring in silicon
Water resistance: 3 bar (30 m)
Calibre: 78A0
Frequency: 3.5 Hz 
Power reserve: 40 hours 
Strap: blue alligator leather, folding clasp set with 28 blue sapphires 
Price: RRP £43,500.00 (incl. VAT)
For more information please visit Breguet