The term iconic is often used when mentioning certain brands, but when it comes to Ferrari's prancing horse logo, 'Cavallino Rampante', and the famed red racing cars these must surely make Ferrari one of the world's most recognised brands.
As is well told the story of Ferrari and its first race winning car began in 1947 when founder Enzo Ferrari found success with a Ferrari 125 S at the Rome Grand Prix. In fact, Enzo Ferrari had himself started his racing career as early as 1919 as a driver and went on to become team manager for the famous Alfa Romeo racing team in the 1930's. This period from the early 20th century also saw the evolution of the modern wristwatch and it wasn't long before the world of horology and motorsport came together. Primarily this was driven by the need to measure speed and distance accurately and saw the use of chronographs at motor racing events. Like the early pioneer aviation pilots, the pilots of racing cars soon started sporting wristwatches. The rest has become legend including Heuer watches such as the Carrera, and Monaco from the 60's and 70's to today's Formula 1TM paddock with drivers sporting Richard Mille watches to name just one brand currently associated with the sport.
Over the years the famous Ferrari logo has appeared on watch dials from several watch brands including for example, Girard-Perregaux, Panerai, and Richard Mille who recently introduced the ultra-thin and advanced RM UP-O1 Ferrari.
So, for Ferrari and motorsport fans alike and indeed watch lovers an upcoming Christie's auction in Geneva titled 'Legendary and Unique Watches' on 6 November offers a chance to own some very special and incredibly rare Ferrari themed watches.
Apart from the Ferrari themed watches the auction also includes watches by some of the most prestigious watch brands including Audemars Piguet, A. Lange & Söhne, and Patek Philippe and Rolex. There are also a group of Richard Mille early prototype wristwatches as well as rare production pieces including 'Rafael Nadal' models. Featured below is one of the Richard Mille watches in the auction, an extremely rare RM56-01 Tourbillon Sapphire estimated at CHF 2,500,000 to CHF 4,500,000.
"This sale marks a unique opportunity for watch and car enthusiasts around the globe to acquire one-of-a-kind timepieces, many of which directly reflect the world of motor sports."

Alexandre Gouverneyre, Christie's Watches Specialist
Vacheron Constantin 'Mercator' with a special Ferrari Enzo cloisonné enamel dial.
This stunning looking Vacheron Constantin platinum 'Mercator' watch, (pictured above) is fitted with a specially commissioned cloisonné and painted enamel dial depicting a 'Ferrari Enzo' car. The dial was hand-made made by Vacheron Constantin's world renowned 'Metiers D'Art' department. Below the image of the red Ferrari sports car depicted on the dial there is a facsimile signature for "Enzo Ferrari". The watch also features a special 21K gold rotor skeletonized and chased with the Ferrari prancing horse emblem, and a personal dedication.
The watch a 'Mercator' model, Ref. 43050 is from circa 2003 and has an automatic movement with a 36 mm diameter case. The watch was originally released in 1994 to commemorate the 400th anniversary of the death of the 16th century cartographer Gerardus Mercator. Very distinctively time is shown via a double retrograde mechanism with hands in the form of a pair of cartographer's dividers. When the hour hand reaches 12 and the minute hand reaches 60, the respective hand 'flies' back to its starting position.
Lot 2109: Estimated at CHF 100,000 – CHF 200,000
An incredibly rare F.P. Journe, Ferrari Centigraphe Souverain chronograph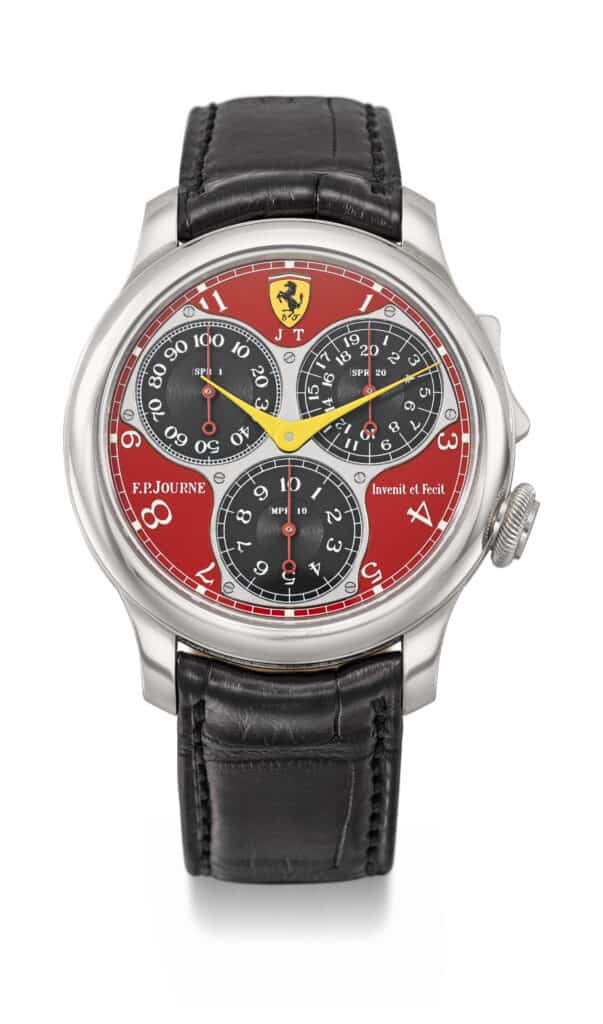 Complete with its signature F.P. Journe dial plus the Ferrari logo and Ferrari red background this is a standout piece. Indeed, this watch is number 1 of only 3 underscoring its rarity. From circa 2008 the watch has a platinum case, with sub dials showing 100th of a second, 20 seconds, and 10-minute registers. The case diameter is 40 mm and comes with a certificate and presentation box.
As Christie's note in their cataloguing, the manually wound mechanical movement is the first in the world equipped to measure elapsed times from a 100th of a second to 10 minutes. The watch is equipped with a patented re-set button in the band at two o'clock, which can be rocked back and forth to make the chronograph start, stop or return-to-zero. This system is an ingenious variation of the standard buttons used in chronograph watches on each side of the crown. Moreover, the maintaining power and power reserve in this watch are highly efficient. The mainspring barrel features a maintaining power system to ensure that the driving force does not decrease during winding. Without utilising the chronograph function, the mainspring can supply a minimum of 100 hours of power reserve and 24 hours if the chronograph is being operated continuously.
Lot 2110: Estimate CHF 800,000 – CHF 1,400,000
Girard-Perregaux, a Tourbillon watch celebrating Michael Schumacher's 5 Formula 1TM World Championship titles, (from circa 2002)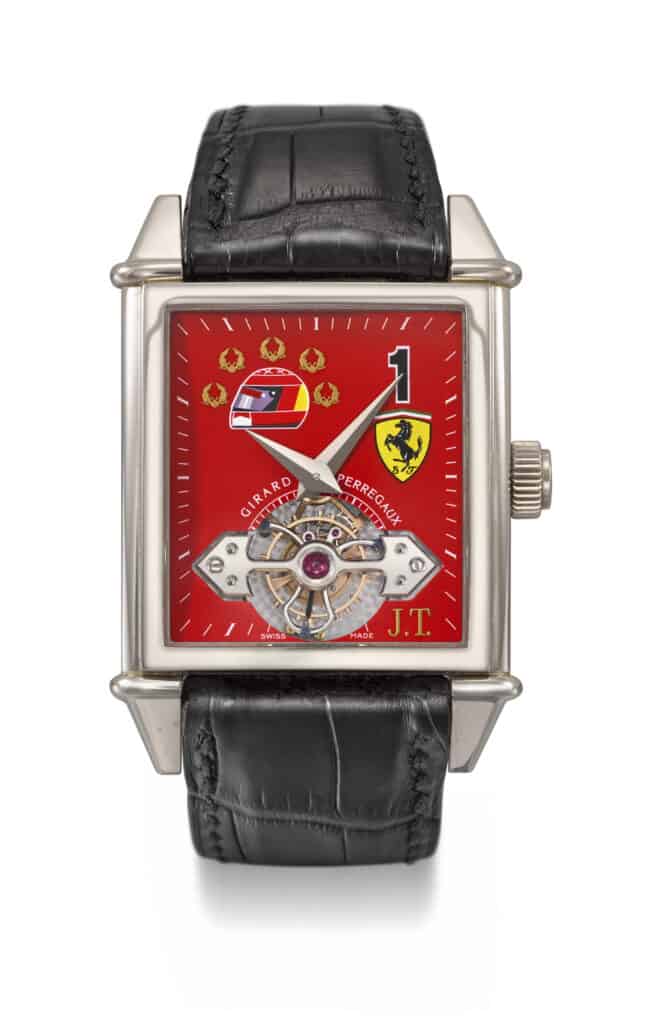 Made by Girard-Perregaux this watch was specially commissioned to celebrate Michael Schumacher as a 5 times Formula 1 World Champion, (in total Schumacher achieved 7 Formula 1TM World Championships during his career). Based on Girard-Perregaux vintage Tourbillon automatique model complete with a special-order Ferrari / Schumacher inspired dial. The watch is number 2 of 3, from circa 2002. The case is 18K white gold and 32 mm. The watch comes complete with a Certificate of Authenticity dated 2002, product literature, key, presentation box and outer packaging. The dial is in Ferrari red with a Ferrari logo emblem, "1", and Schumacher's racing driver's helmet surrounded by 5 champion's laurel wreaths.
Lot 2008: Estimate CHF 80,000 – CHF 120,000
Sapphire crystal case adds extra sparkle to a Richard Mille Tourbillon watch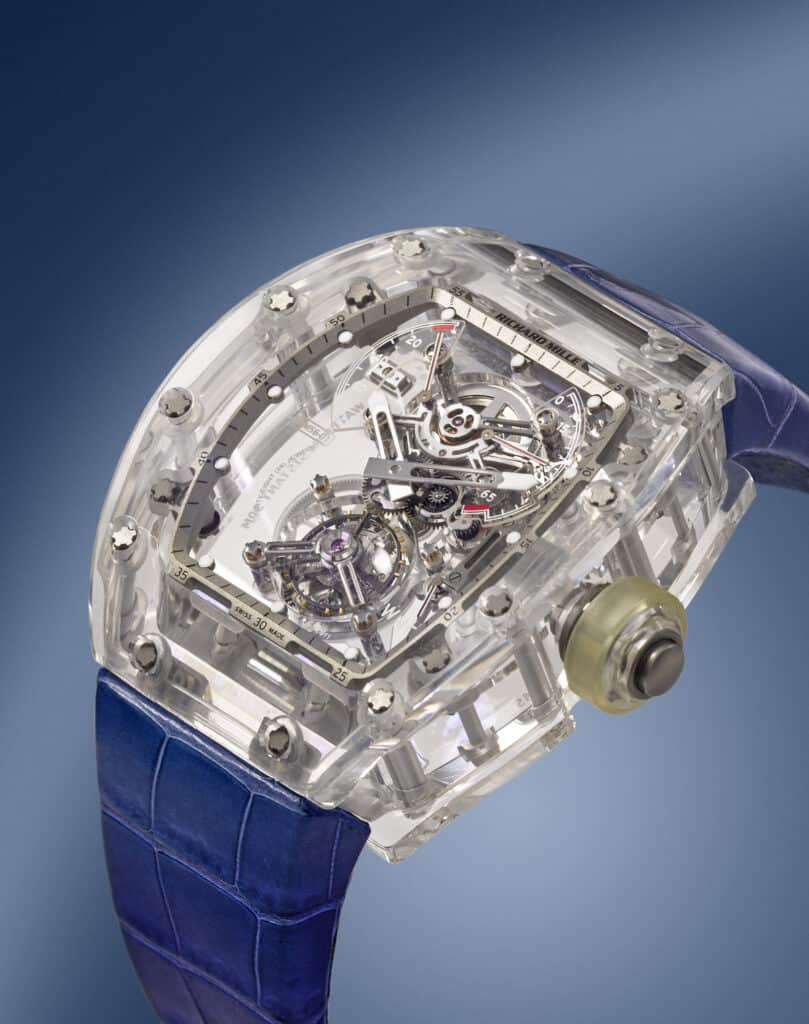 Noted by Christie's as 'extraordinary and extremely rare' this Richard Mille RM56-01 Tourbillon Sapphire has an auction estimate of CHF 2,500,000 – CHF 4,500,000. The case is made of transparent sapphire crystal and titanium. The watch is a limited-edition skeletonised tourbillon with power reserve and torque indictor from 2013. The case diameter is 42 mm wide and 50 mm in overall length.
Christie's also catalogue that to the best of their knowledge 'the watch is the first example ever to be offered at international auction'. Of the process involved in making the case they note that sapphire crystal is incredibly hard to machine, and the milling work was undertaken by world class specialists in sapphire crystal, Stettler of Lyss in Switzerland. Accordingly, the machining of the three case components took 40 days, 24-hours per day, followed by a further 350 hours to polish. Finally for even greater transparency, the base plate, central bridge and third wheel are all machined from sapphire crystal.
Lot 2096. Estimate CHF 2,500,000 – CHF 4,500,000
Copyright and Credits: © All photo images and quotes are courtesy and copyright of Christie's Images Limited 2022
For further information: Please visit Christie's
Note: If you are planning on buying a watch at auction from a location outside the UK always check first what the situation is with regard any duties and VAT liabilities should you import the watch into the UK. As with all auctions ask about fees and view condition reports in advance of the auction and attend the viewing days if possible. Be aware that all estimates are guides only and items may sell above the estimates. Many auction items will have also have a 'reserve' price and if bidding does not reach this reserve the item will not sell.