Every timepiece created by Sherpa Watches has a story. Each watch is hand built and represents the craftmanship of the German and Swiss watch makers, case manufacturers, dial creators and mechanical engineers involved.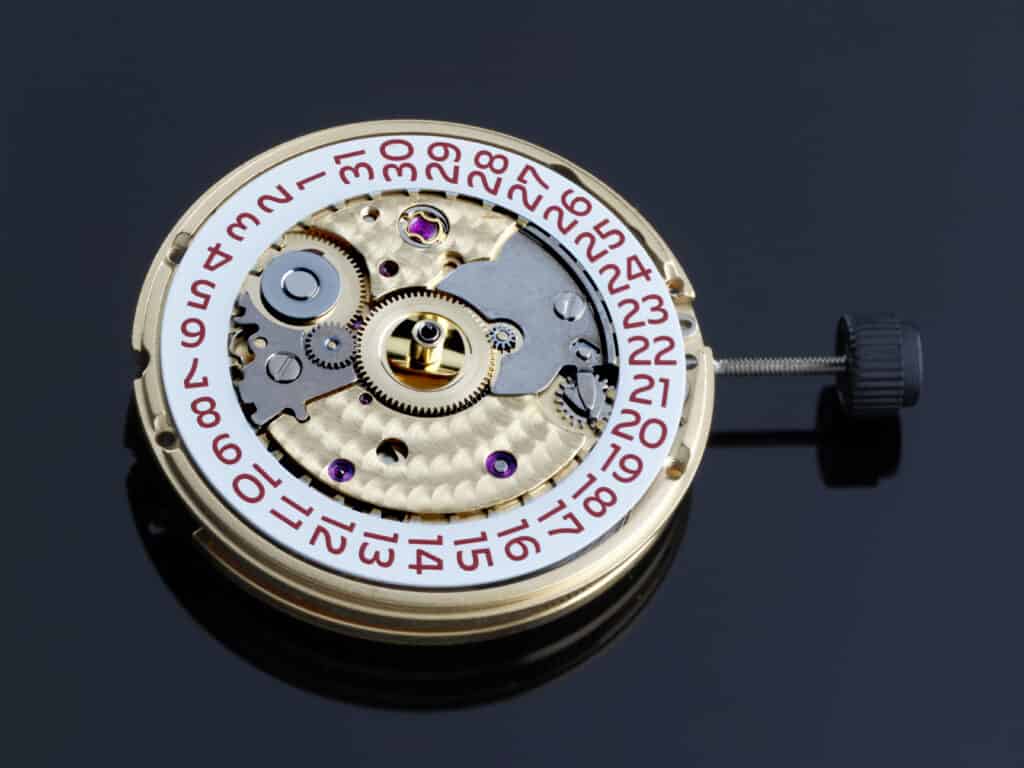 Sherpa combine the revolutionary watch case designs from the past with modern techniques and the highest quality materials to ensure their watches will stand the test of time. But, hidden beneath the surface of the Sherpa Ultradive and OPS watch dials and inside the movement there lies a fascinating unique feature. The mechanical movement inside is not a regular automatic; it is a Mantramatic!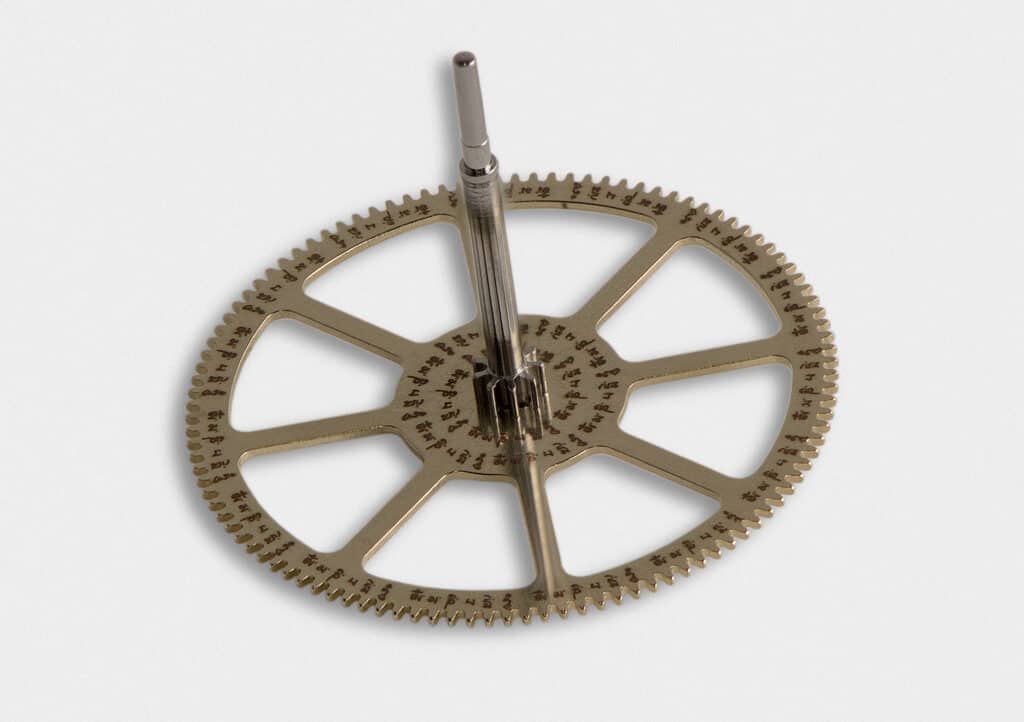 "We microscopically laser engraved the Tibetan Buddhist mantra OM MANI PEME HUNG very commonly used in the Sherpa region on two of the wheels. Following widespread Himalaya Buddhist tradition used in prayer-wheels, the gears in the movement rotate constantly, sending out vibes of love, wisdom, and compassion from your wrist straight into the world – 30 million times per year. With the naked eye you will not notice the mantra is there. Instead, you will feel it."

Martin Klocke, Founder, Sherpa Watches
Sherpa Watches, pay respect to the heritage of the great Sherpa watch models from the past. They also honour the Sherpa people whose reliability and toughness, yet at the same time friendly, relaxed and happy attitude are still well known around the world.
Virtually no expedition to the Everest and neighbouring mountains could do without the Sherpas. And even when there are no expeditions going on around the high mountains of the region, the Sherpas are active: regular cleaning expeditions, transporting masses of expedition relics, trash, and left debris down from the sacred mountains.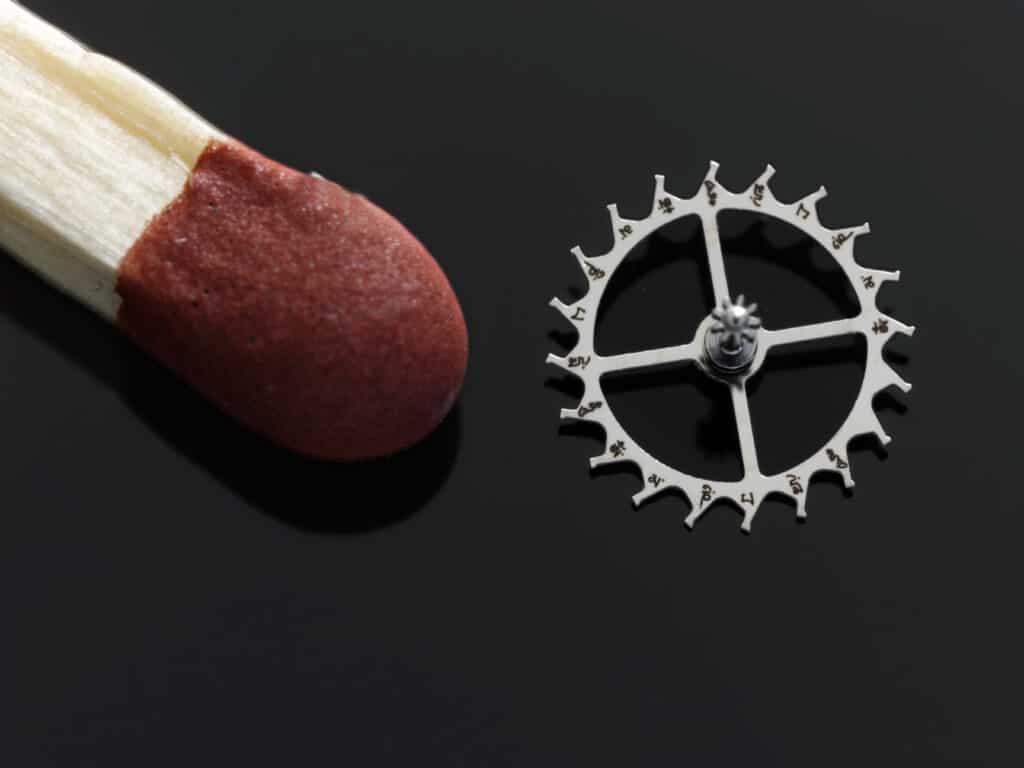 Sherpa Watches will donate a percentage of every watch sold and give it to a good cause in the Sherpa area in Nepal. For their first two watch models, they have chosen "Sagarmatha Next" in the Khumbu region and the "Nepal Himalaya Sherpa Foundation" in Kathmandu, both supporting different projects in the Sherpa regions of Nepal.
The Sherpa Ultradive and OPS models are now available for pre-order. The first batch of watches is intended to be delivered to customers by the end of the year.
For more information, please visit Sherpa Watches.
Technical Specifications:
The Sherpa Ultradive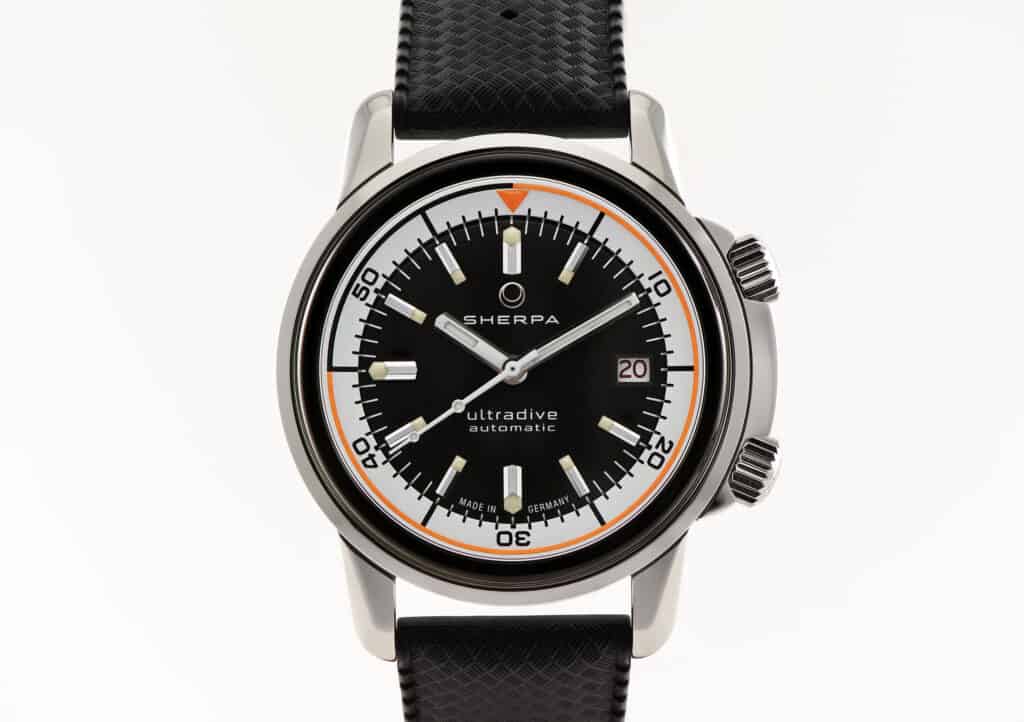 • Stainless steel case, polished, EPSA-STOP compressor case back construction
• Diameter / height: 40,0 / 13,5 mm
• Domed Sapphire box glass, internal anti-reflex coating and inner black metallisation on the outer rim
• 360 degree rotating inner bezel, marked with Swiss Super-LumiNova Grade X1
• Top compressor crown to operate the inner bezel (must be pulled for operation), no screw-down
• Full crown protection, to avoid entanglement and shocks while diving
• Bottom compressor crown to operate the hands and set the date, no screw down
• Domed box sapphire crystal with internal antireflex coating
• Fully water resistant up to 20 bar
• Mantramatic MM01 movement, based on Swiss made Sellita Calibre SW200-1 automatic, premium (top) grade, fine decor, gilt finish, custom rotor
• 38 hrs power reserve
• Sculpted lugs with 20 mm band width
• All components of the watch are produced and assembled in Germany and Switzerland
• Tropic style watch strap, made of robust vulcanised rubber – black or white
• Retail price: €5.900 incl. 19% VAT
The Sherpa OPS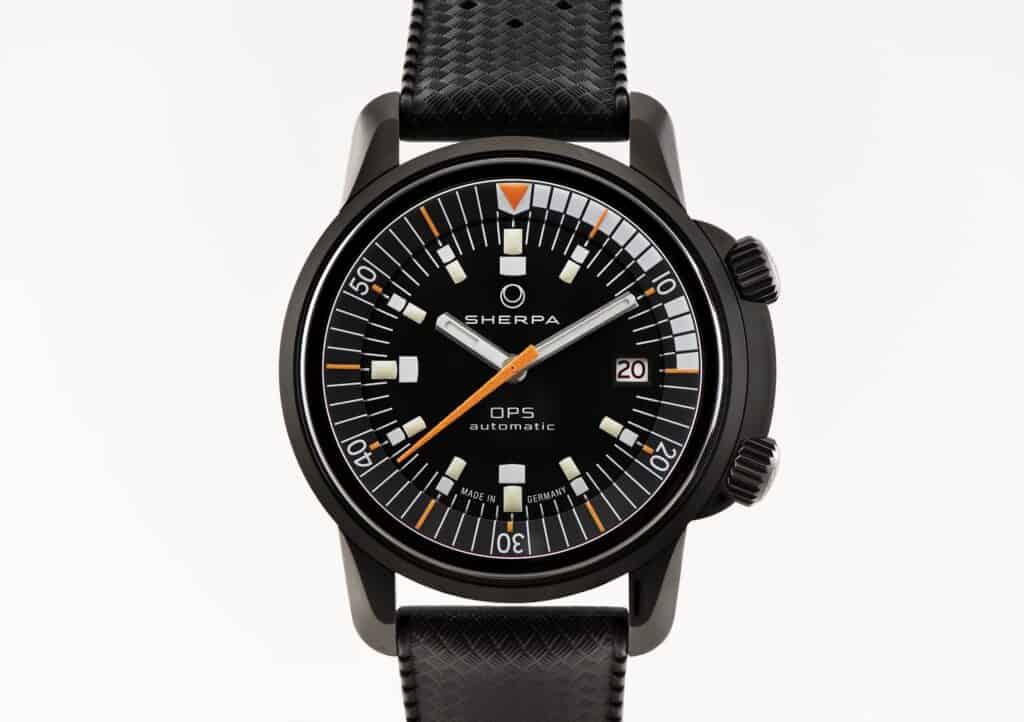 • Stainless steel case, very durable satin black DLC (Diamond Like Carbon) coating, EPSA-STOP compressor case back construction
• Diameter / height: 40,0 / 13,5 mm
• Domed Sapphire box glass, internal anti-reflex coating and inner black metallisation on the outer rim
• 360 degree rotating inner bezel, marked with Swiss Super-LumiNova Grade X1
• Top compressor crown to operate the inner bezel (must be pulled for operation), no screw-down
• Full crown protection, to avoid entanglement and shocks while diving
• Bottom compressor crown to operate the hands and set the date, no screw-down
• Domed box sapphire crystal with internal antireflex coating
• Fully water resistant up to 20 bar
• Mantramatic MM01 movement, based on Swiss made Sellita Calibre SW200-1 automatic, premium (top) grade, fine decor, gilt finish, custom rotor
• 38 hrs power reserve
• Sculpted lugs with 20 mm band width
• All components of the watch are produced and assembled in Germany and Switzerland
• Tropic style watch strap, made of robust vulcanised rubber
• Retail price: €5.800 incl. 19% VAT