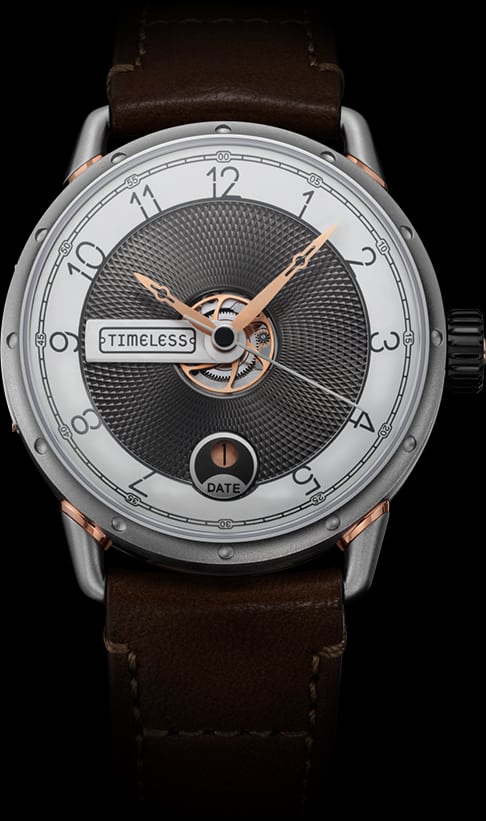 Timeless Watches began with a question: why is an original and attractive design usually associated with a high price tag? Then, thinking about watches, we turned the question around: why are affordable watches generally so insignificant? Why do they so rarely surprise, delight or provide lasting pleasure to their owners?
To do this, we knew that we had to define our own path, to put all our energy into a fresh perspective, to evolve in a spirit of independence, to be…Timeless.
As we sought to answer those questions, a more fundamental question arose – and to us it became a challenge. Rather than just accepting the status quo, why not create a completely new brand – designing timepieces that are both beautiful and functional; useful and a pleasure to wear? Objects to become attached to. Watches that speak of our individual styles. Watches for the way we live in the 21st century. Memorable, distinctive designs that transcend fashion. Watches that make us feel good – without ruining us.
Over the past decade, as an industrial designer, watch designer and architect, Maël Oberkampf (Founder of Timeless Watches) had the honour of working for some of the greatest names in the business. Design is in his blood. So are watches. And so is Switzerland (naturally our timepieces had to comply with the Swiss Made label). Even the name we chose to express time is based on a paradox: Timeless
But there's a paradox at the heart of what we do. We love traditional watchmaking as much as we love contemporary design. We have a deep respect for the values of the watch business and yet we have defied the received wisdom about how we should produce our watches – and how we should market them. (As watch enthusiasts, we take great pleasure in talking directly to our customers and fellow amateurs.) We're committed to ensuring that every Timeless watch will look great, be beautifully crafted and deliver solid performances – and we're equally determined that it will cost only a fraction of the price you might expect to pay.
For more information please visit Timeless Watches
Timeless Watches on MrWatchMaster: