By Richard Fox
Expect the online watch auction space to become even more competitive this year. If anything, 2020 proved the watch auction market was ready to fully embrace online bidding. For 2021 – while we all hope for an end soon to lockdowns and restrictions – online watch auctions will I believe continue to attract attention. To get a sense of the importance of online watch auctions in 2020 some statistics provided by Sotheby's Watch Department demonstrate this fact. In 2020 of all Sotheby's watch lots 92% went to online buyers, this being up 60% over 2019. Sotheby's also cite that the average price for watches sold online across all sales is up 50% compared to 2019.
But it was not just watch auctions that saw this shift online. Other key luxury collector categories also experienced a move to online buying during 2020. As, Andrew Shirley, Partner and The Wealth Report Editor at Knight Frank, (Global Property Consultants), commented recently, when speaking about auction highlights in 2020. His examples included a purple-pink diamond, a William Shakespeare manuscript, a vintage Bugatti, Michael Jordan's trainers and Paul Newman's Rolex Daytona Ref. 6263 (see main picture at the top of this article).
"…Covid-19 and its impact on live auctions hasn't dented the enthusiasm for those who collect what we term luxury investments or investments of passion…as the year progressed buyers became more relaxed about bidding many millions of dollars for works of art they had not seen, even via apps on their smartphones…"

Andrew Shirley, Partner & The Wealth Report Editor, Knight Frank
Andrew's comments were made at the online release of Knight Frank's latest Wealth Report on 2 March 2021. You can read more about The Wealth Report below.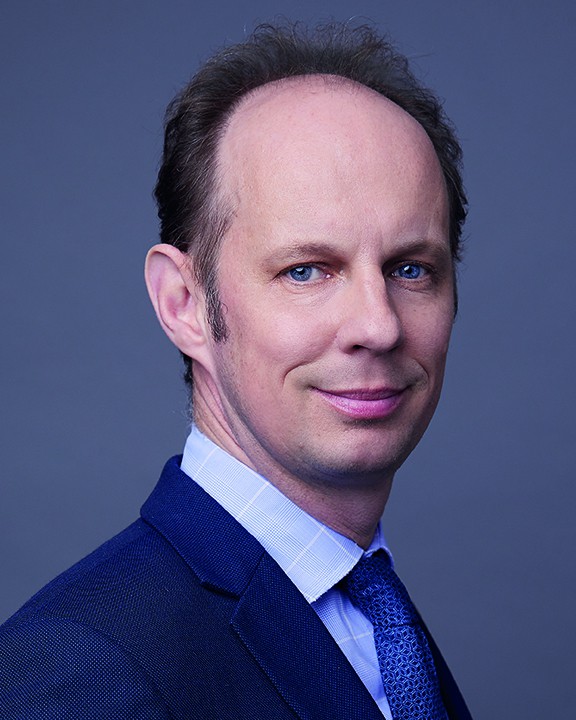 Back to the world of watches and brand-new online watch auction entrant, WatchCollecting.com certainly has a declared aim to create a difference in this market. WatchCollecting.com is a new specialist online auction platform for prestige and luxury watch sales. Founded by Edward Lovett who created online sales platform Collecting Cars, he noted about his new venture:
"Having shaken up the car auction industry, we are looking to bring the same level of disruption to the world of collectible timepieces. The latest identity verification technology allows us to create a trusted online community for buying and selling watches at a fraction of the commissions charged by the traditional auctioneers."

Edward Lovett, Founder, WatchCollecting.com
While WatchCollecting.com is not an auction house it is a dedicated 24/7 online auction platform. The day-to-day team behind the platform is headed by Adrian Hailwood who has an extensive background in the auction industry as a watch auction specialist.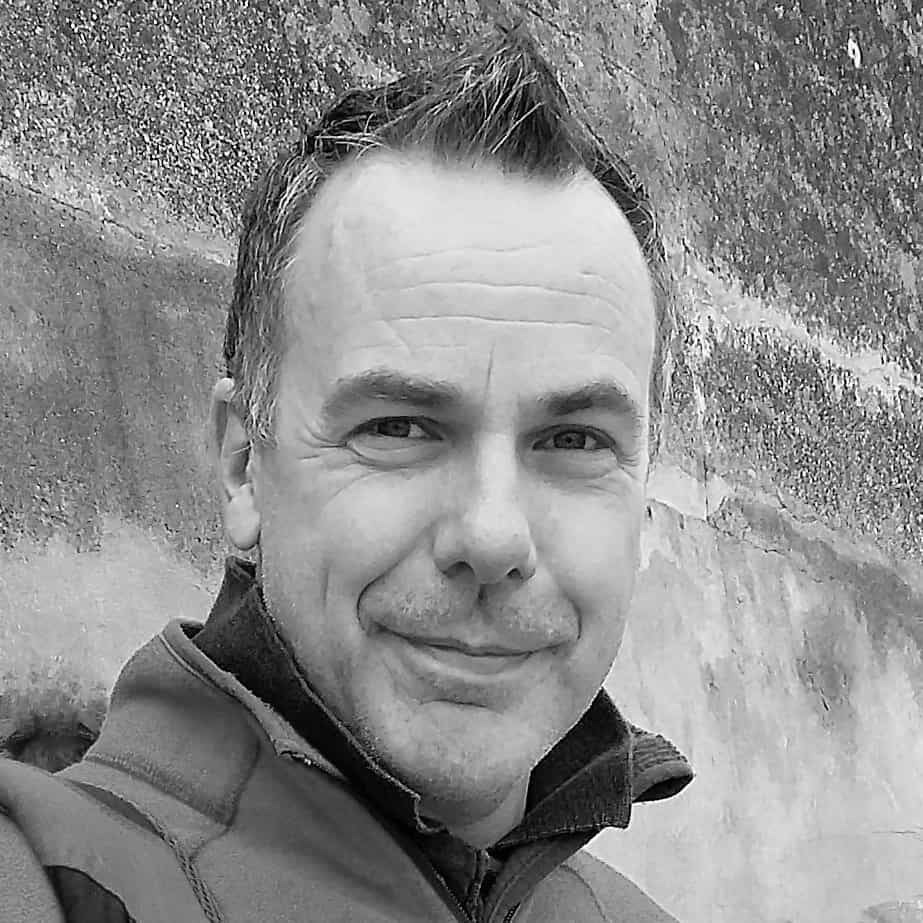 Speaking with Adrian he noted that their service is completely free to sellers with 100% of the successful hammer price going to the seller. Should sellers want however, to have professional photos of their watch a small charge will apply. The team will also contact the seller to discuss the age, condition, provenance, and the likely sale price. The watch itself does not leave the sellers' possession until it is sold, and shipping is arranged.
WatchCollecting.com also state that for successful bidders they will charge a 6% premium (with a minimum charge of £600). Bidders can ask questions via a secure online portal about lots up for auction. All bidders are verified by Experian. Consigned lots will also be checked via the Art Loss Register for due diligence, and payments are processed through escrow.
Of course, traditional auction houses have not stood still when it comes to online offerings. Some examples of recent innovations include Sotheby's online 'Watches Weekly' sales, run out of Hong Kong, New York, Geneva and London and their new 'Buy Now' online marketplace. This platform includes watches, fine jewels, contemporary art, designer handbags and even collectible sneakers.
UK based auction house Fellows Auctioneers, head quartered in Birmingham, will offer five online timed auction sales for their 'Watches & Watch Accessories' in 2021. This is in addition to their regular 'Luxury Watch' sales. Interestingly last year in June they sold an Audemars Piguet Royal Oak Tourbillon watch (below) for £70,180 (including fees). At the time this was the most expensive item ever to have been sold in one of Fellows' timed, online-only auctions.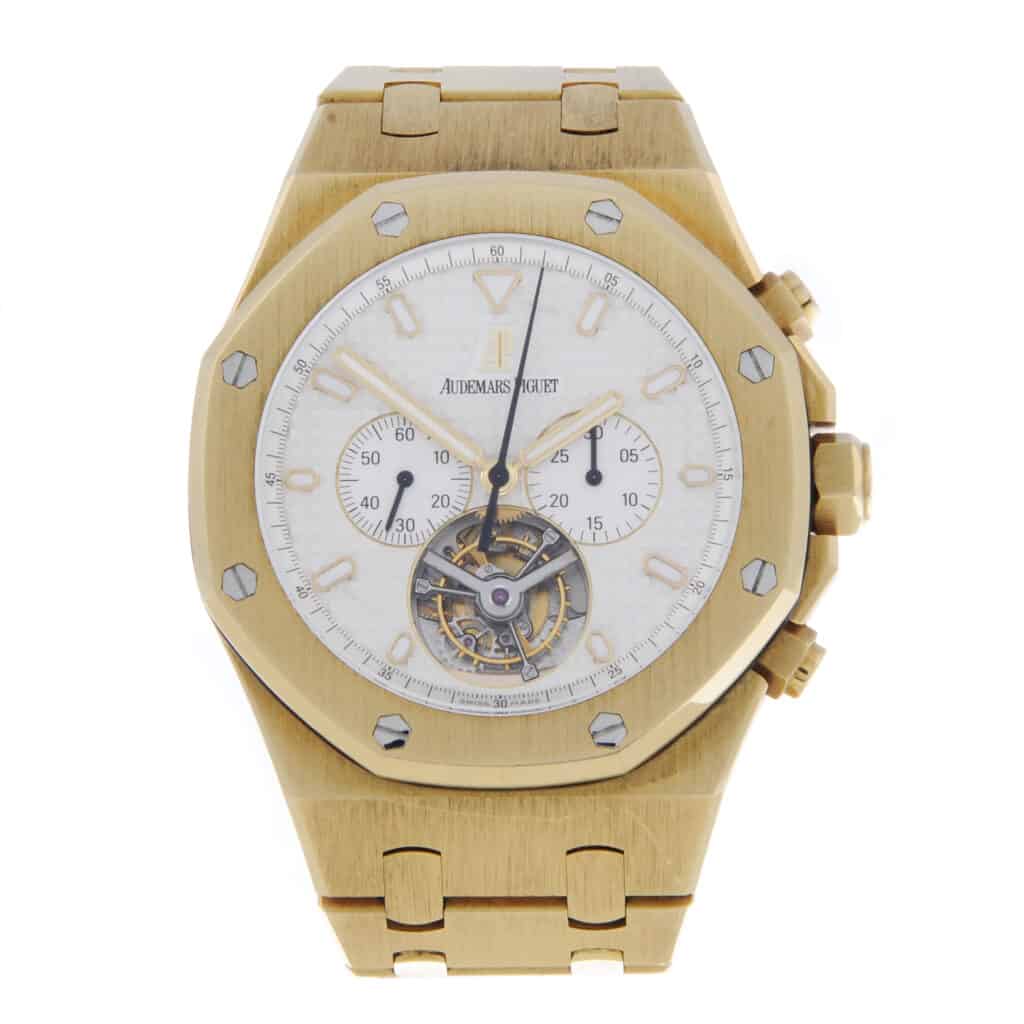 The Combined Luxury Sale
Keeping with the online auction theme another trend, while not new, that seems to be gaining momentum is the 'combined luxury sale'. These sales typically offer in one auction a range of luxury items such as watches, jewellery, and designer handbags – which have now become very collectable.
Bonhams have announced an online cross-category sale that will take place on 6th May 2021 in Paris and will bring together Bonhams global luxury divisions. This is part of Bonhams' expansion in France. Bonhams note that the curated selection will include items by Chanel, Cartier, Patek Philippe and Rolex. This sale will be in addition to Bonhams regular watch auction sales.
Commenting on the upcoming sale Patrick Masson, Bonhams Managing Director, UK & Europe:
"Connoisseurs no longer think in categories – a watch collector may bid for jewellery as well as whisky or contemporary art – and we find these collectors are responding to sales that provide for all their tastes and interests. This is what Bonhams Luxury series in Paris delivers."

Patrick Masson, Bonhams Managing Director, UK & Europe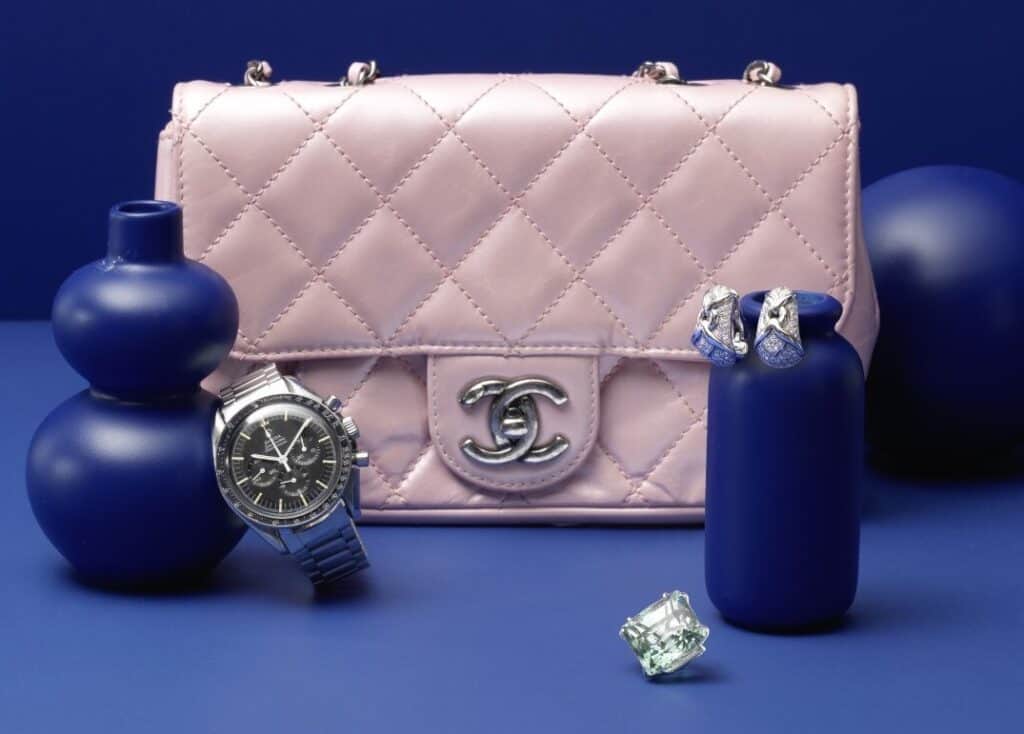 Phillips Asia have just announced the second edition of 'INTERSECT', a cross category online sale on Phillips.com from the 23rd to 30th March 2021, from Hong Kong. This is an art-meets-luxury sale with 115 lots ranging from art works by Banksy, Yoshitomo Nara, Javier Calleja, plus watches by Patek Philippe, Rolex, Audemars Piguet, F.P. Journe, Panerai, and Breguet. Jewellery includes lots from GRAFF, Tiffany & Co, Chanel, and William & Son.
You might ask do these combined sales work, but it appears that collectors of luxury items will buy across luxury item categories so there is a logic in a combined sale.
One market gauge of these luxury item categories is the Knight Frank Wealth Report. Knight Frank track a 'basket' of luxury items referred to as the Knight Frank Luxury Investment Index (KFLII). This includes watches, handbags, wine, cars, coins, diamonds, rare whisky, art and jewellery.
They work in partnership with various market research organisations on the index. Overall, they note that Hermès handbags once again topped the KFLII in 2020, with prices rising by 17%, according to their index compiler AMR (Art Market Research). However, as they state, the art market, 'did not fare quite so well' with the auction-tracking AMR All-Art Index dropping 11% in 2020. Published below is the KFLII for Q4 2020. Obviously over time these figures will change but it is interesting to see what trends are occurring.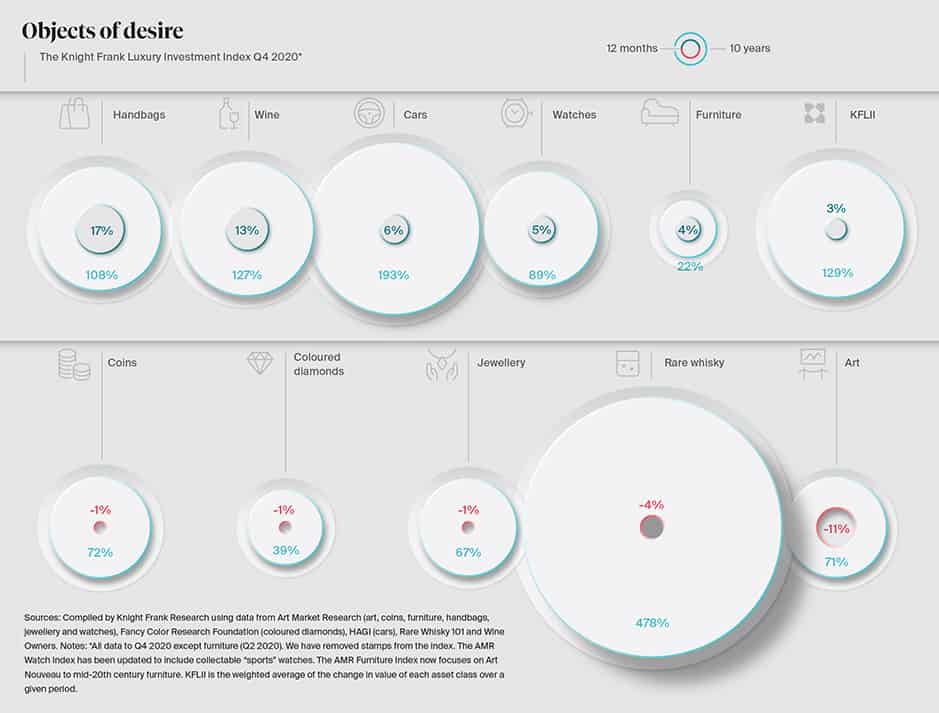 Finally, as with all auctions if you are thinking of buying or selling at auction do your research on the market. Know the market prices for the item you want to buy or sell. Review previous results which you can do online with many auction houses websites. View items carefully (even if online) before buying and ask for condition reports and more photos if needed. Talk to the auction provider and find out if they have a watch specialist – contact them about items you are interested in. Very importantly know the fees and costs, plus read the terms and conditions for any auction.
Also, if you buy a watch from an auction outside the UK and bring the watch back into the UK check if there will be any duties to pay. These duties may have also changed now since the UK left the EU regarding bringing items into the UK from the EU region. Have a spending limit in mind and think in advance about what you will do if the bidding goes higher than you expected. You will also need to register in advance if you want to participate in most auctions and place bids.
For more information on The Knight Frank Wealth Report please click this link.
Sources: 
Bonhams: www.bonhams.com
Fellows Auctioneers: www.fellows.co.uk
Phillips: www.phillips.com / www.phillips.com/watches
Sotheby's:  www.sothebys.com
WatchCollecting.com: www.watchcollecting.com