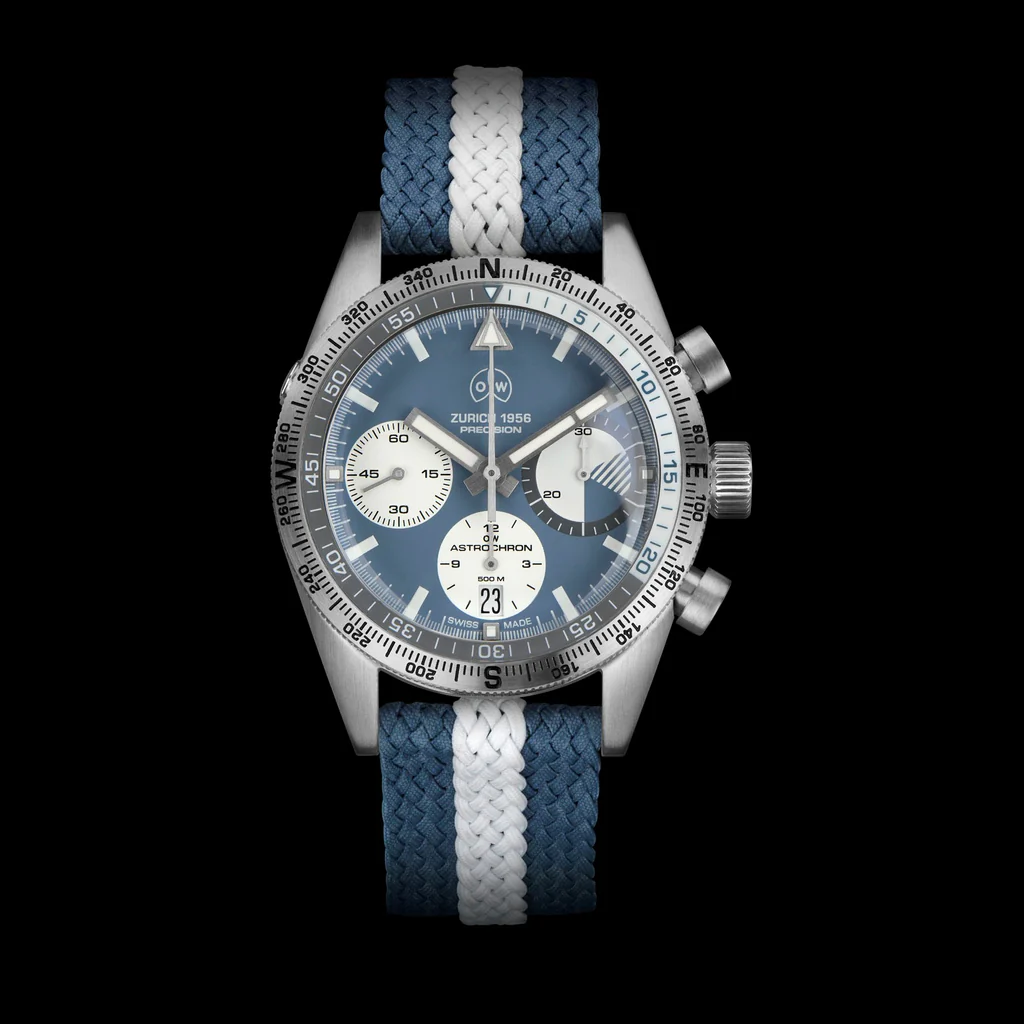 All Ollech & Wajs watches are designed at the headquarters of Ollech & Wajs Precision AG on Bergstrasse, in Zurich's financial district – a few minutes from Stockerstrasse, where OW was founded in 1956. This 18-month-long journey follows the same rigorous process of iteration established by Joseph Ollech and Albert Wajs in the Vietnam era. It begins with an idea, which itself becomes the subject of brutal stress testing, usually involving more than 30 drawings and then dozens of detailed technical blueprints to ensure there is zero margin for error. Then, one after the other, eight prototypes undergo a series of tests to detect the slightest flaws in their casing; water-resistance up to 100 m, 400 m, 1,000 m and 1,200 m; and resistance to impact, scratches, disassembly and successive reassembly.
Each timepiece is individually assembled and adjusted in Haute-Sorne in the Swiss Jura, following the high standards of precision and quality that have made the region such an important location for Swiss watchmaking. The manufacturing process of your watch begins in the Swiss Jura and involves more than a dozen operations. The desired shapes are first cut and stamped, then carefully machined, and eventually given a brushed-satin finish. After a thorough inspection, the dial is fixed to the movement on the assembly bench. Installing the hands one by one requires the highest level of dexterity and concentration, as does each step in completing the encasing of the watch.
In keeping with the traditions of Ollech & Wajs, every watch is handcrafted in the same historic workshop that has served OW for over 60 years. Watches are inspected at regular stages of assembly by some of Switzerland's most experienced technicians, to ensure that each watch is perfectly finished.
Finally, a rigorous, multistep quality control process is completed before each watch leaves our workshop. The precision and the regularity of each movement is tested in three to five positions – the standard among prestige watch brands. A passage through a specially pressurised environment allows its water resistance to be checked up to a depth of 3,280 ft (1000 m). Last of all, each watch receives a meticulous visual inspection to hunt out the slightest speck of dust. As an added assurance, your OW watch is guaranteed for three years against all manufacturing defects.
For more information please visit Ollech & Wajs
Ollech & Wajs on MrWatchMaster: