By Alan Wood
Learn the nuances of IWC vintage watch values, including understanding the depreciation curve and the IWC watch models most likely to hold their value.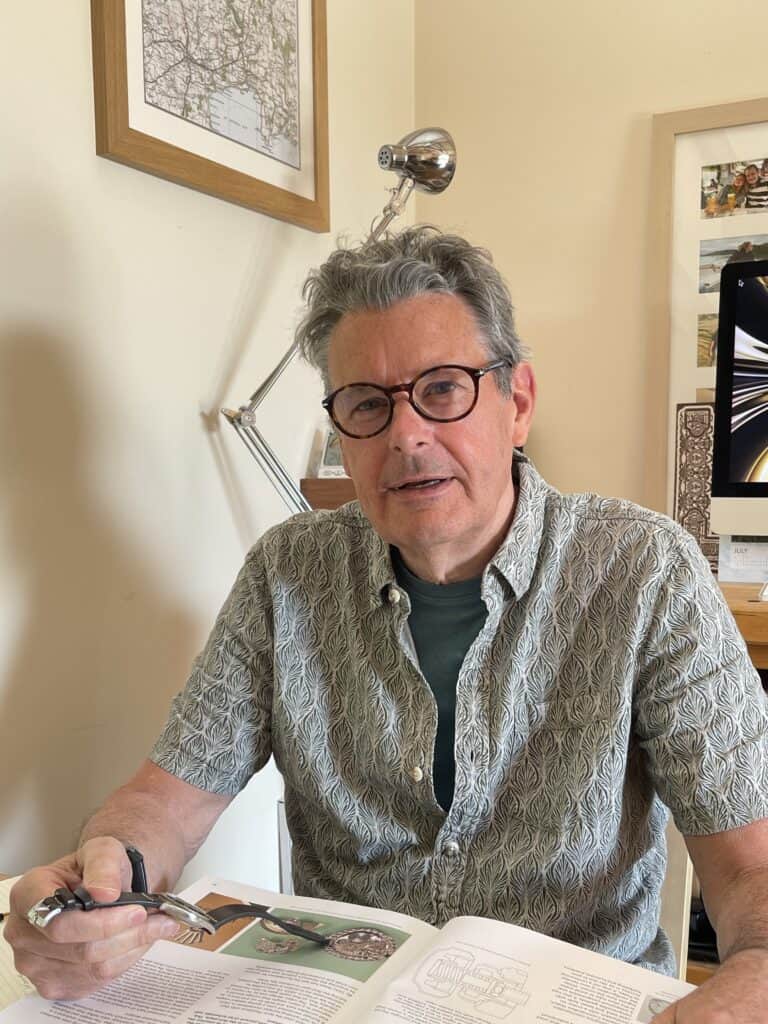 Alan Wood (above) is a trusted vintage watch dealer with over 35 years of private collecting experience. After founding Vintage Gold Watches in 2011, his deep knowledge and infectious passion for mechanical timepieces earned him a highly respected reputation in the industry. Vintage Gold Watches has become a renowned dealer thanks to Alan's expertise and skilled team of restorers. Alan's love for vintage watches started as a young Mechanical Entrepreneur and grew into an obsession. He believes the finest watches were made in the 1950s, 60s, and 70s, and is thrilled to share them with others.
Aspiring To Own A Vintage IWC
It's said that owning a vintage IWC is something everyone with a serious interest in vintage watches should aspire to. A strong statement, perhaps, but a little time spent researching IWC and specifically their 1950s and 60s watches, will likely lead one to the same conclusion.
In essence, this is because during the 50s and 60s, IWC set out to manufacture some of the very best watches ever made, and this is exactly what they achieved. The craftsmanship, technical excellence and sheer beauty of their exquisite movements and cases, manufactured during the 'golden age' of watchmaking, have stood the test of time.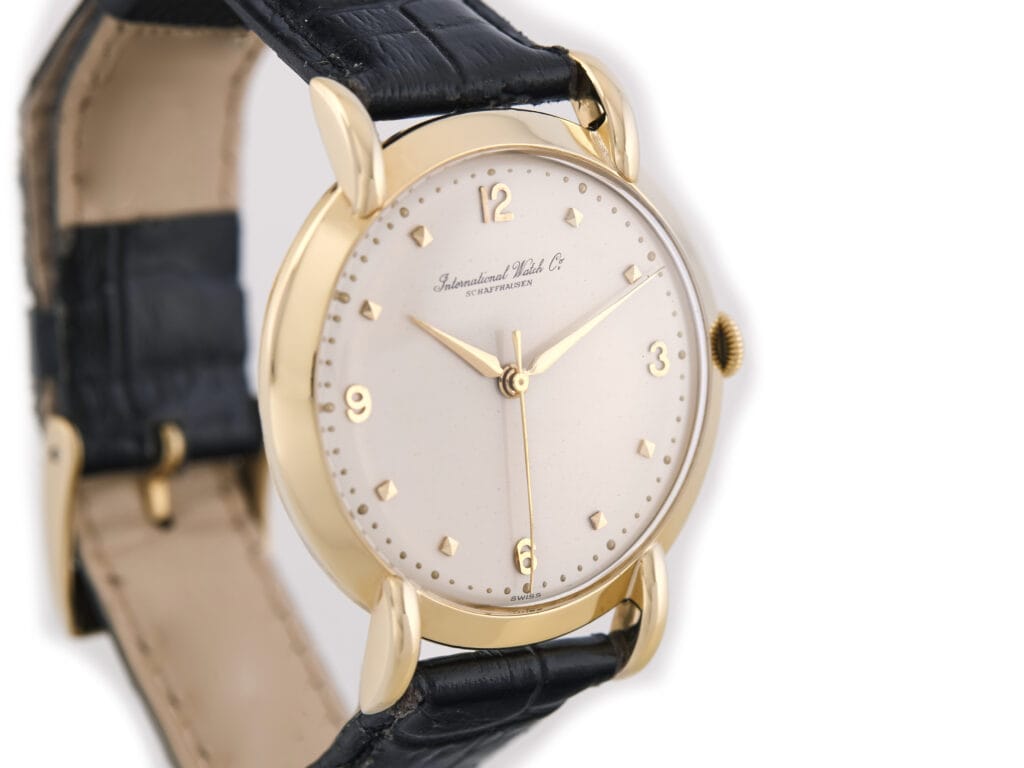 The History of IWC
Founded in 1868 by American Florentine Ariosto Jones, IWC's heritage is deeply rooted in American pioneering spirit and entrepreneurship. The ambitious businessman travelled to Switzerland and set up his own factory with the intent of combining American production technologies with Swiss watchmaking skills to create high-quality timepieces for the American market.
Due to high import tariffs to the U.S., the company ran into financial hardship and was taken over by the Rauschenbachs, an industrialist family from Schaffhausen, Switzerland, in 1880. The company changed hands several more times over the coming decades.
Even with its shaky beginnings, it was clear from the start that IWC was a highly innovative company dedicated to excellence. In 1885, IWC created the first watch with a digital display of hours and minutes. It went on to invent numerous industry-changing technologies, such as the Pellaton winding system in 1950, which has remained a central feature of IWC's automatic movements to this day and the calibre .89 movement, celebrated as one of the greatest hand-wound movements of the 20th century.
Other significant innovations include the infamous titanium and ceramic Pilot tool watch created for the aviation industry in 1936. In 1966, IWC created its Aquatimer watch designed for scuba divers (initially waterproof to 200m and later waterproof to 2,000m, along with the Ocean 2000 model). The Da Vinci can be accurate for 122 years. The Grand Complication watch launched in 1990 is, as you would expect, the most complicated timepiece of its kind – containing 659 parts.
These are just a few of the most memorable engineering feats that have been brought to the world by IWC. It's clear that the company's technical prowess and ingenuity are unmatched. But do IWC watches hold their value? And what nuances are there to investing in vintage IWC watches?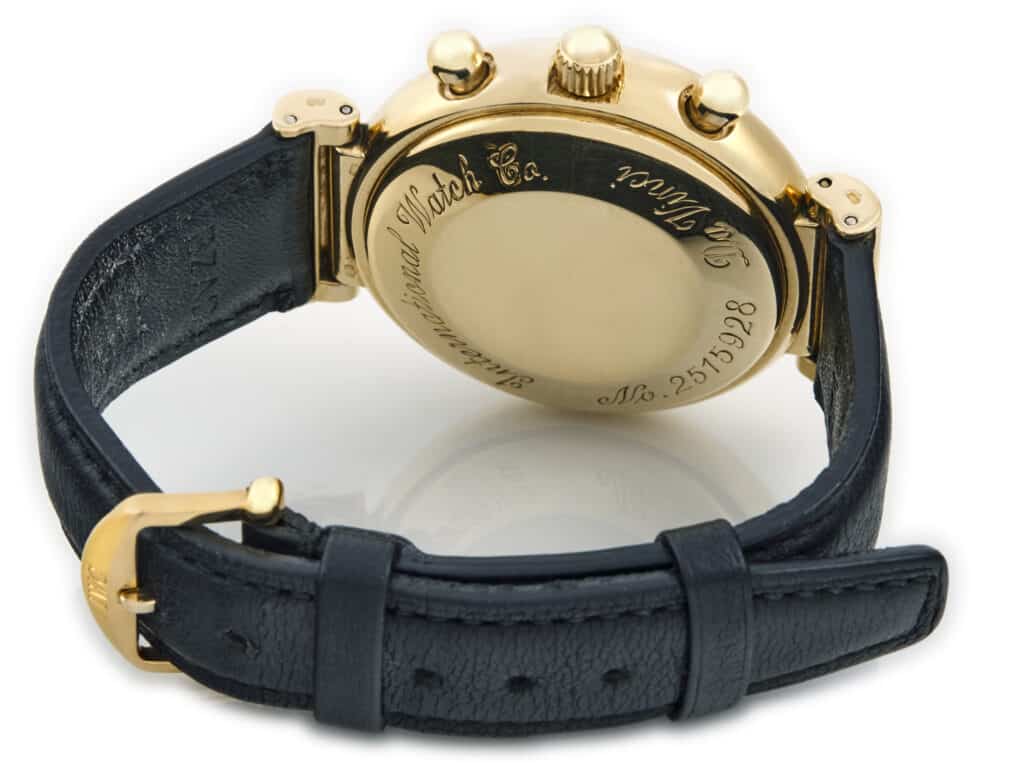 The Luxury Watch Depreciation Curve
While there are exceptions to every rule, IWC watches hold their value incredibly well. IWC make some of the best watch movements in the industry. Their hand wound and mechanical movements are of the highest quality, along with their classic design, rich history, and accurate movements make them highly sought-after.
There's a general rule of thumb to be considered for the depreciation and appreciation of luxury watches that should be understood before investing. There is an industry-recognised depreciation curve on all new watches that typically lasts for 20 years or more before it will start to appreciate.
So, if you buy a new luxury brand watch, expect it to depreciate for approx. 20 years (up to 40% of its retail value for most watch brands) before it starts to appreciate. Still, on average, an IWC watch will either hold its retail value, depreciate only slightly (much less than the market average – possibly 5 to 10%), or even appreciate during its first 20 to 30 years.
But there are nuances here and it depends on the model and era it was manufactured. That being said, IWC has an excellent track record of holding its initial sale value even in those formative decades of standard industry depreciation.
Needless to say, buying a vintage IWC watch, or any vintage watch, means that the watch has gotten over its depreciation curve, and should hold its value and begin to appreciate. Another good reason to buy vintage.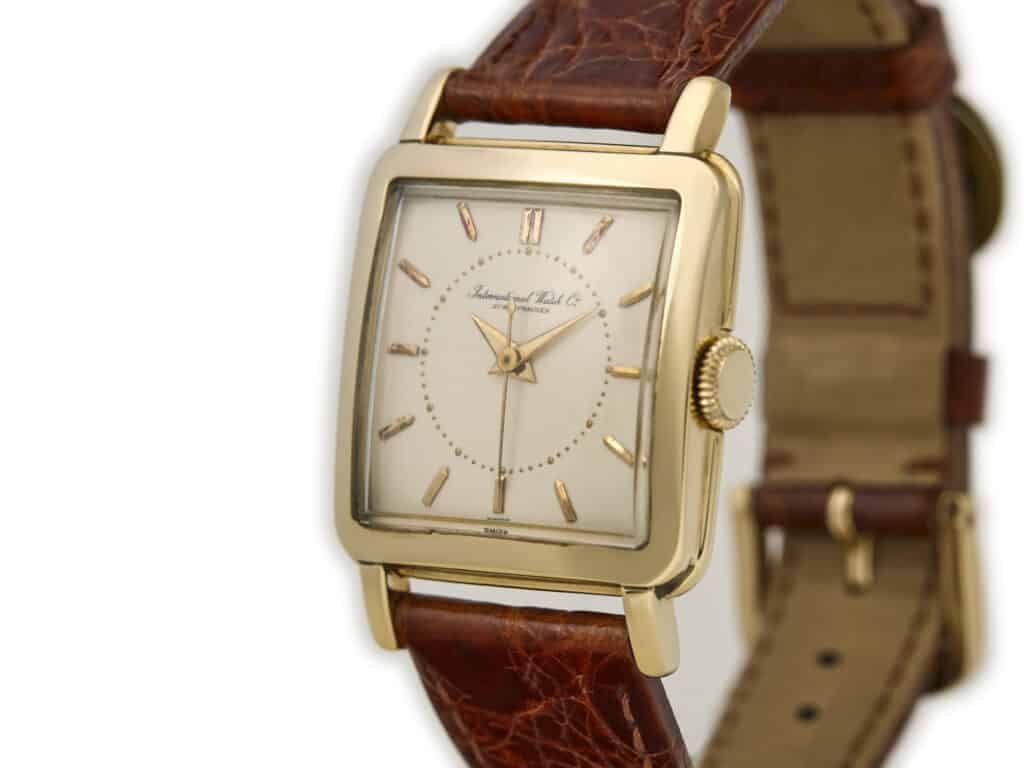 Why Do IWC Watches Hold Their Value?
There are several market-driven factors that affect IWC watches' value. It is important to clarify that by 'holding value' we mean that it holds its initial retail value and does not depreciate.
The first and foremost reason is the limited supply of watches which drives the value up. It's reported that IWC produces approximately 70,000 to 120,000 watches each year, although, like most luxury watchmakers, IWC has never clarified its production numbers. This is perhaps one of the main reasons that it is not unusual to see IWCs sell for more than their recommended retail value, even during the standard depreciation curve years.
Another factor is simply down to IWC's superb and accurate movements, exceptional design and manufacture, and high-quality materials (platinum, titanium and 18-carat gold are commonly used). Also, the parts for IWC watches are readily available worldwide, making them very easy to work on and maintain. These are all reasons why IWC watches keep their value and are a solid buy for anyone who is looking for a high-quality investment piece.
Examples of IWC models that hold their value exceptionally well are:
Da Vinci
Pilot
Ingenieur
Aquatimer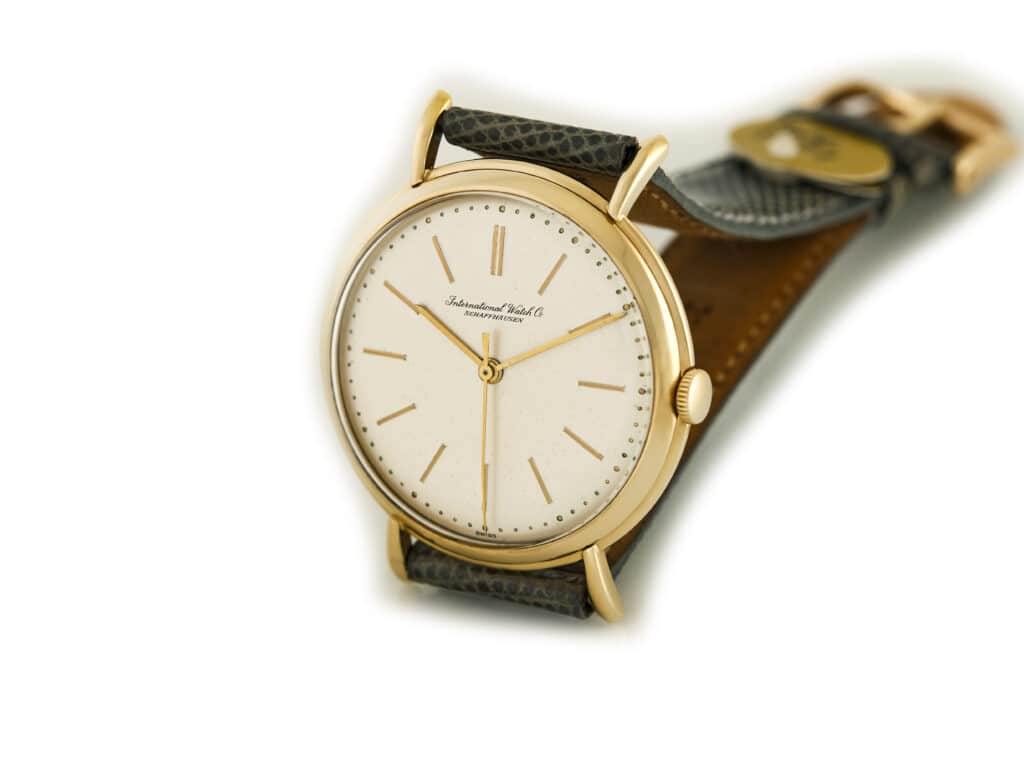 Which Vintage IWC Watches Depreciate in Value?
However, not every IWC watch is guaranteed to hold its value or appreciate over time. The IWC Portofino and Portugieser are cases in point. The Portofino is more likely to follow the standard industry depreciation curve in the first 20 years. Even though the watch was both released and discontinued in 2008, meaning that the supply of IWC Portofino watches can't possibly be large enough to warrant such a decline in value.
It all depends on how sought-after a particular watch is. That's why vintage watches hold such high prices – the price skyrockets when the supply is low and the demand is high. IWC watches that follow the classic depreciation curve will only be valid if you are purchasing a brand new IWC watch, and will never be seen in a vintage IWC watch which has already been through its potential depreciation years.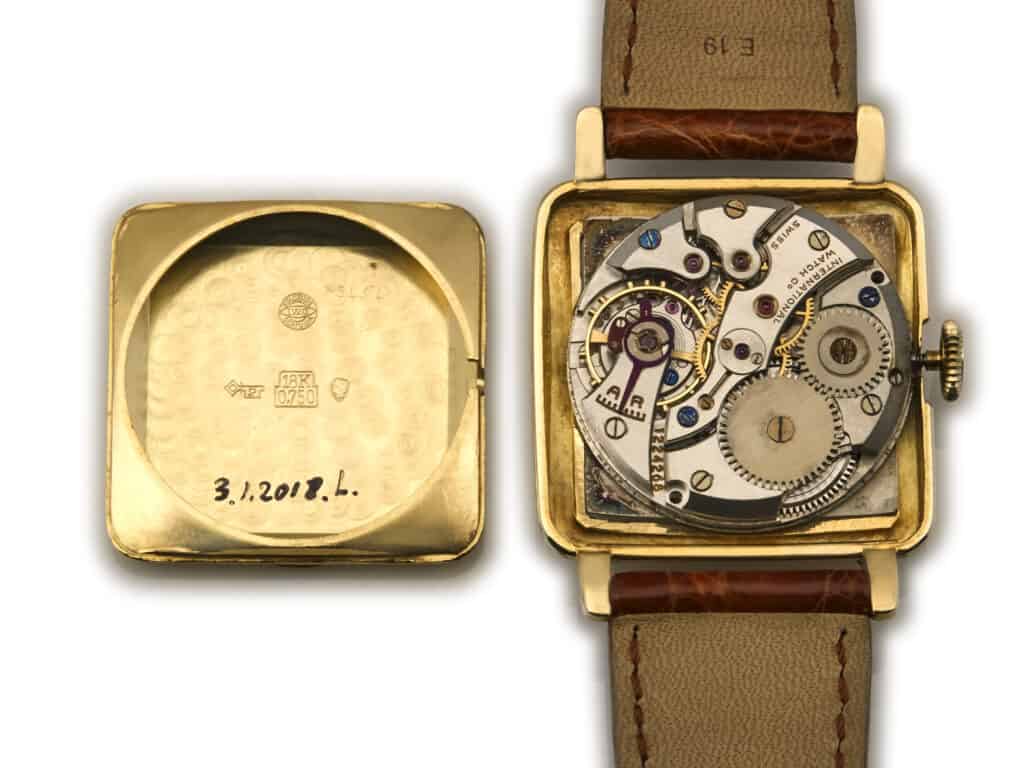 Does That Make IWC's a Good Investment?
Of course, no investment is guaranteed. But if you're looking for a high-quality watch that will hold its value over time, IWC is worth considering. I believe that a vintage IWC Pilot or Da Vinci makes an excellent investment for anyone looking for a high-quality luxury vintage watch that will continue to appreciate.
With proper care, an IWC watch can last for many decades, if not longer, and its value will likely continue to increase over time. While there are no guarantees when it comes to investing in watches, if you're looking for a safe bet, IWC is an excellent option to consider.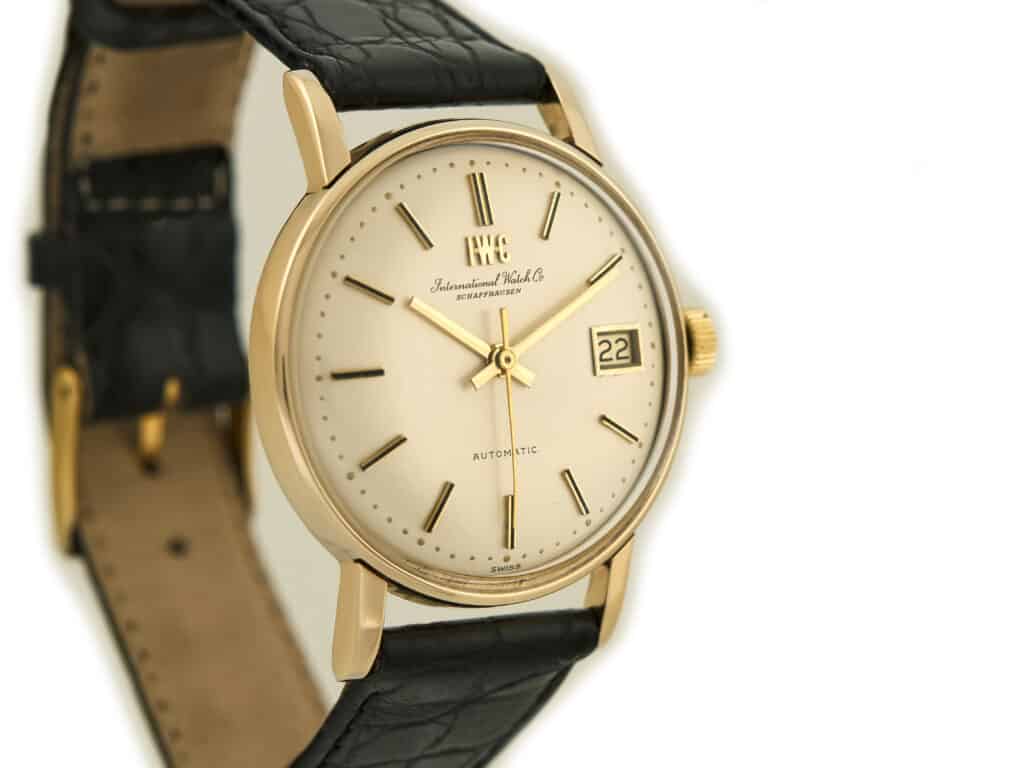 Which IWC Watch Should I Invest In?
Within the vintage watch market, the general 'rule of thumb' is the more you spend on a watch, the less likely you are to lose money on it – as it is established as recognised and coveted with aspirational elements that many people want to own.
If you are looking for a vintage IWC as an investment that doesn't break the bank and is likely to gain value, we recommend considering these models:
IWC Perpetual Calender/Perpetual Date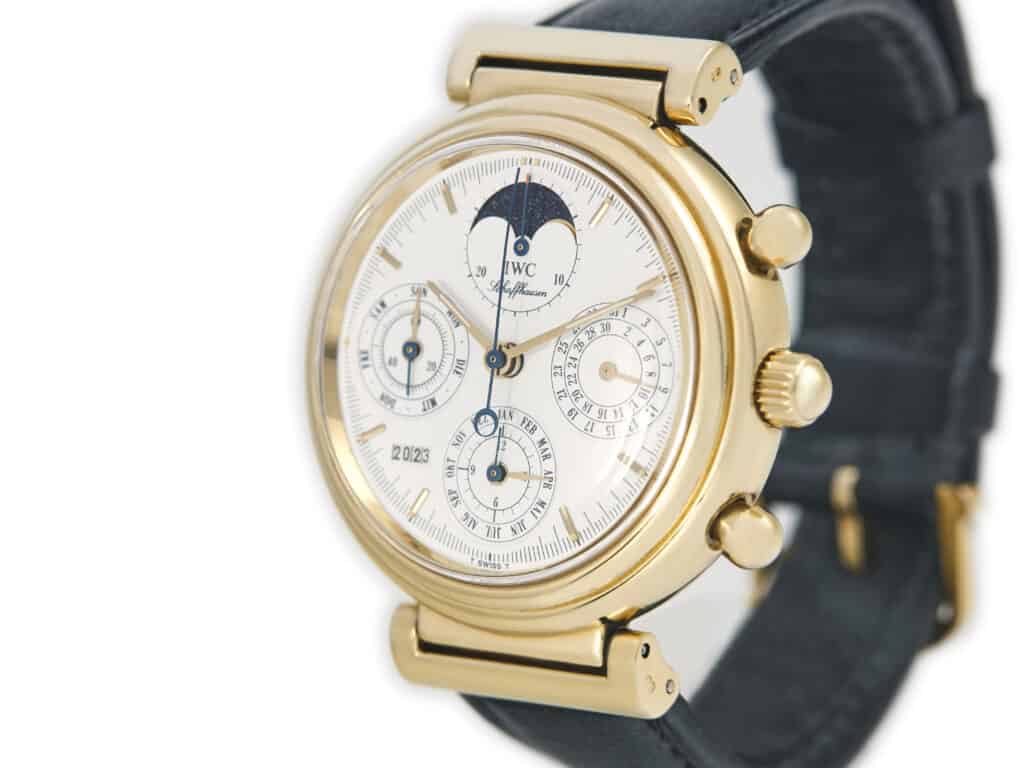 With a date set function and the ability to take account of leap years, they are robust enough for daily wear and are highly complicated watches that hold their value well. This is a fantastic example of watchmaking at its finest and is of incredible value compared with an equivalent Patek Philippe, which is significantly more expensive.
Calibre 852, 853 and 854 (series) Automatic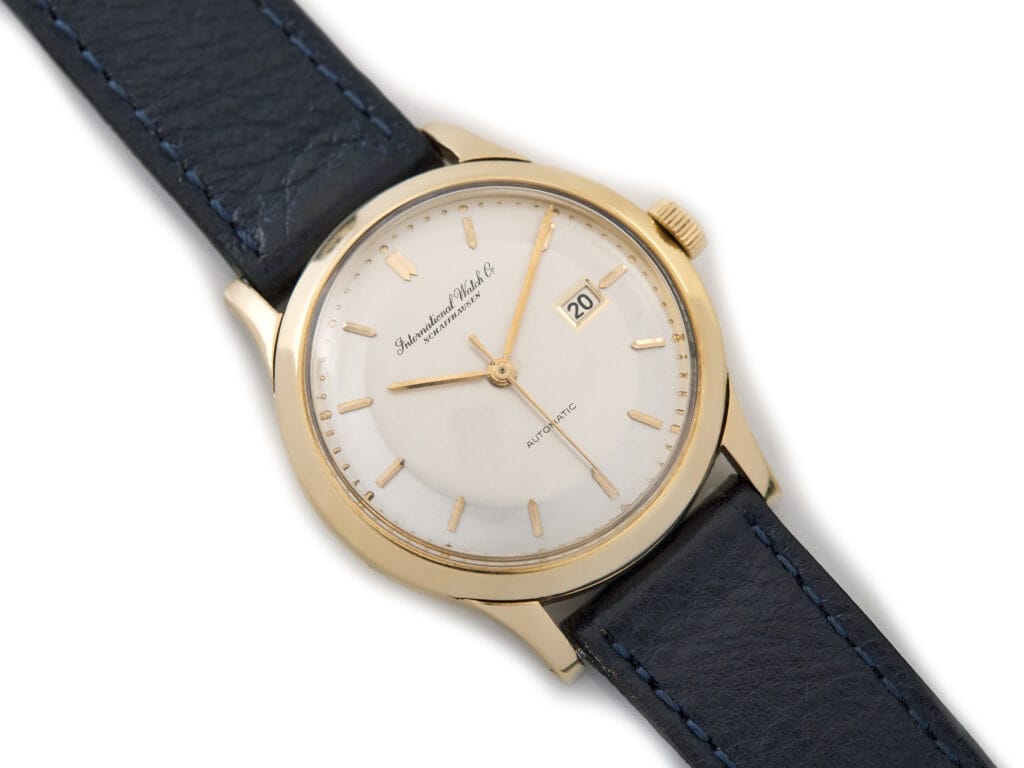 These IWC automatic watches are solid investments because they are considered to be some of the best automatic movements ever made and therefore are highly respected and sought after. Look out for any Calibre reference with 852XX types.
Calibre 89 hand-wound movement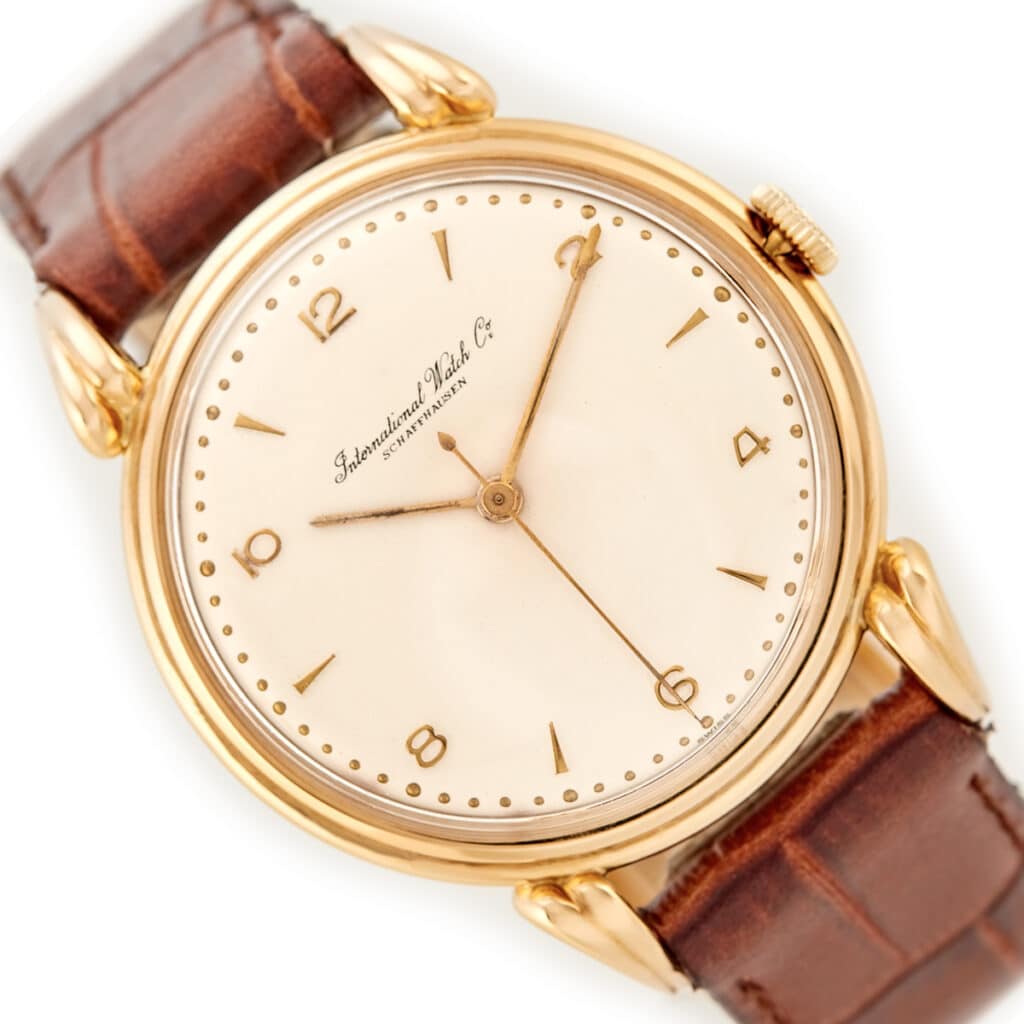 The watch on which IWC has built its name. Initially produced for the military and used by them continuously for over 30 years, it became 'the standard' for military-grade timepieces. The movement also came to be an IWC mainstay in the commercial market, remaining in production until the mid-1990s.
To explore vintage IWCs for sale, browse Vintage Gold Watches curated collection and sign up for our weekly newsletter to be the first to view our new stock as it arrives.
Produced in association with Vintage Gold Watches