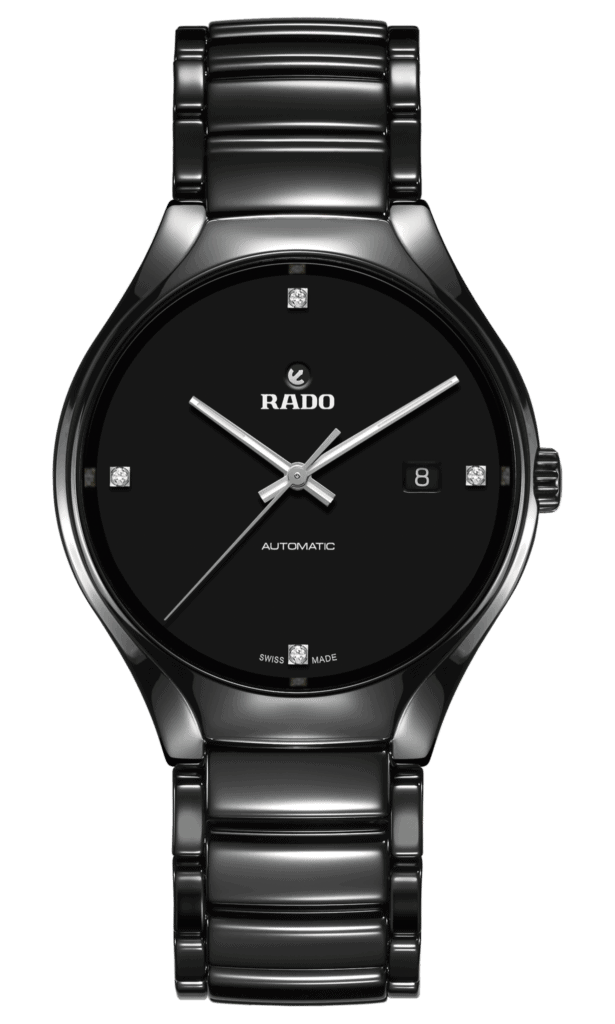 'If we can imagine it, we can make it. And if we can make it, we will.' This inspiring motto accompanied the launch of the Rado Green Horse in 1957. The groundbreaking timepiece marked a new chapter for the Schlup family. After forty years of successes, the brothers embarked on their own watch brand, Rado, a word meaning 'wheel' in Esperanto.
Having swapped their family atelier for a purpose-built factory, the brothers never looked back. In 1962, they released the world's first scratchproof watch, the Rado DiaStar. It was crafted from ultra-resistant hard metal – an impressive technical innovation – and boasted a futuristic design approach that was becoming a crucial strand of the brand's DNA. Turning visionary ideas into bestselling phenomena was a formula that Rado made its own.
That same year, it debuted its first diving watch, the Captain Cook, aimed at 'doctors, engineers, athletes, deep sea divers, racing car drivers.' Its signature was a pivoting anchor that indicated when the watch needed to be serviced. The Captain Cook captured the public's imagination and would prove to be one of Rado's most enduring designs. The anchor became Rado's logo and in some markets was more important than the brand name itself.
1986 arrived with a bang and with it the Rado Integral, revolutionising the watch industry with its use of scratch-resistant high-tech ceramic, a material more commonly used for ultra-high-speed aircraft. This paved the way for the iconic Rado Ceramica, possibly the first watch in the world with bracelet, crown and case made entirely of this high-tech material. 1986 was a landmark year for another reason too. Rado joined SMH (renamed the Swatch Group in 1998), helping the brand fuel its next phase of innovation, driven by even more pioneering materials.
In 2002, the Swiss factory unveiled the Rado V10K. Made of high-tech diamond, with an unfathomable strength of 10,000 Vickers, it entered the Guinness World Records as the world's hardest watch. Another landmark in Swiss engineering was achieved with the ultra-slim ceramic masterpiece, the True Thinline. Measuring just 4.9mm, the injected high-tech ceramic monobloc case gave the True Thinline its extreme lightness and minimalist lines. The technique enabled another wave of design breakthroughs, notably the Rado HyperChrome.
Rado on MrWatchMaster: