Small details can make a big difference. In watch collecting the model reference, serial number and movement calibre are key components when verifying a watch and understanding its value. These small, inscribed details, particularly the watch serial number, can also play a vital role if you ever need to try and recover a stolen or lost watch. Or indeed potentially avoid buying a stolen watch.
MWM asked Katya Hills, Managing Director of The Watch Register, a company who identify and recover stolen or lost watches, about this subject. Their business checks around 100,000 watches for the pre-owned trade each year. Katya provides a fascinating insight into this world, including theft, fraud, scams, fakes, and some tips on how to help protect yourself from being the victim of these crimes. The Watch Register is part of The Art Loss Register, which has one of the world's largest private databases of stolen art, antiques, and collectables.
MWM: What were the reasons for establishing The Watch Register?
KH: There was a demand amongst the trade for an established, trusted database that would allow dealers to check the status of pre-owned watches prior to sale, in order for them to avoid buying and selling lost and stolen goods and the associated financial and reputational risks. Not long before we launched The Watch Register in 2014, Rolex had stopped offering access to its internal stolen database for anyone who was not one of their authorised dealers. We had been gathering data on lost and stolen watches since 1990 that were reported to us by police and insurers as part of our parent company the Art Loss Register, and we decided to develop a specialist service to respond to the needs of the watch trade. Since transactions in this market are finalised quickly, it was crucial for our service to provide a response to search enquiries within minutes.
MWM: Many of your clients are auction houses, pre-owned watch dealers, jewellers, and pawn brokers. On average how many checks do you conduct for the trade over a year?
KH: We check around 100,000 watches passing through the pre-owned market each year. These checks are typically requested by the trade for due diligence purposes upon purchase or sale. Although the majority of our database consists of watches that are lost, stolen or implicated in fraud, we do also register serial numbers associated with fake watches. This allows us to point traders to information regarding possible fakes and advise them to carefully check the authenticity of a watch or specific parts of it, where we have knowledge of counterfeits.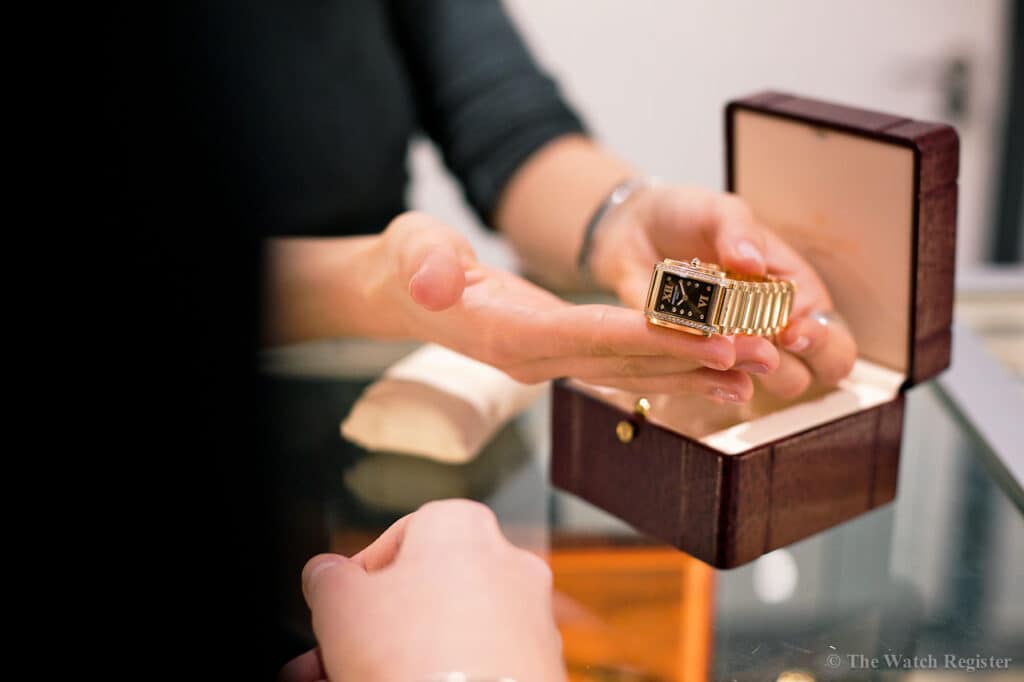 MWM: You also note that you work with insurers and law enforcement. Can you tell us something about this aspect of your business?
KH: We work closely with the police to provide new leads on stolen watches and intelligence that will be useful to their investigations. We also put police in touch with rightful owners of recovered property, for example which they may find when they search a suspect's house. We help insurers to recover losses that they have paid out on, as well as to flush out cases of insurance fraud. It is not uncommon for our location of a watch to reveal that the seller made a fraudulent claim for a watch that was never lost and which we flag at the point they try to sell it. We also help to identify repeat claims on the same watch with different insurers, sometimes using a watch that is fake or was never stolen, so we have found attempts by individuals to gain two to three times the value of a watch.
MWM: Can private individuals also use your service to check a watch prior to purchase? How much does it cost?
KH: Private individuals can also use our service to check if a watch they are looking to purchase from a store or through online marketplaces is stolen or subject to a claim. We recommend running a search on the day of purchase to ensure an up-to-date result and therefore the best protection against theft and fraud. A search costs £10 + VAT and we provide a response within 5 minutes. Buyers should also look out for any 'red flags' and make sure they pay a fair price, don't pay in cash and have a sale agreement whereby the seller will provide compensation if the watch does turn out to be stolen or fake at a later date.
MWM: How can watch owners report their lost or stolen watches to you?
KH: Victims of theft can register a lost or stolen watch on our database via our website. It costs £15 + VAT and proof of loss must be provided. Registering a lost/stolen watch with us will significantly improve a victim's chances of recovery, as we will proactively search the market for the watch until it is found. We charge a finder's fee of 5% of the net benefit to the claimant for our efforts in locating the watch, only if it is successfully recovered.
MWM: In terms of numbers, how many watches are typically registered with you as either lost or stolen on a monthly basis, and have you seen any changes in patterns of thefts related to watches since the start of the COVID-19 pandemic?
KH: Around 500 lost and stolen watches are reported to us each month. This figure was closer to 600 prior to the pandemic. There was a sudden drop in the number of street robberies, house burglaries and thefts from jewellery stores when we went into lockdown, as businesses closed their shops, people were no longer wearing their watches out and everyone stayed at home. Instead, we saw a proliferation of online frauds and scams. Since business shifted online and thieves looked for different ways to carry out crimes, we saw many thefts using stolen or cloned credit cards, often with the use of fake IDs, as well as individuals reversing transactions for watches purchased online or claiming the goods never arrived in the post. A new Modus Operandi (MO) that emerged was a bitcoin scam, where the money bounced back after the goods were handed over. Fraudsters also took advantage of sites like Gumtree and Facebook Marketplace which afford greater anonymity to offer watches that were fake, or which were never shipped after funds were transferred.
MWM: How often do you find stolen watches and how long can victims of theft expect to wait before you contact them with news about their stolen timepiece?
KH: From January to November this year we identified 386 matches with our database, where we prevented the illegitimate sale of a watch and took steps to recover it for the rightful owner where possible. There is no hard and fast rule for how quickly stolen watches turn up, but generally we are finding that watches are appearing more and more quickly after the theft compared to previous years. In 2021, one third of the lost or stolen watches we located surfaced within a year of the theft, and one quarter within six months.
MWM: Can you share some recent examples of watches that you have identified as stolen and recovered?
KH: In one case that demonstrates how rapidly watches travel across the world, we located a Rolex Submariner 'Kermit' watch stolen from an Australian owner on his trip to Paris, when it surfaced at auction in London having been purchased by the consignor in Dubai. We were also thrilled to recover two Rolex watches this year that came from the same theft in 2019 in Holland, when they surfaced separately a few months apart with different dealers, both on Hatton Garden.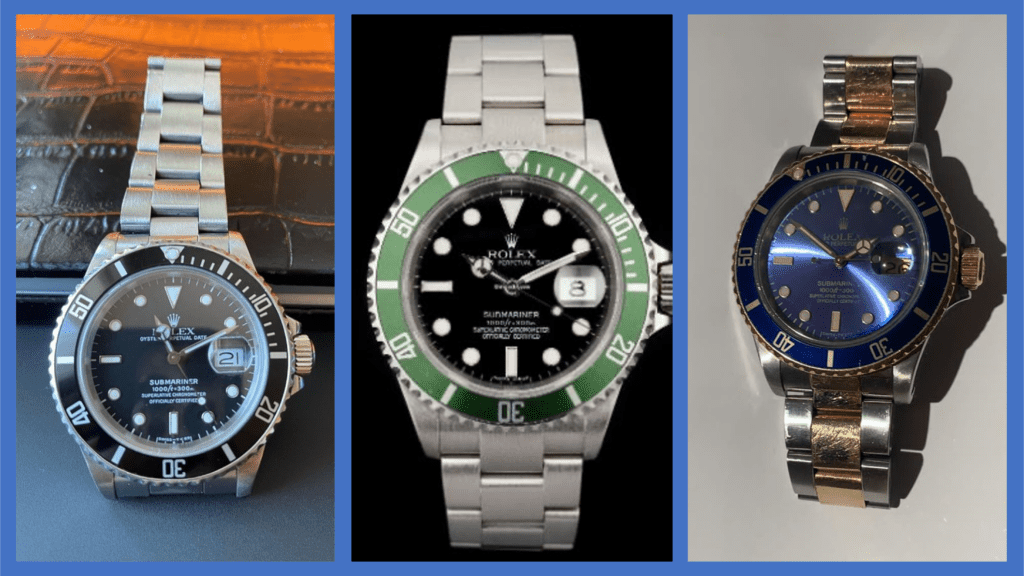 MWM: Finally, what general suggestions would you have for watch collectors and owners about keeping their watches safe, as well as documenting their watches just in case they are stolen or lost?
KH: Watch owners should avoid making themselves a target and displaying their watch in public spaces. It's crucial to record the serial number of your watch to stand any chance of recovering it after a theft, so keep that documented together with a copy of your watch paperwork, your original purchase receipt and photos of you wearing the watch as evidence of your ownership. Stolen watches are re-sold within hours or days of the theft so make sure to report any watch that is stolen from you to The Watch Register and to the police without delay so that we can find it for you at the earliest opportunity.
For further information:
Copyright and Credits:
© All photo images are courtesy and copyright of The Watch Register.