The MB&F Horological Machine Nº11 Architect is an extraordinary piece of micro-engineering. This is the house that Max built and with its latest creation, MB&F further blurs the line between the two – a house and a watch – and the result is the grey of steel rebar, the grey of freshly sprayed concrete.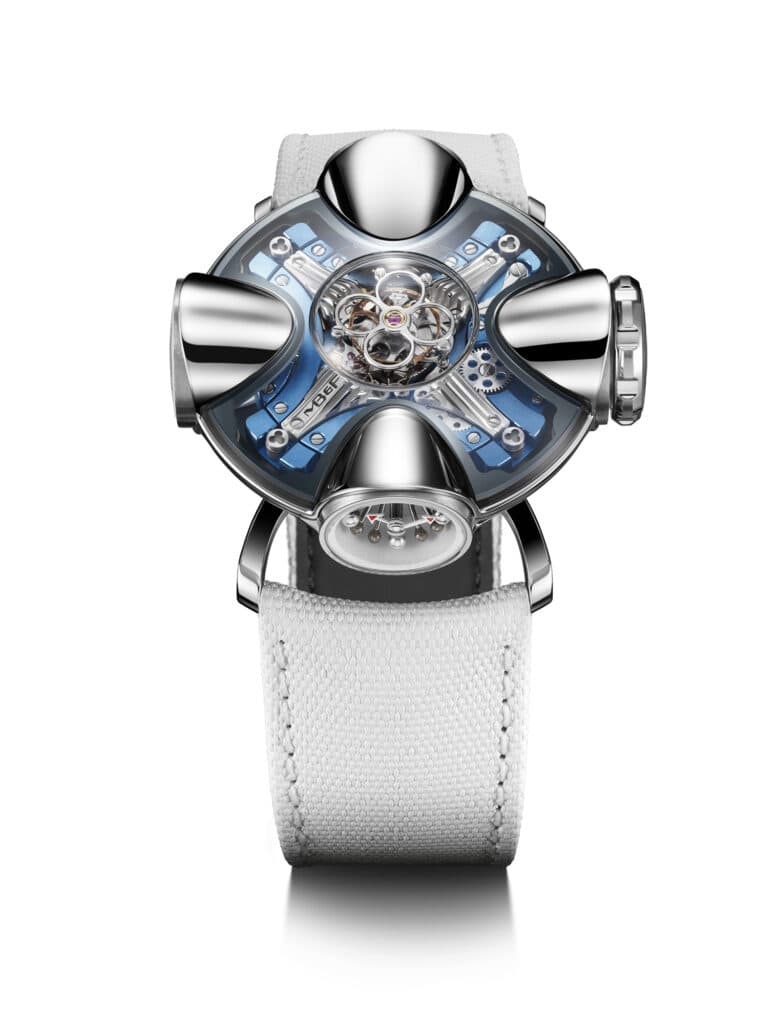 Somewhere around the mid to late 1960s, architecture entered an experimental phase, starkly different from the designs of the previous decade. Post-war buildings were pragmatic, rectilinear forms, hastily erected to fulfil a purpose. But then a small yet reactive movement began taking hold, one that was surprisingly humanistic in its approach, though not in a way that architectural scholars would use the term.
It was humanist in the sense that it moulded space around the form of a human body, the spherical scope of vision perceived by the human eye, the radial ambit of human limbs moving through the air, the roundness of the breath that inflates our lungs and creates ephemeral vapour halos on car windows in winter.
These architects, some of which eschewed that title and instead called themselves habitologists, built houses which appeared as if they had been exhaled out of the earth, or as if the land had flexed its fingers and forgotten to curl them fully back up again. They bubbled, they undulated, they arched like an extended sinew. And when Maximilian Büsser, founder of MB&F, looked at one of these houses, he thought, "What if that house was a watch?"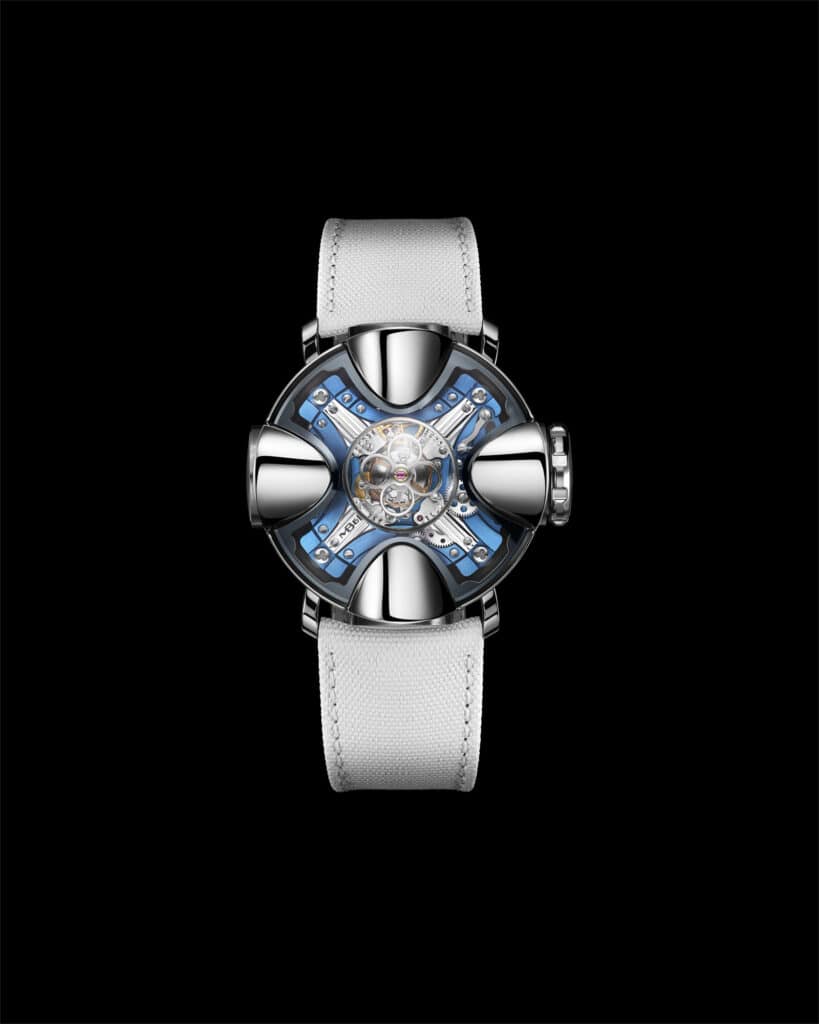 A central flying tourbillon (above) forms the heart of the house, pushing skyward under a double-domed sapphire roof. Fittingly, for a mechanism that is spatially and functionally at the origin point of the watch, its quatrefoil-shaped upper bridge recalls the shape of clerestory windows in some of humanity's greatest temples to its Creator, or perhaps the shape of a zygote undergoing cell division at the moment of conception. From this spinning core, four symmetrical volumes reach outwards, creating the four parabolic rooms of the house that is HM11 Architect.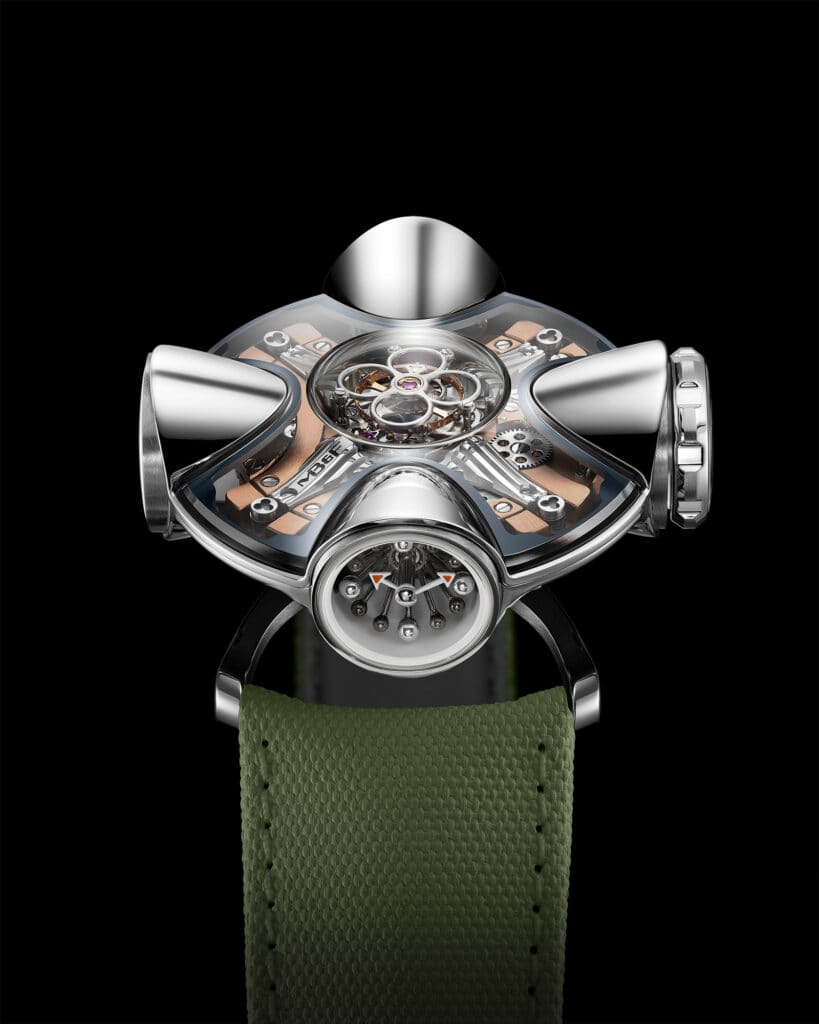 Turn the house to access each room; the entire structure rotates on its foundations. The 90° angle of offset between each room means that you can position HM11 with one of its rooms directly facing you, or with one of the corridors of the house running towards you and rooms obliquely to each side. This versatility in display orientation also has a practical use. HM11 Architect is an energy-efficient construction — each 45° clockwise turn is signalled by a tactile click under the fingers, and delivers 72 minutes of power directly to the barrel. After 10 complete rotations, HM11 is at its maximum autonomy of 96 hours.
While all four rooms share a similar interior — glossy white walls with a full sapphire crystal window pane — each of them has a different function. The time room is where you go to retrieve the hours and minutes. Rod-mounted orbs serve as hour markers, using larger and lighter polished aluminium orbs for each quarter and smaller and darker polished titanium orbs for the rest. Red-tipped arrows point to the hours and minutes, providing a rare accent of colour to the otherwise Spartan time room.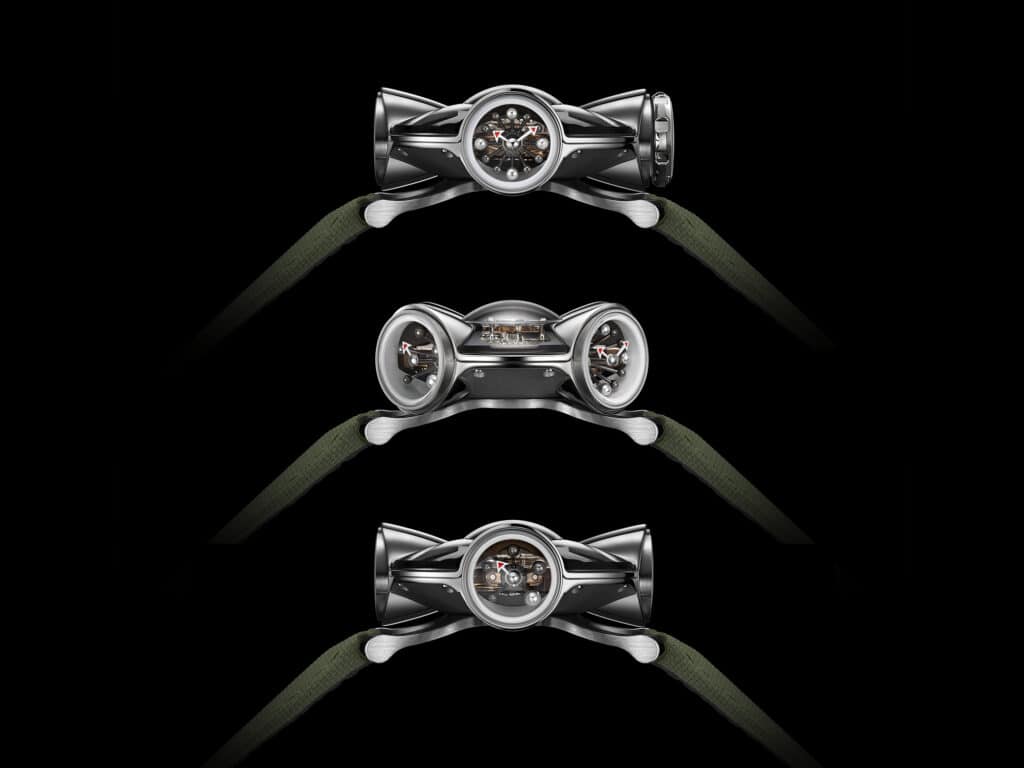 The next room, 90° to the left, is where the power reserve display resides. Following the design schema established by the time room, rod-mounted orbs are paired with a red-tipped arrow to show how much running autonomy is left in the HM11 barrel. Proceeding clockwise, the five orbs increase in diameter until the final polished aluminium orb, 2.4mm in diameter, indicating the full 96 hours of power reserve.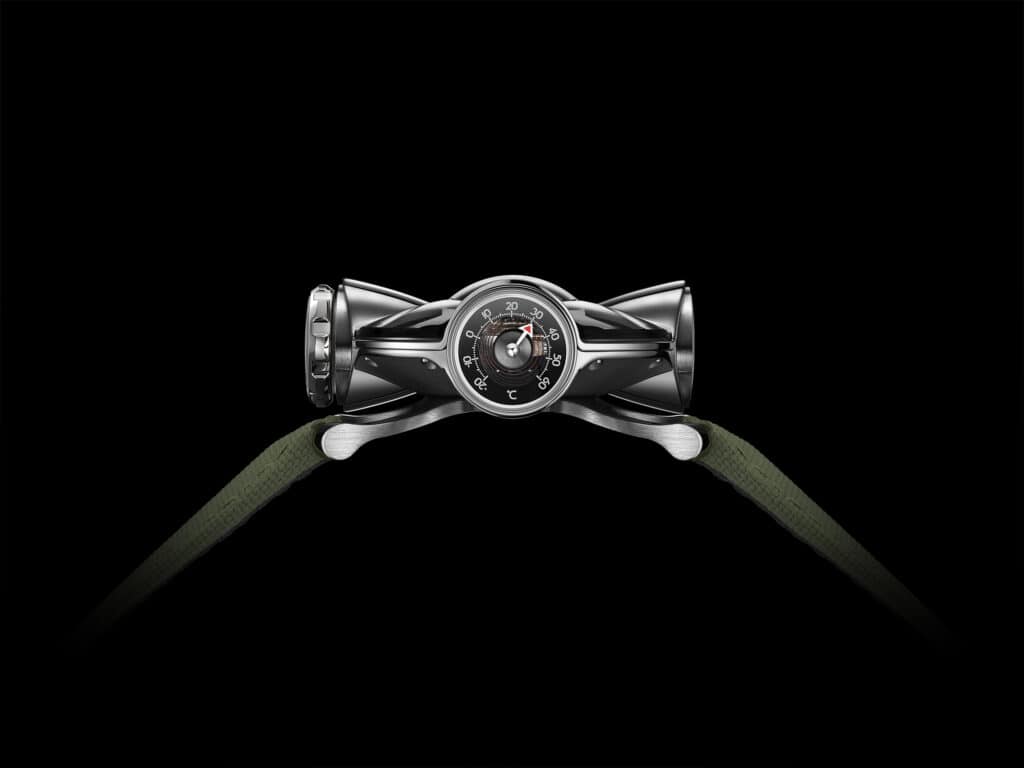 An instrument rarely seen in horological contexts (though familiar in domestic ones) is installed in the next room — a thermometer (above). HM11 uses a mechanical system of temperature indication with a bimetallic strip, which may seem quaint in this age of instant high-precision electronic thermometers and thermostat-regulated smart homes. This mechanical system functions without any external energy input and is available in Celsius or Fahrenheit display variations.
One last room remains, a white void, its only aesthetic feature a tiny round badge engraved with the MB&F battle-axe motif, set into the sapphire-crystal window. But this seemingly empty space functions as the time-setting crown of HM11. Pull on the transparent module, and it opens with a click. It is the front door and key to HM11; you turn it to relocate yourself in time.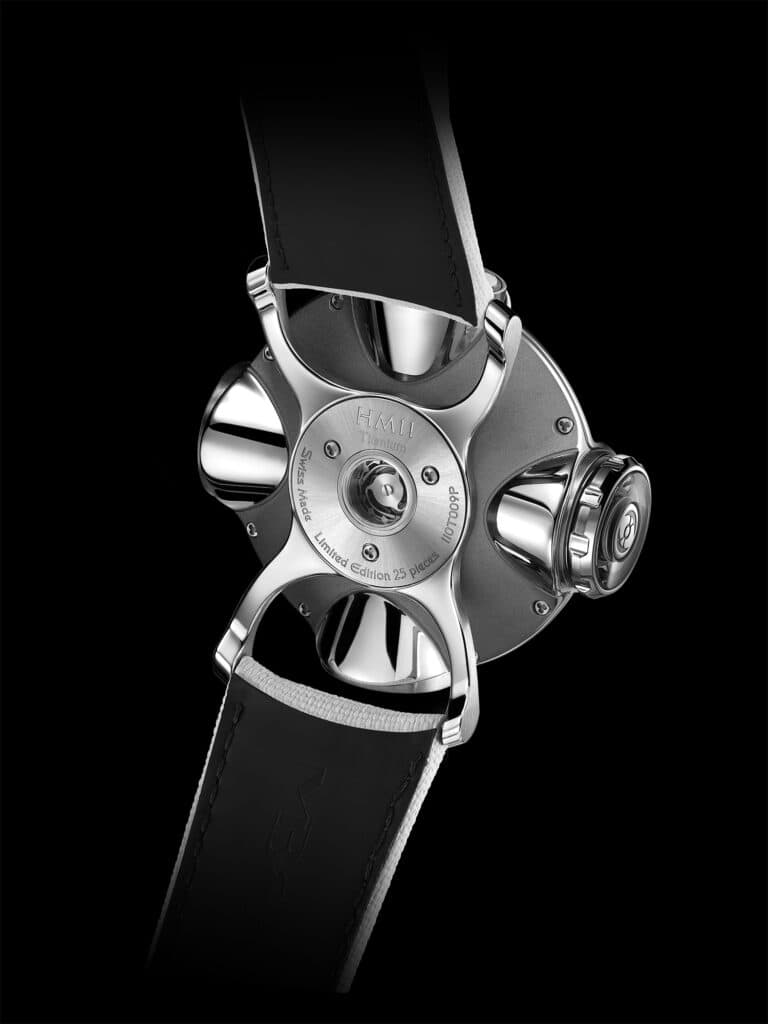 While the peripheral rooms of HM11 are surrounded by exterior walls of polished grade-5 titanium, the central atrium is open to the light, covered by a double-arched sapphire crystal roof. Underneath, the in-house HM11 engine hums away, its cadence set by the 2.5Hz (18,000 vph) balance of the flying tourbillon. Plates and bridges are coloured with a physical vapour deposition (PVD) process, coming in ozone blue or the warm solar hues of 5N gold, limited to 25 pieces each for the two launch editions of HM11.
Technical Specifications:
HM11 Architect is available:
– in titanium with blue dial plate limited to 25 pieces;
– in titanium with red gold dial plate limited to 25 pieces.
Engine
Three-dimensional horological engine featuring bevel gears, composed of a flying tourbillon, hours and minutes, a power reserve indicator and temperature measurement, developed in-house by MB&F.
Mechanical movement, manual winding (by turning the entire case clockwise).
Power reserve: 96 hours
Balance frequency: 18'000bph/2.5Hz
Plates: Blue and 5N PVD treatment
Number of movement components: 364 components
Number of jewels: 29 jewels
Functions/indications
Hour and minutes
Power reserve
Temperature (-20 to 60° Celsius, or 0 to 140° Fahrenheit)
Case
Grade 5 titanium
Display markers: conical rods in stainless steel (Ø 0.50mm to 0.60mm), darker beads in polished titanium and lighter beads in polished aluminium (Ø 1.30mm to 2.40mm).
Dimensions: 42mm diameter x 23mm height
Number of case components: 92 components
Water resistance: 20m / 68' / 2ATM
Sapphire crystals
Sapphire crystals on top, back, and on each chamber-display treated with anti-reflective coating on both faces. Sapphire crown
Strap & Buckle
Rubber strap – white for the blue model and khaki green for the red gold model. Titanium folding buckle.
Price
Upon request
For more information please visit MB&F