Rado and the Great Gardens of the World organisation started their collaboration, as an opportunity to unite their appreciation of outstanding design and beauty.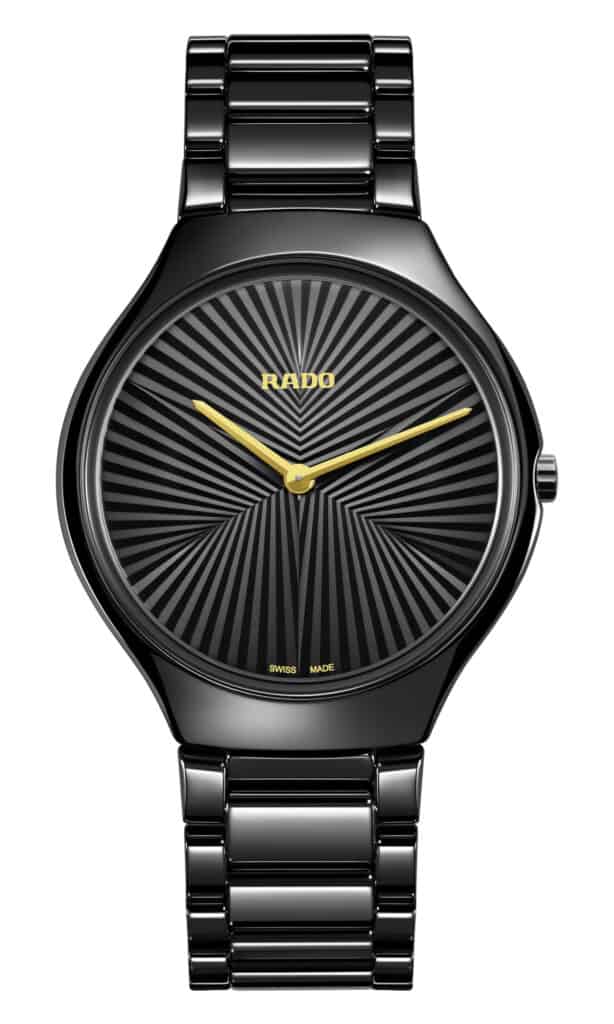 The latest series of timepieces from this inspired collaboration includes exquisite natural motifs from three quite-different plants into stunningly original dial designs. Chapter 8 (below), the first in the new series, unites a polished black case with a matching dial that exudes pure mystery and whose pleasing, orderly structure imitates the pleated leaves of the Loulu Lelo. The model uses the same premium Rado R766 movement as the other two chapters, providing a generous power reserve of 64 hours.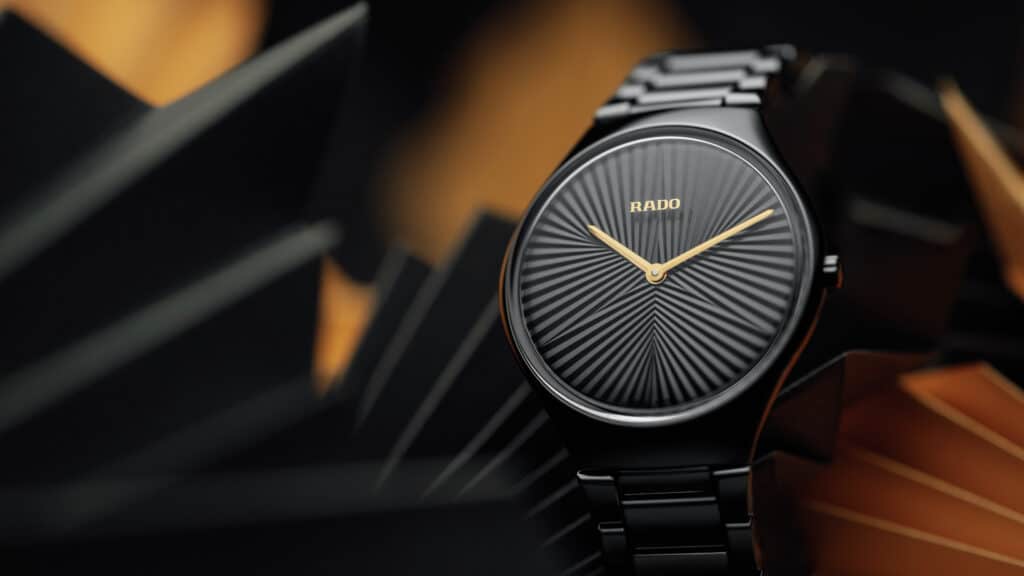 Chapter 9 (below), is a brilliant reflection of the designer's visual inspiration in connection with the Araucaria tree. The white high-tech ceramic case offers a different mood — airy, peaceful and unique, enhanced by a white mother-of-pearl dial engraved to recall the fresh, almost playful leaf outlines of the rare Chilean tree. The smooth contours of high-tech ceramic — particularly sensuous and palpable in white, are a clever contrast to the pointed extremities of the tree leaves, especially against the cool, radiant mother-of-pearl.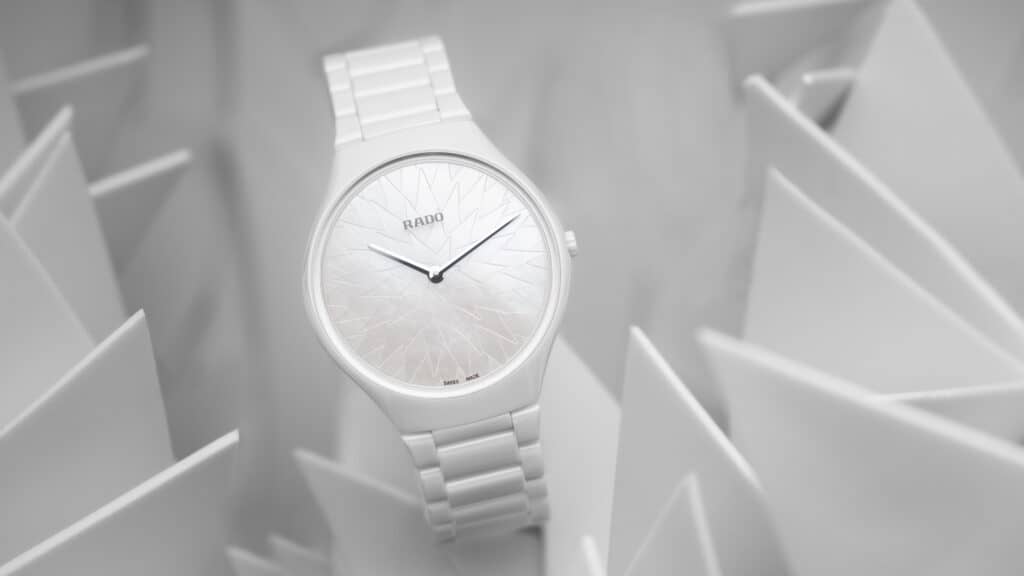 Chapter 10 (below) features a plasma high-tech ceramic monobloc case, in those mysterious grey tones typical of plasma treatment. The process, launched in an extreme environment nearing 20,000°C — many times the temperature found at the Sun's surface — is then maintained at around 1000°C for the full duration of the treatment. The dial is a splendid creation in two layers where a rose-gold-coloured backplate shows through a skeletonised top layer, smartly cut out in organic shapes reminiscent of the mesmerising, intricately entangled branches of the Yemeni Dragon Blood Tree.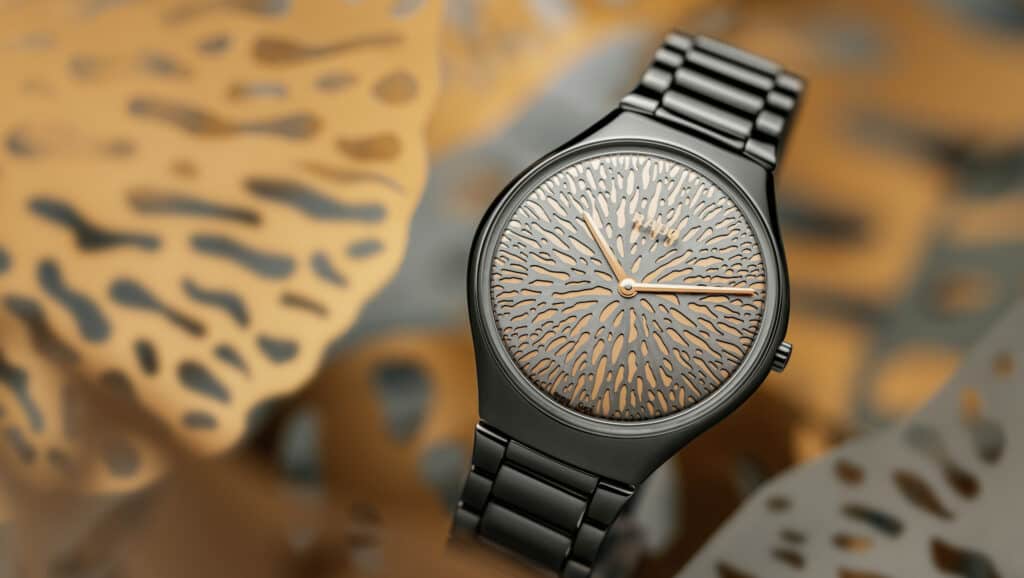 Chapters 8, 9 and 10 of this new Rado 'Great Gardens of the World' product line are available individually or as a trio in a special collector's display-box edition, limited to 99 units.
Technical Specifications:
Movement Rado calibre R766, automatic, 21 jewels, 2 hands, 64-hour power reserve, antimagnetic Nivachron™ hairspring, exceeds standard test requirements from 3 to 5 positions for higher accuracy, water-resistant to 3 bar (30m)
Dimensions 40.0 x 44.6 x 9.0 (WxLxH in mm)
R27113152 / Chapter 8 / Loulu lelo
Case: Polished black high-tech ceramic case and crown, monobloc construction. Box shaped sapphire crystal with yellow-gold coloured metallised Rado logo and anti-reflective coating on both faces. Titanium case back with digital printing on sapphire crystal: GREAT GARDENS OF THE WORLD CHAPTER 8
Dial: Black pleated stamped structure stylising the leaves of Loulu lelo palm tree
Hands: Yellow gold-coloured
Bracelet: Polished black high-tech ceramic, titanium 3-fold clasp
Price: £2,500
R27118902 / Chapter 9 / Araucaria
Case: Polished white high-tech ceramic case and crown, monobloc construction. Box shaped sapphire crystal with silver coloured metallised Rado logo and anti-reflective coating on both faces. Titanium case back with digital printing on sapphire crystal: GREAT GARDENS OF THE WORLD CHAPTER 9
Dial: White mother-of-pearl engraved with the stylised growthing structure of the Araucaria tree
Hands: Silver-coloured
Bracelet: Polished white high-tech ceramic, titanium 3-fold clasp
Price: £2,500
R27088122 / Chapter 10 / Dragon blood
Case: Polished plasma high-tech ceramic case and crown, monobloc construction. Box shaped sapphire crystal with rose-gold coloured metallised Rado logo and anti-reflective coating on both faces. Titanium case back with digital printing on sapphire crystal: GREAT GARDENS OF THE WORLD CHAPTER 10
Dial: Two-layer dial : sun brushed rhodium colour skeletonised top layer stylising the branch entanglement of the Dragon blood tree / rose gold coloured back plate
Hands: Rose gold-coloured
Bracelet: Polished plasma high-tech ceramic, titanium 3-fold clasp
Price: £2,500
Collector's Box
Ref. R27999812
For more information please visit Rado