By Alan Wood
Vintage watches continue to grow in popularity thanks to their quality and workmanship. Find out why buying a vintage watch is a great investment.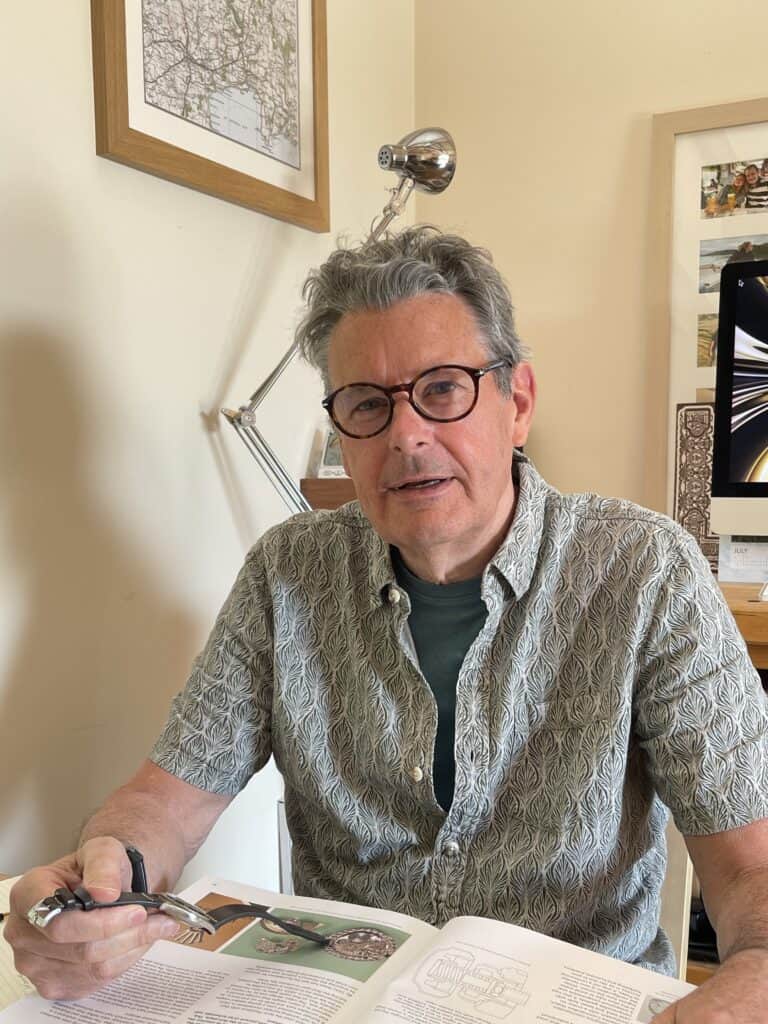 Alan Wood (above) is a trusted vintage watch dealer with over 35 years of private collecting experience. After founding Vintage Gold Watches in 2011, his deep knowledge and infectious passion for mechanical timepieces earned him a highly respected reputation in the industry. Vintage Gold Watches has become a renowned dealer thanks to Alan's expertise and skilled team of restorers. Alan's love for vintage watches started as a young Mechanical Entrepreneur and grew into an obsession. He believes the finest watches were made in the 1950s, 60s, and 70s, and is thrilled to share them with others.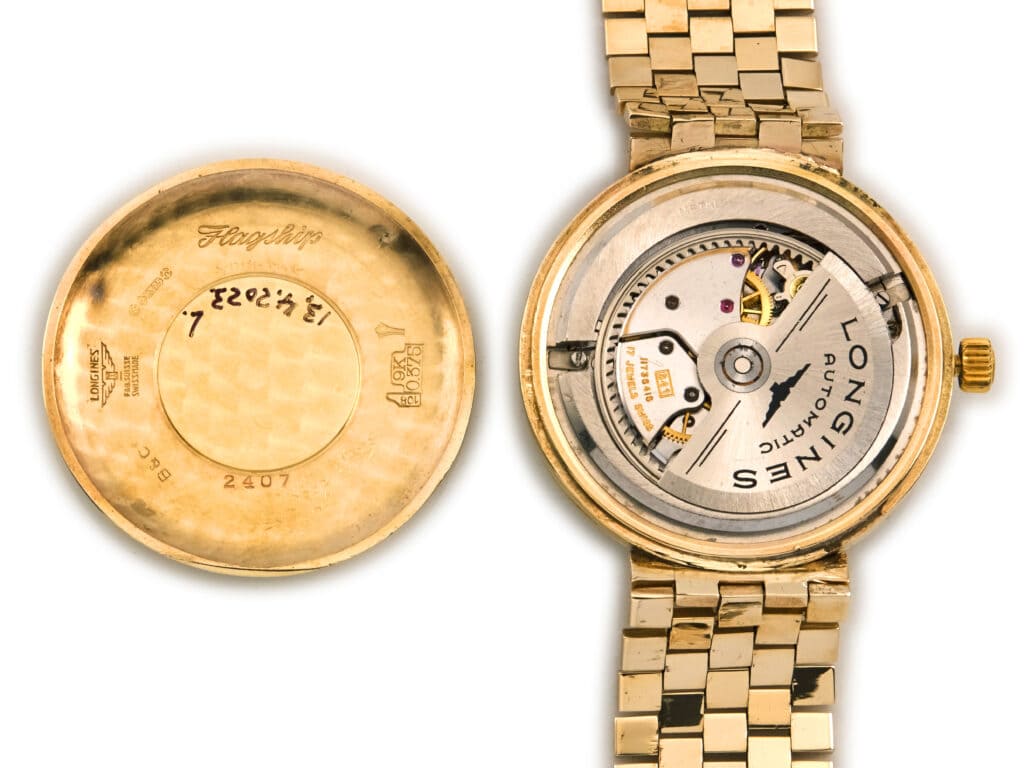 In recent years, investing in vintage watches has seen a remarkable surge in popularity. It seems a growing number of people are tuning in to the value, workmanship, and quality of such timepieces.
After all, what else says so much about a person than the type of watch they wear? And wearing a vintage watch speaks volumes about your style and individuality, not to mention investment acumen. More than buying new ever could.
Vintage Watches vs. New Models
It seems many of us are attracted to 'shiny new things', and while new is certainly nice, the shine often wears off quickly when it comes to wristwatches. Online shopping has made it easier than ever to buy anything you desire. But many are questioning how sound this is, both in terms of sustainability and quality. Continuous mass production, simply to replace items with new ones, is not only costly for the pocket, it's also very costly for the planet.
This style of production and consumption is often a false economy – costing the consumer more in the long run. How many times have you heard people complaining about the quality of new products compared to a few decades ago? Not to mention the somewhat sneaky strategy of creating products deliberately designed to have short lifespans.
After all, there's so much life left in many of the high-quality items we have bought in the past. Often these are well-made and very well-loved, not to mention the individuality and the timeless story a vintage item brings. A treasured item properly cared for can last a lifetime and often becomes a classic. Hence the growth in popularity of vintage products across all sectors.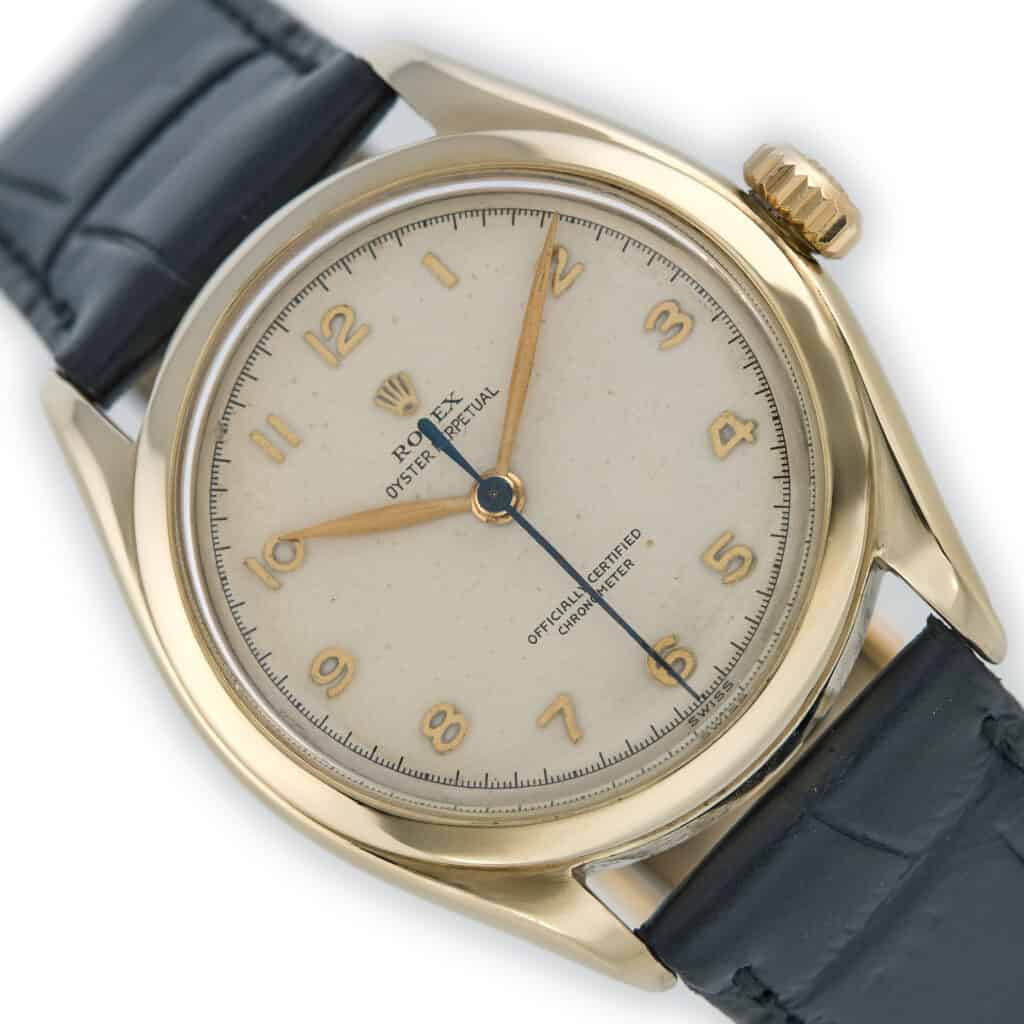 Financial Considerations
When it comes to buying a vintage watch, there are a lot of factors to consider, from the style and functionality to the brand and price. One often overlooked aspect of watch buying is the potential financial return on investment. Here are some of the advantages of buying a vintage watch.
Vintage Watches Were Built to Last
Although the quality of materials used in vintage watches remains broadly the same as today, the superior quality of vintage watch cases and watch movement design reached its peak during the 1950s and 1960s. This makes vintage watches quite durable and simple for watchmakers to maintain compared to modern watches.
A well cared for vintage watch from this period could, in theory, last forever, or virtually so, since the watch parts can be replaced or re-made very easily. This is particularly true for the popular higher-quality brands such as Omega, Rolex, JLC, Longines, IWC and Zenith.
One can quite reasonably expect, for example, a Rolex Oyster Perpetual, Omega Constellation or Longines Flagship from this period to continue to give excellent service for another lifetime or even more.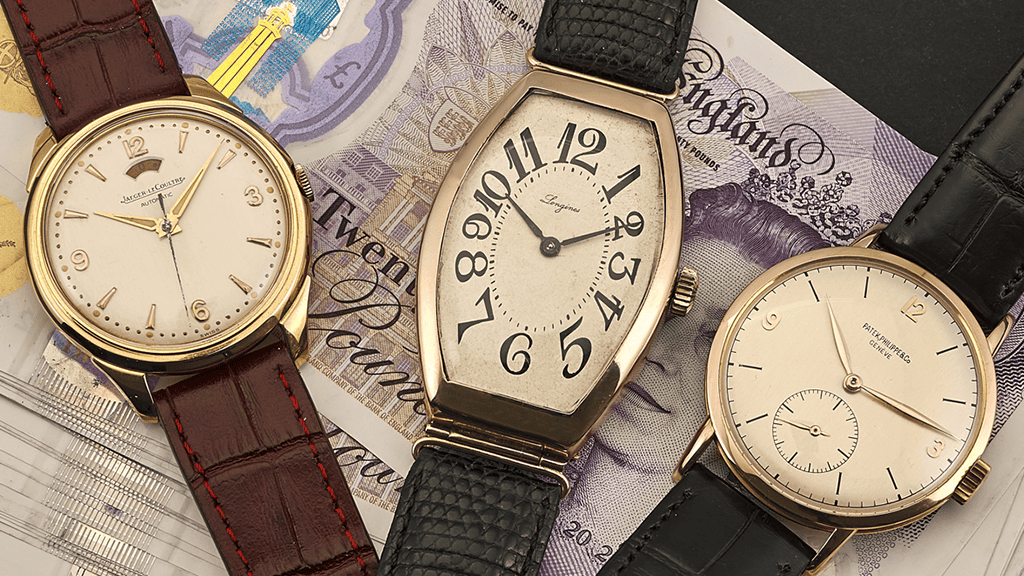 Return On Investment
If you have all the money in the world and really want to buy a new top-quality timepiece from a famous brand, there's no reason you shouldn't. Provided you can get hold of the watch you want and you don't have to wait too long.
We all know about the cost of buying and running a new car, and how its value drops like a stone during the first years of ownership. Well, the same generally applies to watches. There are exceptions, notably the Rolex Daytona and a few other sports models from the top brands. But authorised dealers have customer waiting lists which effectively means that these models are unavailable except at large premiums.
The hot modern Rolex sports watch market, for example, is both speculative and volatile and driven mainly by fashion. So best avoided unless you have very deep pockets and like to gamble.
But even if money is no object, might it not be wiser to opt for a watch that holds or appreciates in value over time? Nearly all high-quality watches drop in value during the first 10 to 20 years before slowly starting to appreciate again. It's much safer to invest in these earlier models, which have found their base price and are steadily appreciating.
A well-established and reputable vintage watch dealer, such as Vintage Gold Watches, will provide you with all the information you need, along with solid guarantees and after-sales support.
If you have a budget in mind, it's important to know that you can spend the same on a vintage watch as you would on a new model while often receiving a higher-quality product.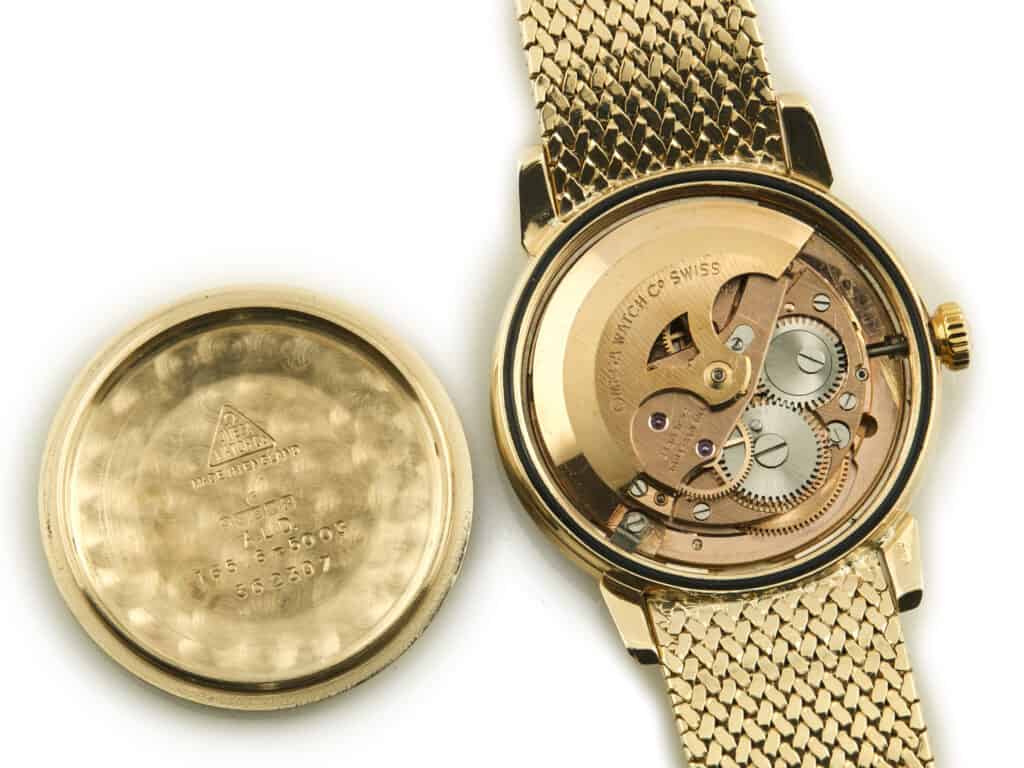 Reliability of Mechanical Watches
It's true that a new watch is likely to initially be more reliable and backed by a better warranty than an older watch. But at what cost? The depreciation in value of a new watch and servicing costs will almost certainly make it much more expensive to own in the long term. This makes buying a vintage watch a clear winner in terms of investment and sustainability.
George Daniels, widely recognised as one of the world's greatest watchmakers, famously said the problem with quartz watches is they are destined to fail because their batteries are determined to die as soon as they are fitted. Whereas by contrast, one of his mechanical watches could easily run for 12 years without any maintenance.
"The quartz watch is entirely dependent on its battery and it has the dedicated ambition to commit suicide as soon as possible."

George Daniels, Watchmaker
Worse than this, when a quartz movement needs a repair, which it will, there's usually very little that can be done. In comparison, a mechanical watch is alive. It can run forever. Leaving you with a valuable keepsake that can be passed down from generation to generation.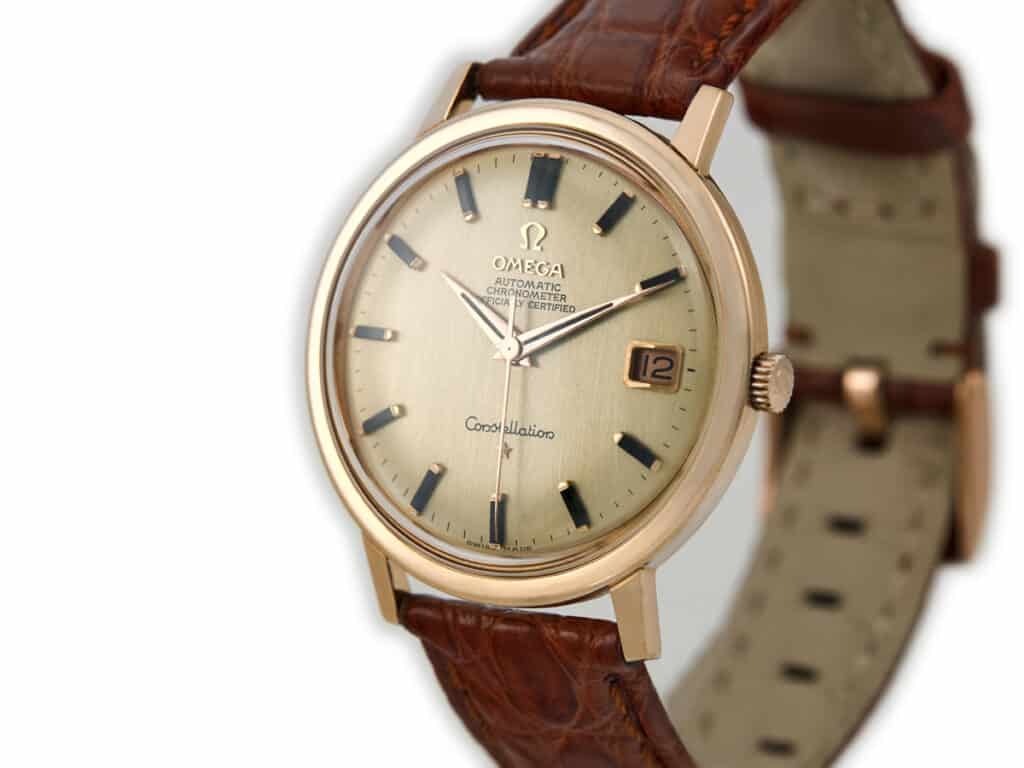 Now we know vintage watches make financial sense, but what are some of the other qualities vintage timepieces offer?
Heritage Watch Brands and The Story They Tell
Watch brands are some of the oldest companies on earth. Vacheron Constantin, for example, was established in 1755. That means they've been producing some of the finest quality watches for well over 250-years.
Each of the watch brands we all know and love has a fantastic heritage. Even Rolex, relatively new to the field at just over 100-years-old, has an amazing story to tell. Understanding this and wearing one of its older watches, such as a 50-year-old Rolex Oyster Perpetual or Omega Constellation, shows an appreciation of its workmanship and the tremendous effort and success of the company. The story behind a vintage watch forms part of the ownership journey and experience.
Vintage Watch Functionality
Vintage watches often have an impressive array of additional functions. Referred to by watchmakers as 'complications', these include not only simple time-only watches but watches with date functions that can remain correctly synced for 250-years, including leap years. Or chronograph watches with tachymeters, telemeters, and pulsation dials.
Other examples of greater functionality might include time zone watches, alarm watches, dive watches, or simple yet elegant moon-phase watches. There's something for everyone in the vintage watch market, often available for much less than you'd pay for their new or modern equivalent.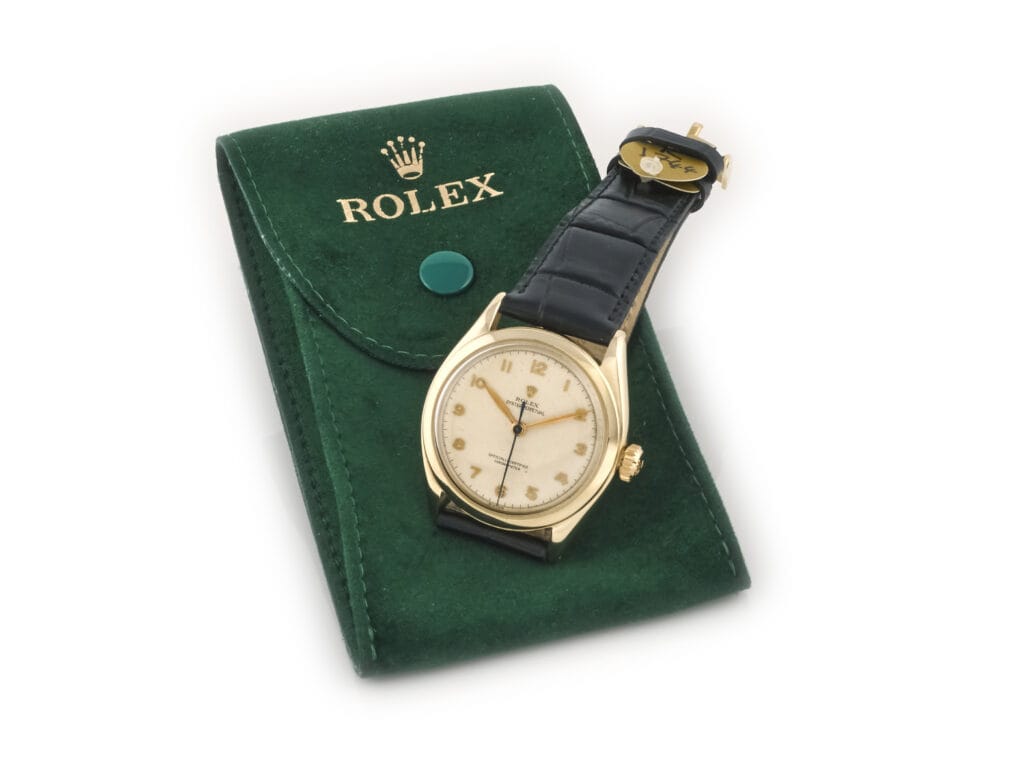 Supporting Watchmakers
Watchmaking, servicing and restoration have seen a resurgence since the 1980s when the industry was shaken by the sudden rise in popularity of cheap quartz watches. The crisis saw many watch manufacturers close their doors and watchmakers lose their jobs. Thankfully, this is now well behind us, but we still need to support the skills and craftsmanship that go into the servicing, repair and restoration of watches.
Many of our current watchmakers are from the older generation or have only quite recently finished apprenticeships. There is a gap as a result of a lost generation. The older generation is teaching the new, and meanwhile, the industry needs all the support it can get. By wearing and using a vintage watch, you're helping the industry and its craftsmanship to continue thriving.
Vintage Watches Never Go Out of Style
Classic lines never lose their appeal. The iconic Rolls-Royce grille inspired by the Greek Pantheon in Rome is no better example. The design of the wristwatch can be traced directly back to the Patek Philippe Calatrava Ref 96 wristwatch of 1932, which became the blueprint of all modern time-only watch designs we see today.
Watch movements have remained under continuous development for 500 years. It reached a peak during the 1950s when more research and development went into wristwatch movement and case design than ever before. This was when many of the iconic models we know and love today were first released; the Omega Seamaster, Constellation, and Speedmaster, the Rolex Explorer, Submariner, and GMT, to name but a few.
The 1950s and 60s saw watch manufacturers release models that have become cornerstones of their modern collections. These have been revised and subtly improved upon, giving us the enormous range we have today.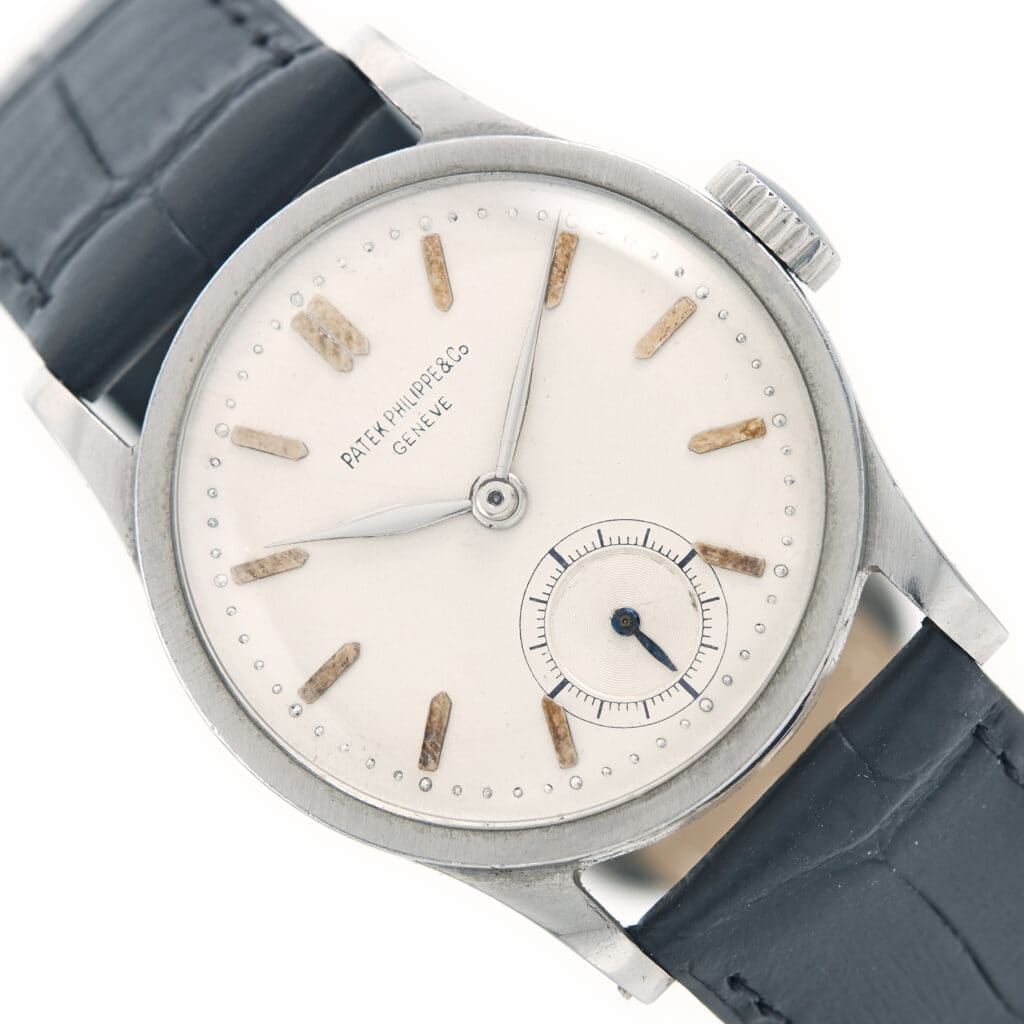 What to Look For When Buying a Vintage Watch
1. Inform Yourself: There is a great deal said online about what to look out for when buying a vintage watch. However, an expert dealer that you can talk to and who will take to explore the options with you is worth their weight in gold.
2. Start simple and gather examples of what you like: The best advice is perhaps to start simple, an elegant time-only wristwatch is a great choice. This could be a slim dress watch or a more rugged sports watch. Begin your journey by saving images of watches you like. It's amazing how some watch dials have more appeal than others and how your taste can quickly develop.
3. Consider sizing and functionality: Remember to consider carefully the size of the watch you need for your build and wrist size. Typically, watches were smaller 50 years ago because these were considered technically more accomplished. If you have a smaller wrist, you'll have more choices. If you do need a larger size, particularly in the case of a dress watch, then you will need to pay considerably more for this.
4. Degrees of originality: Many prefer their watch to look as attractive and presentable as possible, while others prefer a degree of originality. The degree of originality is up to you because one person's patina (a type of metal oxidation) is another person's case or dial damage. We might think we prefer a watch that has been kept in a safe all its life, but in reality, much like a vintage car with zero miles, these rarely exist. There is nothing wrong with a watch that has been fully restored or one with a few endearing imperfections as a result of regular use and servicing.
5. Enjoy the journey: Ultimately, you should buy what you like because you will be the one wearing and using it lovingly. You'll be surprised at how many people you encounter with similar tastes who will comment and compliment your watch. So wherever your vintage watch buying journey leads you, take your time, enjoy the journey, and welcome to the wonderful world of vintage watches.
If you'd like to find the perfect vintage watch for you, check out the Vintage Gold Watch collection online.