Louis Erard has collaborated again with master watchmaker Konstantin Chaykin, revealing a darker iteration of his renowned Wristmons (wrist monsters) – a grotesque, saw-mouthed cyclops inspired by the Slavic Likho legend.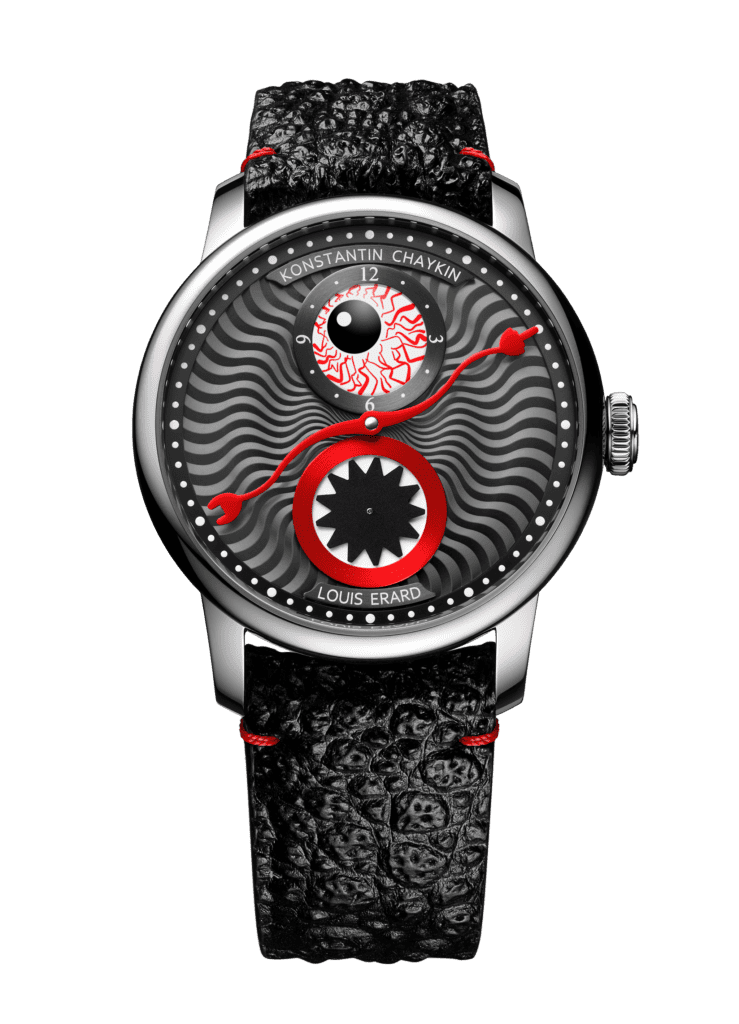 The Likho returns, this time filled with anger, with the creation of Le Régulateur Louis Erard x Konstantin Chaykin Dusk to Dawn (The Time Eater II). Two variations – 42mm and 39mm – in limited editions, in a diptych box or in a quadriptych box.
For years now, Konstantin Chaykin (below), an outstanding practitioner and member of the AHCI (Académie Horlogère des Créateurs Indépendants) with 94 patents to his name, has been peppering his creations with visions of horror.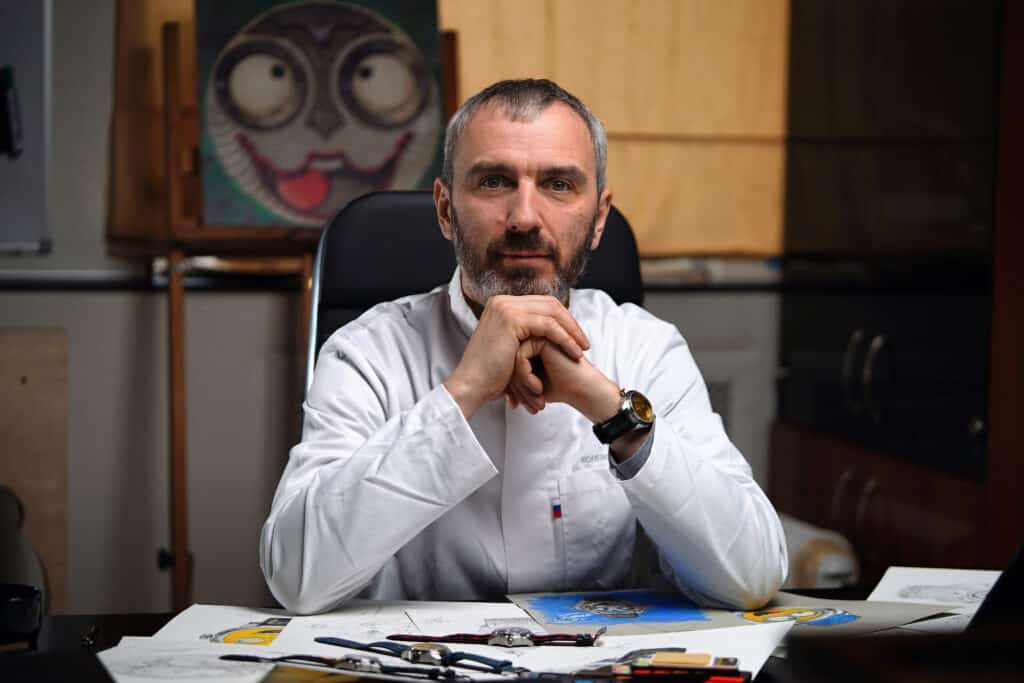 Konstantin Chaykin had a choice, he could have put all his expertise at the service of fine watchmaking, perfectly designed, inventive, traditional watchmaking, with exceptional craftsmanship and finishes, hand guilloché and grand feu enamel. But on the nights of the full moon, it's a different kind of fire that burns Konstantin Chaykin… he says he has visions… and he makes watches out of them, with monster heads, his Wristmons… and his Wristmons are scary.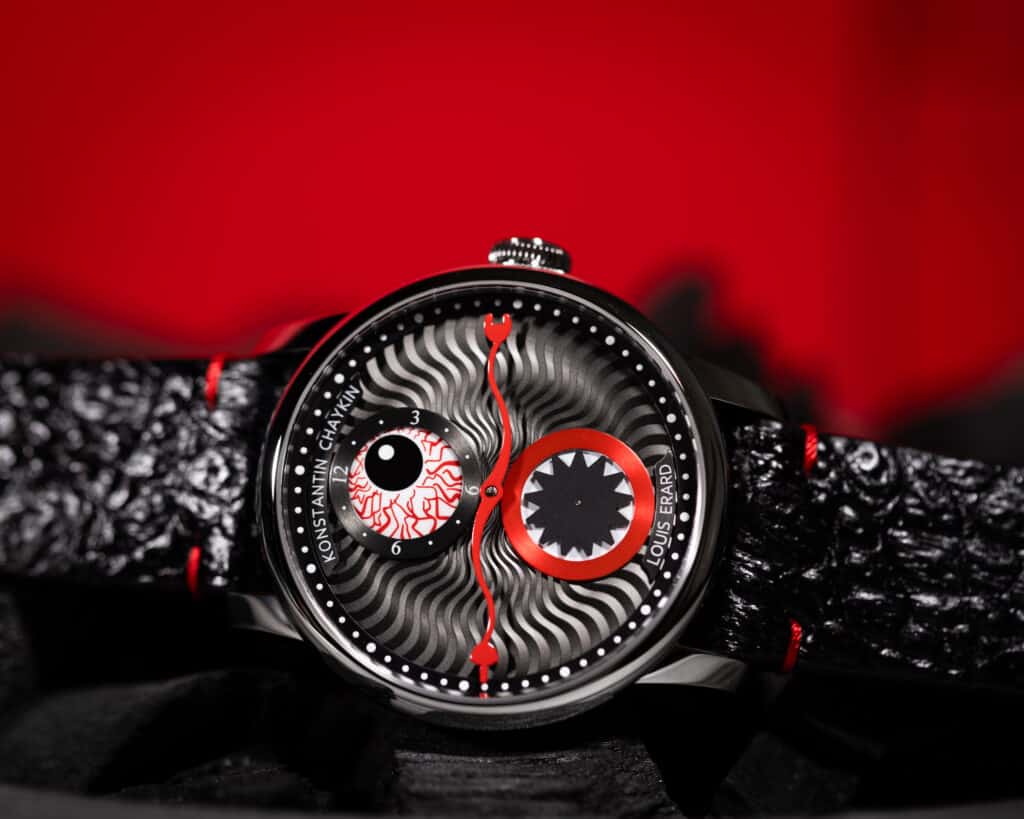 This time, Chaykin took it a step further. He awakened the Likho, terror of fairy tales… fairy tales, you bet! Konstantin Chaykin thought he was having fun. Louis Erard welcomed him with open arms, believing that strength lies in unity. To ward off any ill fate, they crafted a watch with the Likho's face. You may remember it — a diptych in two sizes, 42mm and 39mm, with a green hour-circle on the 42mm and purple on the 39mm, to soften the terrible face a little, to exorcise fear, to please everyone. Of course, they were limited editions, each with a talismanic number — twice 178 pieces. In numerology, 178 also symbolizes strength in unity.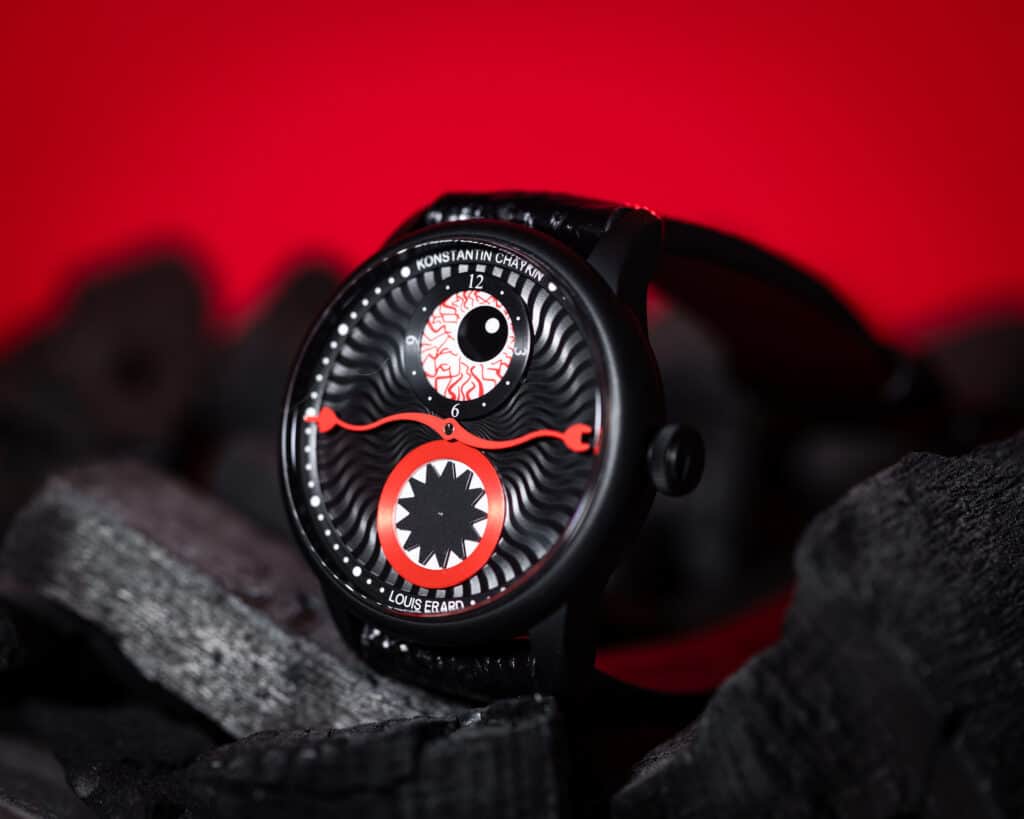 The Louis Erard x Konstantin Chaykin Time Eater has been nominated for the 2023 Grand Prix d'Horlogerie de Genève. And Chaykin's visions? They haven't disappeared; they've worsened — darker, more haunting, after sleepless nights, harassed by collectors. The cannibalistic mouth of the monster resumed ticking, its vengeful finger pointing at the minutes that remained. Its cursed monocle eye with burst veins.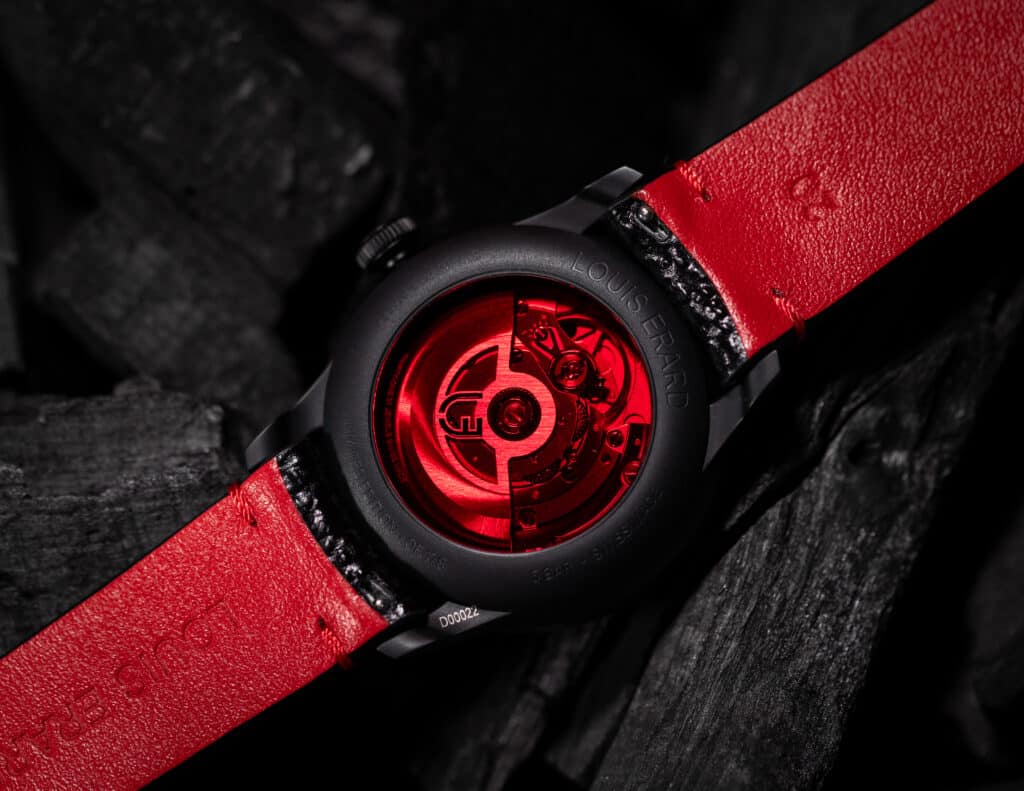 Le Régulateur Louis Erard x Konstantin Chaykin Dusk to Dawn, limited edition of 178 pieces, price excluding VAT: 4,000 Swiss francs. Available in two versions: 42 mm polished steel case or 39 mm sand-blasted steel case with black PVD treatment, anthracite or black lower plate with sunray wave pattern, shiny white hour disc with black pupil and red blood, matt black star-shaped seconds disc and shiny red hand-shaped minute hand. Black toad leather with red attachment points, red rabbit leather lining. Diptych edition set: limited to 28 pieces. Quadriptych edition set (including the first two editions): limited to 8 pieces (below).
Technical Specifications:
Le Régulateur Louis Erard x Konstantin Chaykin Dusk to Dawn ref. 85237AA89
Limited edition of 178 pieces
Price excl. tax: CHF 4,000.—
Movement: Automatic regulator, Sellita SW266-1 calibre, 11½"', Ø25.60mm, height: 5.60mm, 31 jewels, 28,800 VpH (4Hz), élaboré grade movement, meticulously decorated, special openworked oscillating weight with black lacquered Louis Erard symbol, approx. 38 hours power reserve
Functions: HMS. Hour disc at 12 o'clock, central minute hand, seconds disc at 6 o'clock
Case: Polished stainless steel, Ø42mm, lug width: 22mm, lug to lug: 49.60mm, thickness: 12.25mm, 3 pieces, domed sapphire crystal with anti-reflective treatment on both sides, movement visible through the black transparent caseback, water resistant up to a pressure of 5 bars (50 m/165 ft), Konstantin Chaykin signature crown, caseback engraved with "Limited Edition 1 of 178"
Dial: Matt black hour-circle, anthracite lower plate with sunray wave pattern, anthracite circular satin-finished hour flange, shiny red seconds flange, white transfers, circular satin-finished cartouches with logos transferred in white (Louis Erard at 6 o'clock and Konstantin Chaykin at 12 o'clock)
Hands: Shiny white hour disc with black pupil and red blood (transfers), matt black star-shaped seconds disc, shiny red hand-shaped minute hand
Strap: Black toad leather with red attachment points, red rabbit leather lining, polished stainless steel pin buckle, functional catch spring bars enabling the strap to be changed quickly
Dimensions: 22/20mm width, 80/115mm length
Collaboration: Watch developed in collaboration with Konstantin Chaykin in a limited edition of 178 pieces
Le Régulateur Louis Erard x Konstantin Chaykin Dusk to Dawn ref. 85248NN88
Limited edition of 178 pieces
Price excl. tax: CHF 4,000.—
Movement: Automatic regulator, Sellita SW266-1 calibre, 11½"', Ø25.60mm, height: 5.60mm, 31 jewels, 28,800 VpH (4Hz), élaboré grade movement, meticulously decorated, special openworked oscillating weight with black lacquered Louis Erard symbol, approx. 38 hours power reserve
Functions: HMS. Hour disc at 12 o'clock, central minute hand, seconds disc at 6 o'clock
Case: Sand-blasted stainless steel with black PVD treatment, Ø39 mm, lug width: 20mm, lug to lug: 45.90mm, thickness: 12.82mm, 3 pieces, domed sapphire crystal with anti-reflective treatment on both sides, movement visible through the red transparent caseback, water resistant up to a pressure of 5 bars (50 m/165 ft), Konstantin Chaykin signature crown, caseback engraved with "Limited Edition 1 of 178"
Dial: Matt black hour-circle with logos transferred in white (Louis Erard at 6 o'clock and Konstantin Chaykin at 12 o'clock), black lower plate with sunray wave pattern, black circular satin-finished hour flange with white transfers, shiny red seconds flange
Hands: Shiny white hour disc with black pupil and red blood (transfers), matt black star-shaped seconds disc, shiny red hand-shaped minute hand
Strap: Black toad leather with red attachment points, red rabbit leather lining, sand-blasted stainless steel with black PVD treatment pin buckle, functional catch spring bars enabling the strap to be changed quickly
Dimensions: 20/18mm width, 80/115mm length
Collaboration: Watch developed in collaboration with Konstantin Chaykin in a limited edition of 178 pieces
Le Diptyque Louis Erard x Konstantin Chaykin ref. 22222AA89.DIPTYQUE
Special box set, 28 pieces
Price excl. tax: CHF 7,900.—
Le Quadriptyque Louis Erard x Konstantin Chaykin réf. 44444AA88.QUADRIPTYQUE
Special box set, 8 pieces
Price excl. tax : CHF 15'900.—
For more information please visit Louis Erard