Digital pervades every aspect of our lives. It has transformed communication, between us and to us. It allows us to edit our own content. To choose what we look at, what we share and what we buy.
Word of mouth was and remains more powerful than any other marketing communication. We have some rather clever software that can extract conversations from social channels about any given topic: (Twitter, Facebook, Instagram, tumblr, Blogs and Forums).
We can listen to 8 billion conversations about any topic since 2008 and we will demonstrate that the watch sector, in general, is missing a huge opportunity to talk their customers in the right way.
Social Media is like a party that you have been invited to, but you don't know any of the other guests. You should bring a gift, be honest, polite, informative and engaging and you must stay in touch. You do not shout sales messages across the room with your jacket open revealing a random selection of watches.
There are a few good resources for the Watch enthusiast but, they are drowned in the Social space and there is room for a more authoritative and engaging offering.
'It is difficult, indeed dangerous, to underestimate the huge changes this revolution will bring or the power of developing technologies to build and destroy not just companies but whole countries' – Rupert Murdoch 13th March 2006
'The era of traditional, top-down power is over: connection is the new influence and today's achievers operate via a free-flowing exchange of ideas, using social media and personal networks to create value and understanding.'
GQ magazine's Who's Who, with the following commentary by the Editor, Dylan Jones
From the 1st Jan 2011 to the 1st Sep 2016, there have been 1,081,923 conversations including the phrase 'luxury watch(es)'. We believe this is an extremely low number compared to other sectors!
Since 2015, the number of conversations have become more consistent (c.25k per month). Possibly a sign that people interested in watches are looking for the right conversations? The spike in October 2012 coincided with the launch of WatchAnish (now an established publisher) and an attempt to become an established publisher by (amongst others) @Margaretmullina involving the publishing of tens of thousands of outgoing Tweets (with virtually no response).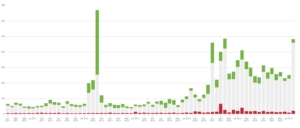 In terms of sentiment the conversations are 7% Positive, 90% Neutral and 2% Negative. This level of Neutral conversations is high and as we will discover is the result of nobody listening or responding. The 'conversations' have generally been  sales messages that do not engage the audience and who subsequently do not join the conversation, but that can change.

Source: GLB Influence Audit – 2016
Across many sectors, there is often a relationship between the number of conversations and the success of the manufacturers (assuming they are mostly positive or neutral!).
The chart below details Watch exports from Switzerland, courtesy of a UBS European note published Wednesday 1st September 2016. There is no such correlation for the luxury watch sector. We believe this is a result of the nature of the conversations published and an absence of any authoritative, independent and engaging content. In fact, as sales decline, the shouting increases, which is not going to help the situation.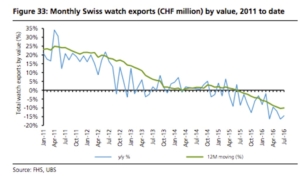 Topic Data: All
The topic wheel below provides an overall summary of the key topics of the 1,081,923 conversations. The inner circle represents the major topics of conversations and the outer circle the individual topics that make up these conversations.
Conversations about watches are not conversations at all. The entire topic (luxury watch(es)) is dominated by sales messages that are shouted at an audience who simply do not respond to that approach. Understanding your audience is the key to successful communication and the 'watch sector' as a whole has singularly failed to understand this, or has been hijacked by 'salesmen'.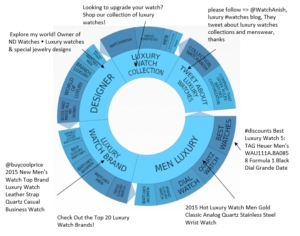 Topic Data: Negative
Focusing on the 70,692 negative conversations, these were primarily about fakes and corruption.
There is some inevitable negativity towards Rolex as a market leading brand. More broadly the luxury status of watches, presented with images of expensive lifestyles attracts some negative comments.
Apple watches attract comment expressing their probable failure to ever become an heirloom piece compared to a traditional luxury watch.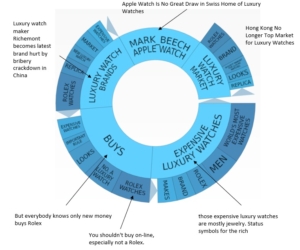 Topic Data: Positive
Focusing on the 217,196 positive conversations, these are almost exclusively sales messages describing any sales channel as having the best, cheapest, most desirable offering. The use of multiple hashtags is the equivalent of trying to join in everyone's conversations, even though you were not invited and are not contributing, just shouting!
#rich_lifestyle_ir #richlifestyle #luxe #luxury #luxurycar #luxuryhotel #luxurysport #luxurywatch #amazing #best #beautiful #hot #hotel #mode #fashion #model #expensive #classy #great #iran #gold #classy #design #house #rolex #nardin by rich_lifestyle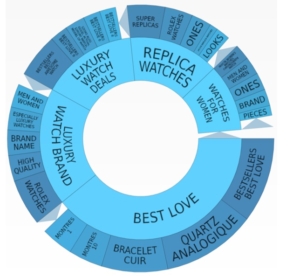 Most Influential Authors
The following is a list of the most influential Twitter authors creating conversations about 'luxury watch(es)'. The most influential are primarily National Newspapers that focus on controversial topics, albeit not exclusively.
The following is a list of the most influential Twitter authors creating conversations about 'Luxury Watches'.

Associated Press and Globe and Mail cover the payment of a bail bond by a FIFA official using 11 luxury watches and the Guardian reveals that 48 watches in FIFA goodie bags were donated to charity.
Forbes promotes 150 years of Zenith watches.
WSJ tells us how to sound like you know what you are talking about when buying luxury watches.
The LA Times reports on a luxury watch robbery, as does the Evening Standard.
Fortune Magazine covers the topic of successfully investing in watches.
CNET presents 27 complicated luxury watches.
COMPEX covers the pimping of a $100,000 watch by attaching an Apple watch.
BBC Global News covers the'4 times a luxury watch has caused an international outcry', as does World Service.
CNN covers the auction of Bernie Madoff's watch collection.
Geography
Of the 428,258 conversations that can be identified geographically, 56.06% are from the US. Geographical analyses are inevitably affected by the maturity of the social audience in each territory. In addition, some local channels are not covered (e.g. Sina Weibo etc.)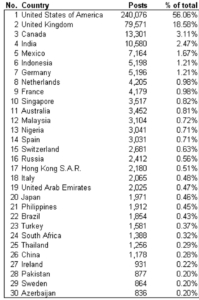 For more information on this analysis or any other topic, please contact Global Living Brands Ltd:
Tel:   +44(0)207 299 7763
Email: [email protected]
Address:   37-41 Gower St, London, WC1E 6HH
Website:   www.globallivingbrands.com