Next in our 'MrWatchMaster Meets' series are husband and wife team, Yvan Arpa and Dominique Arpa-Cirpka. Yvan is renowned for being one of the most audacious and avant–garde watch creators alive. He certainly plays by his own rules, creating timepieces that simply cannot fit into any existing category of watchmaking. All the hand-made dials in the various collections are made by his wife, artist Dominique Arpa-Cirpka, applying numerous techniques – most of which have never before been used in this industry.
We are delighted to bring you a fascinating insight into their views on business and the watchmaking industry.
MWM: How is business?
YA: Busy. It is a fight, but I am a fighter so this year we have seen record sales for ArtyA since it's birth.
DA-C: Very good, every year we have a significant increase of our sales and sell out our products with the retailers, we also have new retailers around the world, so we are not complaining…
MWM: What are you currently working on?
YA: I always work simultaneously on around 20 different projects from my next Swiss made ArtyA car to our own ArtyA manufactured movement, to new concepts for ArtyA and other Brands as well.
DA-C: All the new watch projects that we will be presenting at the next Baselworld are top secret, so I cannot tell more, but they are always wonderful revelations.
MWM: Tell us something we don't know about ArtyA watches?
YA: The refined in-house movement is not the heart of our watches, their heart is love passion and emotion that we put into every ArtyA watch, whether it is unique or a limited edition.
DA-C: ArtyA gives the consumer a large choice with 8 very different collections and some unique versions in the year. At the present time we are holding a major exhibition in Geneva at the headquarters of UBS, one of the biggest banks in Switzerland. This exhibition relates to the story of ArtyA and it is presented like an art museum.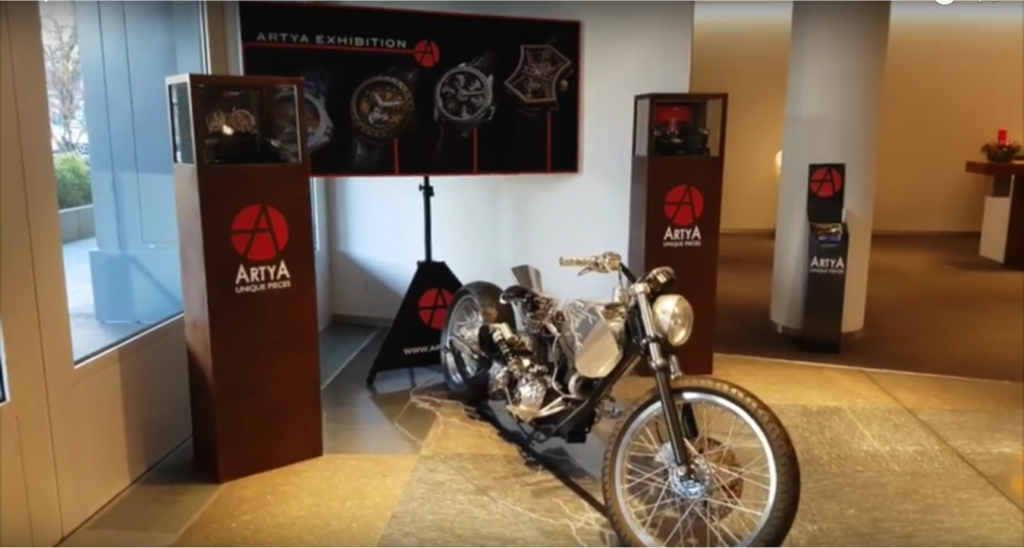 MWM: What watch do you wear?
YA: The Son of Sound Tourbillon as exhibited in some of the best museums worldwide as a timeless design.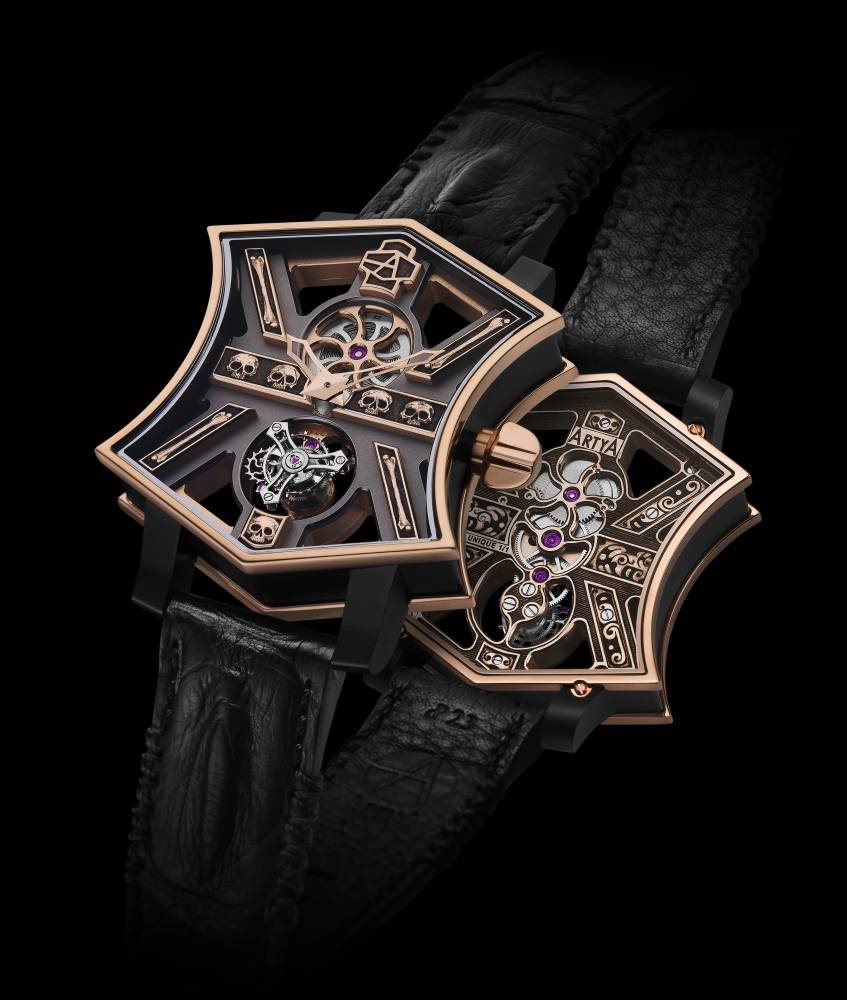 DA-C: I have around 10 personal watches, one of my favorite but only for big events is a Morphos Full Set with 218 Diamonds of the Son of Earth Collection. The dial of this watch, made with real butterfly wings and natural indigo pigments combined with the case is absolutely eye catching and mesmerising. I have also a Glasnost Russian Roulette in red version, which is very light to wear as the case is out of nano fiber carbon and also unique as there is real bullet inside the case. When I wear ArtyA, I feel like a chameleon depending on my mood.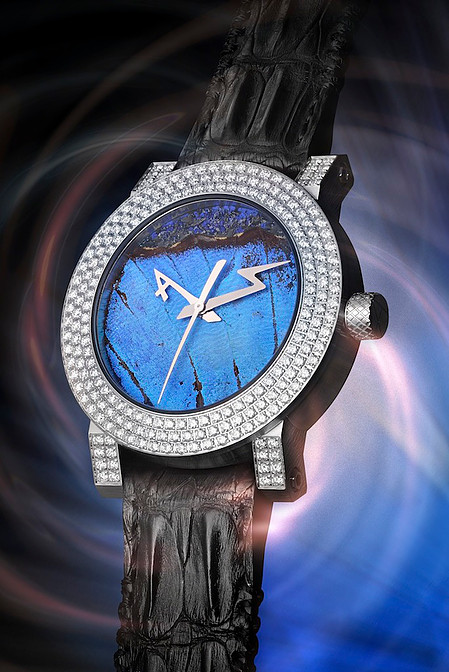 MWM: Apart from your own brand, what watch would you like to own?
YA: All the watches I created for so many Brands…too many to mention!
DA-C: I like the Richard Mille Calibre RM037, the jade Jellyfish of Ulysse Nardin and the lady Compliquée Peacok Black of Fabergé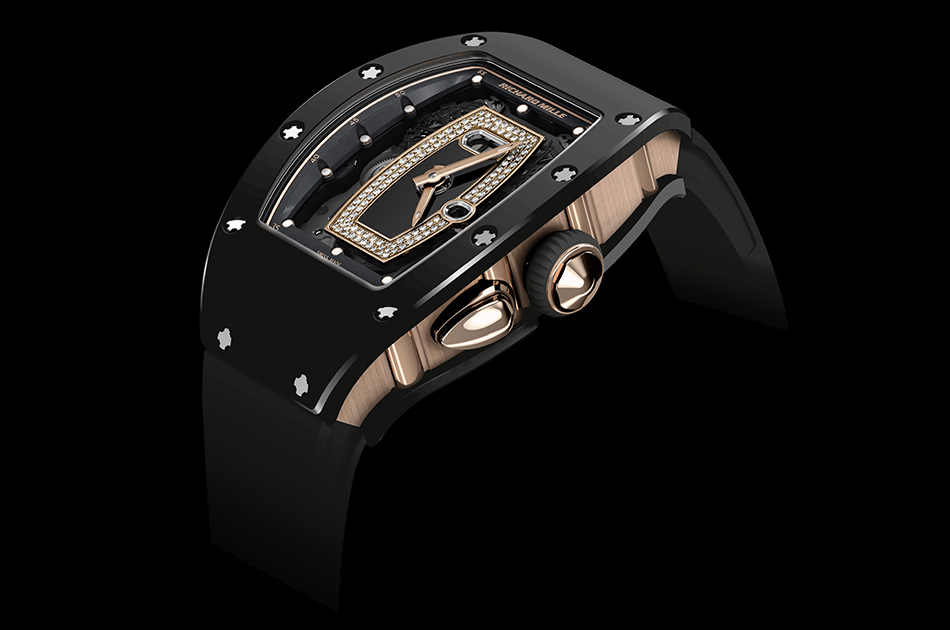 MWM: What do you like best about the Watch business?
YA: That nobody on earth needs a watch anymore as he/she can see the time everywhere, so you had better bring some other emotional values to this social status symbol, this is what ArtyA is all about "life is short but art is eternal" (Hippocrates)
DA-C: Once you enter this world, it is very fascinating and exciting to be part of it and to know that a percentage of the world wears an ArtyA on their wrist.
MWM: What don't you like about the Watch business?
YA: The ego of so many people in this industry just because it is luxury industry they think they are important…but nothing lasts.
DA-C: Horology seams to be old style with too many conventions and some narrow-minded people, especially talking about prices, when timepieces of 100 years ago are winning at the GPHG, it is like you go back in the past and reward a watch of your grandparents. When we started with ArtyA, we encountered a lot of reticence in this sector, similar to the famous painters like Monet, Picassso and so on.
MWM: What is next on the horizon for you?
YA: Remain the child I still am and stay amazed and rapt with wonder by anything I see, especially from nature, this gives me the possibility that my horizon is endless.
DA-C: I like the present moment, Yvan is the one who is like a 'boiling machine' and thinks about the future.
About Yvan Arpa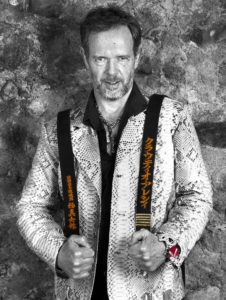 Yvan Arpa is a Swiss watch designer who started his career as a mathematics professor. After participating in professional martial art combat in Thailand and crossing Papua New Guinea by foot, he came back to his roots in Switzerland. In 1997, he joined the Richemont Group for Baume & Mercier as the Managing Director. From 2002 to 2006 he was Managing Director for Hublot participating in the launch of the Big Bang. From 2006 to 2009 he was the CEO of Romain Jerome introducing watches with rusted steel from the Titanic and real moon dust. In 2009 Arpa created his own company called Luxury Artpieces, which was branded ArtyA (Art+Yvan Arpa) in 2010.
The ArtyA brand is characterised by the unconventional raw materials it uses, such as butterfly wings, real bullets, fossilised dinosaur droppings, real spiders, boxes struck by lightning, tobacco leaves etc.
From 2010 to 2011, he acted as COO of Jacob&Co. At Basel World 2013, he launched Spero Lucem, named in honor of his birth city Geneva. In 2016, Yvan Arpa designed the smartwatch Gear S3 for Samsung, which is the first smartwatch using high-end watchmaking codes.
About Dominique Arpa-Cirpka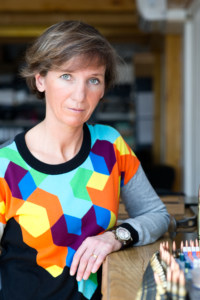 Dominique Arpa-Cirpka is a French-born artist. Based in Collonge-Bellerive, she has been drawing and painting since childhood. In 1983, she studied Fine Arts in Zurich and received the Chinet Award in 1984. From 1987 to 1990, she attended the workshop Germinal animated by the Vaudois painter Jacques Walther, who sees her as her most talented student and will offer her first solo exhibition. At the same time, she travels extensively to India, Africa, the Middle East and the South Pacific, the source of three major exhibitions in Switzerland from 1996 to 2005. In 2001, after the birth of her third child, she opened the Atelier l'Esquisse in Collonge-Bellerive. In 2009, she collaborated on the development of Watch dials firstly for the company Romain Jerome Watches with the 'Moon-Dust DNA', then for the company Artya Watches by applying unique techniques in the field of watchmaking.
For more information about ArtyA please visit www.artya.com