We are delighted to bring you the next in our series of MrWatchMaster Meets that gives a fascinating 'behind-the-scenes' insight into the world of watchmaking and in particular the repair business. Anthony L. who is also know as the 'No Bullshit Watchmaker', is a Swiss, Rolex, Breitling, Omega, and Jaegar Le-Coultre trained Horologist. He aims to make watchmaking fun to learn and simple to understand and is of the firm belief that less is more.
Anthony is the author of the book 100+ No BS Watch Tips for Watch Enthusiasts & Salespeople. It is described as an uncommon guide to watches, watchmaking & the watch industry. This is seriously not your average watch book. Watchmaking is complicated…but it doesn't have to be boring. Whether you're a watch enthusiast, watch salesperson, aspiring watchmaker, or just looking to get into the watch industry, this book is for you.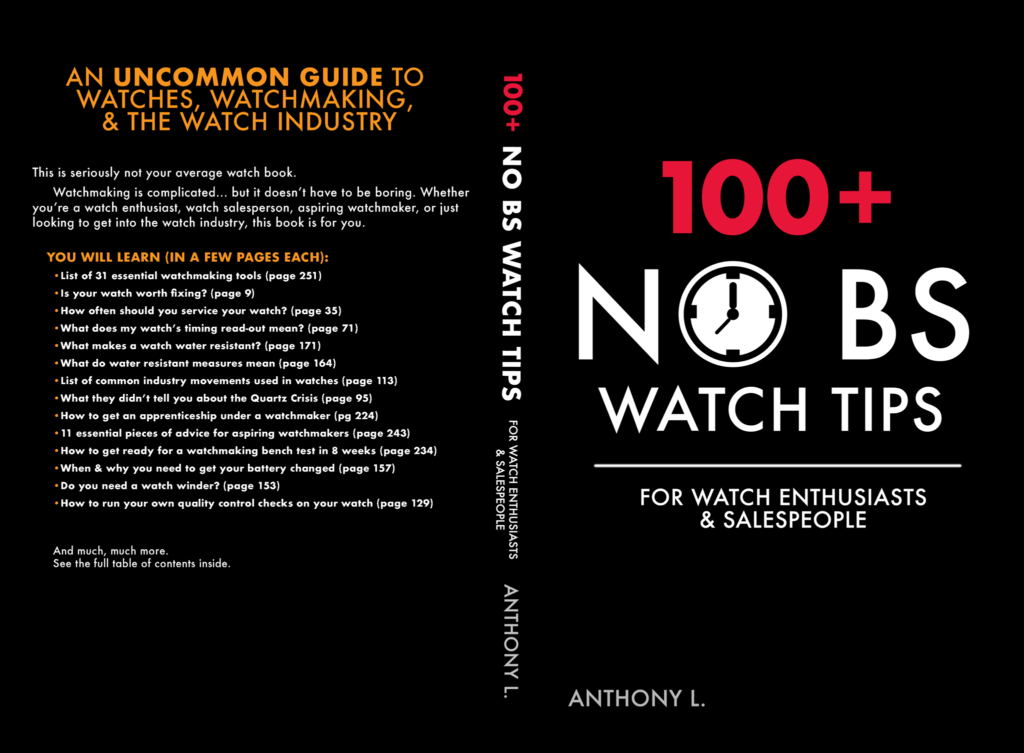 Very informative, loads of practical information plenty of illustrations, very enjoyable and fun to read among many other things." Henrik Korpela, Principal at Korpela and Hofs Watch Competence Centre & Former WOSTEP Instructor
We are pleased to be able to share Anthony's 'no-nonsense' views and opinions on business, future projects and of course the watch industry.
MWM: How is business?
AL: Business is great! Watch repair will always be in demand. With millions of watches sold annually and only a handful of watchmakers entering the field each year, business will always be good.
MWM: What are you currently working on?
AL: Aside from my book, I'm currently working on my latest project, The No BS Watchmaking Show podcast. It's short form, raw, and unfiltered tips on watches, watchmaking, and the watch industry. I've found that a large majority of my audience are watch enthusiasts, salespeople, watchmakers, and aspiring watchmakers. Audio format allows them the ability to passively listen to what I have to say. You're actually getting the first public announcement of my new endeavour!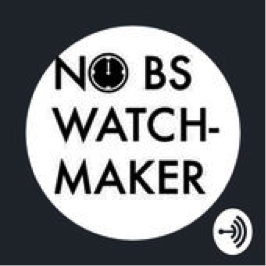 No BS Watchmaker Podcast is now available on iTunes
MWM: Tell us something we don't know about your business?
AL: My business is a dying art. Don't get me wrong, watch repair is on the increase but the shortage of watchmakers is what's causing the rise. Your average watchmaker is retirement age. Several hundred either retire or die off each year with only about 50 to 75 entering the field annually in the USA. Just think about that for a second.
Millions of watches sold each year. We know that sooner or later, all of those watches will need servicing. We do not have enough watchmakers in the world to service that many.
MWM: What watch do you wear?
AL: I wear a Jaeger-LeCoultre Ultra thin.
MWM: What watch would you like to own?
AL: None at the moment. I've currently worked on every single watch that I've ever wanted to own. I appreciate the fine art of watchmaking but repairing them for a living really gives you a different perspective on watches than your average enthusiast.
MWM: What do you like best about the Watch business?
AL: Job security. As a watchmaker, your job security is ridiculous. You can literally go to any city, town, state, or country, and find a job. Watchmakers will always be in demand. You can't randomly find a watchmaker on the street.
MWM: What don't you like about the Watch business?
AL: The lack of spotlight for watchmakers as a whole. We're kept in the shadows. Most of the branding and marketing today is on the finished product – the watch. The market is still trying to sell using decade old techniques and storytelling. We're well past the clichéd 'old man' voiceover and the 'lovely couple' hugging each other. If all of the world's brands were listening to me talk right now, I would say to forget everything and market the transparency. Transparency is how you'll win the new generation. Not following the "smart" watch movement.
MWM: What is next on the horizon for you?
AL: The No BS Watchmaking Show Podcast is what I'm currently focused on. You're actually the first to break the news on my latest endeavor!
About Anthony L.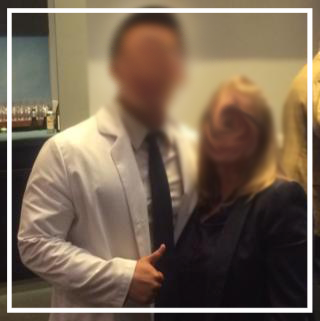 Anthony has worked on watches since he was 12 years old. He apprenticed under a master watchmaker at the time and boy did he hate it. He literally hated it. If you expected to read a story about a young kid who loved horology and devoted his whole life to it, look elsewhere.
He woke up at 5:30AM everyday to work on watches, went to school by 8AM, went home, went back to watches until dinner, 'sleep, rinse, and repeat'. Others may say he is lucky to have had the opportunity, but he hated it at the time because he was a kid. All his friends woke up late and watched cartoons and played outside. He had to sit on a bench from morning to night.
He's managed to convince himself that because he hated watchmaking at one point and respect the hell out of it now, he is pretty fair and balanced in his views.