MB&F's Legacy Machine 101 (LM101) series was first launched in 2014. As suggested by its "101" name, it focuses on the essentials of a mechanical wristwatch, contained in one of their most compact Machines with a case diameter of 40mm.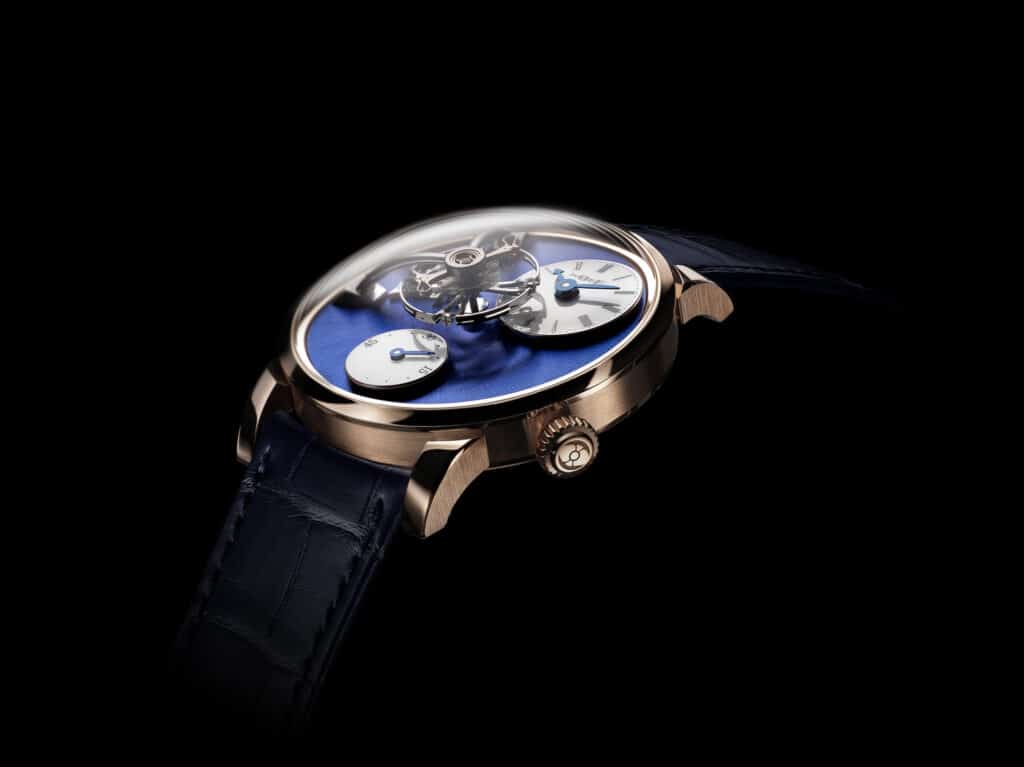 At the time, the LM101 movement was also the first entirely conceived by MB&F's in-house engineering team. The latest series evolves with technically and aesthetically-upgraded versions distinguished by colourful dial plates, including a stainless steel version. Focusing further on the essentials, the bezel and "Legacy Machine" engraving on the dial withdraw to highlight the time and power reserve, indicated on slightly larger subdials; and the star of the show, the signature "flying" balance wheel, inherits a double hairspring.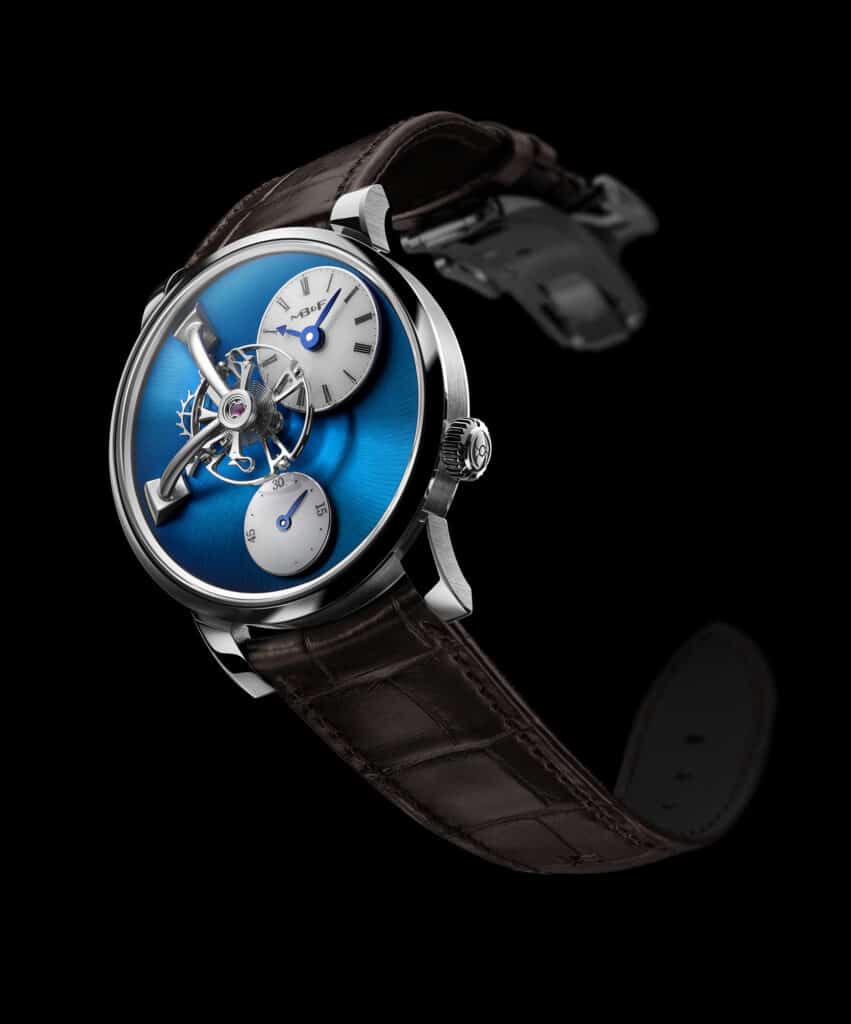 Legacy Machine 101 embodies and accentuates the very essence of what is essential in a wristwatch: the balance wheel, which is responsible for regulating precision; how much power remains in the mainspring, which indicates when it needs to be next wound; and of course, the time.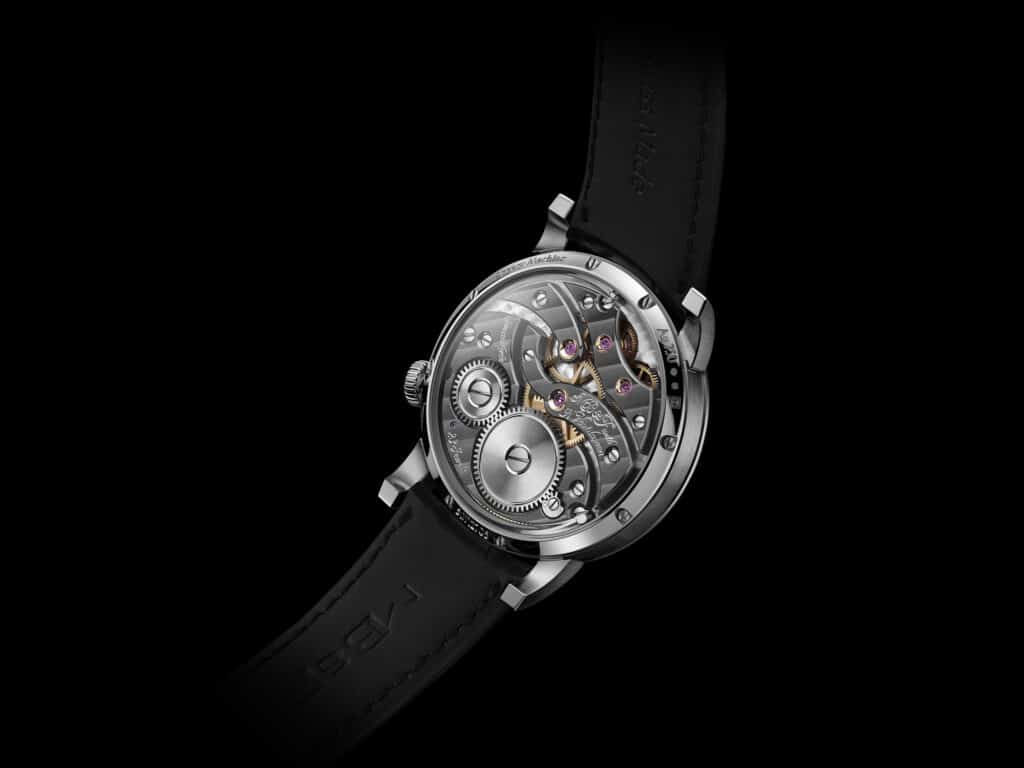 Visually, LM101 is dominated by the monumental suspended balance wheel, its sedate oscillations drawing the eye ever closer. Two pristine-white sub-dials hover just above the fine sunray-engraved movement top plate. At the top right, highly legible hours and minutes are displayed by beautiful blued-gold hands contrasting against the immaculate white, while the 45-hour power reserve indicator is displayed in a smaller, but similar sub-dial below.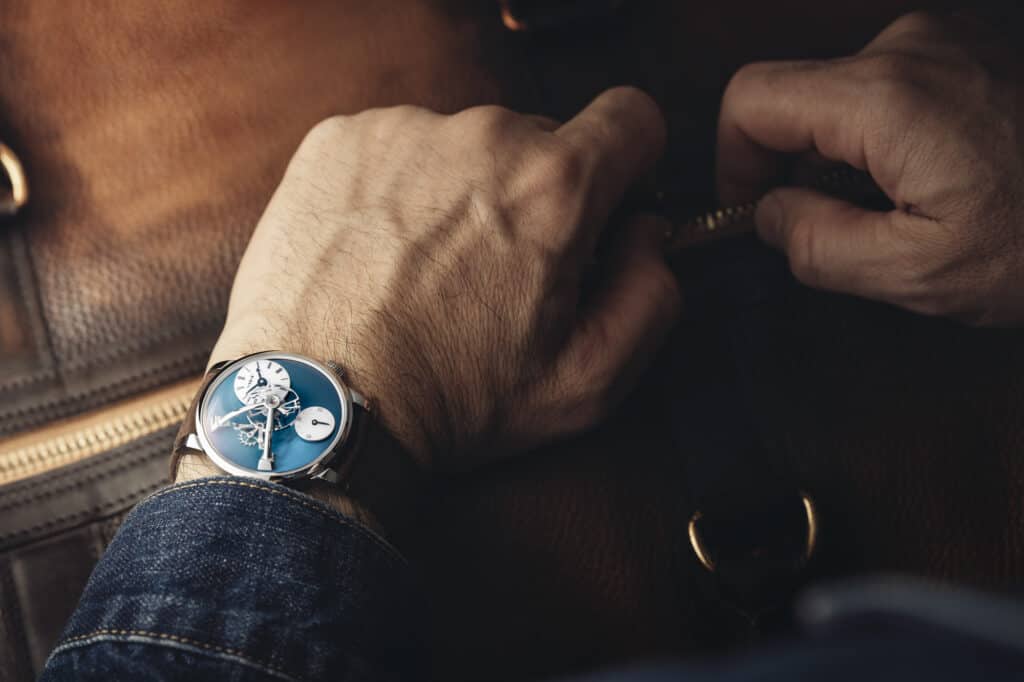 Technical Specifications:
Engine
Three-dimensional horological movement developed in-house by MB&F
Movement aesthetics and finishing specifications: Kari Voutilainen
Manual winding with single mainspring barrel
Power reserve: 45 hours
Balance wheel: Bespoke 14mm balance wheel with four traditional regulating screws floating above the movement 
Balance spring: Traditional Breguet curve terminating in mobile stud holder; Straumann® double hairspring for the 2021 editions
Balance frequency: 18,000bph/2.5Hz
Number of components: 229 components / 231 for the 2021 editions
Number of jewels: 23 jewels
Chatons: gold chatons with polished countersinks
Fine finishing: superlative 19th century-style hand finishing throughout; internal bevel angles highlighting hand craft; polished bevels; Geneva waves; hand-made engravings, NAC black bridges for the 2021 editions and frosted dial plate for the "Frost editions".
Functions
Hours, minutes and power reserve indicator 
Large balance wheel suspended above the dial 
Case
First editions in 18k red gold or 18k white gold, in platinum 950 (33 pieces) and in palladium 950 (18 pieces)
Two frosted editions in 18k red gold (33 pieces) and 18k yellow gold (18 pieces).
2021 Editions in 18k white gold, 18k 5N+ red gold and stainless steel
Diameter: 40.0 mm
Height: 16.0 mm
Number of components: 35
High domed crystal sapphire on top and box sapphire crystal on back, both with anti-reflective coating on both sides
Strap
Hand-stitched alligator or veal strap with gold, platinum, stainless steel or palladium buckle to match the case.
Retail prices of the new editions, available at their worldwide retailers or at MB&F's eShop:
– LM101 Stainless Steel (light blue dial): CHF 49,000 + VAT (USD 56,000 / EUR 46,000 + tax);
– LM101 Red Gold Blue and White Gold Purple: CHF 59,000 + VAT (USD 68,000 / EUR 55,000 + tax).
For more information please visit https://www.mbandf.com/en