These MB&F Legacy Machine FlyingT models designed by Emmanuel Tarpin, are inspired by swirling snow and icy stalagmites and limited to just eight pieces each.
This is the second collaboration for the Legacy Machine FlyingT collection – the first being with Bulgari – and have been created by contemporary French jewellery designer, Emmanuel Tarpin. He first met MB&F founder, Max Büsser while studying at Geneva's Haute école d'art et de design (HEAD), when Max made a presentation to the students about MB&F. 
The Legacy Machine FlyingT immediately appealed to Tarpin thanks to its depth. Where the majority of timepieces are flat, he was fascinated by this domed space around the vertically built mechanism. With a free hand to design whatever he wanted, he decided on a winter theme, as not only is winter his favourite season, but travelling back and forth between his hometown of Annecy to Geneva, in a sometimes wintery wonderland, quickly provided him with the inspiration he needed.
"We are not jewellers, we are watchmakers. We would put diamonds on our timepieces, but it was really the bare minimum. So, I started to see jewellers, great jewellers, to ask them if they would like to put their artistry and jewellery into our FlyingT – much like giving them a blank canvas to paint."

Maximilian Büsser, Founder, MB&F
The first model, called Ice (above), features asymmetrical diamond-set stalagmites that encroach on the sapphire crystal dome and the movement. Each icy 'stalagmite' is different, replicating the randomness of nature. Tarpin took his inspiration from a trip to Lake Baïkal in Southern Siberia, where in winter the lake freezes from the edge inwards until it is totally frozen. The claws of the diamond stalagmites have not quite claimed the movement and the matt lapis lazuli dial, leaving the beauty of the mechanism and the time visible to the eye.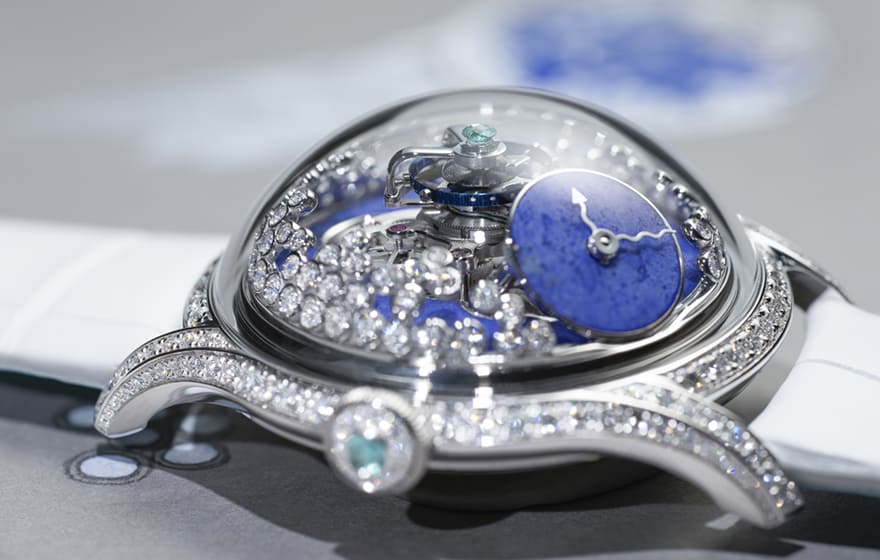 For the second model, named Blizzard (above), Tarpin let his imagination run free into the Alps where he has been skiing since he was two years old. He has interpreted memories of being caught in blizzards of snow into the LM FlyingT with brilliant-cut diamonds set under the sapphire crystal dome and closed-set diamonds set into the matt lapis lazuli dial, depicting snowflakes on the ground. The result is like a snow globe in motion.
"I do very few collaborations; I much prefer to focus on my own creations. But we had a chat and then met in person and we got on really well. I found the project to be extremely interesting and working with Max was just spontaneous and easy, even if this was my first time working on a watch!"

Emmanuel Tarpin
The LM FlyingT engine utilises a vertical and co-axial approach, along a central axis orchestrating the overall architecture of the entirely visible mechanism. In this respect, the watch deliberately goes against tradition, since everything that is usually hidden is highlighted here in a three-dimensional construction. The cinematic flying tourbillon, is a visually stunning example of the rotating escapement and stands in stark contrast to other flying tourbillons, which usually do not venture past the confines of their surrounding watch dials.
In order to display the time as precisely as possible on the 50° inclined dial, conical gears are employed to optimally transmit torque from one plane to another. The 280-component engine of Legacy Machine FlyingT has a power reserve of four days (100 hours), which is among the highest within MB&F.
Technical Specifications:
8 'ICE' EDITION pieces and 8 'BLIZZARD' EDITION pieces; both editions in 18K white gold with fully diamond-set cases and blue matte lapis lazuli dial plates.
Engine
MB&F FlyingT movement featuring three-dimensional vertical architecture, automatic winding, conceived and developed in-house with a blue balance wheel
Central flying 60-second tourbillon
Power reserve: 100 hours
Balance frequency: 18,000bph / 2.5Hz
Dial plate in blue matte lapis lazuli
Three-dimensional sun-shaped winding rotor in 18K 5N+ red gold, titanium and platinum
Number of components: 280
Number of jewels: 30
Functions/indications
Hours and minutes displayed on a 50° vertically tilted dial with two serpentine hands.
Two crowns: winding on left and time setting on right.
Case
Material: 18K white gold, set with diamonds.
High domed sapphire crystal with anti-reflective coating on both sides, sapphire crystal on back.
Dimensions: 39 x 20mm
Number of components: 17
Water resistance: 3ATM / 30m / 90'
Stones
For the 'ICE' edition:
• Brilliant-cut diamonds on the Ice decoration: ~ 0.611ct
• Brilliant-cut diamonds on the crowns: ~ 0.138ct
• Brilliant-cut diamonds on the case: ~ 1.402cts
• 2 paraibas on the crowns: ~ 0.11ct and 1 paraiba on the tourbillon: ~ 0.03ct
For the 'BLIZZARD' edition:
• Brilliant-cut diamonds on the dial: ~ 0.0457ct
• Brilliant-cut diamonds on the Blizzard decoration: ~ 0.921ct
• Brilliant-cut diamonds on the crowns: ~ 0.138ct
• Brilliant-cut diamonds on the case: ~ 1.402cts
• 2 paraibas on the crowns: ~ 0.11ct and 1 paraiba on the tourbillon: ~ 0.03ct
Strap & buckle
Alligator leather strap with white gold paved pin buckle matching the case.
Price
Retail price of these two pieces is CHF 160,000 + VAT (or USD 170,000/EUR 168,000 + tax)
For more information please visit MB&F