Kari Voutilainen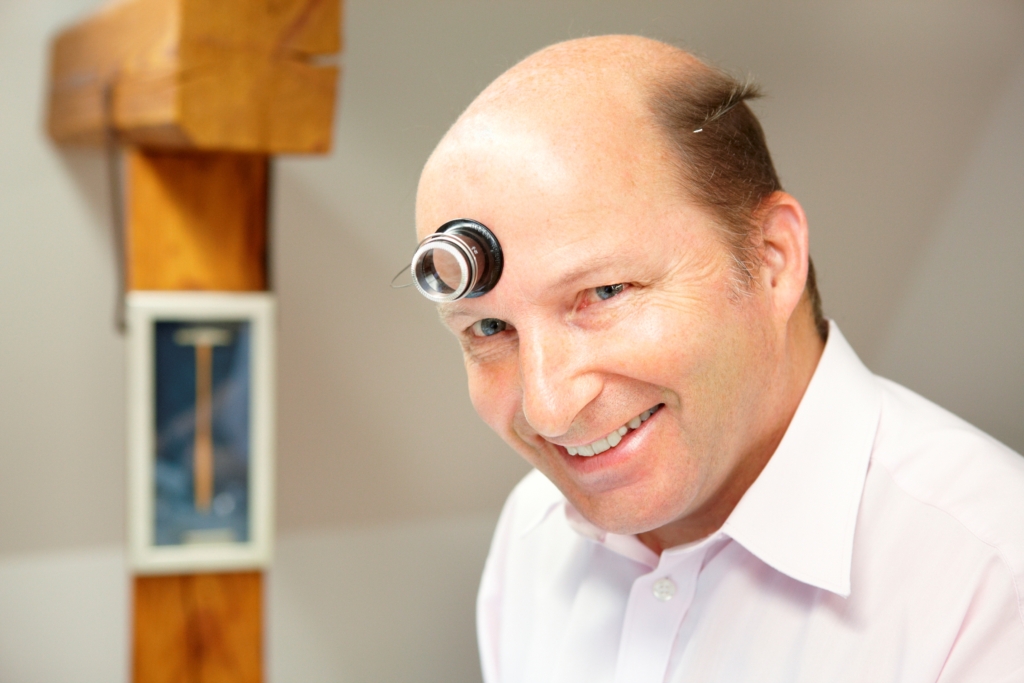 Kari Voutilainen has a passionate interest in horology spanning forty years. He completed his initial watchmaker's training at the world renowned watchmaking school of Tapiola in Finland.
He came to Switzerland in 1988 to attend the International Watchmaking School WOSTEP, 1990 he started to work in Switzerland in Parmigiani until 1999 fabricating complicated unique pieces and making restorations.
He taught for the next three years at the WOSTEP, heading the department of complicated watchmaking.
Alongside his professional work, Kari Voutilainen completed his first pocket tourbillon in 1994. After this unique piece he has made several unique bespoke pieces to customers during his free time 1994 and 2002.
He started his independent workshop at 2002; ten years later he made his in-house movement Vingt-8 with direct impulse Voutilainen escapement.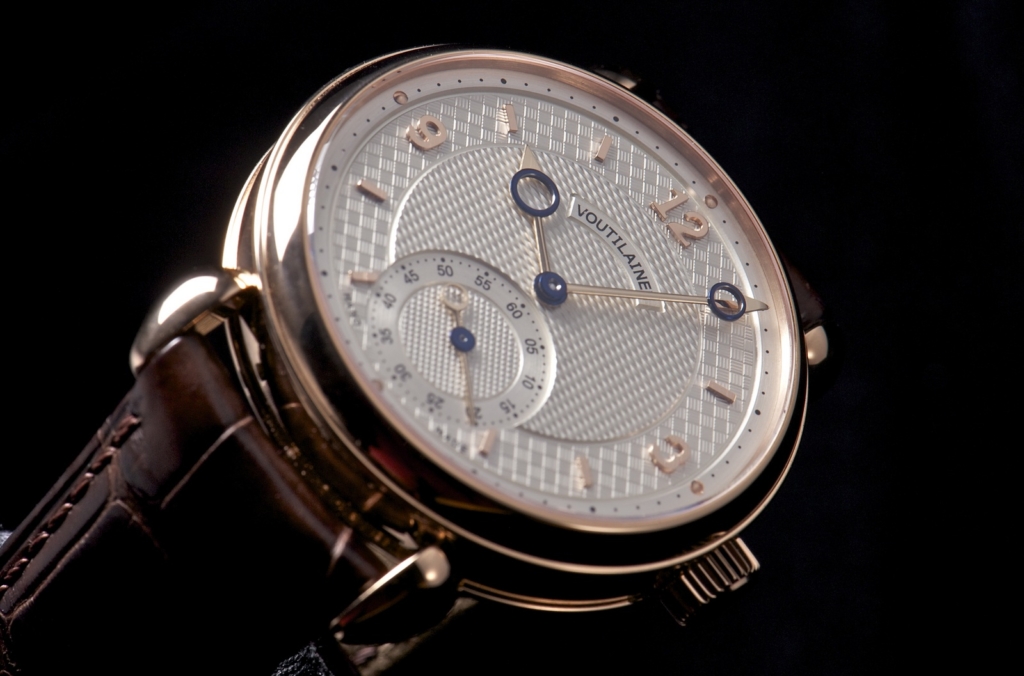 As with all entirely handmade watches, their number will remain limited; each one is crafted according to specific requirements and has its own individual and personal qualities.
Today the workshop has 21 people working; movements are fabricated entirely in house.
2014 Kari bought a dial factory, in which his dials are finished and he is also fabricating dials to other watch makers.
Read our exclusive interview with Kari here
Robert Loomes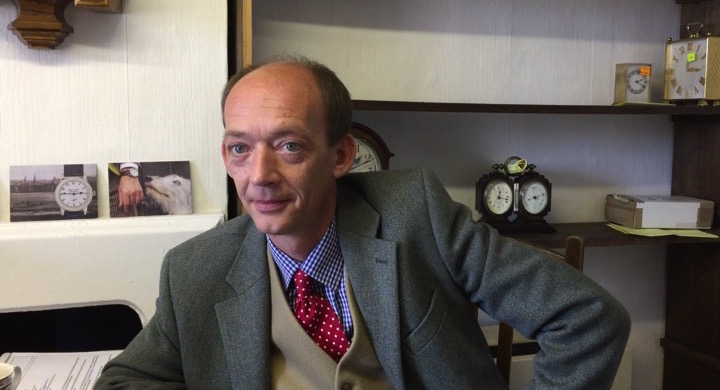 Robert Loomes is an English Watchmaker with a long and fiercely proud reputation for bringing out the best of British horology.
Robert grew up immersed in the family business and, almost inevitably, ended up working in the business. His Father, Brian, a hugely well respected clock dealer and author based in the Yorkshire Dales, allowed Robert to spend his days off in the workshops of some of the best, and kindest, restorers in the north of England. At the age of twenty four Robert started his own restoration business in the Lincolnshire market town of Stamford.
Robert finally qualified as a Member of the British Horological Institute (BHI) in 2000 and spent six years as a volunteer director there, ending up as director for Education. He is currently the vice-chairman of the BHI.
Meanwhile, having made a couple of wristwatches out of imported Swiss bits for fun, Loomes decided to make a batch of cheap automatic watches. The first hundred sold in a matter of weeks and it was clear the business was changing direction. It was then that Robert decided to develop an all-British-made watch.
This was quickly developed around a stock of old Smiths movements. The staff set to on dialmaking, hand production, case finishing, and later interesting skills like enameling. We are the only English firm who can hand fire glass enamel dials in our workshops – made in exactly the same way as dials were made 250 years ago. This work went on to produce the Robin range of watches, still selling well today.
Meanwhile, Robert hired in special expertise to build the Loomes milling machine. It took two years to build but, when completed in August 2013, it is able to machine almost all the components needed for movement manufacture. The mainplate, cocks and bridges are all machined on it.
All the components are slotting into place and Loomes are about to unveil their own movement, producing a watch where every single component, even jewels, screws and springs, is made in England. It is, they believe, the only entirely English-manufactured watch.
When not playing with watches, Robert and Robina enjoy spending as much time as possible outdoors. Robina rides horses and Robert is well known for using his Thames river skiff – a larger rowing boat designed to carry passengers. Moored outside the shop and called "the escapement", it is used to escape the office and gently drift down the river and out into open countryside.
Read our exclusive interview with Robert here
Peter Speake-Marin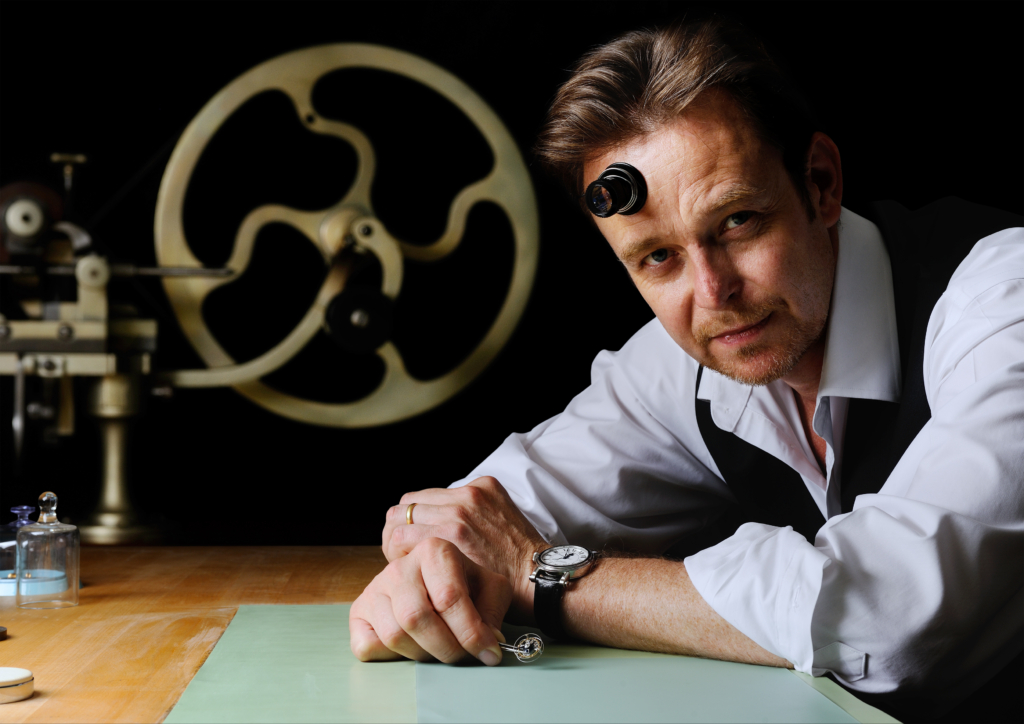 Peter Speake-Marin was born Peter Neville Speake in 1968 in Essex, England, to an English mother and Welsh father. When Peter reached the end of his secondary school education, he originally had the intention of entering the world of jewellery. However, after a visit to a kindly careers teacher, Peter entered the world of watchmaking. He began his horological education at Hackney Technical College in London in 1985 and then continued his studies at WOSTEP, the prestigious Swiss watchmaking school in Neuchâtel.
Having completed the WOSTEP high-end complications course, Peter returned to England. He was eventually employed by Somlo Antiques then based in the Piccadilly arcade, London where he was tasked with establishing the watch restoration department of this prestigious antiques house.
During seven years at Somlo, Peter had the privilege of restoring antique watches made by many of the great historical masters and brands, such as pieces by Arnold, Frodsham and Nielson, original Breguets and Patek Philippes – from the dawn of watchmaking through to the 1950s.
Through this experience, Peter learnt how past masters had found their watchmaking solutions and their diverse ways of making watches, and he fell in love with this intoxicating combination of history, art and mechanics.
In 1996, he married, changing his name from Speake to Speake-Marin, before he and his wife moved to Le Locle, Switzerland where he worked for Renaud & Papi to help develop and build high-end complications as well as train young watchmakers.
In his spare time, Peter began acquiring his own machinery and constructed by hand a tourbillon pocket watch with twin power trains, which later became known as the "Foundation Watch"– the foundation stone for his future work – and helped him earn coveted membership of the prestigious Académie Horlogère des Créateurs Indépendants (AHCI).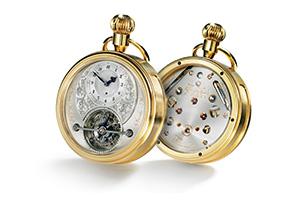 In the "Foundation Watch", Peter laid down his style and philosophy while establishing his first independent workshop at the beginning of the millennium on the picturesque Lake Geneva between Geneva and Lausanne.
The first wristwatch to leave his workshop at the end of 2003 took its cues from the Foundation Watch. Peter named its distinctive case "The Piccadilly" after the time he spent at Somlo in Piccadilly and the major influence that this period of his career had on his watchmaking outlook.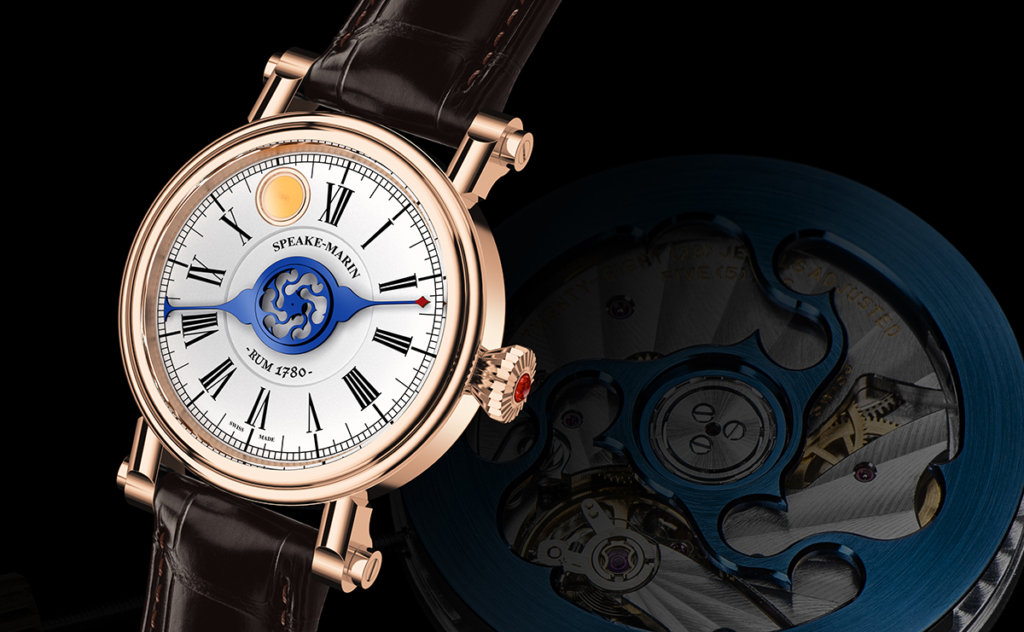 As an independent, he has collaborated as a watchmaker designer and consultant with many different companies including Harry Winston, MB&F and Maîtres du Temps. Since the beginning of 2008 he has channelled his efforts exclusively into Speake-Marin.
With all Speake-Marin watches there is a tangible link to classical watchmaking but with contemporary unique style and design. Peter Speake-Marin's timepieces are very much a representation of himself as a watchmaker, reinventing horology in his own way.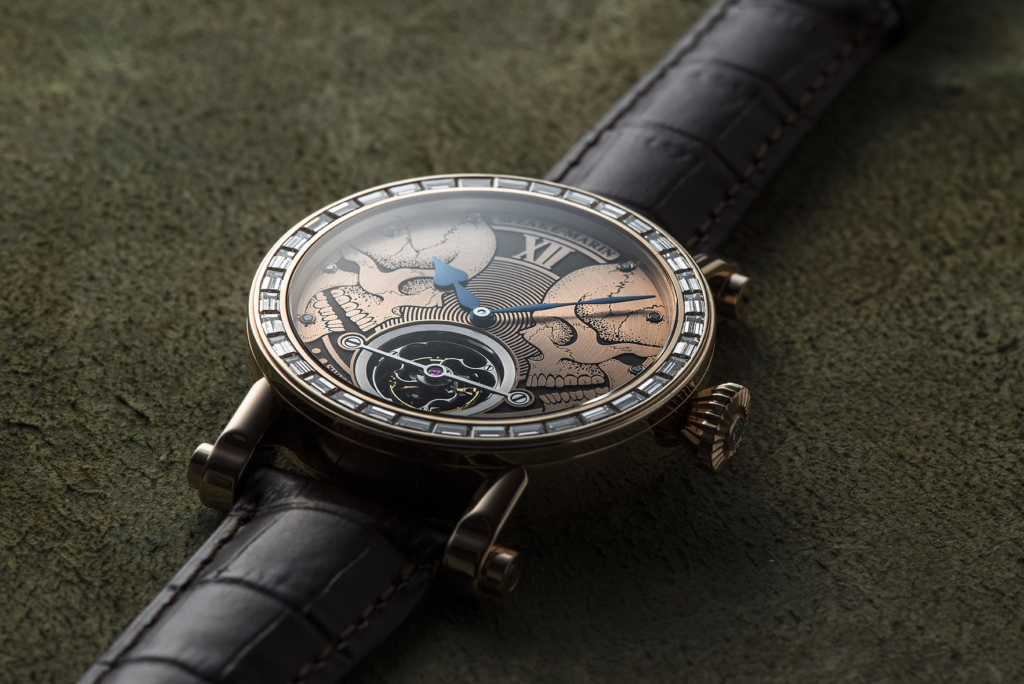 There are very few modern watchmakers and brands that have created such an original style, adhered to such an underlying philosophy of constant excellence, beauty and longevity of design and aesthetics, to create timepieces that will endure.
Read our exclusive interview with Peter here
Dr John C Taylor OBE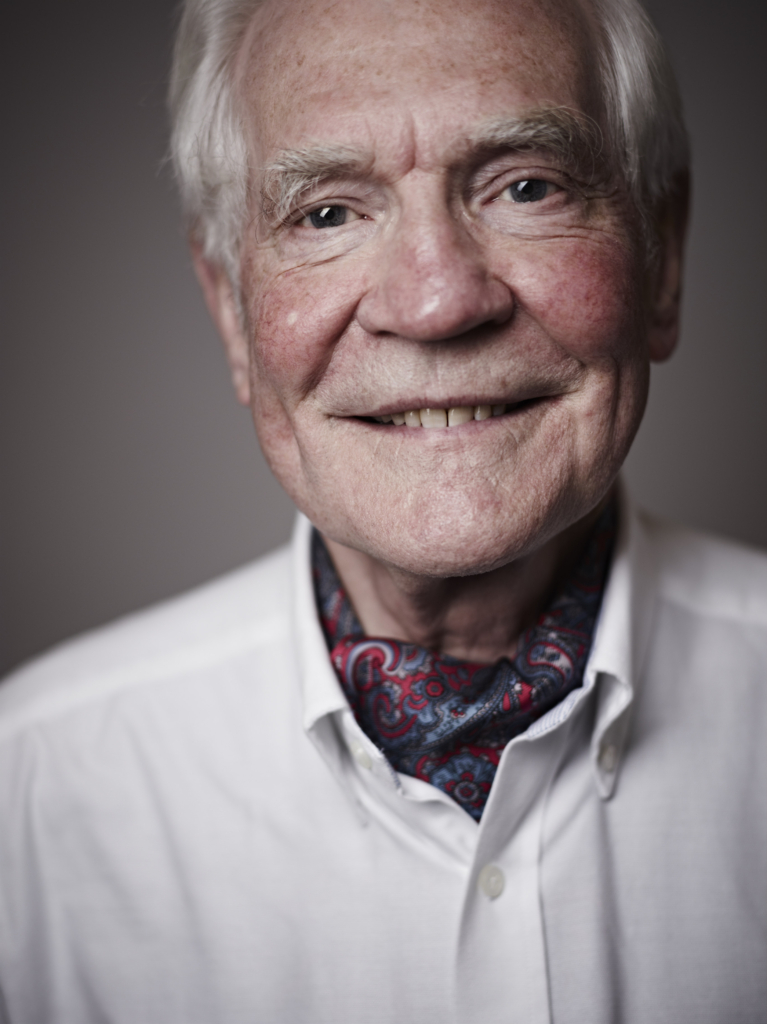 Dr John C Taylor OBE is a world-renowned inventor and entrepreneur perhaps best known for designing thermostat systems. After 20 years working for the family business Otter Controls, Dr Taylor left to build his own company Strix Ltd which received four Queen's Awards. He is an eminent horologist, with a renowned collection of early English clocks and Watches.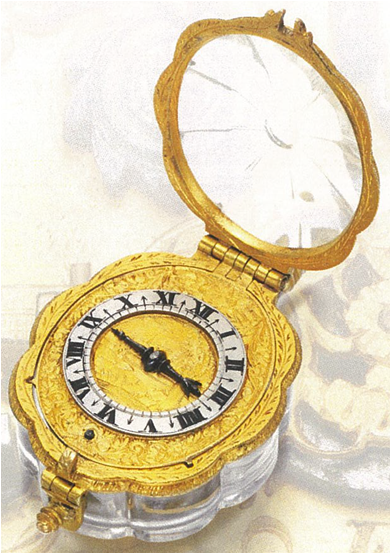 Dr Taylor designed the Chronophage clocks, which have been exhibited in a number of museums. The one on the outer wall of the Taylor Library at Corpus Christi College, Cambridge has become a major tourist attraction.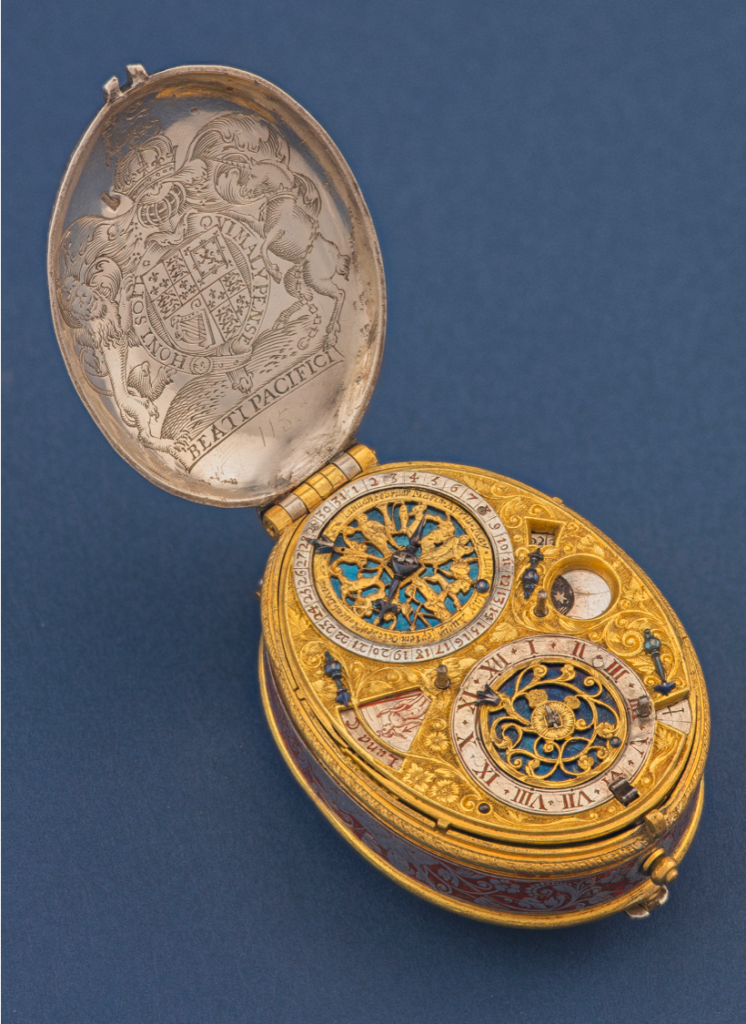 In 2011, Dr Taylor was made an OBE for services to business and horology.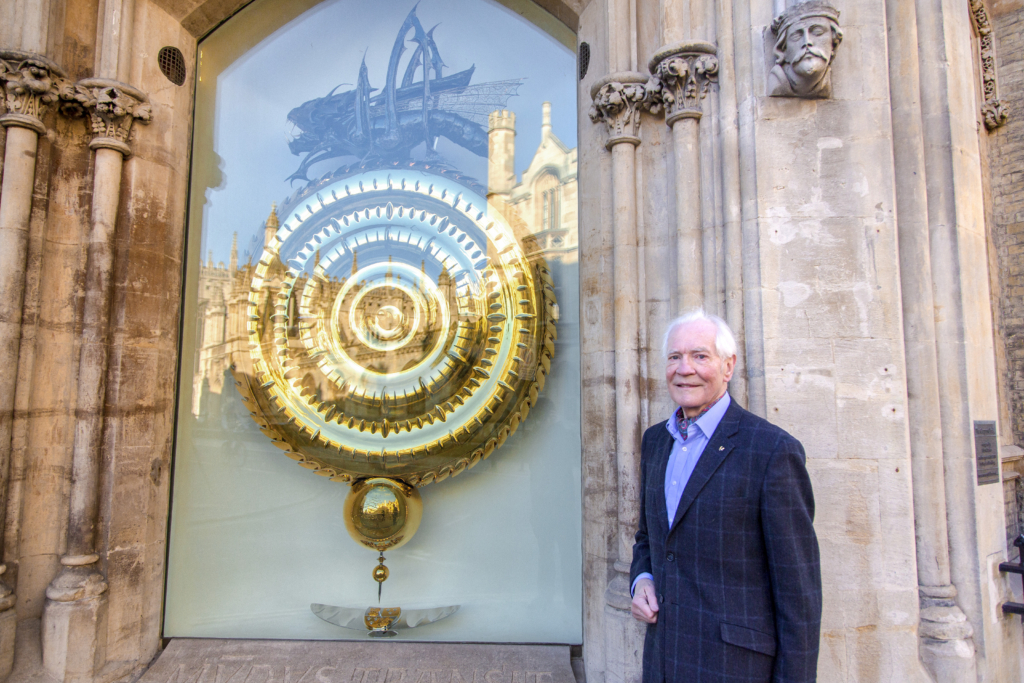 Read our exclusive Collector's World series featuring Dr John Taylor here
George Bamford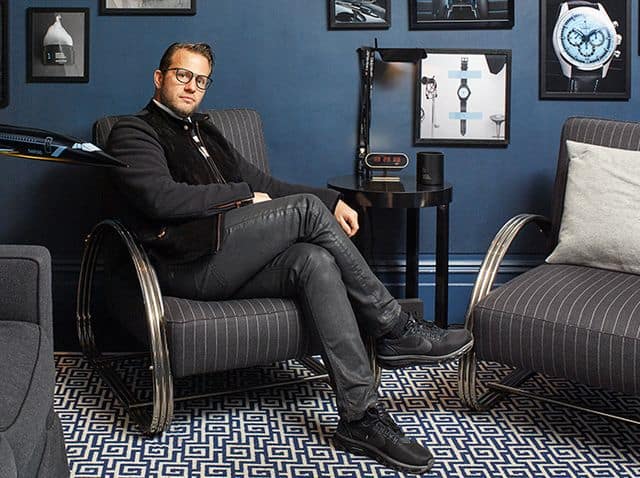 George Bamford is the founder of Bamford Watch Department, a business/concept that has become the global market leader in contemporary watch customisation, synonymous with uncompromising style and quality.
George counted himself incredibly lucky when, for his 18th Birthday, he was given a Rolex Daytona with a black dial and Zenith movement. He instantly fell in love with the watch, and was extremely proud to own such an wonderful timepiece. Not long after, George was at a dinner party with some friends and realised that everyone there was wearing exactly the same watch as him. He instantly went from smitten to massively underwhelmed with his beloved Daytona.
This was the start of a sharp learning curve that began with the realisation that in a mass-market world, luxury is no longer 'true luxury', and this meant making luxury personal again. As a first step, George created two blackened watches; a Rolex Plexiglass Submariner and a Rolex GMT – one for himself and one for his father. He wore that watch on a holiday to Italy and returned with twenty-five orders for customised black watches. This was the beginning of the Bamford Watch Department.
Read our exclusive interview with George Bamford here
David Brailsford
David Brailsford is an accomplished entrepreneur with 20 years of experience in creating companies that thrive. He is also a renowned luxury timepiece consultant with expertise in locating and sourcing vintage pieces and selling them to select clients worldwide.
For the last few years, he has been providing a successful watch finder service, seeking out rare vintage watches and advising on their investment potential. His watch industry expertise is unparalleled, and he has developed a network of global contacts, including leading journalists, watchmakers and collectors.
His passion for watchmaking has led to founding the British luxury watch brand Garrick.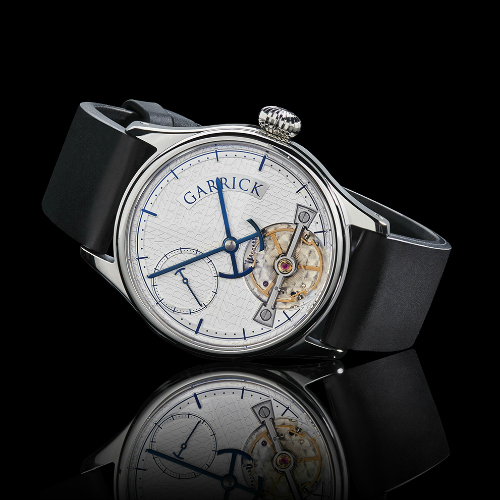 Garrick builds handcrafted timepieces in their own workshops in Norwich. David says that building an exclusive international watch brand over a period of 18 months is probably his greatest achievement. He's learnt everything there is to know about engineering, design, PR and watchmaking.
Read our exclusive Collector's World series featuring David Brailsford here
Paul Maudsley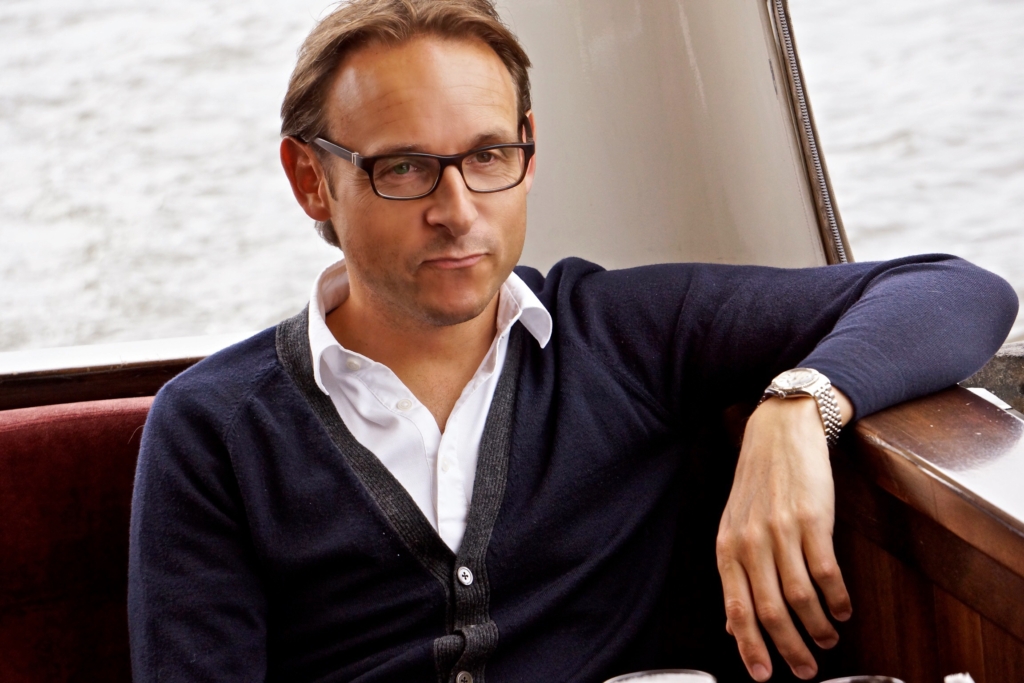 Paul Maudsley is the International Specialist, Director, Watches Department at Phillips. He has over 17 years of experience of watch auctions having transformed the UK watches auction market and handled over 30,000 watches in his career so far.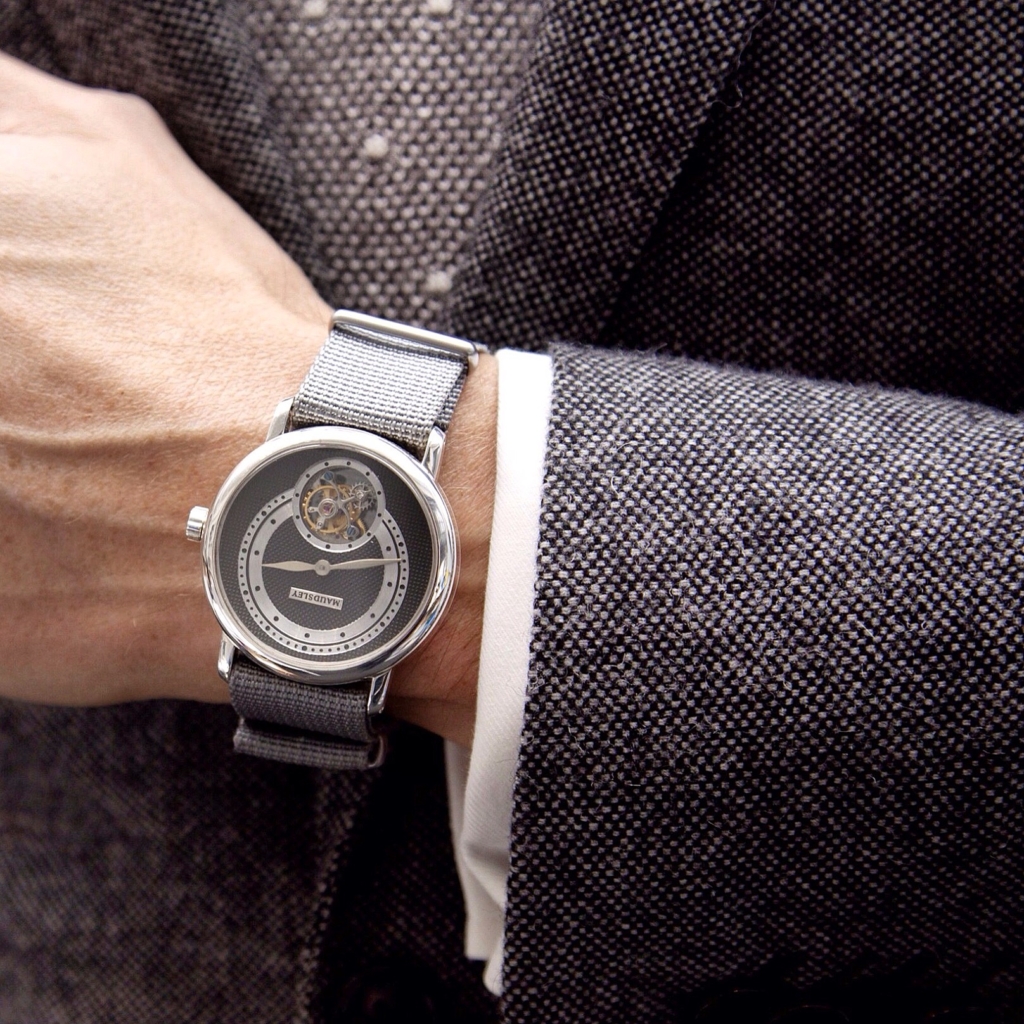 A collector of watches from an early age, Paul has developed a love and broad knowledge of horology across all areas of watches and wristwatches. Organising watch auctions in three continents, Paul has been responsible for sourcing some of the finest quality timepieces in the world.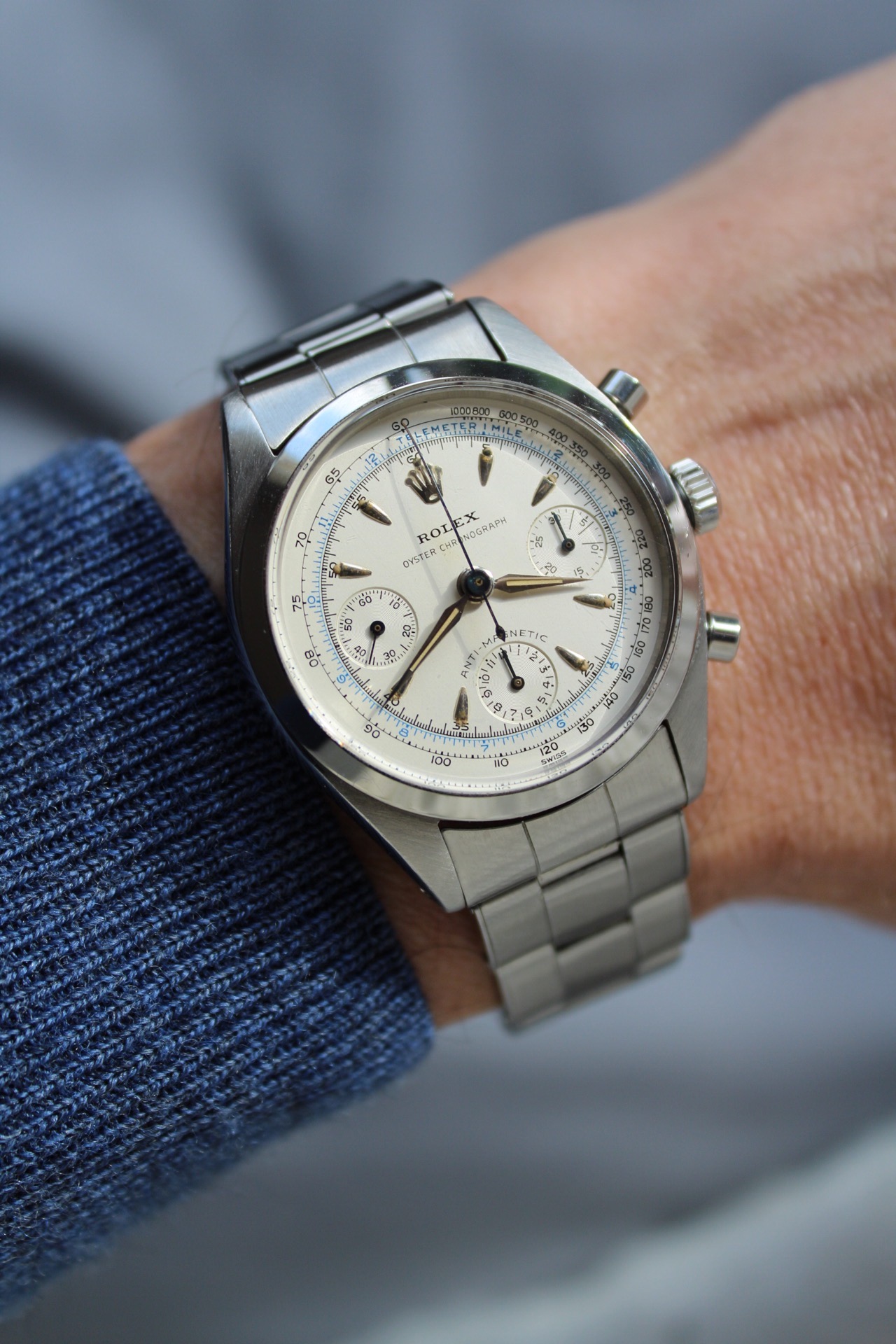 With a well known passion for Rolex Sports watches, he has gained a great knowledge of the many different models and variations produced and has achieved numerous record prices for these at auction.
Read our exclusive Collector's World series featuring Paul Maudsley here
Dr James Nye
Dr Nye has been involved in clocks since the age of fourteen, when he was put in charge of a Gents master-clock system at his school in Sussex. This sparked an abiding interest in electric timekeeping.
Following graduation from Balliol College, Oxford, James entered a career in finance and the energy sector. Retiring from commerce, he completed a PhD in financial history at King's College, London, where he holds a visiting fellowship. His thesis included case studies of Victorian and Edwardian electric clock companies.
Throughout his career, James has assembled a wide-ranging collection of electric time artefacts enjoyed by many visiting specialists and enthusiasts over the last twenty-five years. These are now housed at The Clockworks in London, a unique combination of museum, library, workshops and meeting space.
His continuing research tends to focus on nineteenth and twentieth century horology, and his most recent major publication was A Long Time in Making (OUP, 2014), the history of the Smiths Group.
James is chairman of the council of the AHS. He is a long-standing member of the BHI, a Life Member of the NAWCC, belongs to the Deutsche Gesellschaft fur Chronometrie as well as Chronometrophilia, and is also a liveryman and member of the court of the Worshipful Company of Clockmakers.
Read our exclusive feature on Transparency in the Watch Market written by James here
François-Paul Journe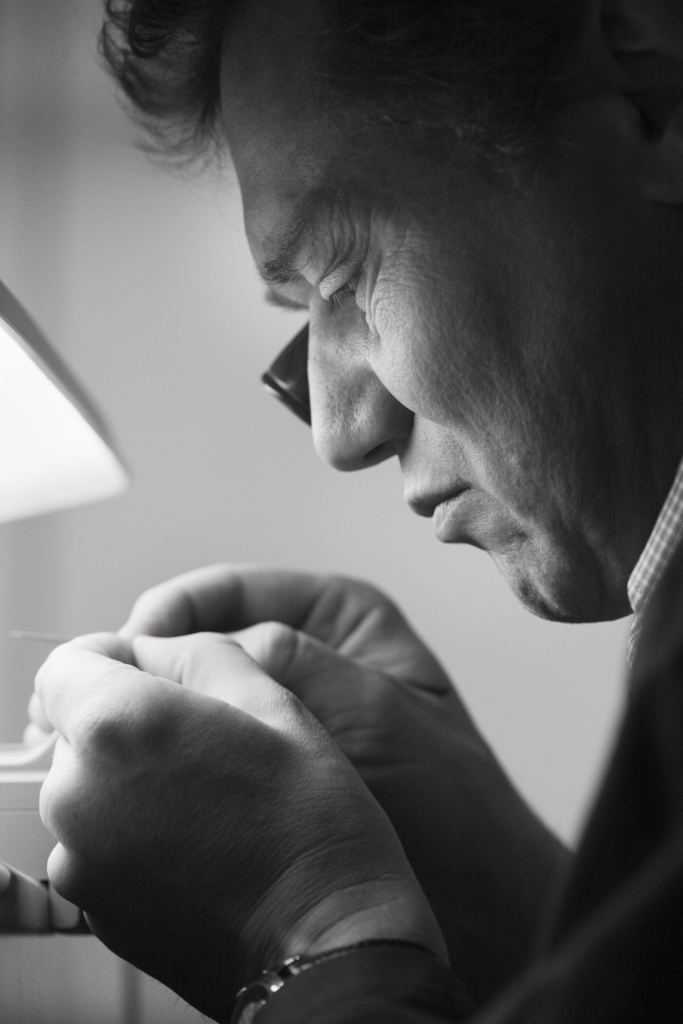 Master watchmaker, François-Paul Journe has been 'inventing' and 'making' watches for over 33 years. The full revelation of his vocation came in Paris where he completed his studies when training with his uncle, eminent antique watch and clock restorer located at the heart of Saint-Germain-des-Prés and a first-rate clientele entrusted him with the finest collections.
It was there François-Paul Journe thrilled to the discovery of the most striking achievements in the history of watchmaking. He experienced the privilege of entering the mechanical heart of some exceptional creations that were to set his own heart beating for years to come!
He designed and crafted 'Mysterious' or 'Sympathique' clocks, and subtle mechanisms for unique creations, in pursuing the research from which authenticity and technical innovations are respecting the ethics of these great masters. In 1985, François-Paul becomes the official restorer to the maintenance and renovation of the ancient clocks of the Arts et Métiers Museum in Paris.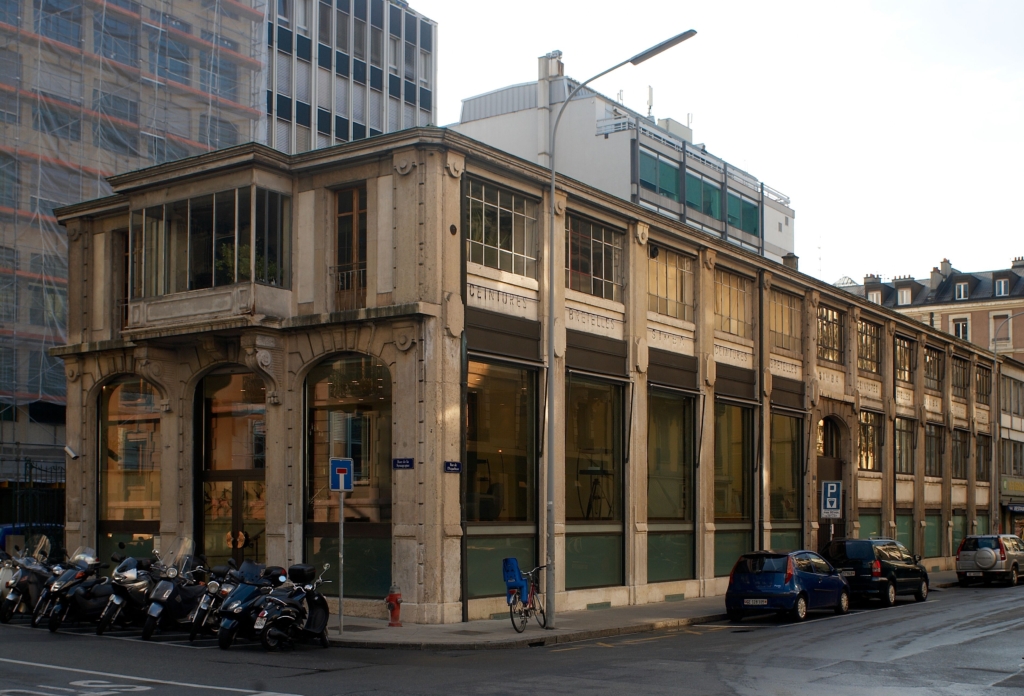 Increasing demand emanating from Switzerland led him to develop a Manufacture dedicated to building complicated movements and innovative calibres for various prestigious Swiss watch brands. He thereby placed his historical and technical knowledge as a watchmaking design-engineer in the service of industry. François-Paul draws on his historical knowledge and expertise to face the most daring horological challenges with passion, conceiving entirely new and innovative calibres with a timeless consistency.
At the crossroad between Arts and Haute Horology, benchmark among the most prestigious watch companies, the independent F.P.Journe Manufacture is a world in itself, embodying excellence, know-how and innovation, in the respect of the haute horology tradition from which François-Paul Journe is the guardian. F.P.Journe produces its movements in 18K rose Gold, a first in the watch world and unique signature of the brand. Signed with the label Invenit et Fecit- (invented and made), they guarantee an exclusive in-house calibre, entirely invented, constructed, and assembled in the Geneva workshops.
Read our exclusive interview with François-Paul here
Christine Hutter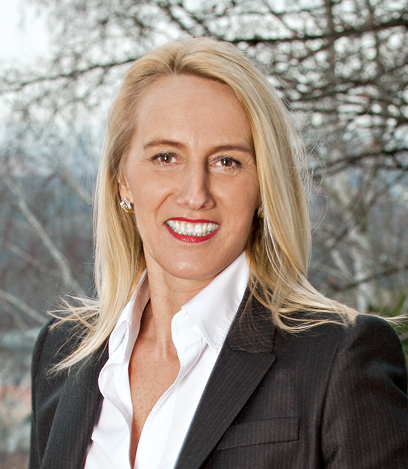 Christine Hutter completed her apprenticeship as a watchmaker in 1989, finishing 'top of the class' amongst her peers in Bavaria. She was then recruited by Wempe, Germany's largest luxury watch retailer. Following this she moved to Maurice Lacroix and then to Glashütte – initially to Glashütter Uhrenbetrieb and finally to power brand A. Lange & Söhne. It was there that she acquired in-depth experience in marketing and communications, and created new distribution channels.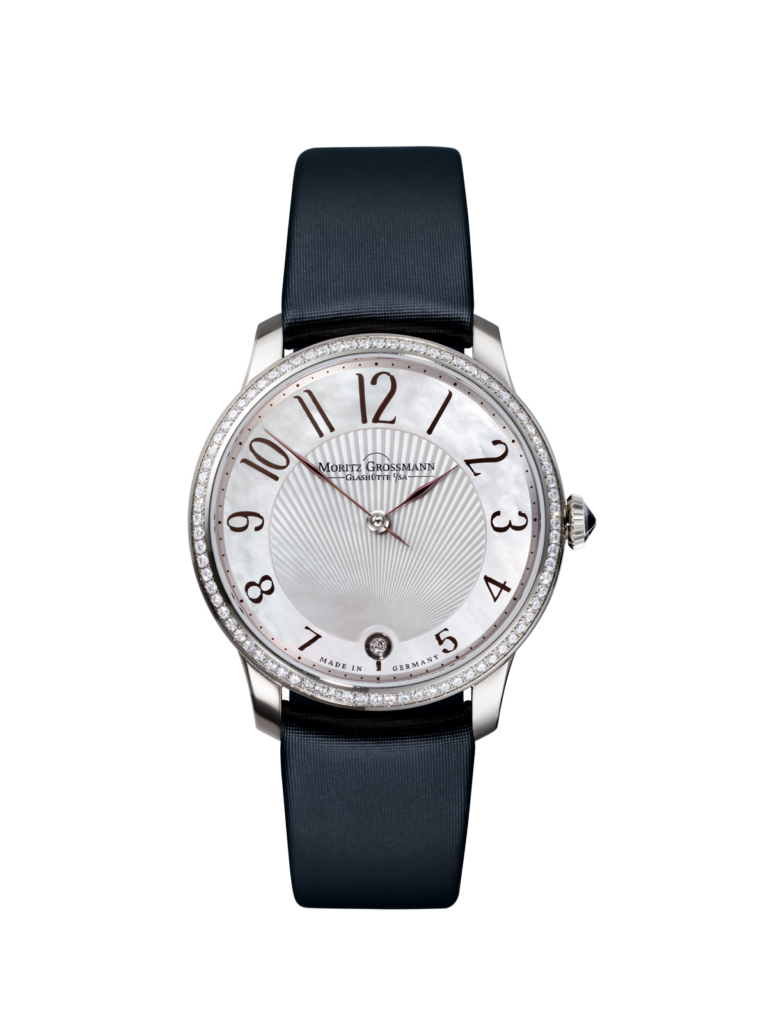 Over time, she had a growing desire to establish her own watch manufacture. Christine discovered the rich heritage of 'Moritz Grossmann', a brand that had lain dormant for 120-years and with the help of her family, she acquired the rights to the highly respected Glashütte marque. The brand was named after Karl Moritz Grossmann, the 19th-century watchmaker who founded the German School of Watchmaking in Glashütte.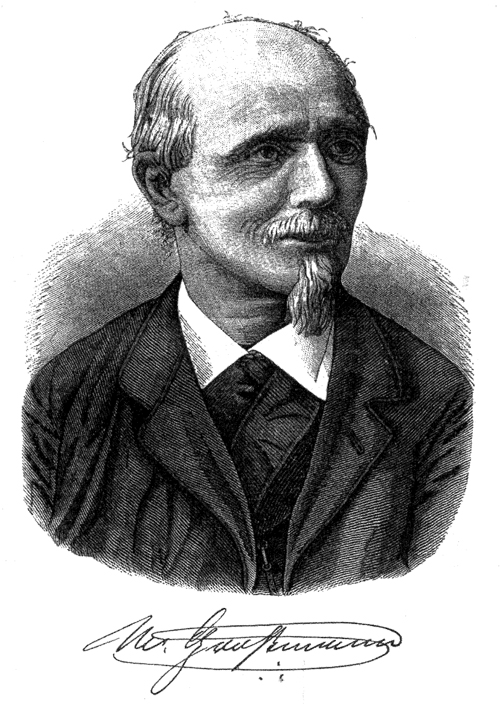 After a few months, she rented an old shop premises in Glashütte, that is the centre of German watchmaking and set about crafting their own superb timepieces. The inspiration for their watches comes from the rich history of 19th century watchmaking and is summed up well by the Latin term 'manu factum' meaning 'made by hand' which remains at the heart of the Moritz Grossmann ateliers.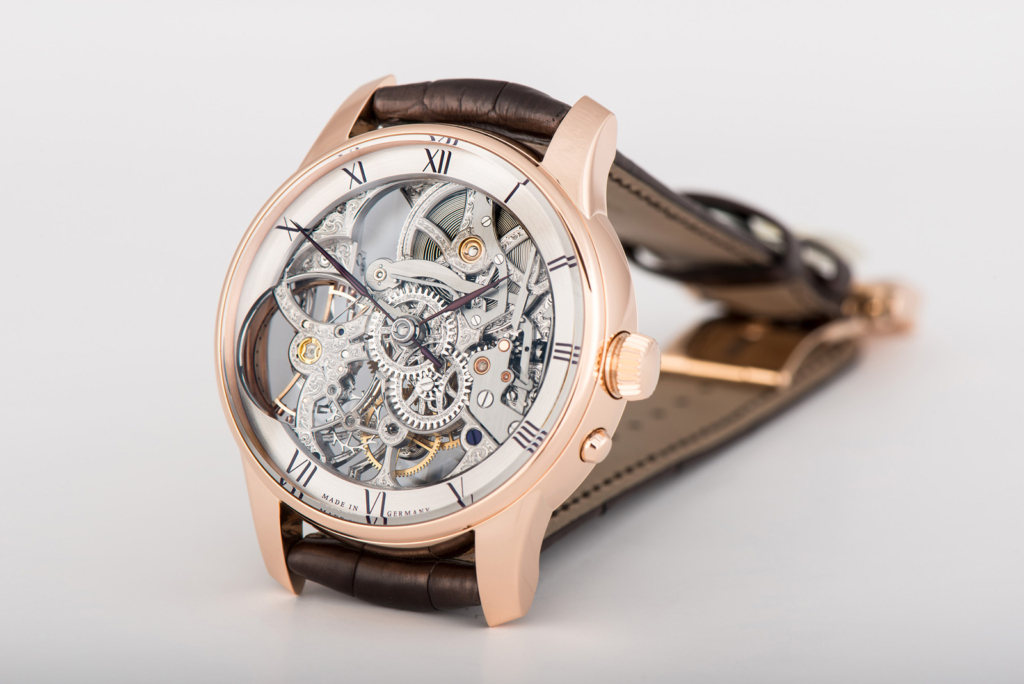 The new Manufacture based in Glashütte, opened in June 2013. All employees are encouraged to apply their personal talents to the horological masterpiece that bears the prestigious Moritz Grossmann Glashütte brand name.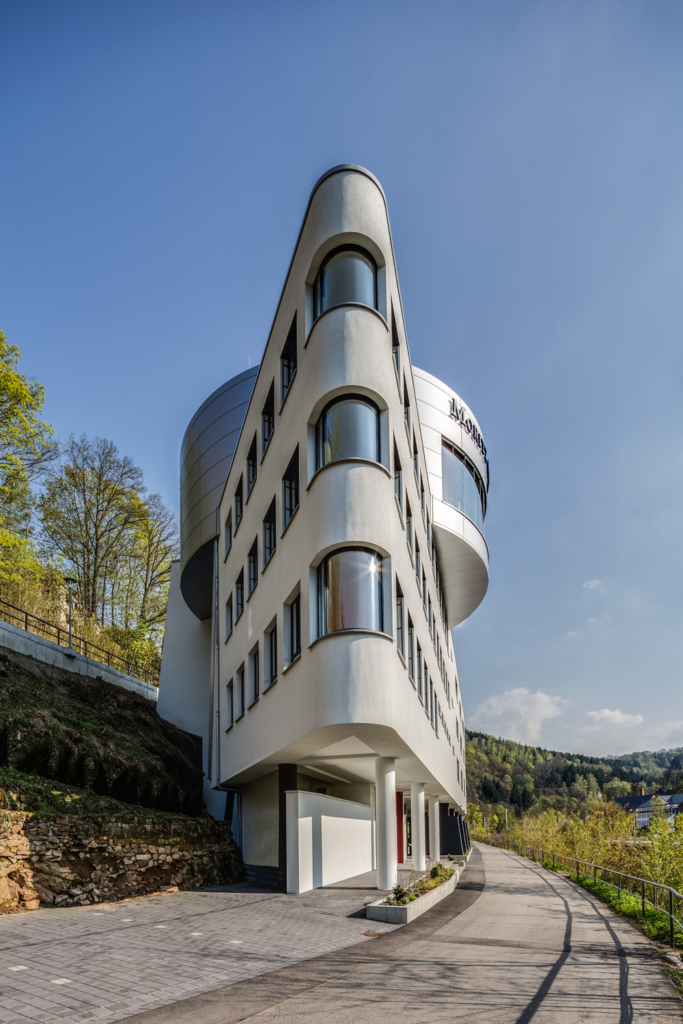 Read our exclusive interview with Christine here
Maximilian Büsser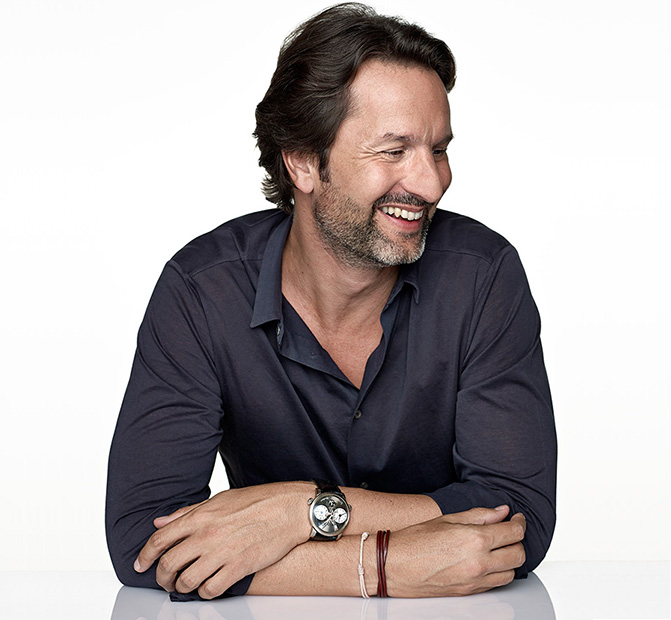 Looking at Maximilian Büsser's life and career to date, it becomes evident that MB&F is a natural progression for his innate entrepreneurial spirit.
Graduating in Lausanne with a Master's degree in Micro-Technology Engineering, Max's love for high-end horology was strongly imprinted by his first employer, Jaeger-LeCoultre. He spent seven years in their senior management team during an exciting period of change and growth.
Max was appointed managing director of Harry Winston Rare Timepieces in 1998 – he was just 31. During his seven years there he transformed the company into a well-respected haute horlogerie brand. Working with talented independent watchmakers on the innovative and revolutionary Opus series of timepieces gave him greatest satisfaction and planted the seed for developing that concept further still.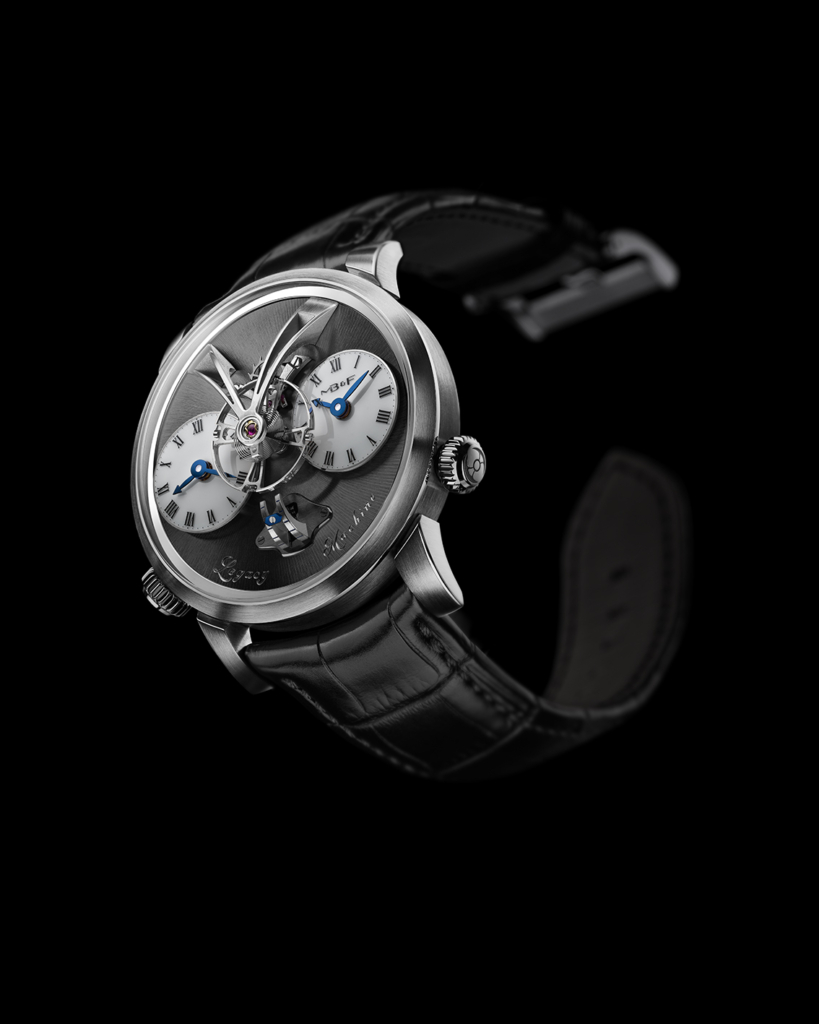 In 2005 the desire to allow his creativity and energy full reign saw Max resign from Harry Winston to form his creative ideal: MB&F. With his new company, Maximilian Büsser has full creative liberty to indulge in his passion for working with the most talented independent horological professionals – pushing the limits of horology into a new dimension.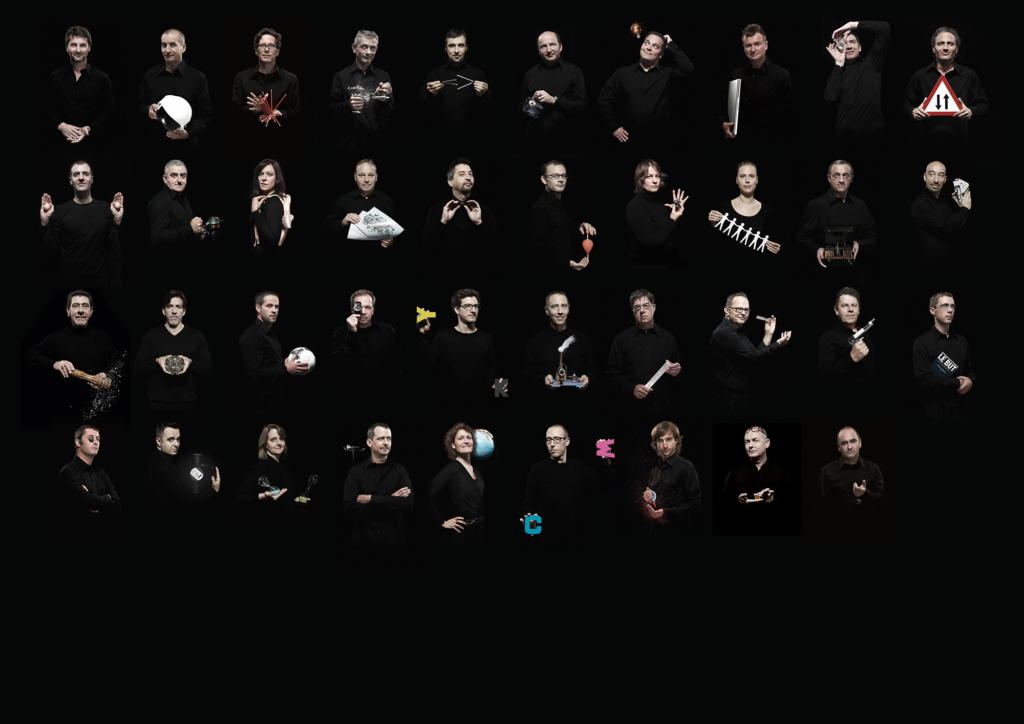 Read our exclusive interview with Max here
NAWCC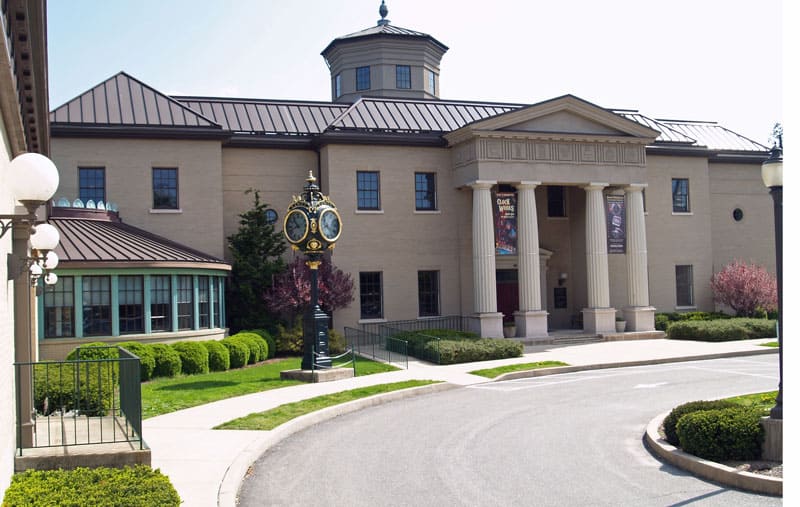 It is not just people who we consider as 'Friends', but organisations too! So we are delighted to announce that the National Association of Watch and Clock Collectors (NAWCC) head-quartered in Columbia, Pennsylvania, United States of America are now officially our 'Friends'.
Founded in 1943, the NAWCC has since grown into a wide-ranging collectors organisation with members in the USA and 50 other countries. Members participate in over 150 local and special interest chapters in North America, Europe, Asia and Australia. The NAWCC operates the National Watch and Clock Museum, our world-reknowned Library and Research Center, and an extensive publishing program. The NAWCC also hosts an annual convention, sponsors an annual symposium, and numerous regional meetings throughout the year.
Robert Greubel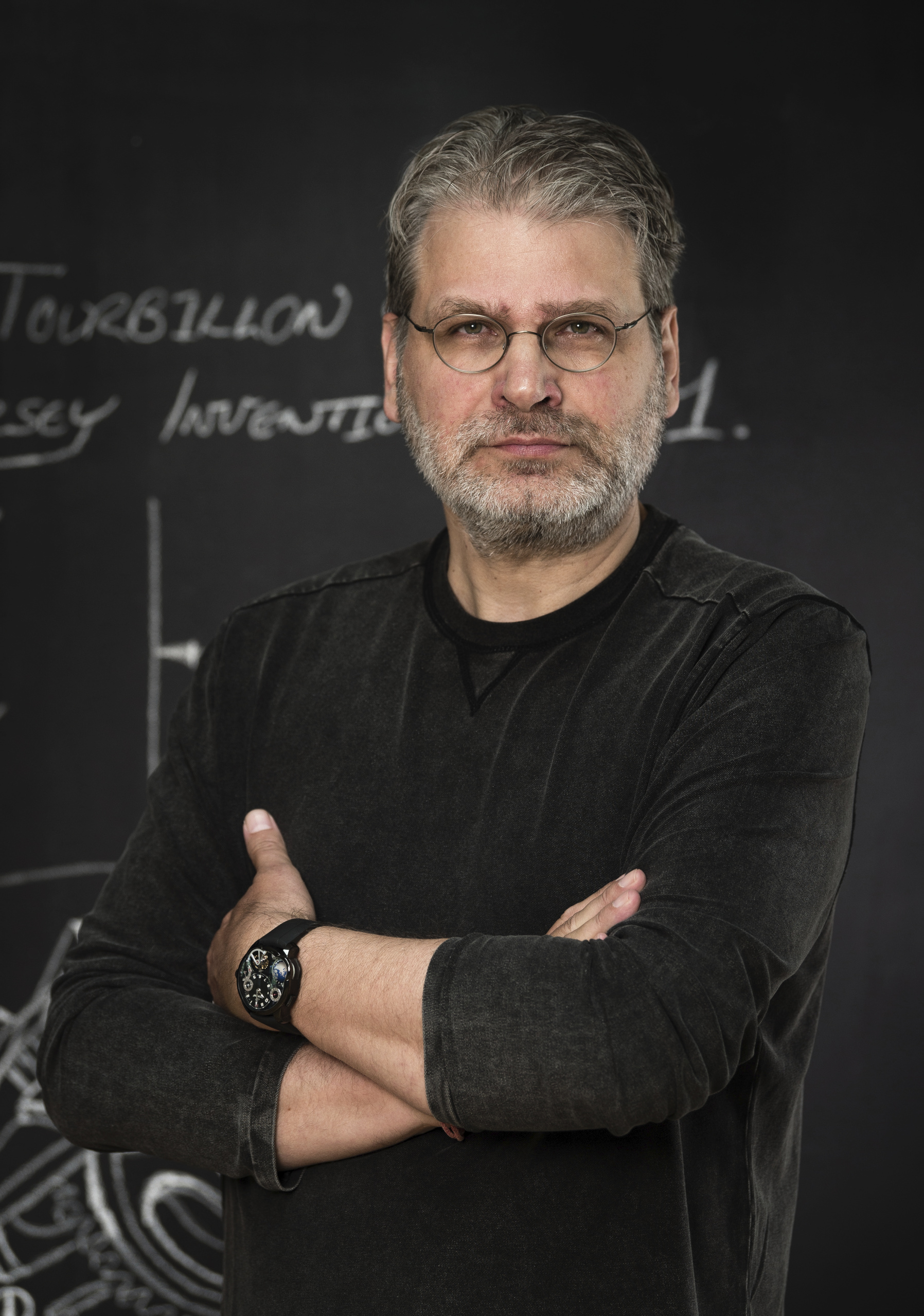 Born in Alsace, France, Robert Greubel discovered his vocation for precision mechanics at a very young age. As a child, he would spend long hours with his father, a watchmaker, and later went on to join the family business. Passionate about complication movements, in 1987 he moved to Schaffhausen in Switzerland, where he joined IWC to work on their Grand Complication project. He moved to Le Locle in 1990 for a prototypist's position at Renaud & Papi, where he rose up the ranks to Co-Chief Operating Officer and partner.
In 1999, Robert Greubel left to work independently and in 2001 he founded CompliTime in partnership with Stephen Forsey, with the aim of creating and developing complication mechanisms for the key brands. They co-founded Greubel Forsey in 2004.
Going against the tide, Stephen and I were convinced that there was still much to invent in the world of fine watchmaking. We therefore decided to undertake various watchmaking challenges and to initiate a revival in terms of architecture and fine craftsmanship, as well as with regard to innovation and the improvement of performance. Having realised the importance and significance of our first invention, the Double Tourbillon 30°, we knew that we had chosen the right approach."
Stephen Forsey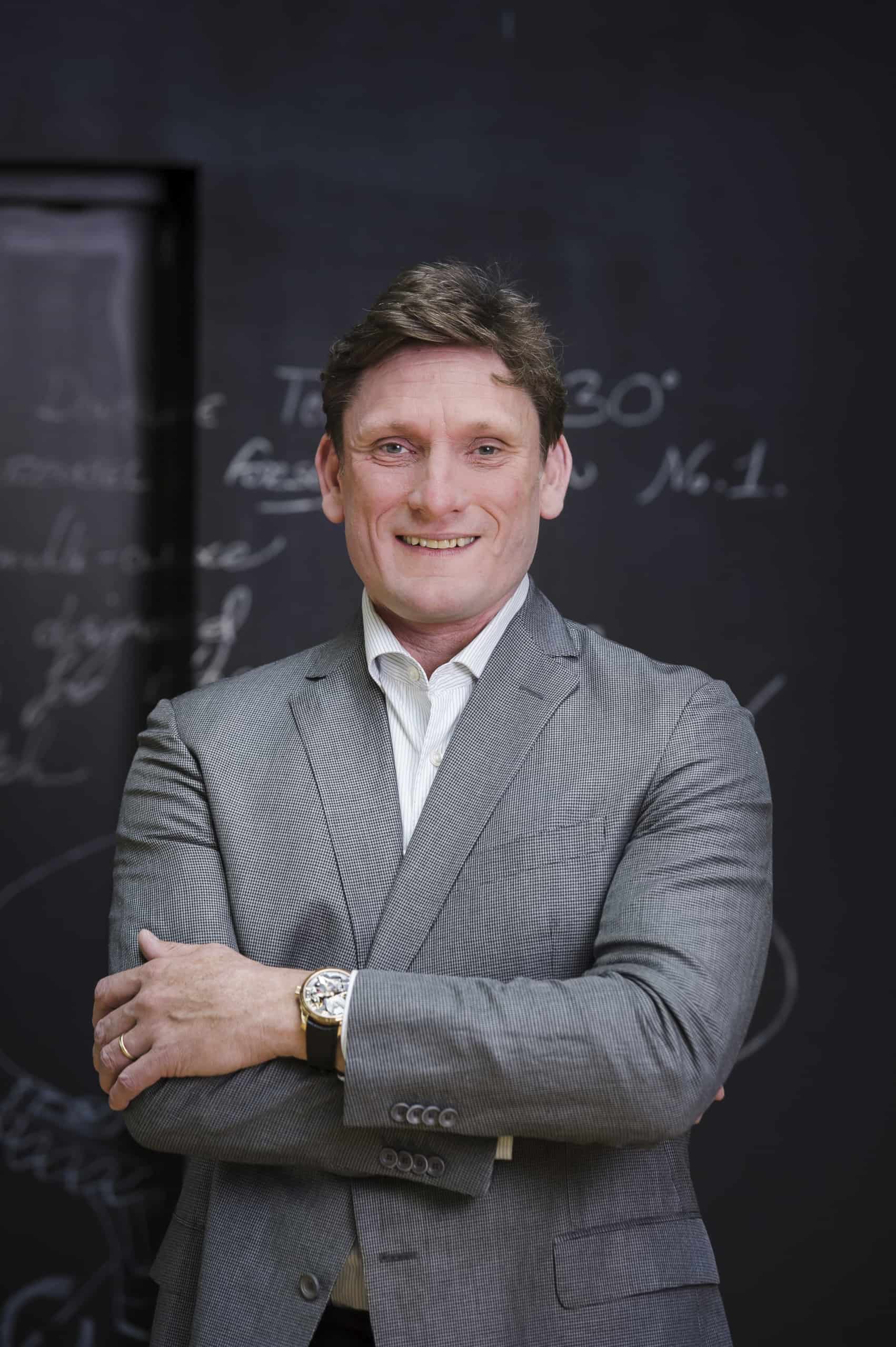 Stephen Forsey grew up in St Albans, England, where he was inspired by his father's passion for mechanics and engineering. From 1987 to 1992 he specialised in antique clock restoration and became head of Watch Restoration at Asprey's in London. Between 1988 to 1990 Forsey attended two five-month courses at the WOSTEP watchmaking school in Neuchâtel and in 1992 joined Robert Greubel's team at Renaud & Papi SA (now Audemars Piguet Renaud & Papi SA), developing complicated watch movements.
In 1999, he left to work independently and in 2001 he co-founded CompliTime with Robert Greubel. They began working on a new generation of tourbillon specifically designed to improve the timekeeping of the mechanical watch. Four years later they unveiled "Greubel Forsey" and stunned horological aficionados with their innovative Double Tourbillon 30°, a timepiece clearly demonstrating their twin goals of innovation and excellence.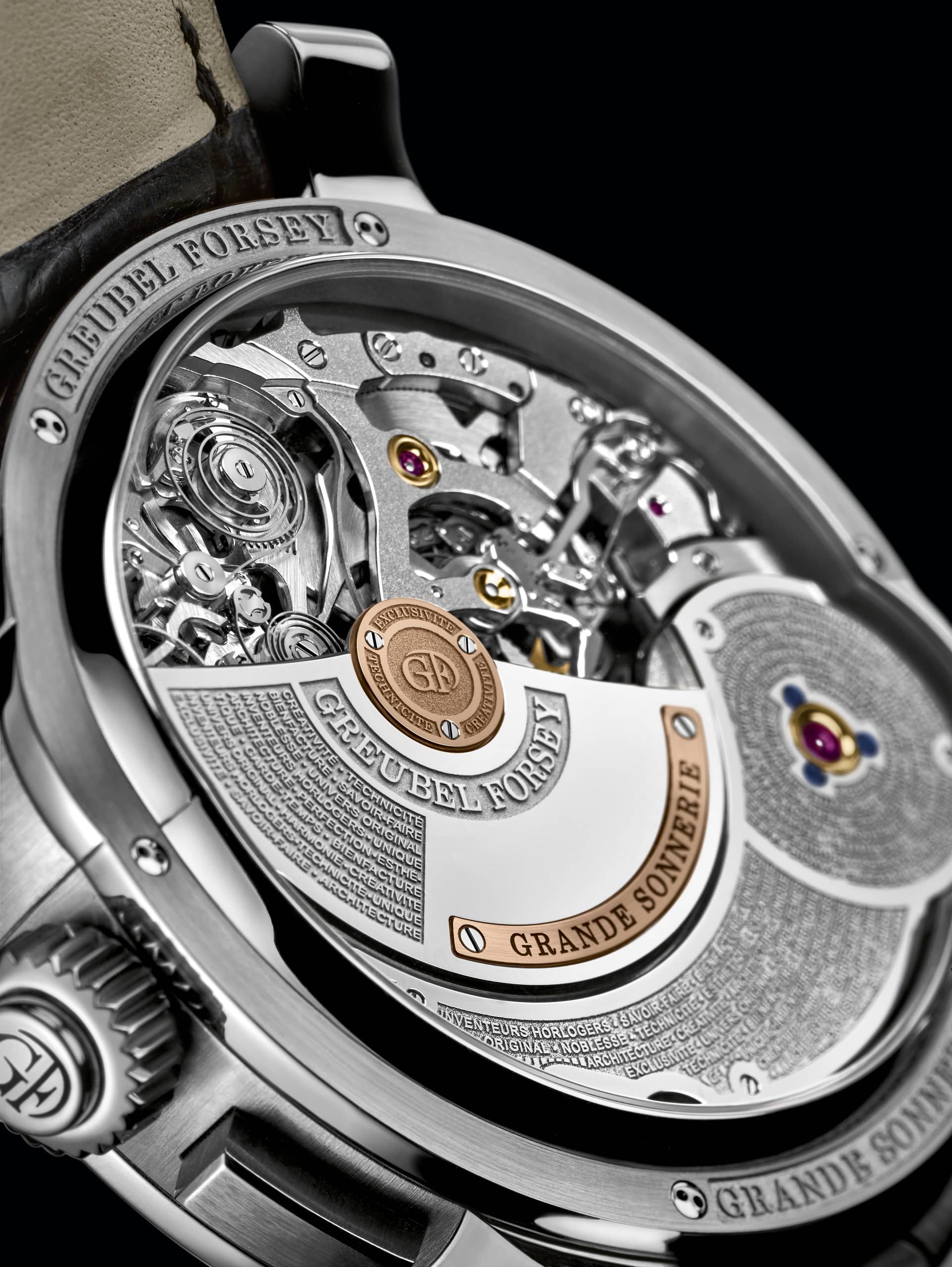 Robert and Stephen continue to build on their deep traditional knowledge gained with four decades of combined experience in high-end complicated timepieces, by inventing and developing technically valid horological complications to rigorous aesthetic principles.
Read our exclusive interview with Stephen here
Anthony de Haas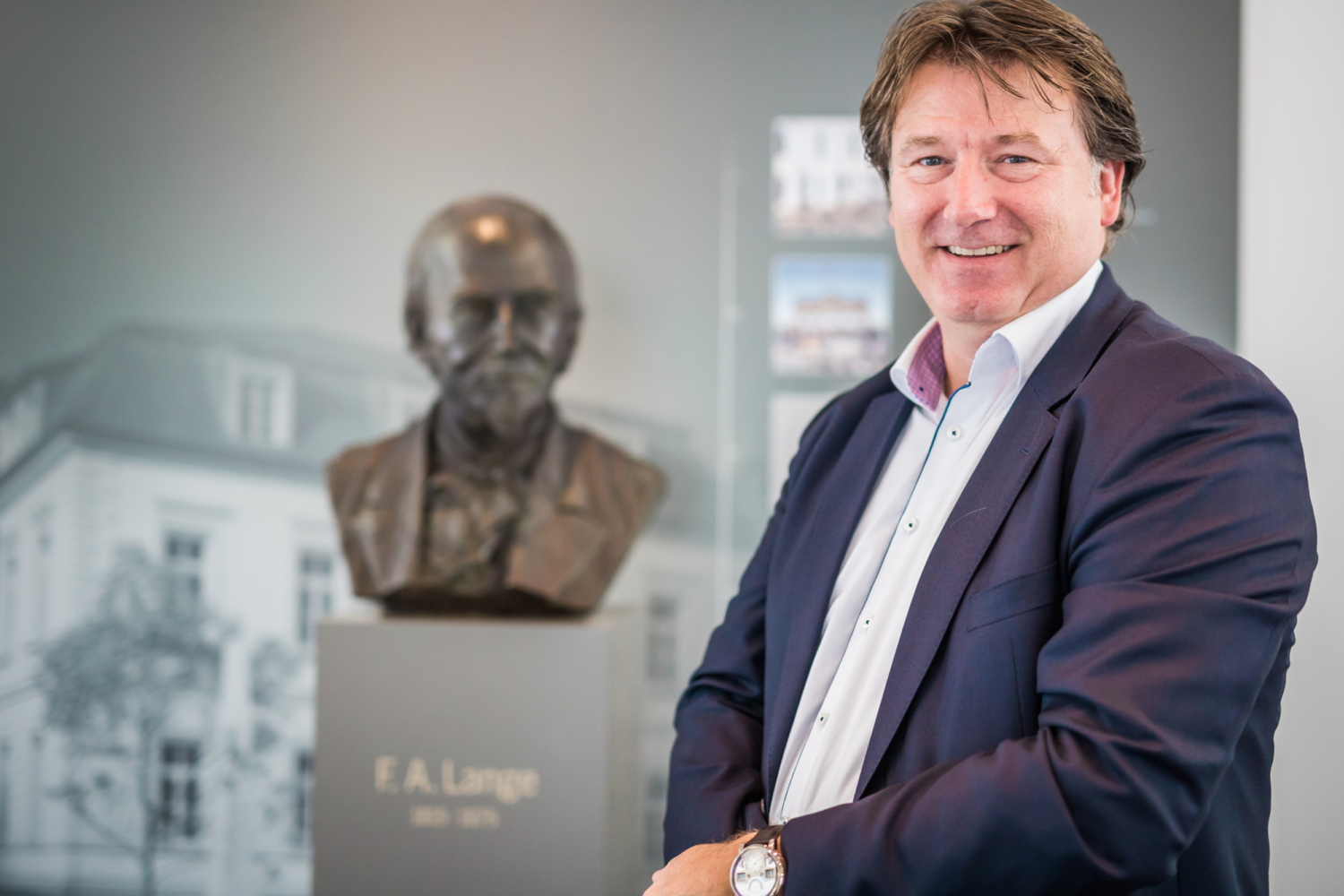 Anthony de Hass is Director of Product Development at A. Lange & Söhne. A native Dutchman, de Haas began his watchmaking career at IWC, mainly due to him being a fan of the famous brand. He secured the job after his impressive performance in the 'bench test' that resulted in him taking apart, cleaning, re-assembling and regulating an ETA 2892 movement in less that half the time it took their own master watchmakers!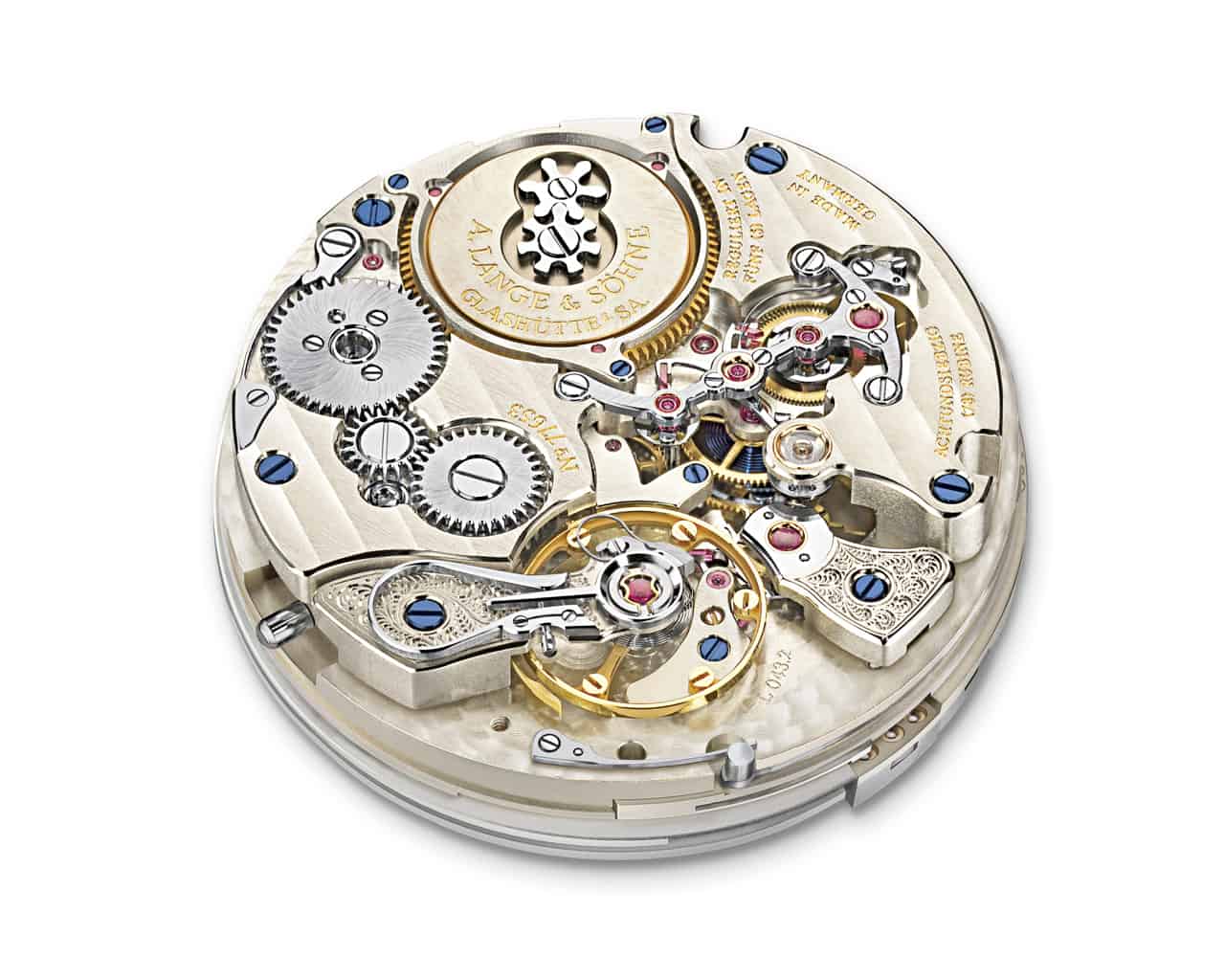 After two and a half years he joined the 'watch supplier of complications', Renaud & Papi and gained experience in creating 'super' complications, including minute repeaters and grande sonneries. During his six-year tenure with the firm, he worked for such famed Renaud & Papi watchmakers as Stephen Forsey, Peter Speake-Marin and Robert Greubel.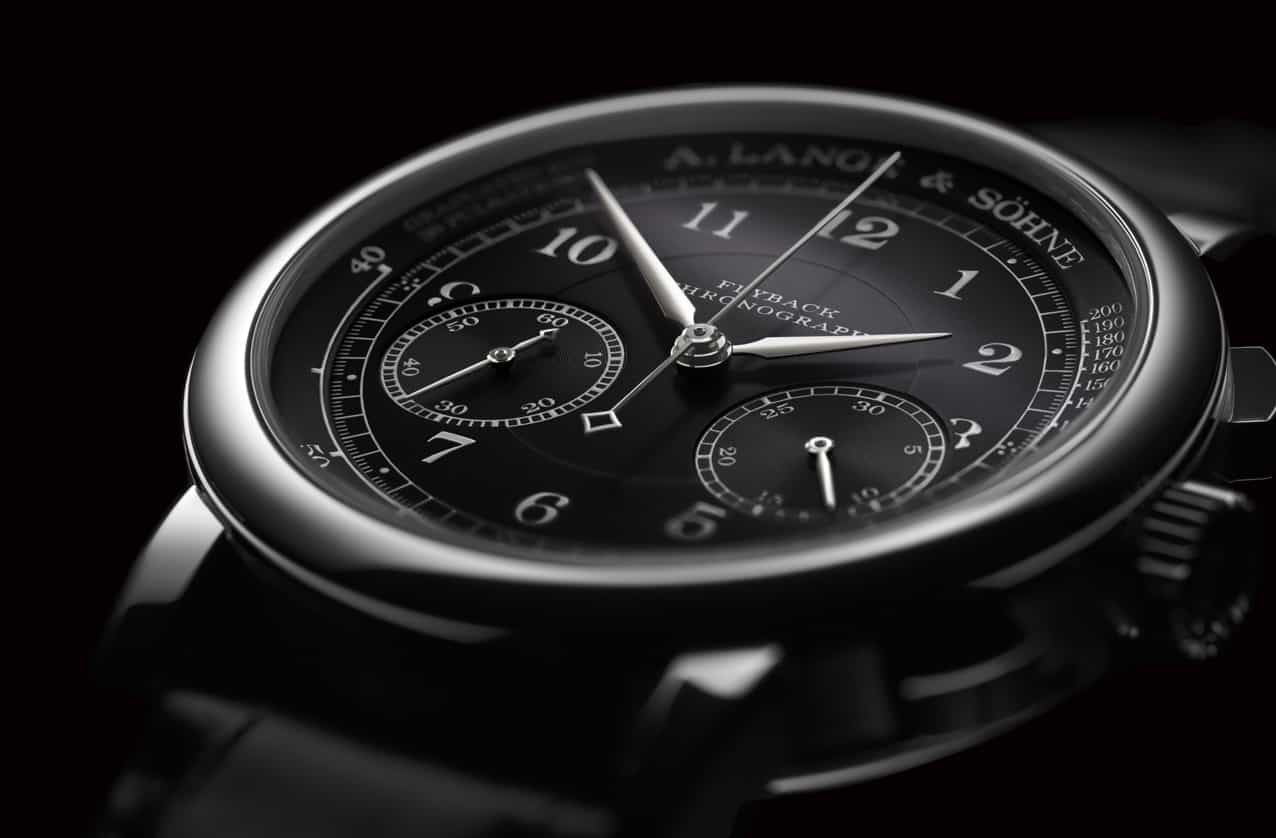 In 2004, he was introduced to a client, Fabian Krone that just happened to be the CEO of A. Lange & Söhne. It was de Haas, that guided him during his 'tour' as he was fluent in German, and obviously impressed. Soon afterwards he was invited to join the Glashütte firm as Director of Product Development.
Read our exclusive interview with Tony here
David Walter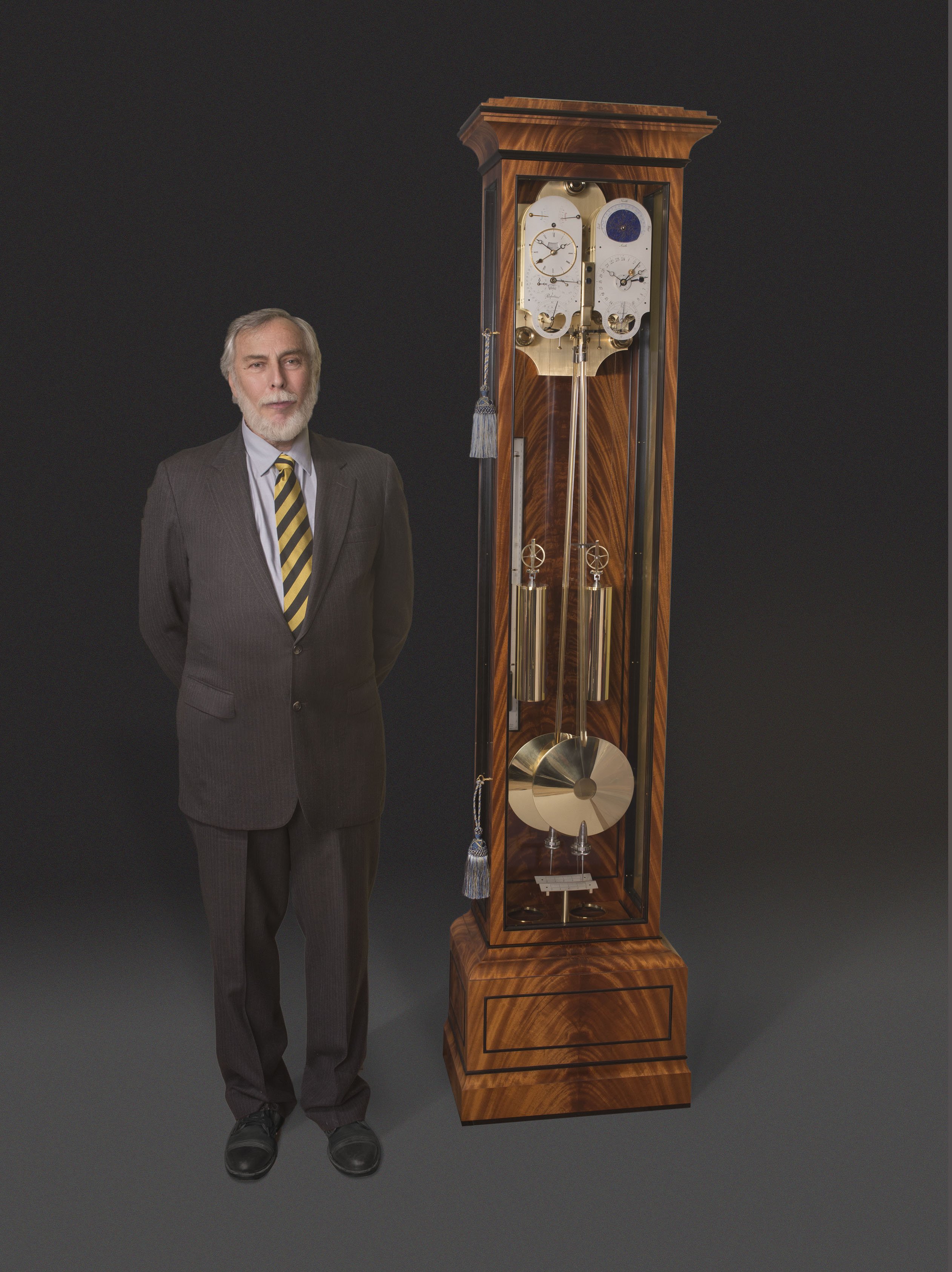 David has been fascinated with clocks and watches from an early age and after completing many years of training and working with prestigious companies in London and Europe, his sights were set beyond simply repairing modern factory made watches.
When he started his clock and watch making company in 1980, he was already convinced that the making of new clocks matching or bettering the best ever made required creative emotion which arises from a combination of daring and authenticity.
David is the first person to successfully recreate the Woodward Free pendulum clock, W5 in 2006 followed by an improved edition of Breguet No.3671 Double Pendulum clock in 2010 and further development in 2012 added the complications of Daniels Perpetual calendar with retrograde date and sunrise/sunset indications.
These amazing achievements firmly place David as one of the greatest clockmakers ever to have lived and the greatest living clockmaker. Also he is the only clockmaker to have made both versions of double pendulum clocks, namely, The Free Pendulum (D)W5 and the Double Pendulum Resonance Clock.
Read our exclusive interview with David here
Christophe Claret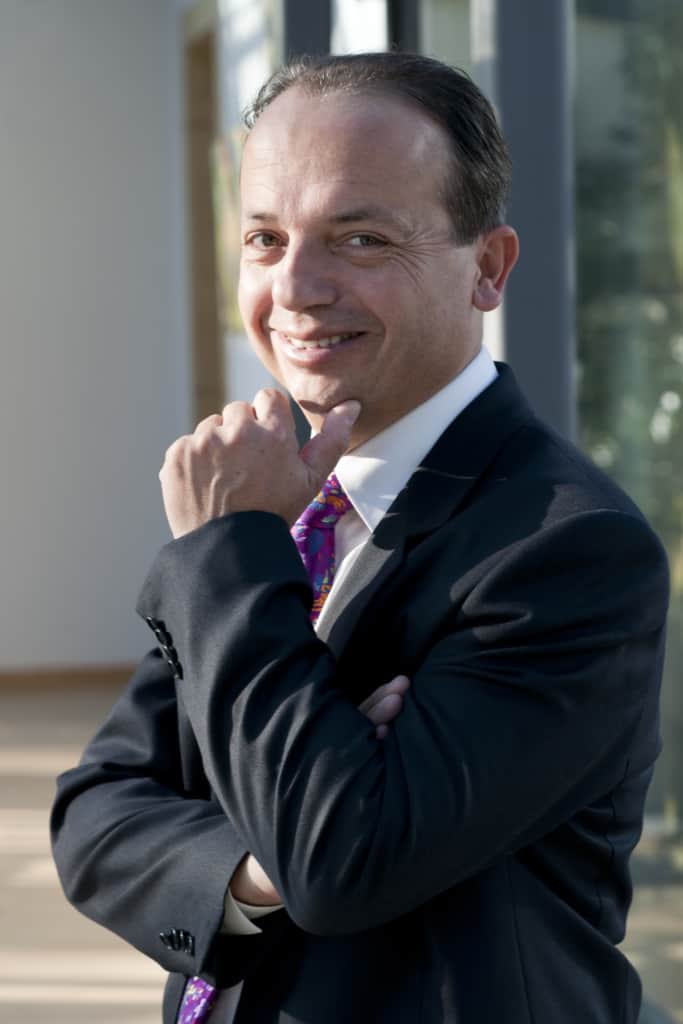 There was nothing to suggest that the young Christophe Claret would eventually make the cycle of time his own. It was only after a chance visit to a watchmaker-restorer at the age of 14 that the possibility presented itself. From that point on, the mechanics of time would grow to become his passion. At just 19 years of age, he graduated from the Geneva Watchmaking School, continuing his education with the master-watchmaker Roger Dubuis who, in taking him under his wing, passed on the secrets of restoration and the mysteries of complex horological mechanisms.
Upon returning to his native city of Lyon, Christophe set up his first horological workshop in the family home. He decided to specialise in restoring antique timepieces, perfecting his finishing techniques and crafting open-work or 'skeletonised' watches.
A year of revelation – 1987: during his first visit to the Baselworld, Christophe met a man who would alter the course of his life. Rolf Schnyder, a Swiss industrialist who had just acquired the Ulysse Nardin brand, placed an order with Mr Claret for twenty minute repeater movements with San Marco jacquemarts. It provided the impetus he needed and two years later Mr Claret founded his first company, which was soon followed by another, 'Manufacture Claret'.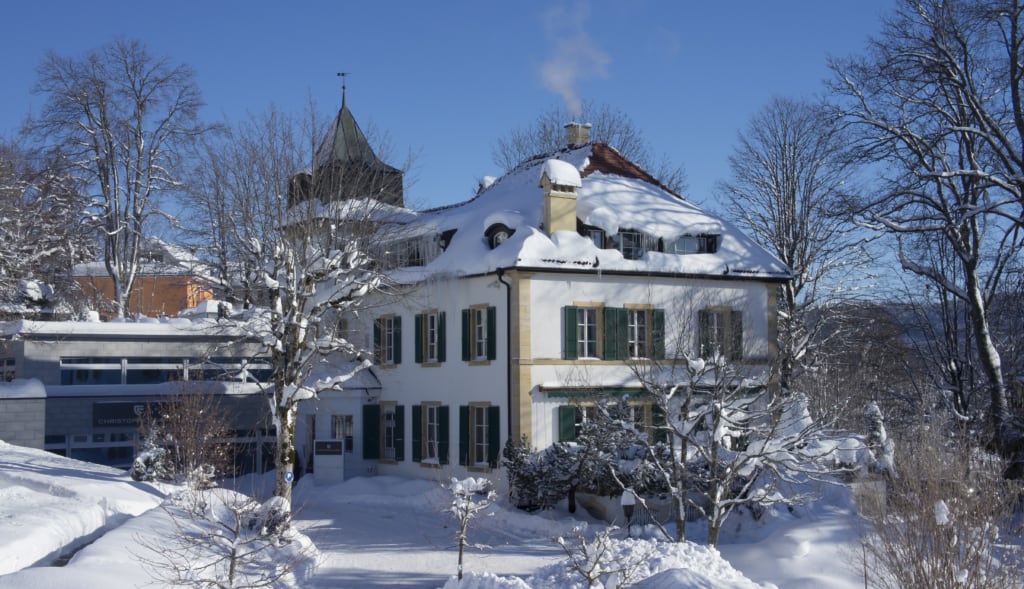 Within a decade, the name Christophe Claret became a benchmark in the field of complicated movements. Following on from Ulysse Nardin, seventeen other prestigious customers, including Franck Muller, deGrisogono, Girard-Perregaux, Jean Dunand and Harry Winston, turned to him to develop their most complex calibers. Christophe therefore decided to establish his company within a setting worthy of his reputation and his ambitions. In 1999, he acquired the Manoir du Soleil d'Or, a venerable mansion on the hills overlooking the nearby town of Le Locle, a stone's throw from the Musée d'Horlogerie des Monts. There he set up his workshops, breathing new life into the residence formerly owned by the watchmaker Urban Jürgensen.
From 2002 to 2008, Manufacture Claret expanded its workshops. Today, operating at the cutting edge of technology and expertise, it employs almost a hundred highly-qualified experts in over thirty separate disciplines.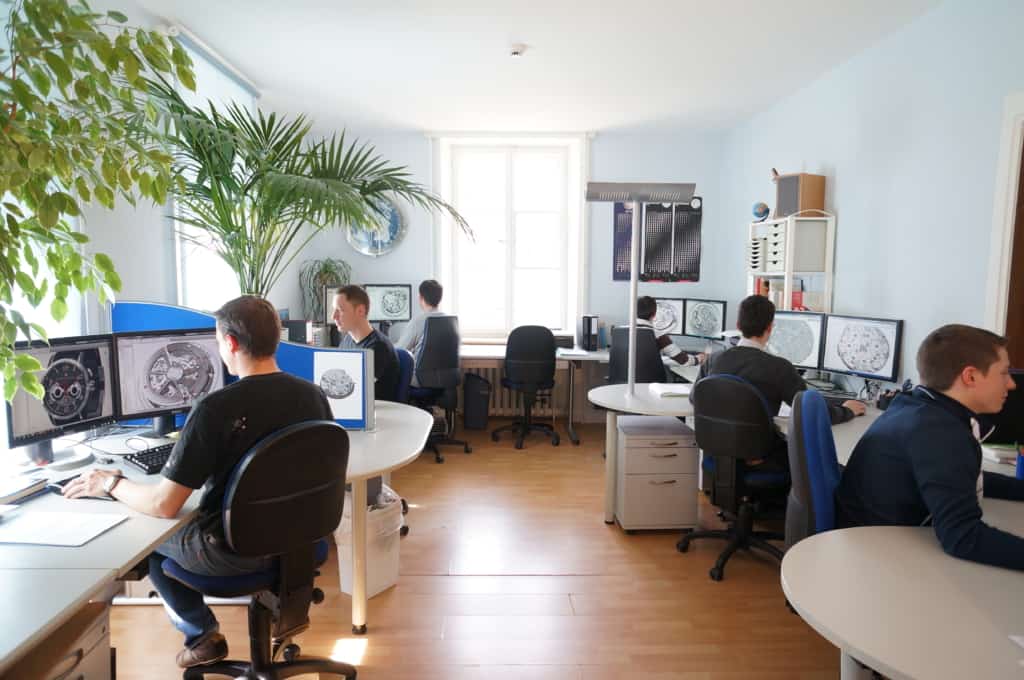 While continuing to design exceptional movements for the most prestigious brands, Christophe Claret also produces watches bearing his own name, often one-of-a-kind creations commissioned by collectors won over by Mr Claret's superlative horological mastery. Initially a low-key activity, his Christophe Claret branded pieces gained a higher profile in 2009 when he created the DualTow to celebrate the Manufacture's 20th anniversary. This mechanical distillation of all of the watchmaker's talent unlocked a freedom to create which resulted in highly complex, exclusive pieces.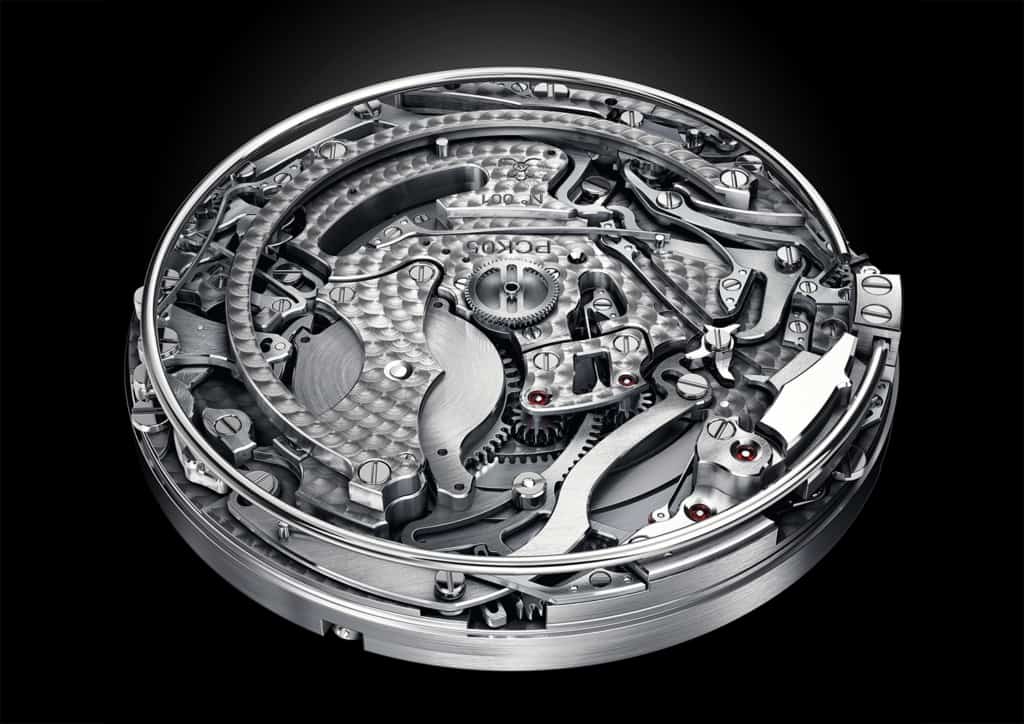 The Christophe Claret brand now belongs to the extremely exclusive circle of independent Haute Horlogerie brands that design, develop and produce their watches entirely in-house. An exceptional location at the heart Swiss watchmaking, placing it firmly at the forefront of horological innovation.
Read our exclusive interview with Christophe here
Konstantin Chaykin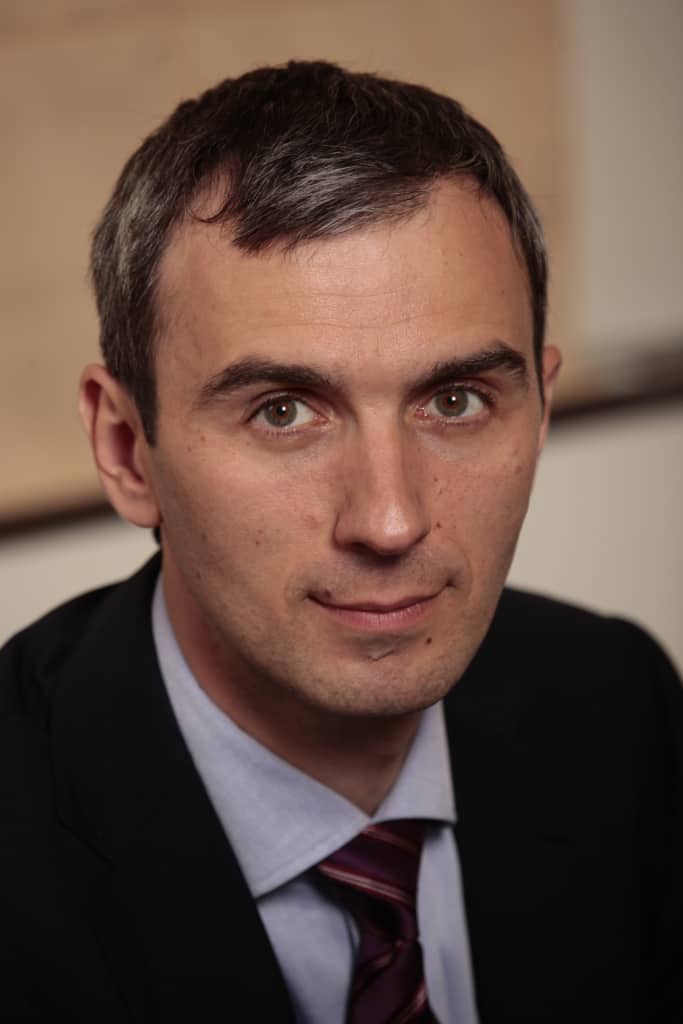 Konstantin Chaykin is a well-known Russian watchmaker, inventor (more than 60 patents for inventions in the field of watchmaking). He was born in Russia in 1975, and in 2003 he made his first clock.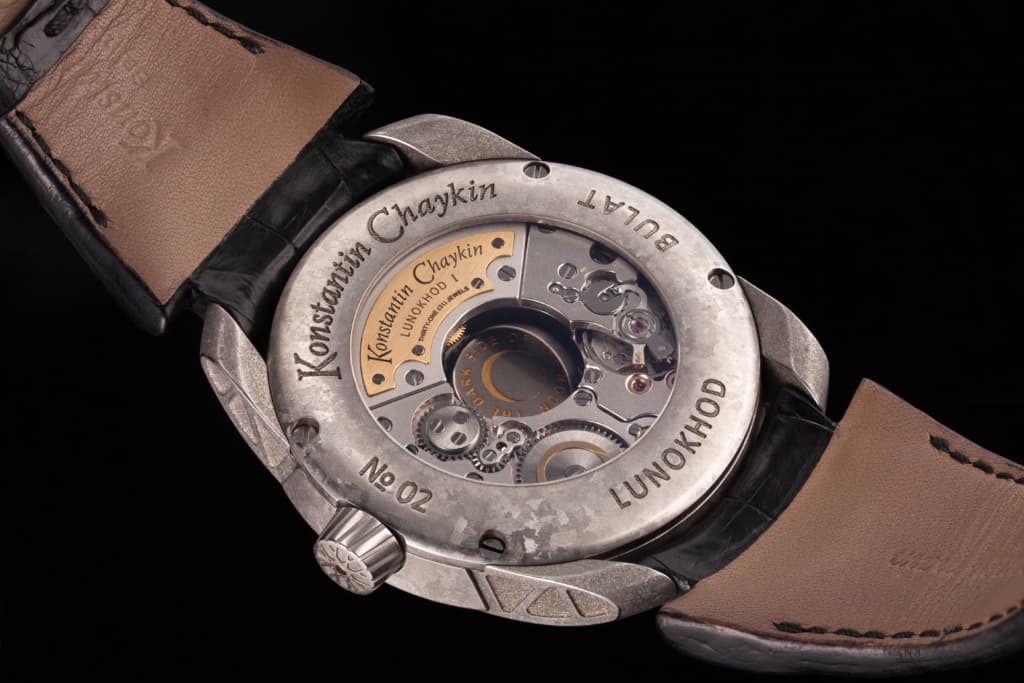 He is the only Russian member of the International Academy of Independent Watchmakers. He is a creator of the most complicated clock which was ever made in Russia (26 different indicators of horological and astronomical values).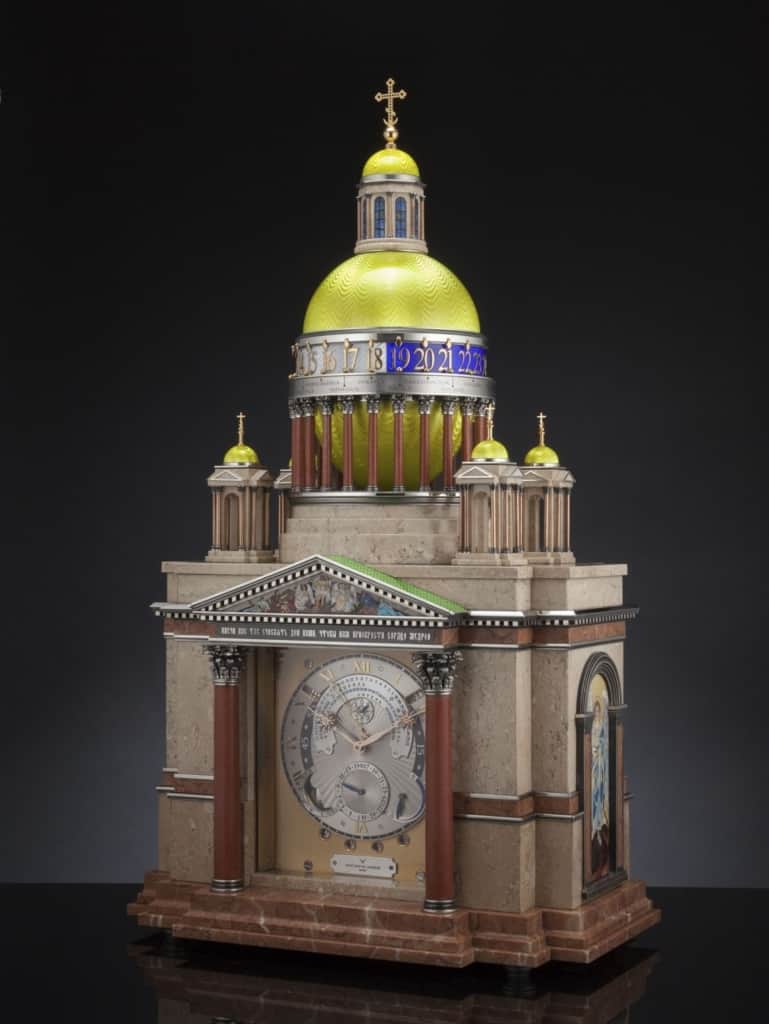 The timepieces by Konstantin Chaykin have repeatedly become laureates of prestigious Russian and international competitions. Konstantin annually takes part in the largest international watch exhibition Baselworld, and his watches regularly are among the best.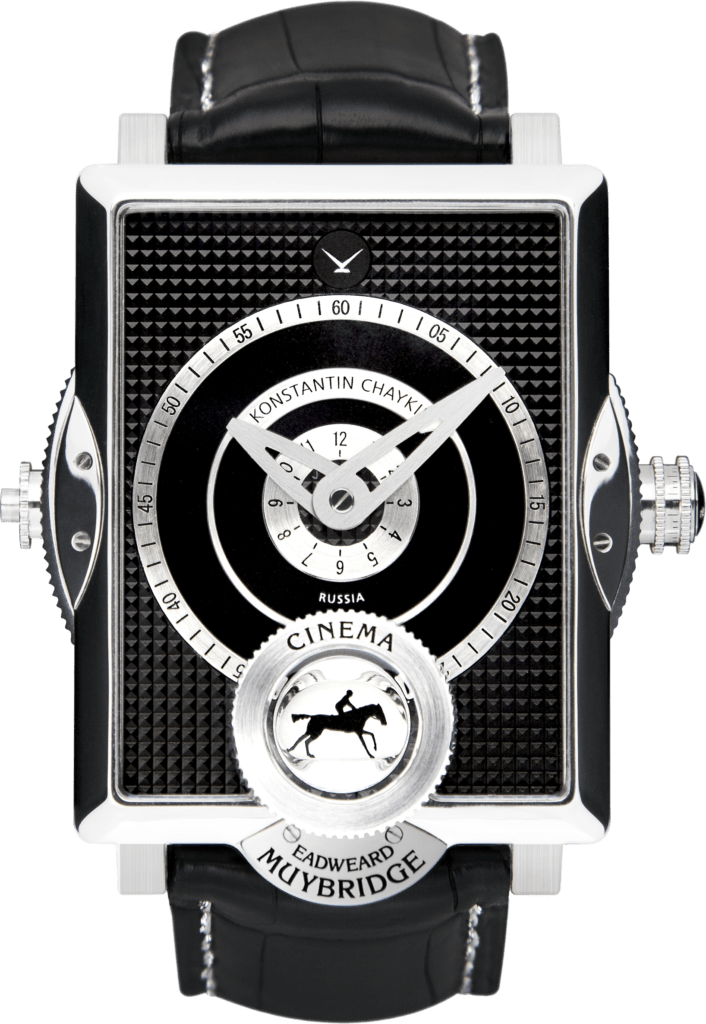 Read our exclusive interview with Konstantin here
Rolf Lang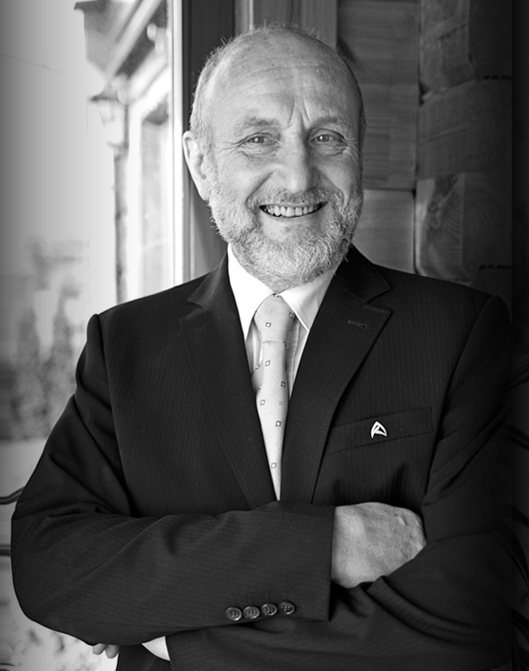 Rolf Lang was born into a family of independent watchmaker and bank economist Heinz Lang in 1948, in the German Democratic Republic. Together with his three brothers and sisters, Rolf Lang grew up in the small town of Gera in Thuringia observing three generations of watchmaking tradition from early childhood. It may now seem that his destiny as a watchmaker was arranged in advance; however, things did not work that easily those days. In accordance with the decision of the VIII Congress of the United Social Party of Germany, Rolf Lang, being a son of the hereditary watchmaker, wasn't allowed to continue his family tradition.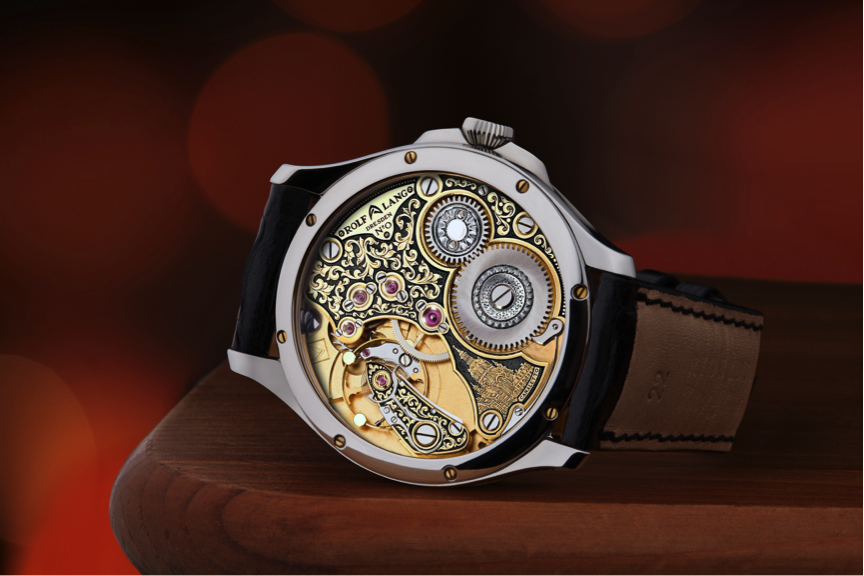 Rolf Lang showed himself to be a skilled artisan from a young age and knew a lot about the secrets of the art of watchmaking, and so he was able to obtain the title of Master-watchmaker. From 1971 to 1976 Rolf Lang worked as a watchmaker for the VEB technical repair company which gave him an opportunity to become a master of manufacturing training in Jena, Germany.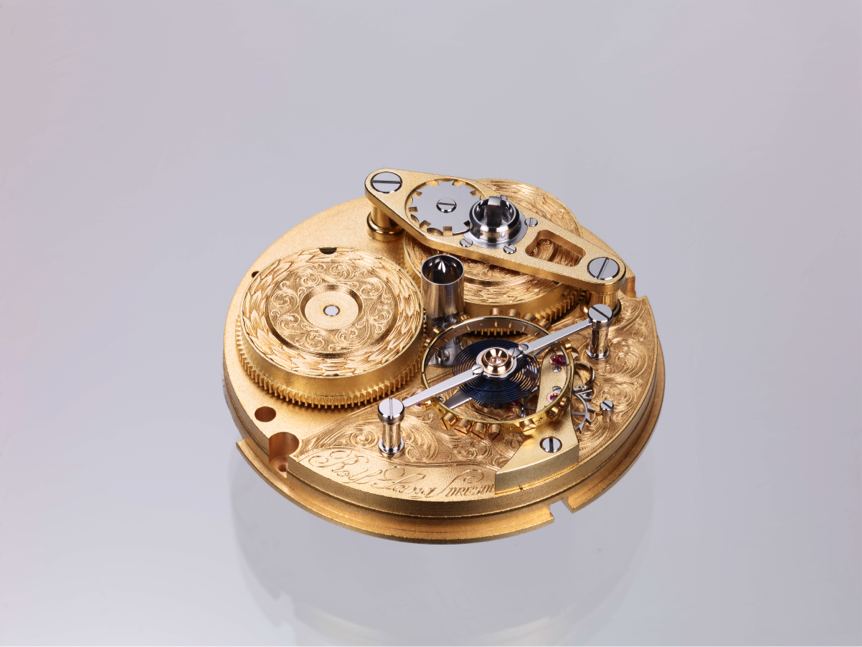 After receiving admittance as a watch restorer Rolf spent much time restoring historical watches with the second balance wheel as well as marine chronometers and other precious timepieces. At the same time Lang worked as a part-time watch restorer for the Dresden Mathematical and Physics Society. There he had a chance to observe one of the largest collections of watches and precise mechanic instruments and, due to his job, Rolf could study the mechanics of the watches as well as some relevant technology of handmade watches.
Read our exclusive interview with Rolf here
Ruben Tomella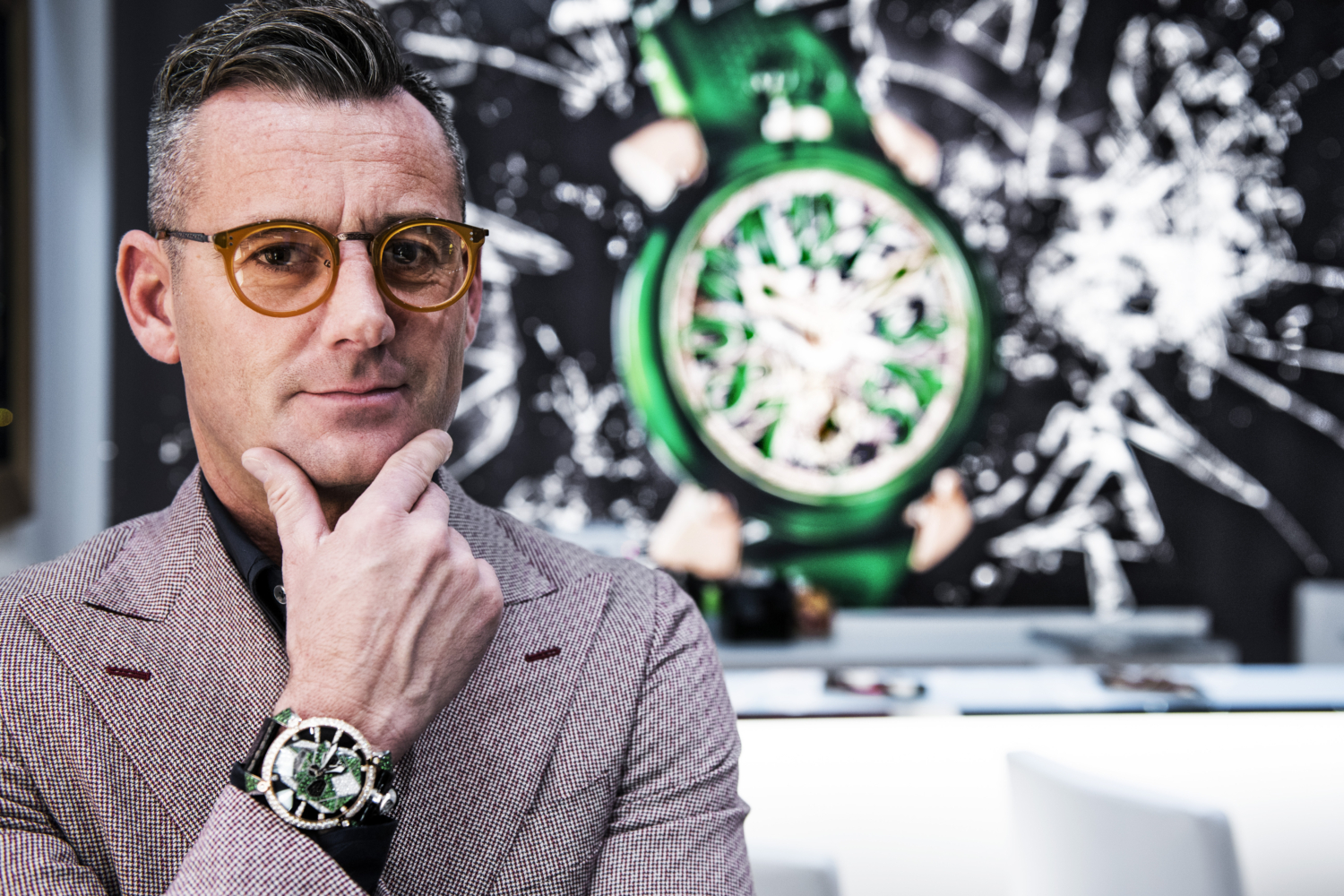 Eclectic and creative soul of the brand, in little more than 10 years, he was able to retrace the history of watchmaking and reinterpret it with originality, starting from the simple but brilliant idea of applying a strap to an old pocket watch to wear it on the wrist.
Born into the profession, he started working at the age of 14 in his father's strap factory in Crema and became passionate about watches right away. In 2000, he opened his first jewellery store, which distributed several brands. But, it was only in 2004 that he fulfilled his dream, feeling the need to create something that could totally represent him: GaGà Milano was born.
Indeed, it was from one of his father's intuitions, who ironically joked about his son's attention to style, that the brand was named 'gagà'. Indeed, the well-known Milanese expression was used in the past to define a refined but extravagant man, always careful to the dictates of fashion.
Read our exclusive interview with Ruben here
Emmanuel Gueit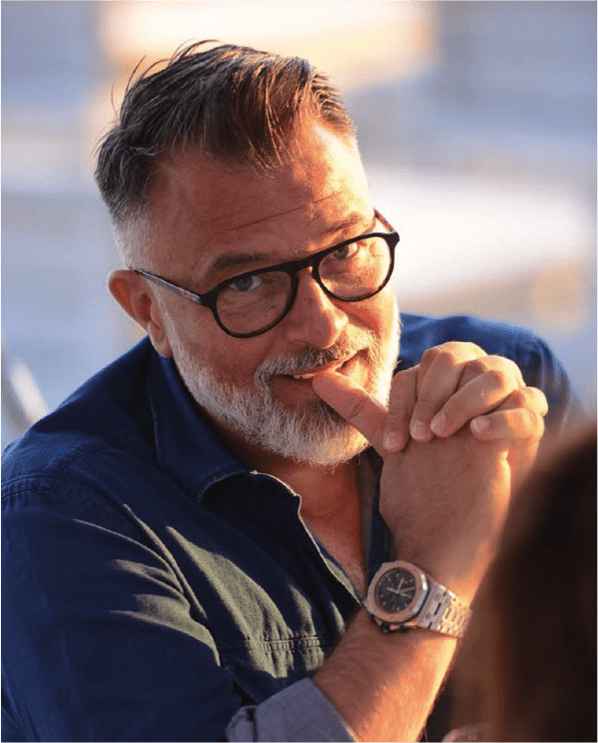 Emmanuel Gueit has 30-years of professional experience in the field of watch and jewellery design, thirteen of which, have been as an independent working with some of the biggest brands, including, Piaget, Rolex, Harry Winston, Audemars Piguet, Hermès, Zenith and Baume et Mercier. He is perhaps most well known for his design of the iconic Audemars Piguet's Royal Oak Offshore.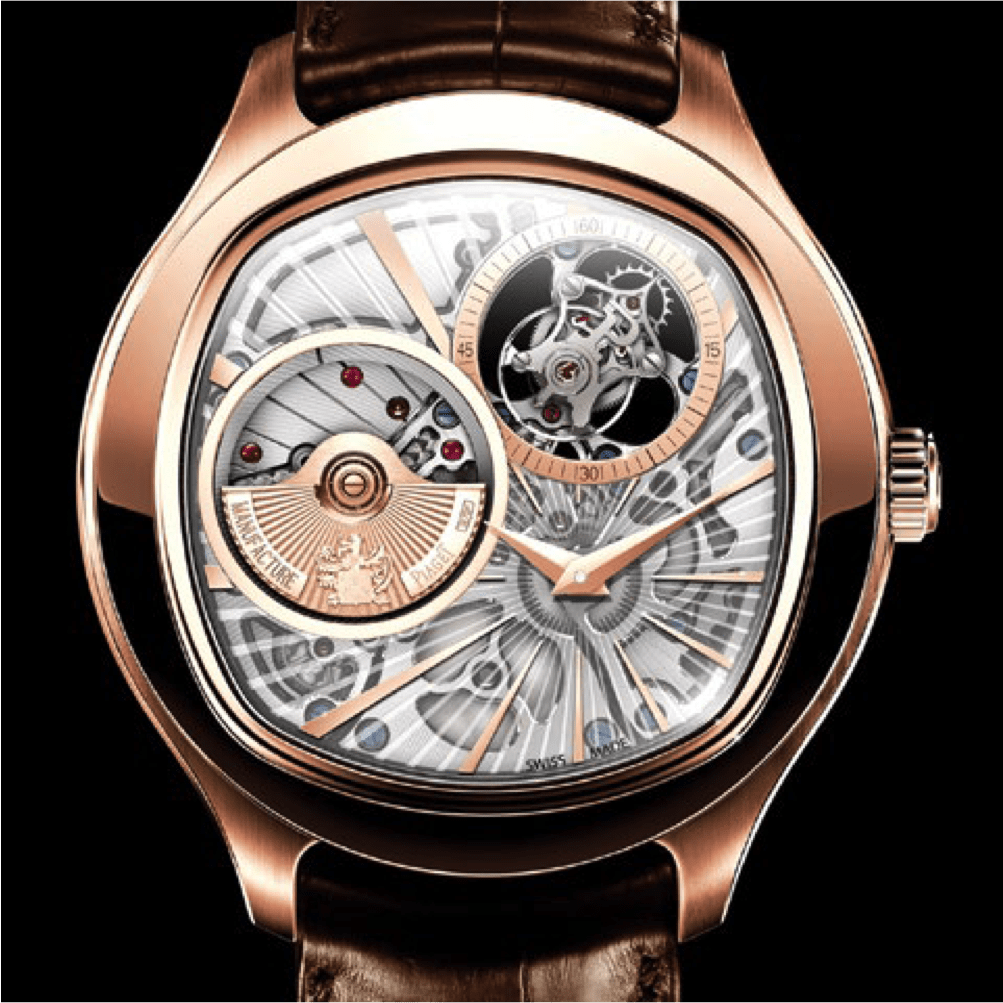 His portfolio varies from plastic to platinum and he designs for any watch or jewellery brand that requires new concepts of product or restyling of existing designs. While his design experience may seem illustrious, his passion lies in the creation of new personalities using existing DNA and modernity.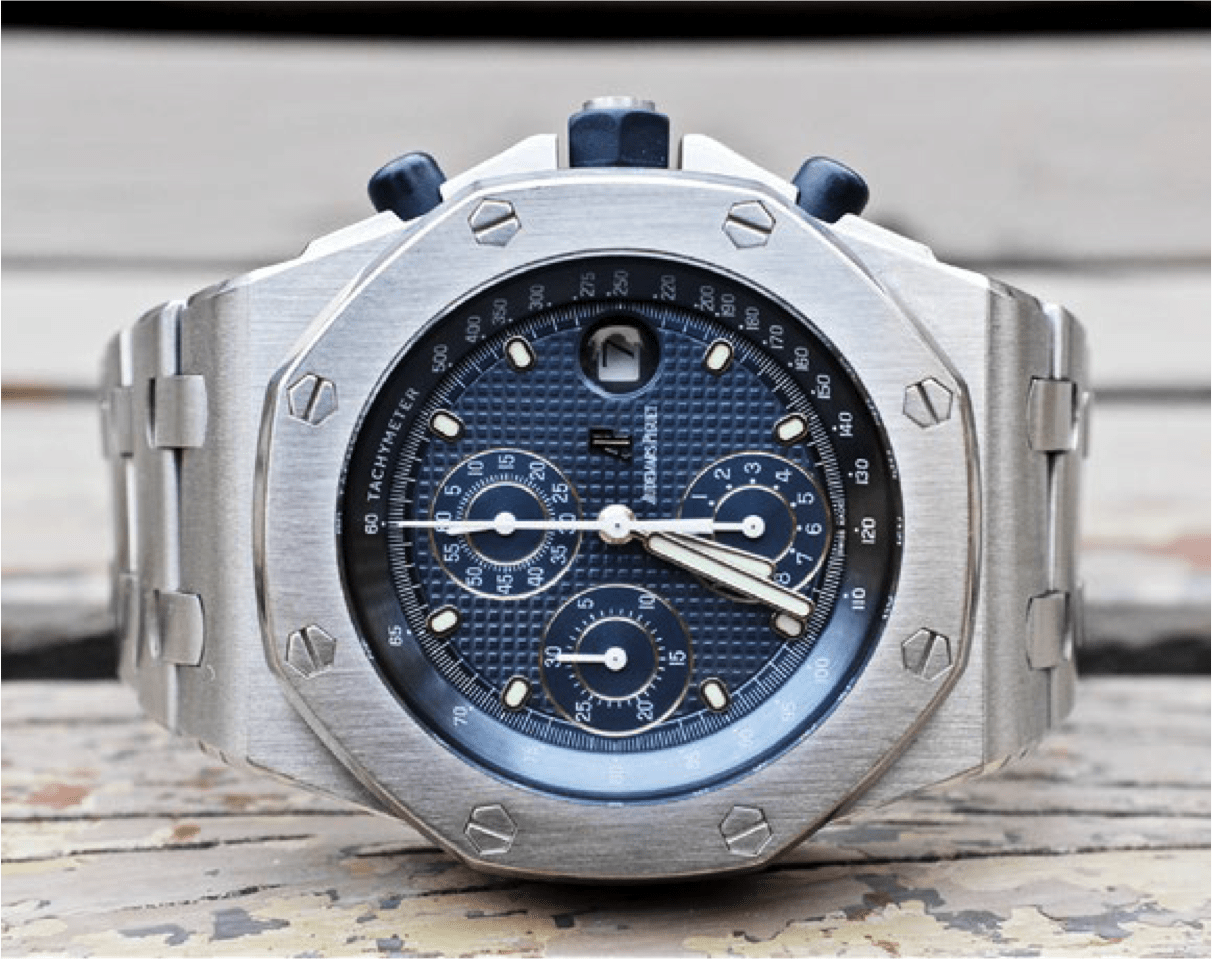 Emmanuel's experience and 'savoir faire' over almost three decades, has dedicated his life to the creation and design of some of the most exclusive watches of recent times, from big commercial brands to the most exclusive of elite luxury.
Read our exclusive interview with Emmanuel here
Martin Frei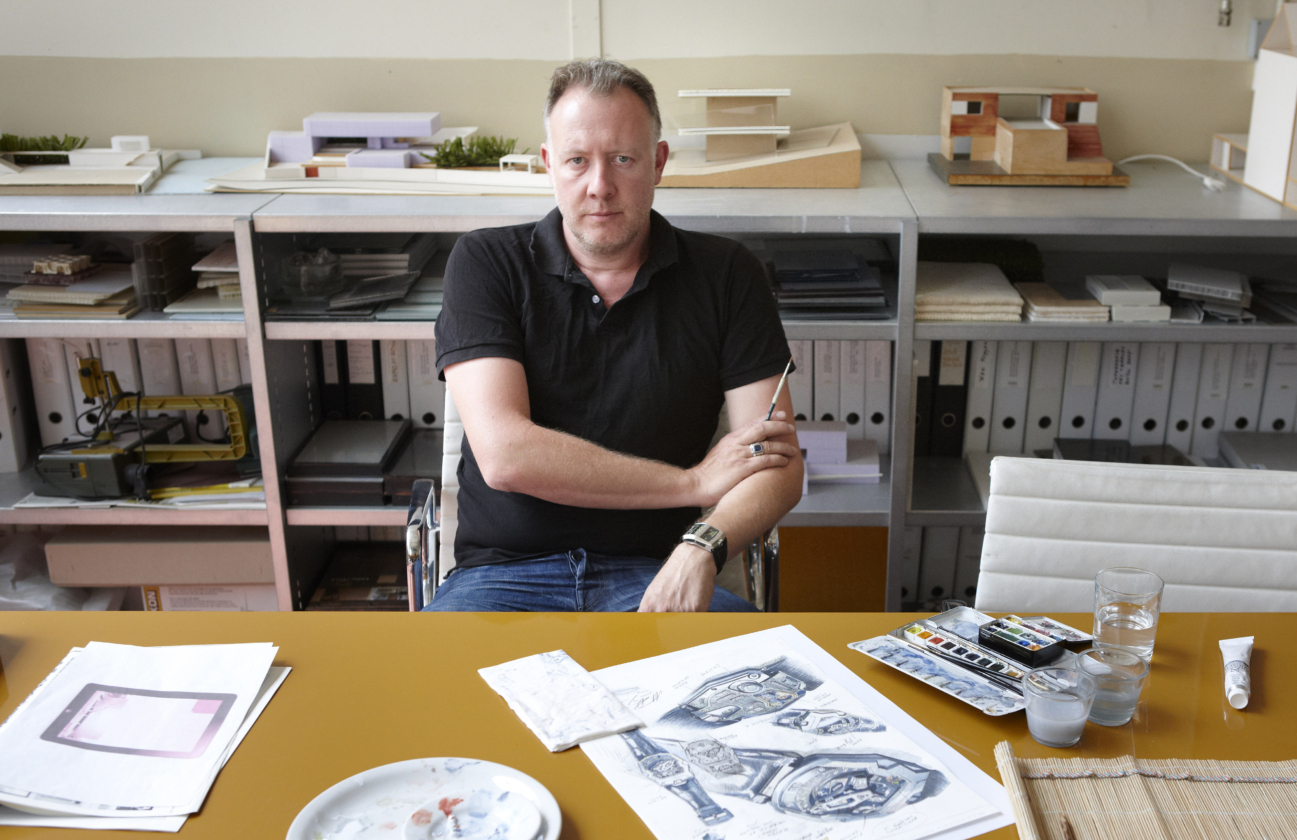 Martin Frei, is a Founding Partner and Chief Designer of URWERK. Born in Winterthur, Switzerland in 1966, Martin's father was a Physicist while his mother was his first Art Teacher.
After studying visual design and arts in Zurich, Martin came in to contact with a wide variety of influences and cultures. In 1990, he undertook a one year course on Video and Film at the Hochschule für Gestaltung und Kunst in Luzern. Taking inspiration from his time there he founded the Artist group called U.S.A.- United Swiss Artists – in Lucerne with artist-friends. U.S.A. did exhibitions, videos and performances.
It was in 1995 when he first met Felix Baumgartner (his fellow URWERK founding partner) to discuss a watch. This is when the world of horology opened up its doors to him. He entered it with his entire 'artistic luggage' in tow. He did not find having an art background limiting, instead, his art opened new horizons to watch design.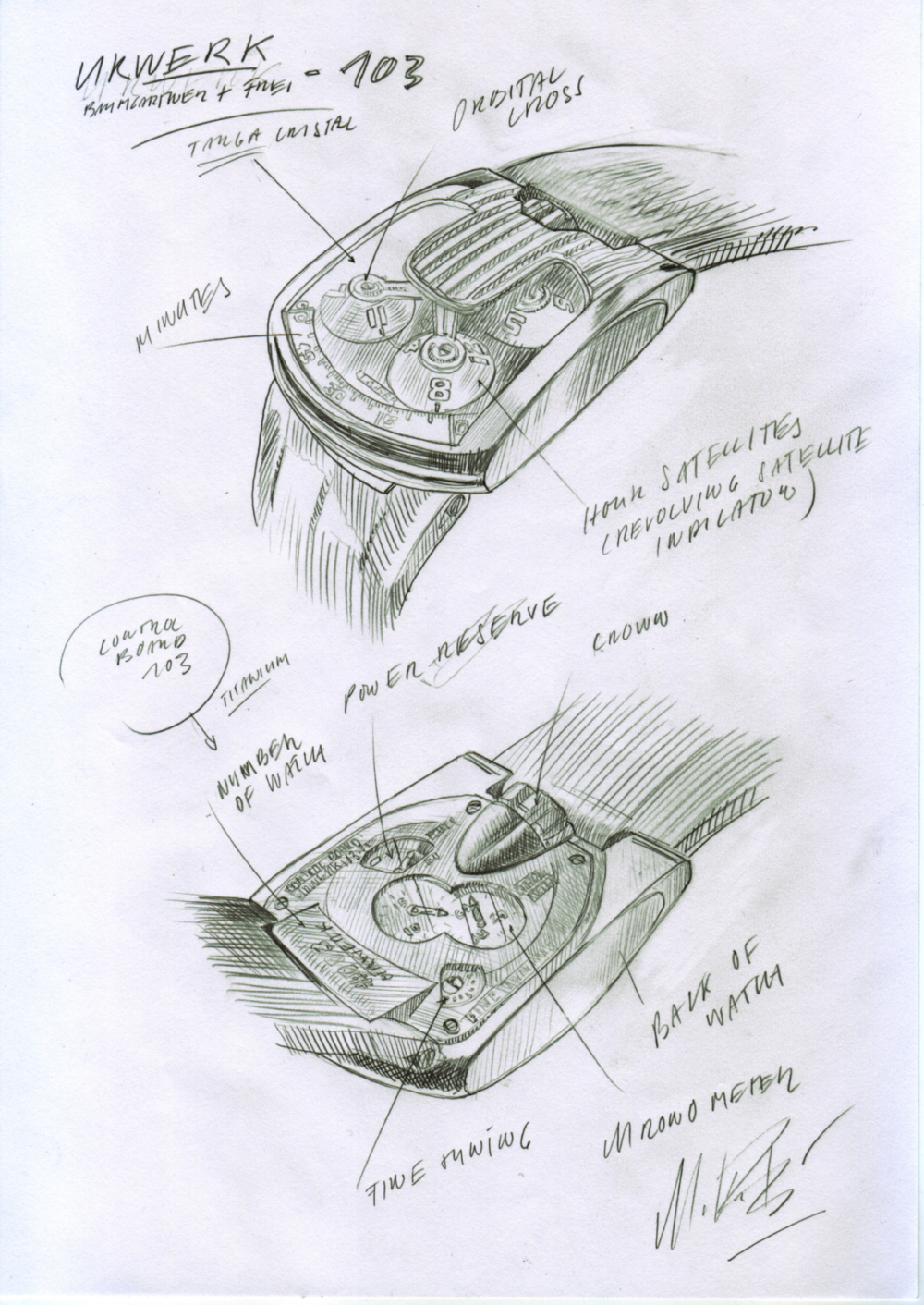 In 1997 he co-founded URWERK SA with Felix. Their goal: to design and craft haute Horlogerie timepieces blending tradition with futuristic vision.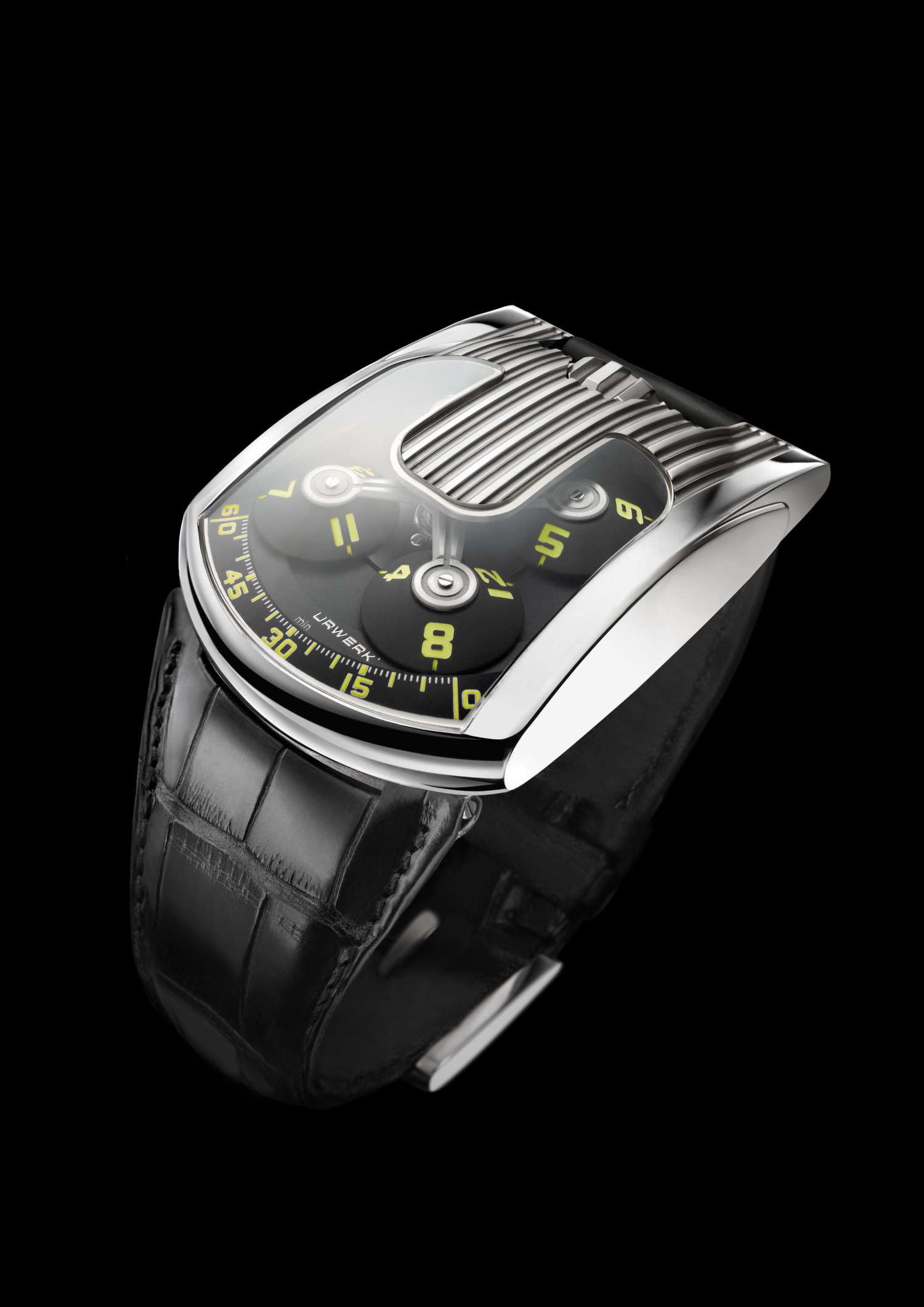 He strongly believes that technique, concept and aesthetics, are, above all, acts of creation.
Read our exclusive interview with Martin here
Felix Baumgartner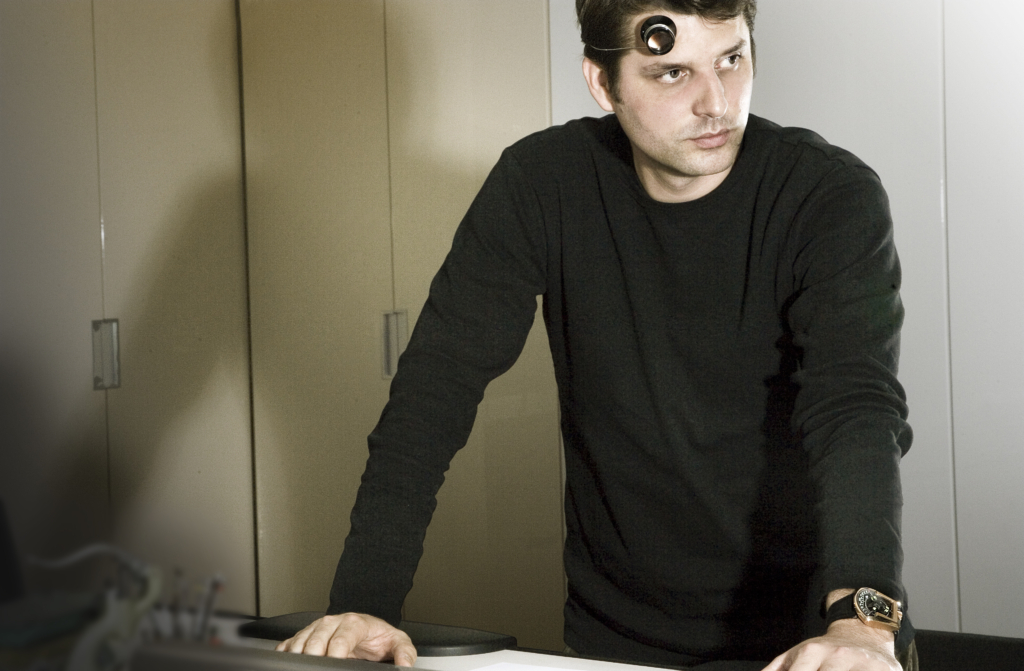 Felix Baumgartner, is a Founding Partner and Master Watchmaker of URWERK. Born in Schaffhausen (Switzerland) into a watchmaking family. As a child, Felix was surrounded by exceptional and complicated timepieces in his father's restoration atelier which formed the basis of his horological career.
In 1992 he enrolled in the prestigious Solothurn Watchmaking School in Switzerland. On gaining his watchmaking diploma, Felix declined the 'easy' option of an association with his father and moved to Geneva to work as an independent watchmaker. Here he developed complicated watches including perpetual calendars and minute repeaters, as well as restoration commissions from prestigious brands.
There is then a milestone meeting with his brother Thomas (also a watchmaker) and Martin Frei, a talented artist and designer, which leads to serious philosophising on a new vision of time perception. They start to dream about creating their own timepieces.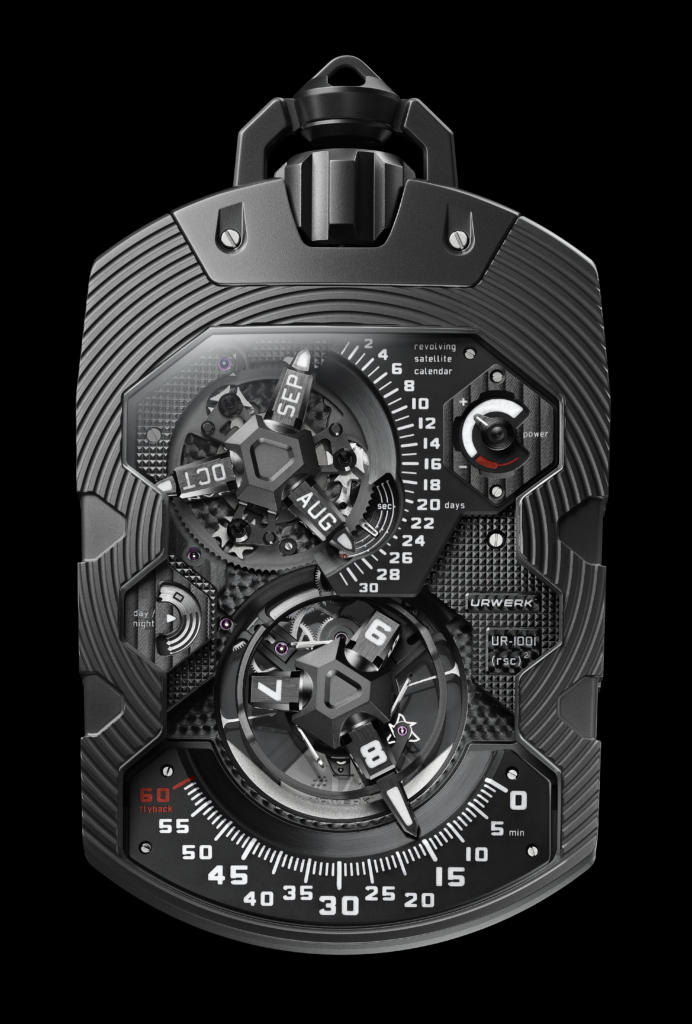 This resulted in him co-founding URWERK in 1997, with one goal: to design and craft 'haute horlogerie' timepieces that blend tradition with a futuristic vision.
Read our exclusive interview with Felix here
Charles Tearle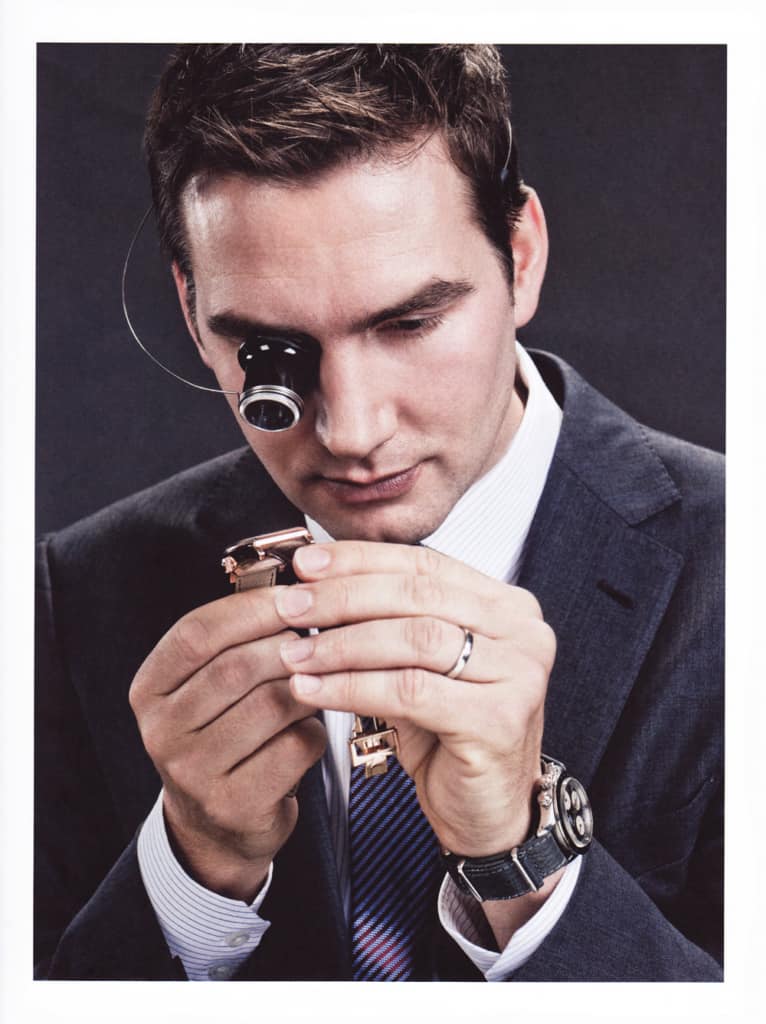 Charles Tearle's career in watches began almost 30 years ago, joining London-based prestigious vintage watch retailer Somlo Antiques. After a decade working for Somlo learning his trade, he sought adventure and travelled the world before moving into the highly-competitive auction arena. Initially at Bonhams on Bond Street, Charles relocated after a year to establish Bonhams watch department in the US. Based at their head office in San Francisco, then Los Angeles while managing auctions in New York; his work schedule was such the Financial Times interviewed him on his almost constant travel to source watches.
Having successfully found several important and 'fresh to market' vintage examples within the States, thus establishing Bonhams New York watch department as a permanent fixture, Charles was recruited by specialist watch auctioneer Antiquorum to oversee US operations from New York. Continuing to uncover rare vintage watches, Charles made a name for himself in the industry for his astute eye, work ethic and love of research, saying he feels as comfortable locked in a room endlessly studying books as he does talking in front of a live audience. During this period he was featured as a watch expert on the popular US television programme The Antiques Roadshow and was the first forum moderator for Richard Mille when the manufacturer was added on timezone.
As the Asia market continued to increase, Charles relocated to Hong Kong to take charge of Antiquorum's Asia operations. With a strong background in negotiating, Charles was quickly able to bring to the market an exceptional and highly sought after collection of enamels that attracted the attention of Sotheby's auctioneers, who were seeking a new head for Hong Kong. Moving to Sotheby's Hong Kong as head of the watches, while under his leadership the department increased annual watch sales turnover from US$20 million to US$60 million, moving Sotheby's watches to market leaders in Asia.
During his time at Sotheby's Charles was interviewed and featured on the front cover of the HK Financial Times 'Watch This Space' magazine supplement. Leaving Sotheby's to establish his own company, Charles bought and sold watches in Hong Kong, Melbourne and Los Angeles before returning to Antiquorum USA as a Los Angeles based consultant.
Charles continues to enjoy his passion for adventure whilst seeking new opportunities to bring his considerable experience and unrivalled knowledge for the watch industry back to London within this growing market.
Aurélie Picaud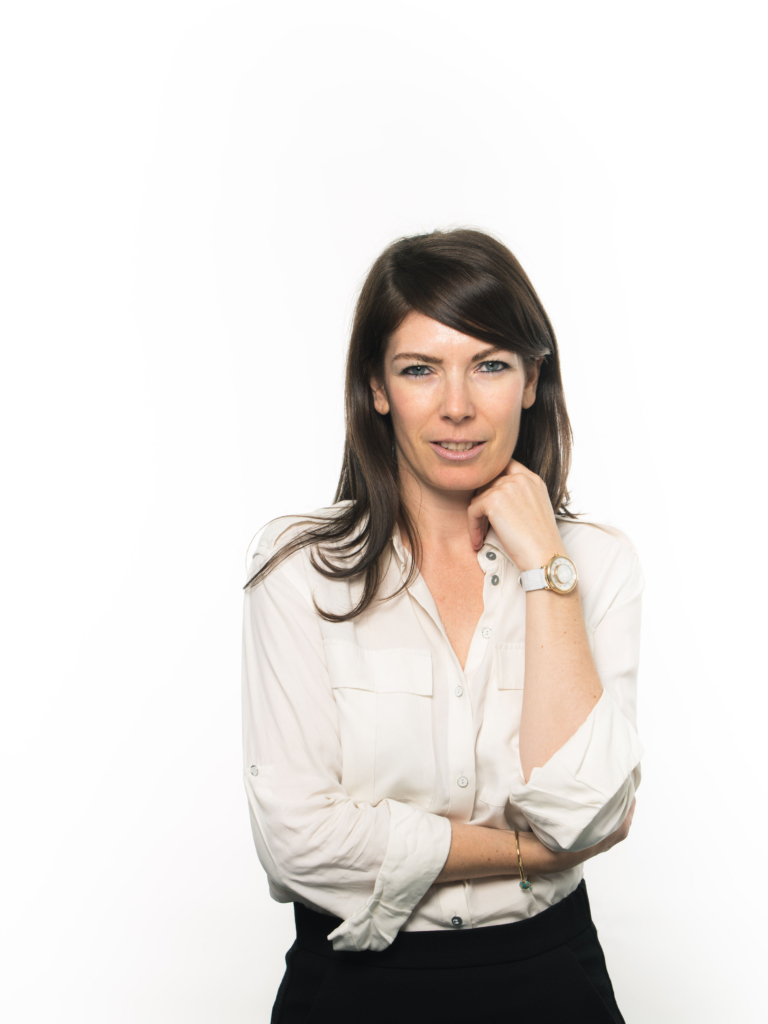 Aurélie Picaud is Timepieces Director at Fabergé. She is an experienced product manager, with a passion for the world of timepieces. Her professional experience spans over 15 years, with key roles at Swatch Group, Omega and Audemars Piguet, where she developed strategies to new product lines. A graduate of ITECH Engineering School in Lyon, she has worked in Germany, Switzerland and the UK.
Since joining Fabergé in 2013, Aurelie has enjoyed remarkable success, achieving numerous industry awards for her innovation, ingenuity and creativity, including two Grand Prix d'Horlogerie de Genève awards and Eve's Watch 'Woman of the Year' award.
Aurelie has been instrumental in strengthening Fabergé's timepieces category and has paved her own way through a male-dominated industry, to spearhead the development of five timepiece collections, including revolutionary high complications.
Pushing the boundaries of artistry and craftsmanship, Aurelie continues to astonish with spectacular new creations, guaranteed to surprise and delight.
Read our exclusive interview with Aurélie here
Pierre-Michel Herbelin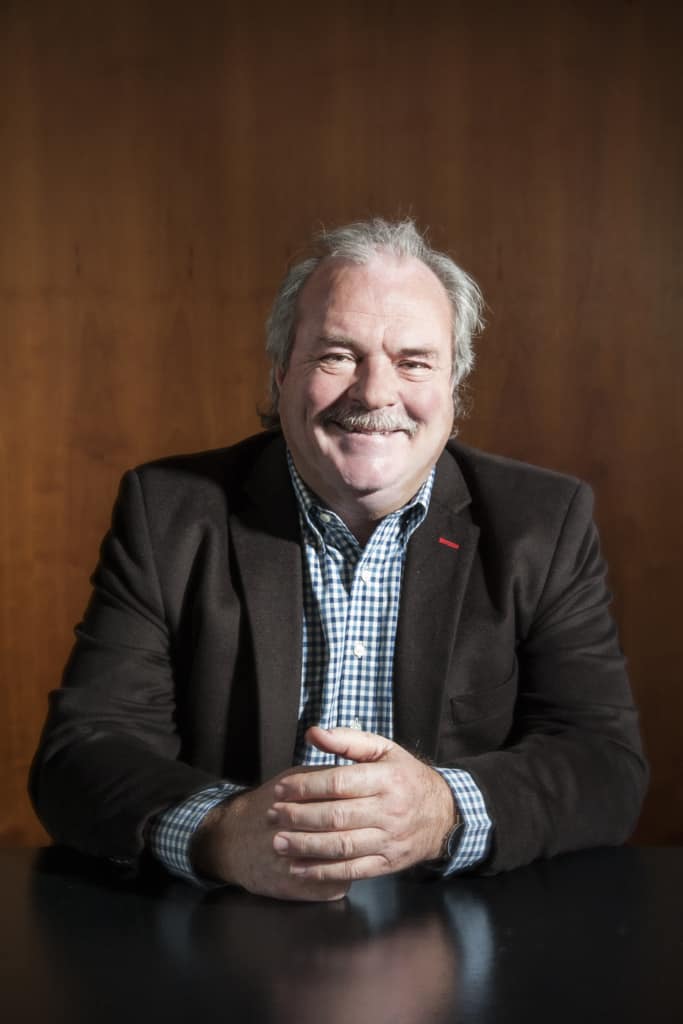 Watchmaking has fascinated Pierre-Michel since he was very young. At the age of 15, he attended the school of watchmaking in Besançon. As soon as he left school, he joined Michel Herbelin, the company his father had founded, to work alongside him and his brother.
In order to improve his theoretical grasp of the field, he spent several years travelling across the Jura Mountain region, known as the 'Watch Valley' working as a trainee for many of his family business suppliers. He therefore learned how his father's watches were created, produced and repaired. He got to know all the details and secrets of the watchmaking business.
His next step was to join his father's production workshop. Everyone he had met and had become acquainted with, as well as his own experience, allowed him to visit a number of retailers in order to build-up the sales force for Michel Herbelin watches.
Following that experience, he was put in charge of selecting the first quartz movements that supplied the creations of his brother Jean-Claude. He then became strongly involved in the development of Michel Herbelin after-sales service. That is one of the main assets in any important watch company. At present this department, is considered as one of the best in the industry due to its lead-time, efficiency and affordable cost.
After developing his career being involved in all the segments of the company it was a natural step for Pierre-Michel to become the company's CEO, a position he still holds at present.
Read our exclusive interview with Pierre-Michel here
Maxime Herbelin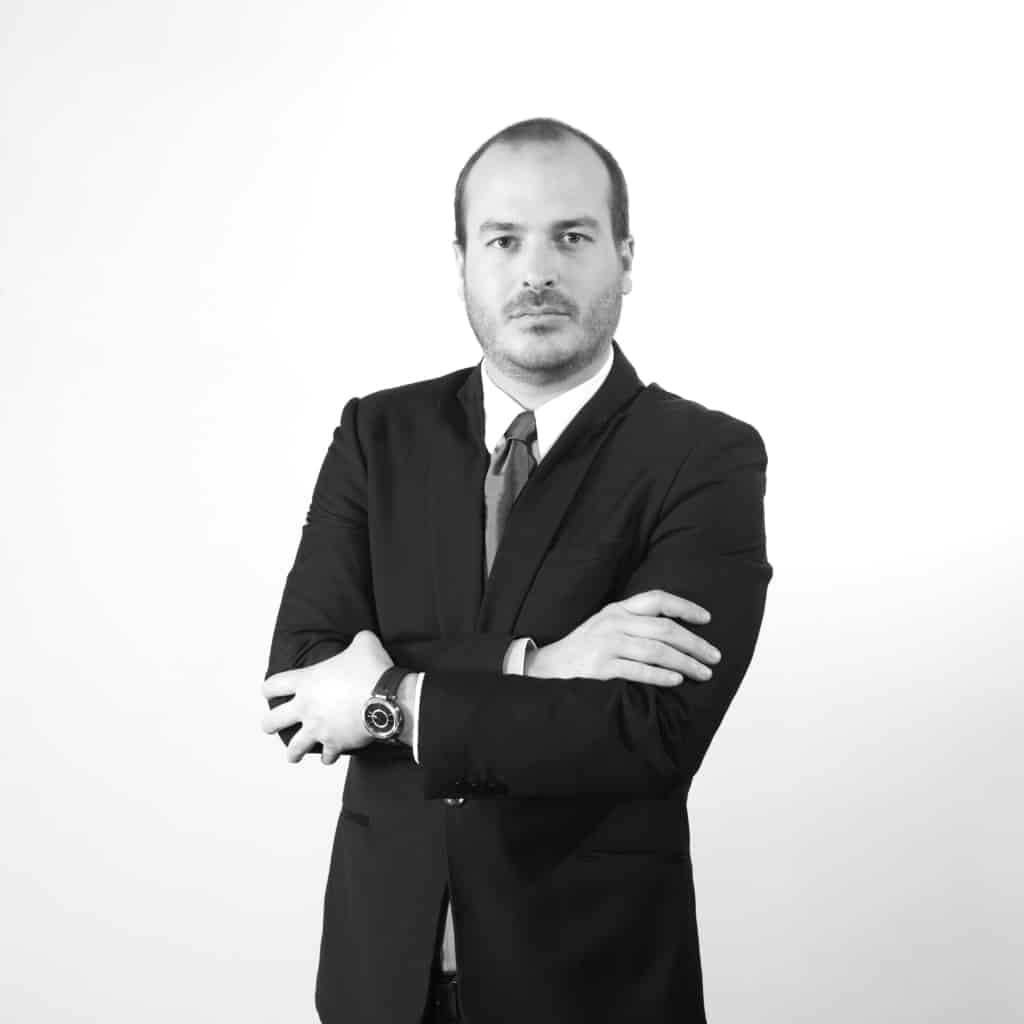 The grandson of the founder of the company, Michel Herbelin, Maxime Heberlin has been involved in the watchmaking industry since his early childhood.
After graduating from Dijon's Business School, he continued his studies in the United States of America achieving a Master's degree in Communication. He then joined his family business in 2008 as a trainee in the Marketing Department. Passionate about marketing and advertising, he took part in the development of the brand internationally at the start of 2010 when the brand began to produce multi-channel campaigns.
Maxime was also part of the team who initiated the process of digitalisation of the company, a major challenge which gave the brand new momentum, bringing a new perspective in their relation with the clients.
Under his direction since becoming the Marketing Director, the brand has developed a younger image more in tune with the social media world. The success of the latest advertising campaign for one of the ladies bestsellers' collections Antarès is proof of this new vision.
Read our exclusive interview with Maxime here
David Sanchez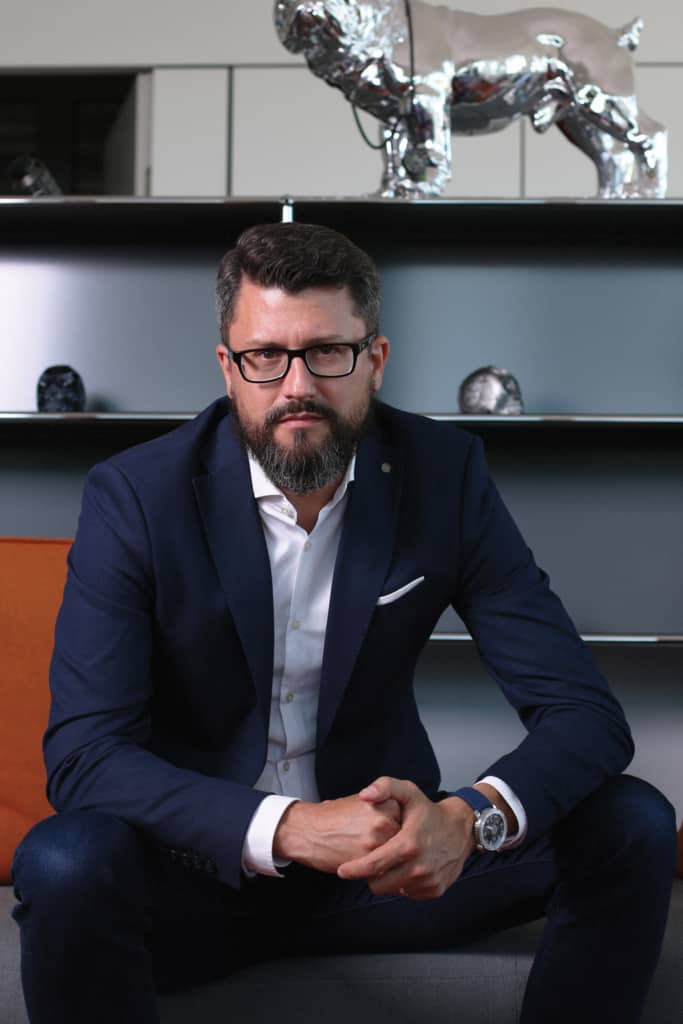 David Sanchez is CEO of BOMBERG Watches and essentially a products man at the helm of a brand. An entrepreneur in spirit and action, and perfectly at home with 'heavy machinery', over the years he has built a well-rounded career in watchmaking. A diverse and experienced portfolio to lead an ambitious and fast-growing brand which, much like a spirited teenager, needs a firm hand to guide its creativity and development to make it a future leader in its category.
Born in Neuchâtel, now a 42-year-old father of three young daughters and married to a scientist, David grew up in an industrious family. His father, a micro-mechanical engineer, instilled in him the value of work from a very young age, taking him along to the factory on Saturdays. He still recalls the smell of the oil from the machines that ran day and night – a smell he would rediscover several years later in the watchmaking world.
In Neuchâtel, he completed his education, funding his studies through a series of student jobs and gaining a degree in history and journalism This gave him a solid foundation in general culture that he has continued to cultivate ever since.
In 2002, he joined the Festina group, which had just acquired the Candino brand. His organised, structured and rigorous character made him a natural fit for purchasing and logistics. He worked hard and delivered results, quickly gaining the attention of the group's management, who offered him numerous promotions over the years. In 2004, he joined the team at Perrelet. With a small team and a start-up mindset, he took over Operations as the brand was relaunched and achieved impressive growth.
In 2013, in full charge of production, development, purchasing and logistics, he was seeking a new endeavour that would allow him to nurture his creativity in the products field. A meeting with Rick De la Croix, who founded BOMBERG Watches in 2012, would prove decisive. In October 2013, he joined the young brand's team as Product director, overseeing numerous projects including the launch of the famous BOLT-68.
In 2014, wanting a fresh challenge, he found himself another big player, joining Maurice Lacroix as Product and industrial director. A five-strong team to manage, the brand needed to reconnect with its original customer base seeking accessible, classic luxury. With his mission accomplished, five years later, he left his position as head of industrial management and returned to BOMBERG Watches – at the request of Rick De La Croix – as managing director. Bringing stability, implementing a Product strategy, repositioning the brand, connecting with and researching markets, instilling trust in the brand, demonstrating its ongoing investment.
Read our exclusive interview with David here
Daniel Somlo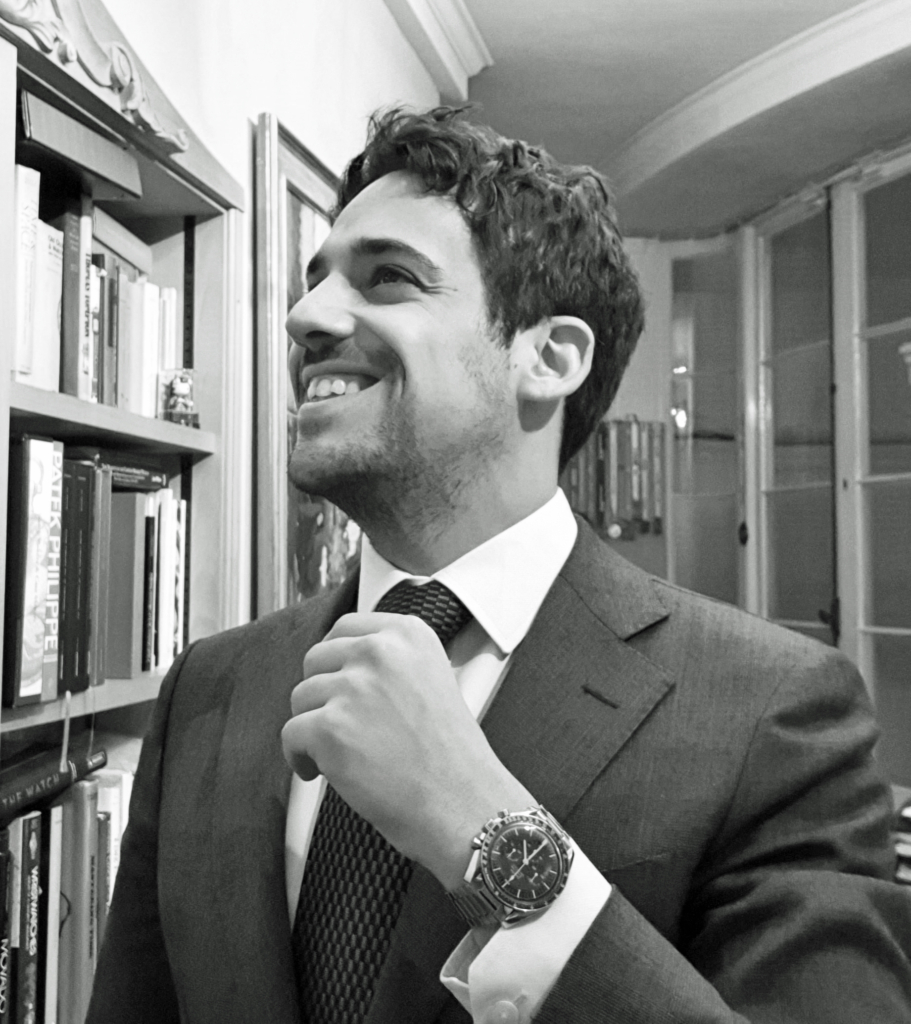 Daniel Somlo is a vintage and antique watch dealer at Somlo London & OMEGA Vintage. He studied horology in Birmingham and watchmaking at the BSOW in Manchester before working as a watchmaker for OMEGA. Daniel was exposed to the world of watches from an early age and has extensively studied the history of horology, antique watches and vintage wristwatches through the mid-seventies. His love of watches was fostered by his father George Somlo and their shared passion for the field led to Daniel joining the family business full-time in 2016.
Daniel is the resident OMEGA specialist at Somlo and spends much of his time furthering his education about the brand with particular emphasis on the Speedmaster line. He is currently putting together a series of blog posts to introduce novices to the world of vintage watch collecting and how to choose their first vintage watch.
Read our exclusive interview with Daniel here
Ilan Srulovicz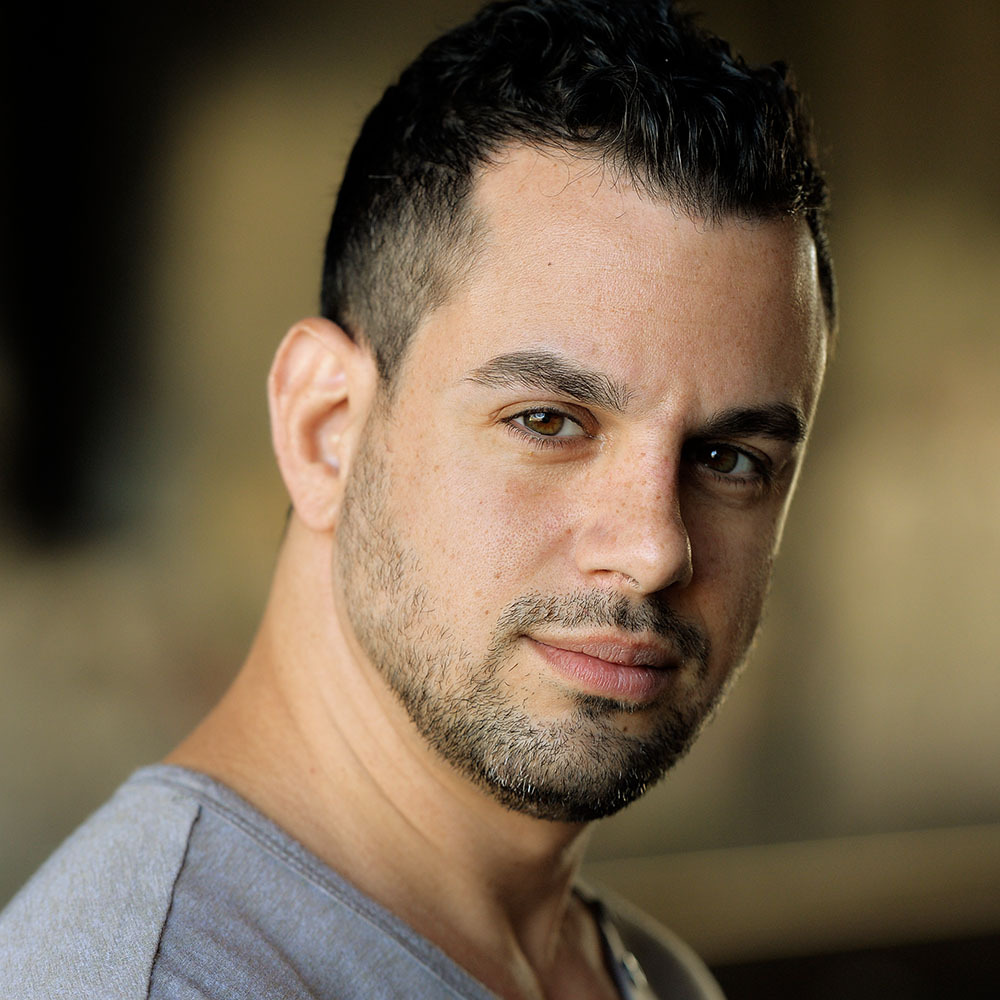 Ilan Srulovicz is the founder and CEO of the Égard Watch Company. Ilan designed his first timepiece to honour the unbreakable bond between father and son. His father, Peter was the inspiration behind the creation of the brand. It was his goal to create inspiring luxury pieces that embody the depth of emotion we each feel for the person in our lives who has defined our own important moments. Égard debuted in 2012 with an intricate layered-dial design that makes a bold statement.
Ilan, a true designer, adopted only the finest technical specifications and materials. He found inspiration in his memories and his own innovative sense of style. Ilan and Peter work together in their Atlanta and Toronto offices to design and manufacture all of Égard's pieces.
Read our exclusive interview with Ilan here
Serge Michel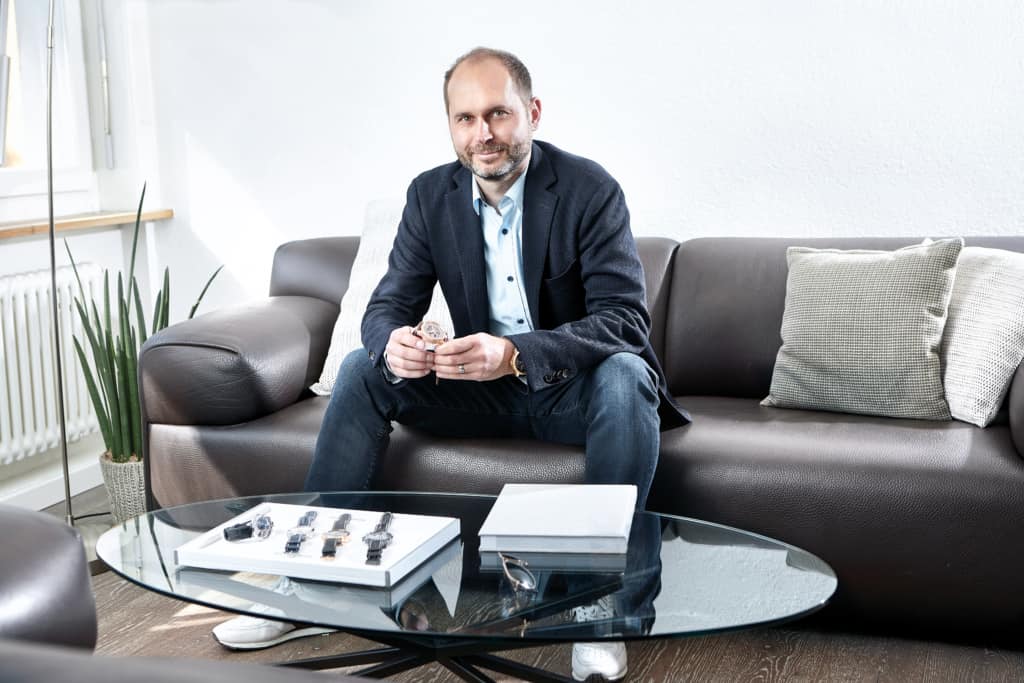 Serge Michel is the founder of Armin Strom. Serge started his first watch collection with iconic Swatch watches. At the age of 10 he was a proud member of their Swatch collectors club and fascinated by their designs and the innovative marketing. Some years later, his fascination expanded to mechanical watches and their different complications, which he enjoys and collect to this day.
This fascination led Serge to found Armin Strom in 2008. He is married and a proud father of two girls. His main passion, besides his family and the Armin Strom brand, is travelling and wine tasting. He visits – together with his best friends – at least one winery per year, to learn about the specifics of wine making. Fine dining with a glass of wine together with his family and friends is his way to relax and to enjoy life.
Read our exclusive interview with Serge here
Claude Greisler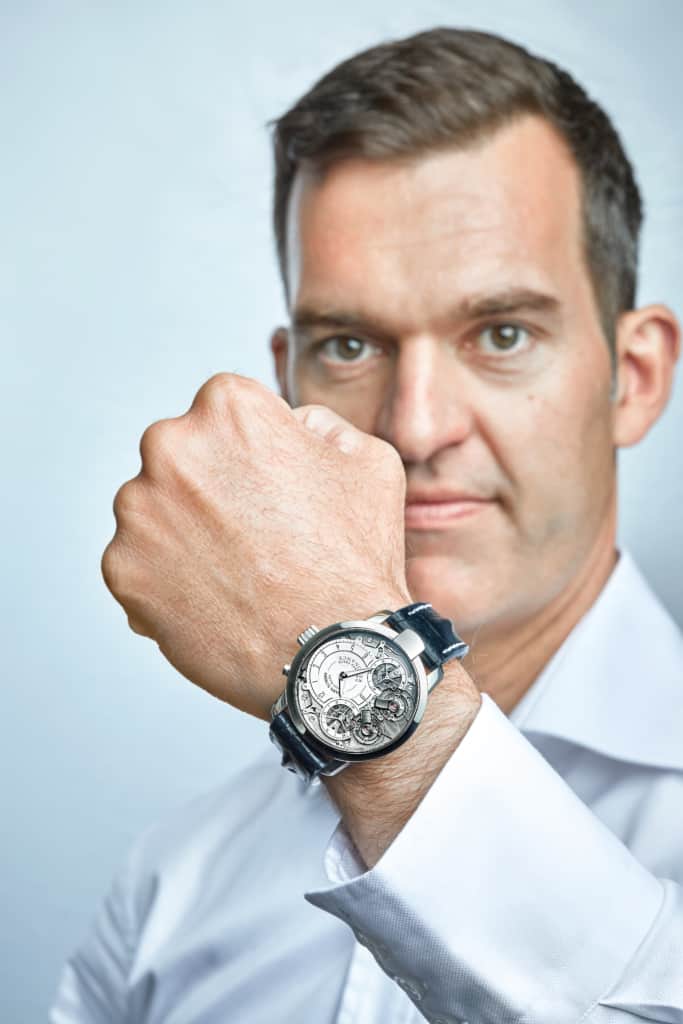 Claude Greisler is the co-founder of Armin Strom. Claude not only works in a traditional business; he also continues a family tradition. Already his grandparents were strongly involved in the watch industry and their activities fascinated him since he was a little boy. Given this fact, the career aspiration has always been very obvious to him.
He is an intense thinker and always accessible – an enthusiastic and hard worker who adores to design and develop watches. He likes watches with an individual look – outside but especially inside. His designs are conceived with the caliber's more intricate side on top to showcase the timekeeping elements at work.
Always seeking for highest quality, best performance, technical innovation he has developed and produced 12 in-house movements including a micro-rotor tourbillon. Claude mastered the complication of Resonance with the Resonance collection and the patented Resonance technology and upholds hand craftsmanship and the tradition of Swiss watchmaking while incorporating modern technology.
Claude is married and passionate about windsurfing (competition level) and skiing.
Read our exclusive interview with Claude here
Tyler Wolfe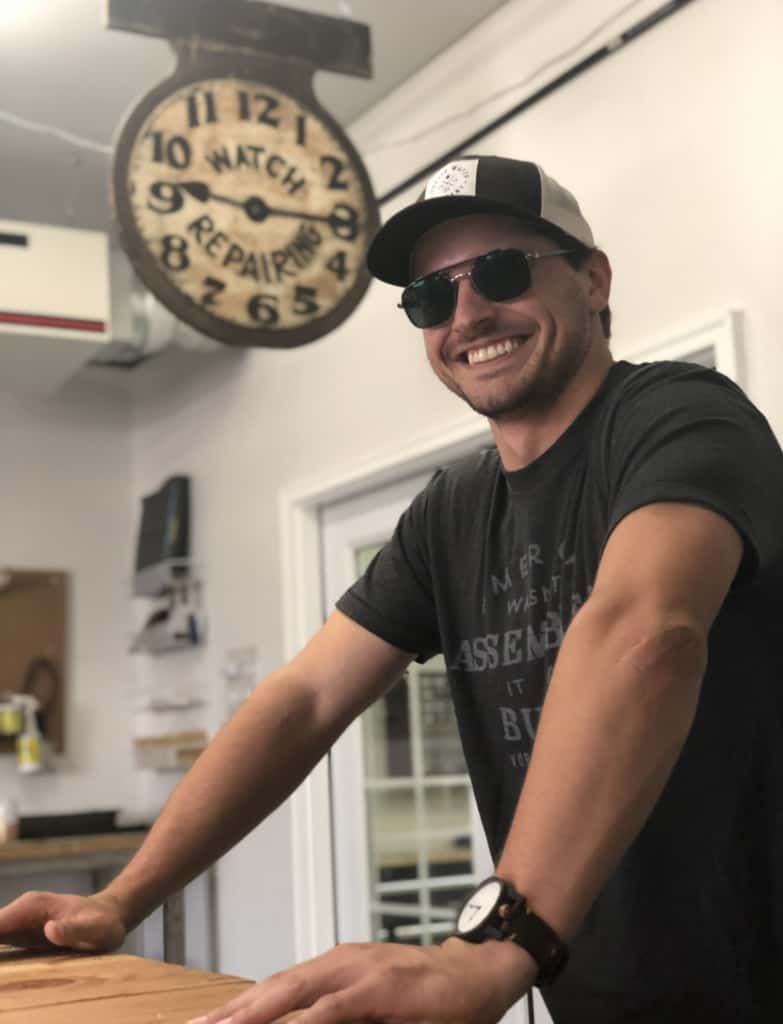 Tyler Wolfe is the Co-Founder of Vortic Watch Company. He was born and raised north of Philadelphia in rural Pennsylvania. He grew up behind his father's auto repair shop and watched his dad walk to work every day. His dad's shop gave him an appreciation, at an early age, for the rewards and challenges of small, independent business ownership. After three years pursuing a pure math degree at Penn State, Wolfe decided that entrepreneurship – not college – was his path forward.
He moved to Philadelphia, where he started a small iPhone repair franchise. Wolfe and his business partner, R.T. Custer, spent considerable time in college developing and patenting a unique watch strap. Following college, the two fell flat while looking for investment and resources to get their venture off the ground.
However, the two had an idea to combine 3D printing with antique, American-made pocket watch movements and launched on Kickstarter for initial capital. Wolfe agreed to move into Custer's basement in Fort Collins, Colorado, where he created the company's original Kickstarter project.
Early on, Wolfe built every watch, designed the website, stitched leather straps, and kept the business running while Custer worked a day job. He quickly realized that his best opportunity to add value was through design and manufacturing. After leaving the corporate world, Custer took over the business side of the venture while Wolfe 'dived' into the product.
He began bringing the company's machining in-house with a low-budget, desktop manual mill and lathe. Knowing that this wasn't sustainable, Vortic purchased a HAAS Super Mini Mill in 2017. Subsequently, Wolfe taught himself how to use CAD/CAM software and program a CNC machine. This event catalyzed a passion for machining and set the company on a new trajectory.
Since then, Wolfe has honed his skills and built a world-class machine shop. He leads the company's investment in new machines, technology, and techniques. In his spare time, he enjoys hiking, sailing, golfing, and cooking.
Read our exclusive interview with Tyler here
R.T. Custer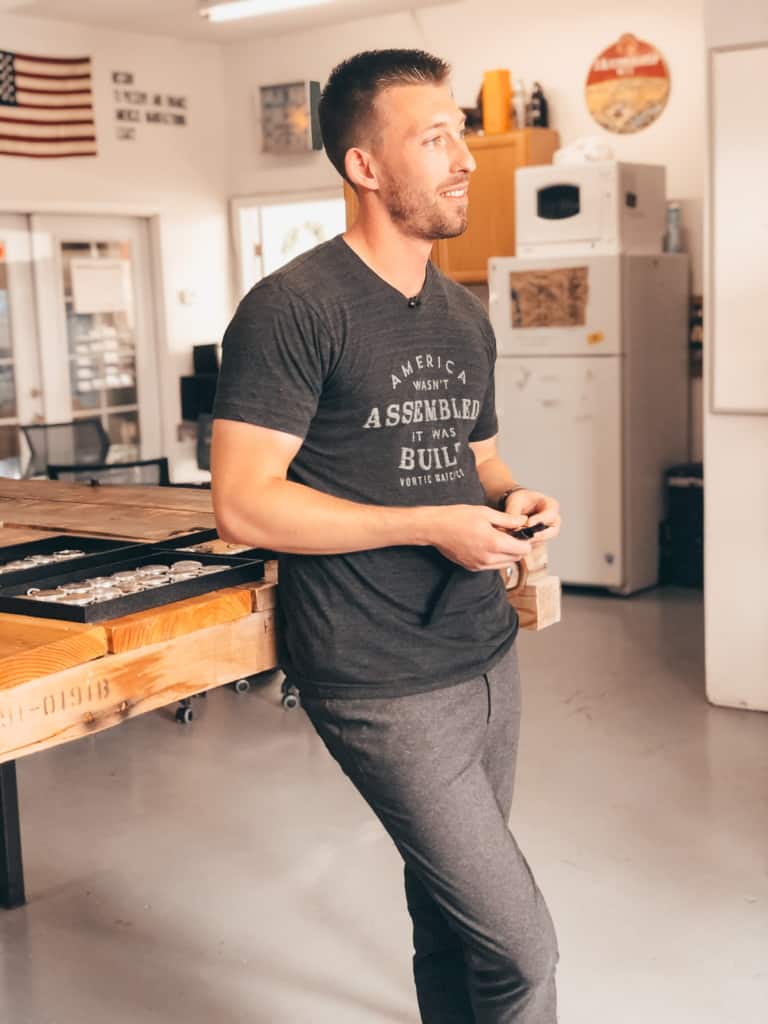 R.T. Custer is Co-Founder of Vortic Watch Company. An Entrepreneur living in Fort Collins, Colorado, Custer grew up on a Christmas Tree Farm near Reading, Pennsylvania and attended Penn State University where he studied Industrial Engineering.
Besides helping to run the family farm, his first entrepreneurial journey was a franchise of College Works Painting. Custer started Vortic Watch Company in college and has grown it to a seven-figure company with the help of his team, business partner and co-founder, Tyler Wolfe, and advisors.
Vortic manufactures one-of-a-kind wristwatches using antique American pocket watch mechanisms. Vortic's tagline is "America Wasn't Assembled, It was Built," because they make one of the only truly American made wristwatches. Custer also recently started an advertising agency focused on ecommerce called Conversation Piece Agency. His mission is to be the best in the world when it comes to consumer product marketing.
Read our exclusive interview with R.T. here
Patrick Pruniaux
Patrick Pruniaux is the CEO of the Manufacture Girard-Perregaux. Having already served as CEO Ulysse Nardin for almost a year, he was chosen by the Kering Group to head both its watchmaking Maisons in 2018.
A watch enthusiast since his teens, Patrick began his career with Diageo in London – eventually moving to Africa and then Chicago. He joined LVMH in Miami in 2000 and rose to become Regional Sales Director for the Wines & Spirits business for Latin America.
After gaining an MBA at HEC Paris and the London Business School, Patrick – also a graduate of Stanford Business School – decided to combine his passion for premium watches and sports by becoming International Export Director for Tag Heuer. He held different positions within Tag Heuer and he served as Vice-President Global Sales & Retail from 2010 to 2014, focusing on retail growth, channel optimization and consumer experience & innovation. Patrick was also member of the LVMH Retail Committee and had a responsibility to coordinate sales strategy between LVMH Watch & Jewellery brands.
In 2014, Patrick was hired by Apple, in Cupertino, to prepare the launch of the Apple Watch as a member of the Special Projects team. He was then promoted to the position of Managing Director for UK & Ireland in 2015, and was also a member of Apple EMEA Executive Committee. During his tenure at Apple UK & Ireland, he led the local launches of several iconic iPhone, iPad and Mac products with the retail, the education and enterprise channels as well as Telco operators.
Patrick Pruniaux joined the Kering Group in September 2017 as Chief Executive Officer of Ulysse Nardin. Since August 2018, he has also been at the helm of Girard-Perregaux.
As passionate about the outdoors and wilderness sports as he is about sailing, kite surfing and free diving, Patrick lives with his wife and son on the shores of Leman Lake.
Read our exclusive interview with Patrick here
Roger W. Smith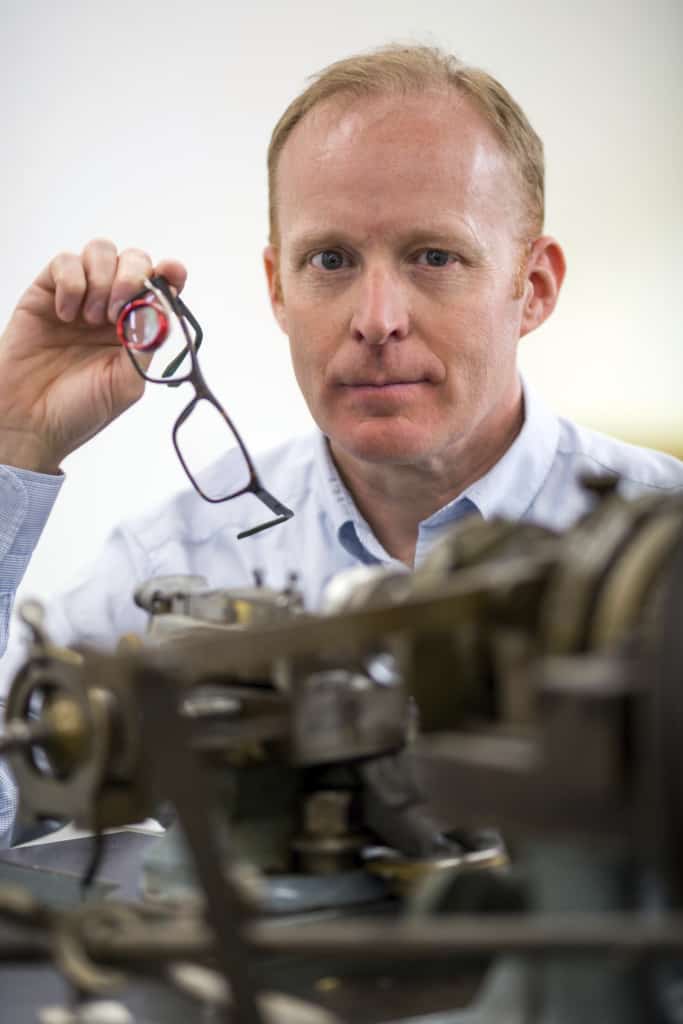 Dr. Roger W Smith OBE established his studio in 2001 with an unswerving ethos to craft watches to a peerless standard of horological excellence.
His journey has been one of continual discovery. Mastering the Daniels Method, the art of hand-crafting a watch (devised by his mentor, the great George Daniels) was his first great challenge.
Since then, he has spent the last decade exploring the future of mechanical watchmaking. This has taken him into previously unexplored territory. Ultimately, discovering new worlds of possibility within the microcosm of timekeeping is what he hopes will define him as the watchmaker.
Today, he is working at the boundaries of mechanical watchmaking performance. They're applying next generation science to what has always been regarded a traditional art form. He believes they are also staying true to the tradition of British watchmaking which has always been about discovery.
Ultimately, his commitment is to his ethos. That's why they make just twelve watches each year. And it's why every watch remains both a work of mechanical art and a celebration of what is possible.
Read our exclusive interview with Roger here
Mike France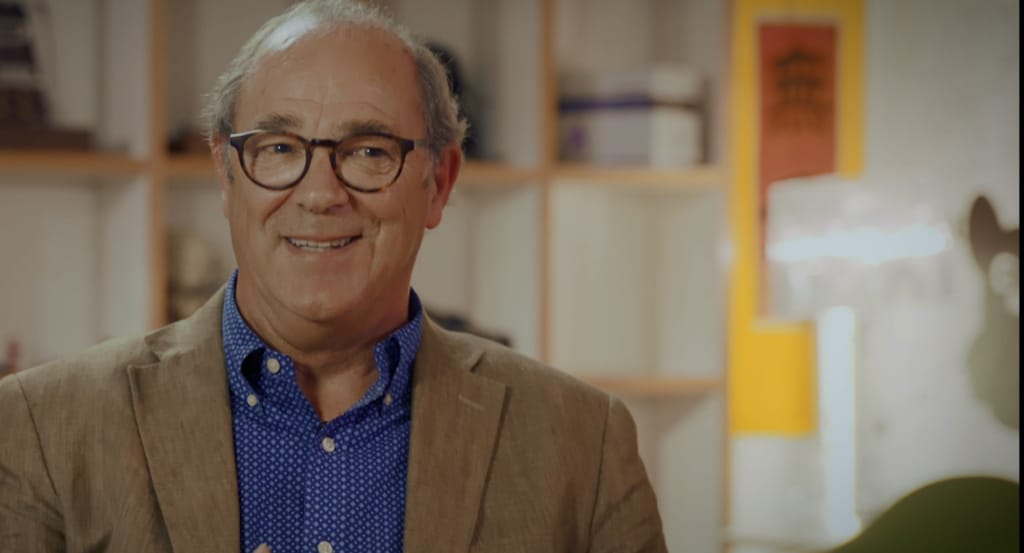 Mike France is the Co-founder and CEO of Christopher Ward watches. It's a fascinating story, beginning on a gentle boat trip down the Thames in May 2004. Him and business partner, Peter Ellis, had recently sold Early Learning Centre – an ethical toy company – while Chris (Ward) was bored with importing T-shirts. Mike suggested they start a business together.
It needed to be something we were all interested in. As football and music seemed beyond us, and because we were all fascinated by horology, we settled on watches. And through a friend who was well connected in the luxury watch industry, we learned some surprising information.
They saw the opportunity to create a different type of premium watch business. A company that would avoid the huge marketing overheads and third-party retailer margins of the Swiss brands. A company that would provide 'the cheapest most expensive watches in the world'.
They called it Christopher Ward. It seemed the most quintessentially English name of the three of them. The rest as they say is history.
Read our exclusive interview with Mike here
Jorn Werdelin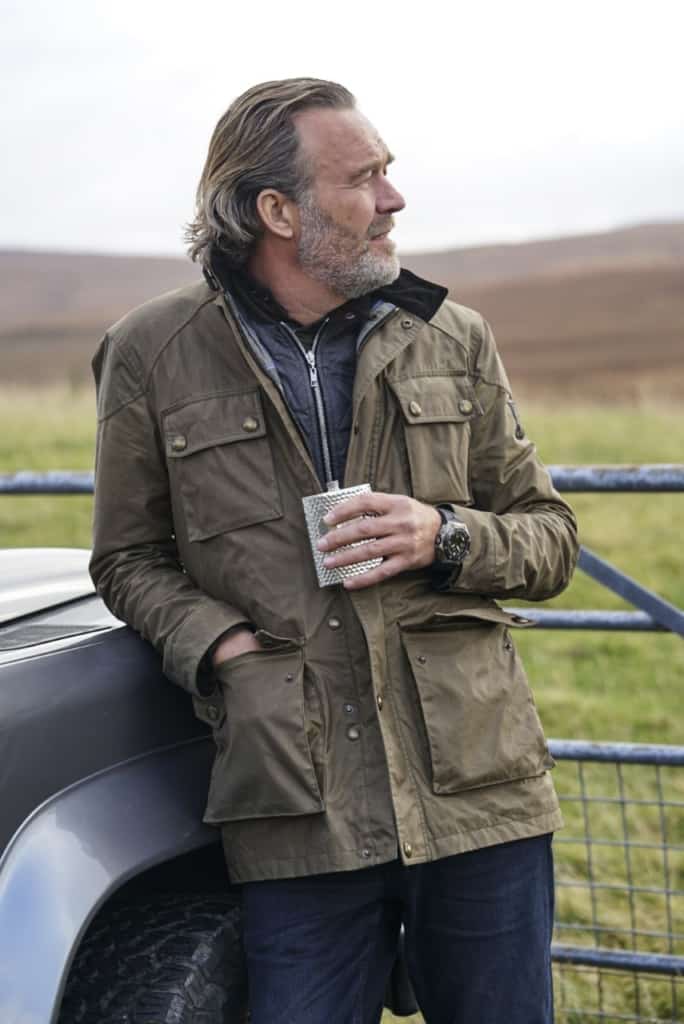 Jorn Werdelin is the co-founder of Linde Werdelin. The origins of Linde Werdelin go back to the 1970's when Morten Linde and Jorn Werdelin met in primary school and quickly became lifelong friends. Morten's family was in the furniture retail business and Jorn's father was a third generation watch and jewellery retailer.
In 2002, Jorn went skiing in Canada and found he couldn't really leave his JLC Reverso (first iconic sports watch ever) and when he was next in Copenhagen Morten told him about the watch he was designing for Georg Jensen aimed at sailing – and with an interchangeable outer case. This sparked the idea of a beautiful mechanical timepiece which would incorporate digital information, attached and detached at will.
In August 2002 Linde Werdelin was established with that aim of developing the two parts of this idea. The timepieces were designed and developed between the studio in Denmark and supplier partners around Switzerland, and the instrument/computers for skiing and diving were initially developed and produced in Denmark but later moved to Switzerland.
In 2007 the first series of Linde Werdelin watches and instruments were launched in Geneva – the Biformeter model and the Land Instrument for skiing. Then began a period of development focused on more sophisticated case structures and movements (always with sports in mind).
The first SpidoLite – inspired by a team climbing Everest – was launched in Basel in March 2009 and set the tone for an expansion of the watch families into the Oktopus II in 2010 and work with Dubois Depraz, Frederic Piquet and later with the Jaquet family at Concepto and Jean Francois Mojon and his team at Chronode. Between 2007 and 2015 Linde Werdelin participated in the Basel and Geneva fairs and grew to working 60 plus select retail partners across 30 countries.
2015 marked the beginning of a significant change to the industry, as well as at Linde Werdelin. The emerging pre-owned online platforms challenged the traditional wholesale model and Linde Werdelin chose to move primarily to an online platform with direct contact with customers. A focus on exclusive limited editions, bespoke customer service and personal relationships reflected a changing point of view, ahead of its time.
In 2016 the 3-Timer family was reintroduced to balance the innovation of the Oktopus and Spido families with the origins of Linde Werdelin. In May of the same year, Linde Werdelin established its own pre-owned platform, one of the first – in effect taking responsibility for every watch ever produced and fulfilling the idea of a circular economy. Together with customisation of new and existing watches, sustainability has now become a growing focus of the company.
In 2020, more than 100 limited series of watches have been produced with around 5,000 pieces on owners' wrists. When the world emerges from the COVID-19 pandemic Linde Werdelin will be launching a series of new watches, some with new complications as well as other surprises.
Read our exclusive interview with Jorn here
Manuel Emch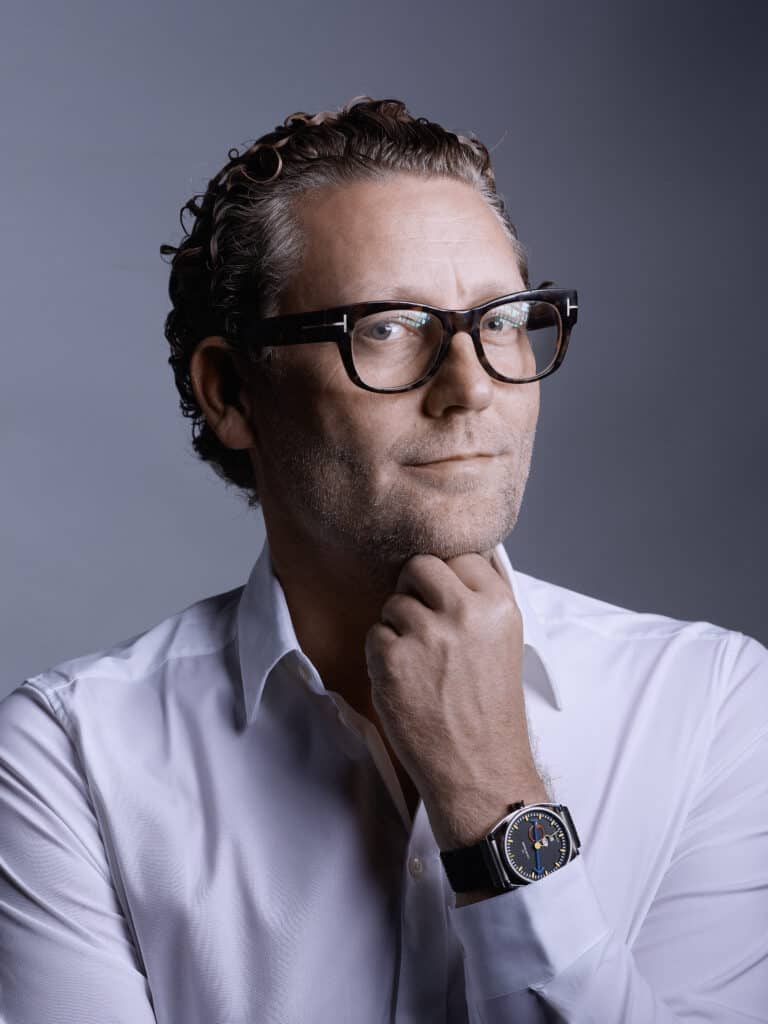 Born in 1972, Manuel Emch grew up in a cosmopolitan environment. He had both the interpersonal skills of the French Swiss and the self-discipline of the German Swiss. Speaking both French and German perfectly since childhood, he ventured out into the world, learning several more languages along the way and very quickly developing a passion for fine watchmaking and contemporary art.
At 29, he was appointed head of Jaquet Droz (Swatch Group), becoming the group's youngest President & CEO. It is to him we owe the brand's identity and aesthetic codes, as well as the design of its most iconic watches (La Grande Seconde, L'Eclipse, Machine à Ecrire le Temps, La Grande Heure, and so on). He developed the brand's international presence and boosted its turnover (from under a million Swiss francs to almost 40 million in 9 years). At the same time, he was member of the Swatch Group Extended Management Board, was Head of Eastern and Central Asian Countries, and set up the Russian subsidiary. In 2007, he also joined the Senior Management Team of the Swatch brand, alongside his mentor, Nicolas G Hayek.
In 2010, he took on a fresh challenge by picking up the reins of RJ Watches SA (Romain Jerome). As CEO and Artistic Director of the independent brand, he developed the concept of storytelling watches and was the first to forge successful collaborations in fine watchmaking (such as Super Mario, Pac-Man, Space Invaders, Pokémon, Batman, Spiderman, etc.). Success was swift to follow, with the brand exporting to over 50 countries and starting to turn a profit within three years.
In 2018, spurred on by the success that had made his reputation, he decided to use his experience for the benefit of others, by creating Le Büro. As a specialist in the world of luxury goods, especially the watchmaking sector and the contemporary art scene, he found his expertise and innate creativity were much sought after. He has in-depth knowledge of groups and independent companies, mass-market and high-end watchmaking brands, historic and contemporary brands, Swiss and foreign brands, factories and brands with no own-brand production.
Authorised to act both in Switzerland and abroad, he launches new companies, while also ensuring the longevity of existing ones, defining their strategy and identity, structuring them and stabilising their finances. Having become familiar with BRP (business process re-engineering), he overhauled the company's business processes to make them more efficient.
Today, Manuel provides advice, particularly to the Louis Erard watchmaking brand, whose strategy and identity he revamped. Convinced of its potential in this particularly hard-hit sector, he paved the way for it to make a big comeback, after himself investing in the company.
In addition to his business activities, he is an enthusiastic collector of contemporary art and instigator of the Chair of Watch Design at the Art and Design school HEAD – Geneva, on whose Academic Board he sits. A member of the Cultural Council of the FHH (the Foundation of High Horology), Manuel also sits on various Boards of Directors and Advisory Boards in the luxury-goods market, mainly in watchmaking, contemporary art and design.
View our exclusive interview with Manuel here
David Henderson-Stewart
David Henderson-Stewart is CEO of Raketa Watches, the Russian mechanical watch manufacture based in Saint-Petersburg, established in honour of the first cosmonaut, Yuri Gagarin in 1961.
David has lived in Moscow for the past seventeen years and studied to become a Lawyer at the Sorbonne University in Paris and as a post-graduate at Oxford University. He became an M&A lawyer at American law firm, Jones Day, before joining Russian industrial group, OPK as their International Business Manager.
David took control of the Raketa business around ten years ago. His ambition is to create a globally known luxury brand that Russians might regard with pride, as Italians do Gucci or Prada. He has never collected watches and does not pretend to be an enthusiast. However, he learned of Raketa through friends who were visiting him at home in Moscow and wanted Soviet-era timepieces.
David worked with a group of investors to raise €3 million to buy the factory from a local company that had purchased it for the real estate. The investors hired a team of Swiss watchmaking consultants to bring the factory up to date with manufacturing processes.
Talking about his first visit to Raketa Watches, David says, it was like a diamond laying on the floor, which I just picked up.
Read our exclusive interview with David here
Matthew Cule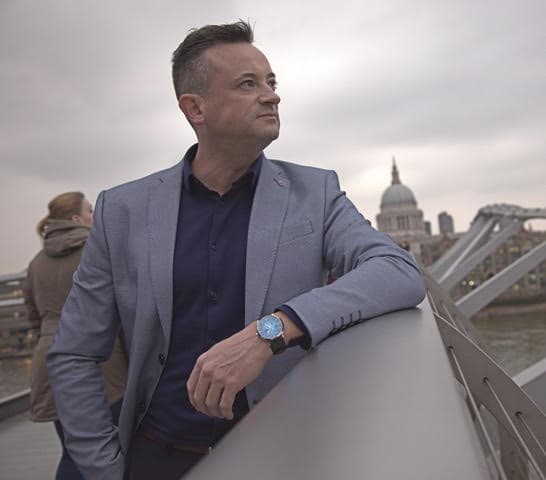 Matthew is the founder & CEO of CuleM Watches, an independent brand which creates contemporary and affordable Swiss-made, automatic watches for people who love the world.
After building and eventually exiting a business in the BPO industry, he founded CuleM. He felt compelled to start a new venture which enabled him to support the causes he believed in, while also combining his three passions: travel, watches and the world.
Matthew has spent a lot of time travelling and discovering new cultures, a journey which eventually led him to relocate to Spain. He launched his business there, he's learning Spanish and enjoying the Mediterranean lifestyle. Having visited over 60 countries to date, his goal is for CuleM to leave a lasting positive impact on the world that has brought him so much joy and purpose.
Read our exclusive interview with Matthew here
Sid Vasili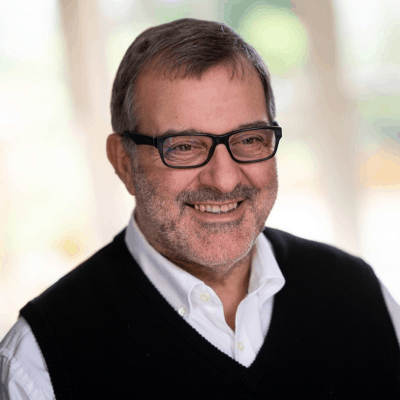 Sid is a passionate watch collector. He has built successful FinTech companies, changing the way businesses think and operate through technological disruption.
He has developed ground-breaking solutions for working capital, payables, receivables and shared services platforms for the world's largest corporations and banks. He founded Vasili Advisory, allowing him to support leadership teams with mentoring, advice and selective investment, so that they can grow established and start-up companies.
Sid is currently Chairman, Board Member, Shareholder and Advisory Board Member for several companies including CuleM watches.
Read our exclusive interview with Sid here
Eric Caudrelier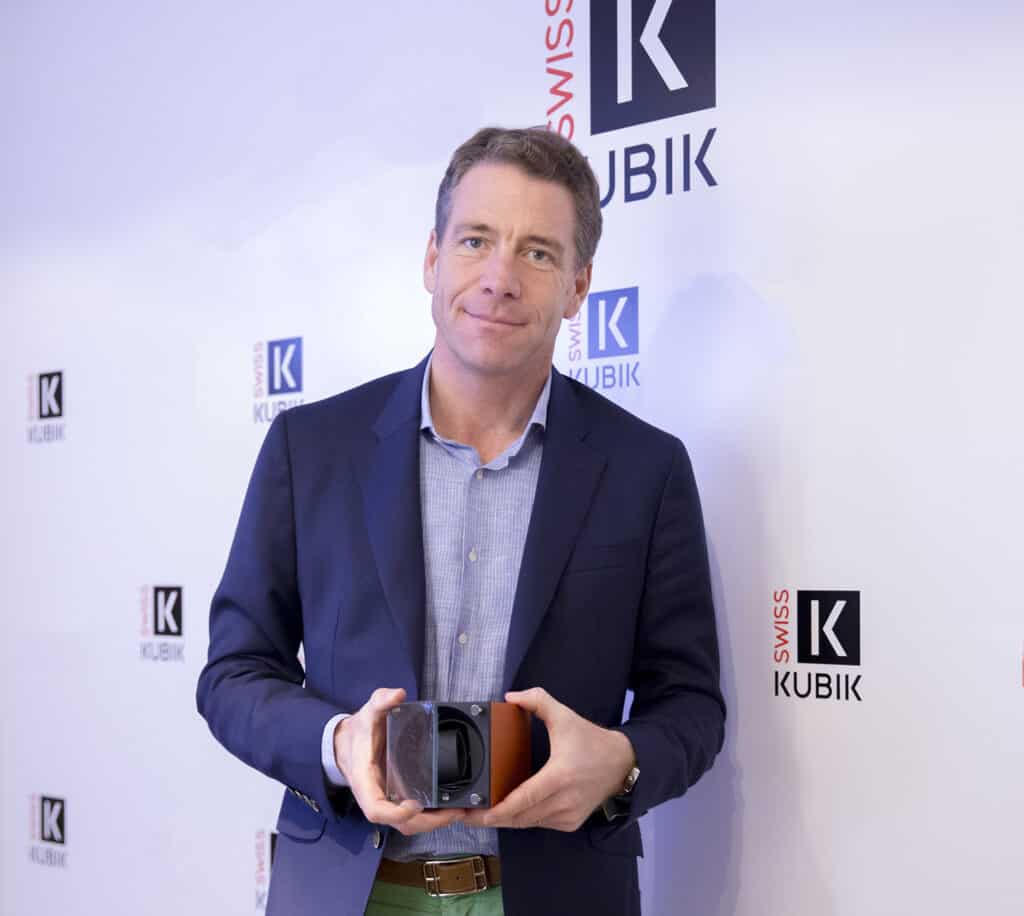 Eric Caudrelier Bénac is the CCO and Co-Owner of SwissKubiK SA and Scatola del Tempo, the mechanical watch winder and accessory companies based in Switzerland and Italy.
Eric has lived in Switzerland for the past 30 years and studied in Lausanne at the Hotel Management School (EHL) in 1991. His first professional role was Area Sales Manager for the leader in Human Resources Management and his first role in the luxury watch industry was in 1997 with de Grisogono as VIP and Private Sales Manager. He then worked for Bulgari as Executive Sales Manager, in charge of Eastern Europe and Central Asia. Finally, he launched his own distribution company in 2010, representing several watches and accessories brands mostly in Central Asia and Eastern Europe. Of all the brands within his distribution portfolio, one was: SwissKubiK.
Eric took up his position, after having purchased the two brands in 2017 and 2018 respectively. His ambition is to become the leading brand in the luxury watch winding business. He has always had a passion for luxury watches and this passion guided the path to his current position.
When asked about his vision for the future of SwissKubiK and Scatola del Tempo, Eric is known to joke, that he would love to see the name of SwissKubiK or "Kubik" (as it is affectionately referred to by fans of the brand), become the common name spoken when referring to Watch Winders in general, like Hoover or Google did!
SwissKubiK's company ethos is, "What you value deserves to be cared for" and Eric believes this sentiment is one of the most important things for everyone at SwissKubiK to consider throughout the development and manufacturing process.
Watch the video of our exclusive interview with Eric here
John van Steen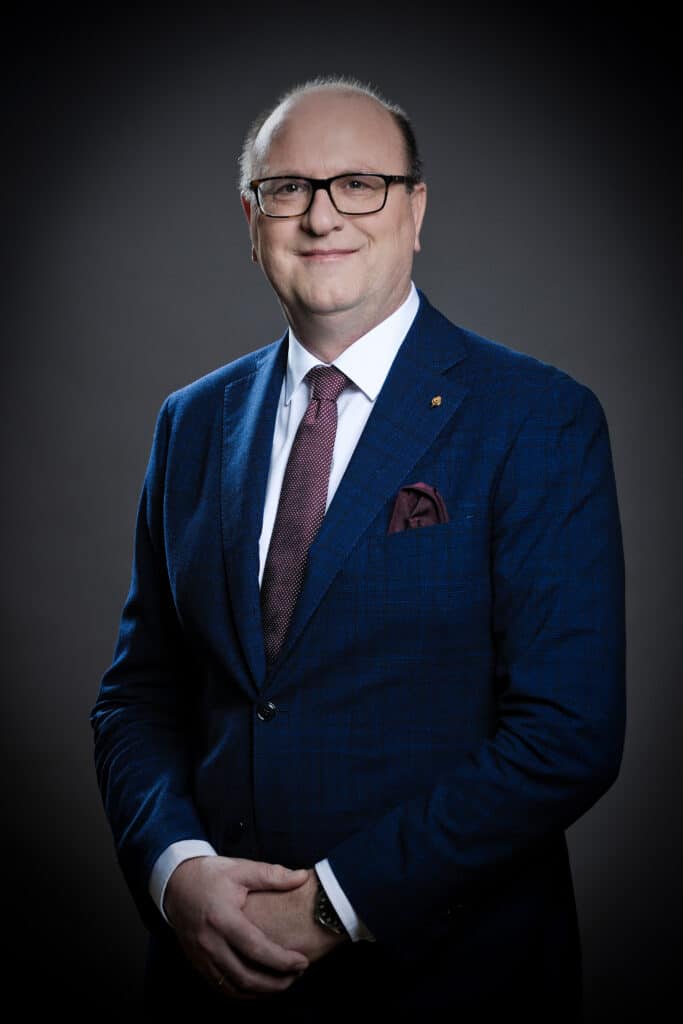 John van Steen is the CEO of MeisterSinger. He has a hands-on mentality and learns by doing. John is a watch veteran with 20 years' experience in luxury retail. Working in the past with brands like Eberhard & Co and Nomos-Glashütte.
Since 2003 active with/for the German Single Hand watch company MeisterSinger. First as distributor for The Netherlands, followed in 2013 by an appointment as Sales Director at HQ. Now beside Founder Manfred Brassler Managing Partner.
He strongly believes in partnership with both retailers as distributors. On and offline retail should go together and grow in mutual co-operation between all partners in the retail chain. With his experience and charisma a real brand ambassador for MeisterSinger with an absolute commitment towards the Brand and its Philosophy.
John believes that life isn't measured in time, but in moments and you should enjoy those to the max.
Watch the video of our exclusive interview with John here
Alexander Shorokhoff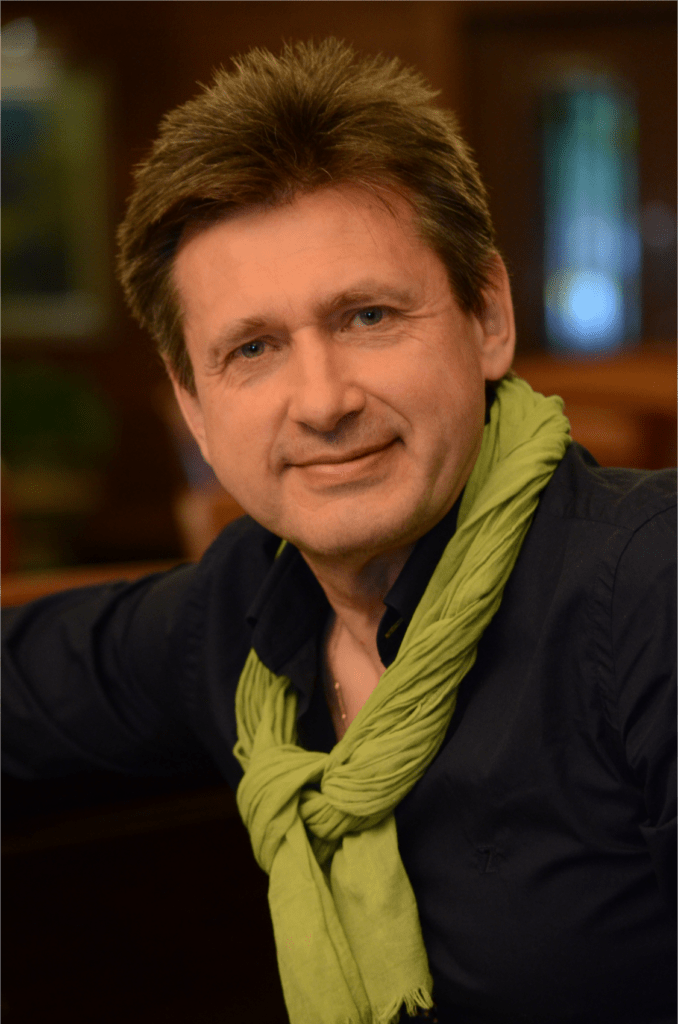 Alexander Shorokhov, founder and name giver of the Alexander Shorokhoff watch manufacturer, was born in Moscow in 1960. He studied architecture and is a trained civil engineer, which is where his flair for forms and colors and his aptitude for extraordinary design originated.
In accordance with an arrangement between German federal chancellor Helmut Kohl and Russian president Michail Gorbatshov, he came to Germany in 1991 as one of Russia's best managers in order to further his education at the ministry of economics in Hessen.
Just one year later, he established a pan-European straight sale and distribution market of watches of the largest and most important Russian brand "Poljot" before establishing his first in-house watch brand "Poljot International" in 1994.
Whoever knows Alexander Shorokhov, knows that he is not satisfied by doing things by halves. He wanted to create watches on his own with higher standards of workmanship, quality and design. Quickly he set himself a new target: In 2003 he took the next step in Germany. In the heart of Alzenau, a small idyllic town in Bavaria he established the Alexander Shorokhoff watch manufacture that carries his name. The double "ff" at the end of his last name emphasizes his Russian roots and the brand's historic background, which he is very proud of.
Alexander Shorokhov is a world citizen. He travels the world and draws his inspiration from the many countries and cultures he visits. However, his greatest source of inspiration is his Russian roots, based on a rich and deeply pronounced millennial art and cultural history. These facets combined with German precision result in the unusual individual design of the watches, paired with a lot of dedication, excellent quality and highest possible precision.
Read our exclusive interview with Alexander here
Emmanuel Breguet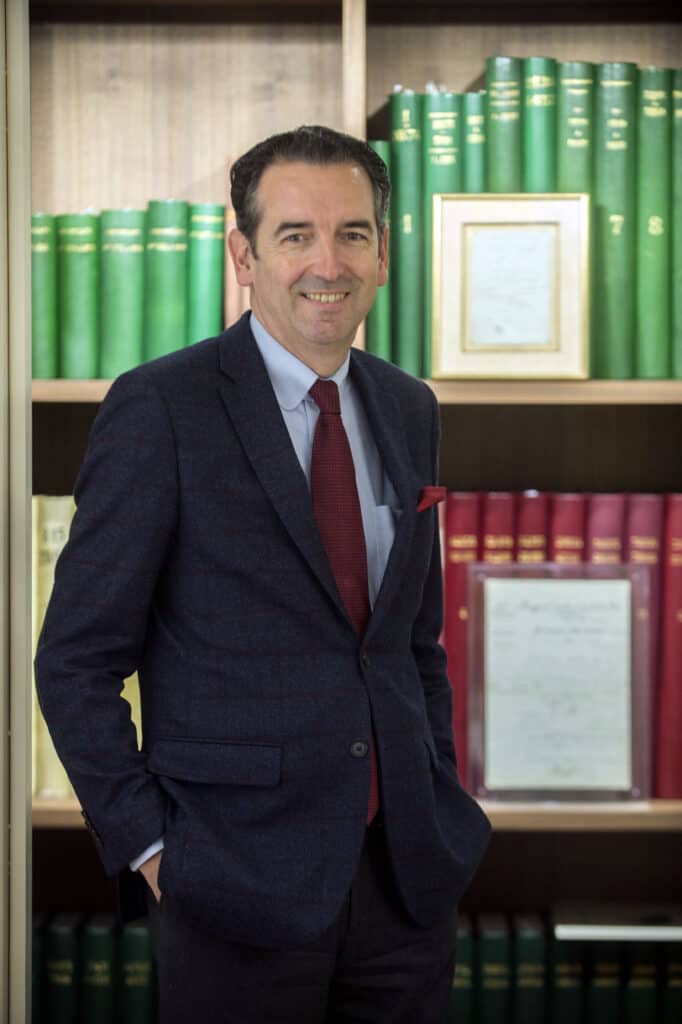 Emmanuel Breguet is a seventh-generation direct descendant of Abraham-Louis Breguet. Born in Saumur (Loire Valley) in 1962, he is a historian by training. He graduated from the Paris-Sorbonne (Paris IV) University, with a DEA in history. He specialised in the history of economics and technology, and published numerous studies, particularly on civil and military aviation, before devoting himself to the work of his legendary ancestor, watchmaker Abraham-Louis Breguet.
Emmanuel Breguet joined the Breguet company in 1993 as curator of its historical heritage. He oversees the exceptional body of archives stored in the Breguet Museum in Paris, Place Vendôme, as well as the Breguet museums in Zurich and Shanghai. In 1997, he published the book "Breguet, Watchmakers since 1775. The Life and Legacy of Abraham-Louis Breguet (1747-1823)." The re-publishing of this work in 2017 contains a great deal of new information and images regarding the history of the brand. A new chapter is dedicated to the actions undertaken by Swatch Group founder, Nicolas G. Hayek, as Head of the Brand from 1999 to 2010. (452 pages and over 500 illustrations).
In 2009, Emmanuel Breguet was co-curator of the exhibition "Breguet, an Apogee of European Watchmaking" organised by Le Louvre Museum in Paris, and the main author of its catalogue, which became a bestseller. In 2011, he was co-curator of the Breguet exhibition hosted by the Swiss National Museum in Prangins and Zurich. In 2015, he was again co-curator of the exhibition "Breguet, Art and Innovation in Watchmaking" organised with the Fine Arts Museums of San Francisco. He also organised Breguet exhibitions in Saint-Petersburg (2004) and in Istanbul (2010). Mr. Breguet is also the author of the book "Breguet, One Century of Aviation" published in 2012 and devoted to the aeronautical career of his grand-father Louis Breguet (1880-1955), pioneer of aviation.
Emmanuel Breguet served as Breguet Brand Manager in France from 1997 to 2014, and is currently a Vice-President of Montres Breguet as Head of Patrimony. He lives in Paris with his wife, and has three children.
Read our exclusive interview with Emmanuel here
André Clémençon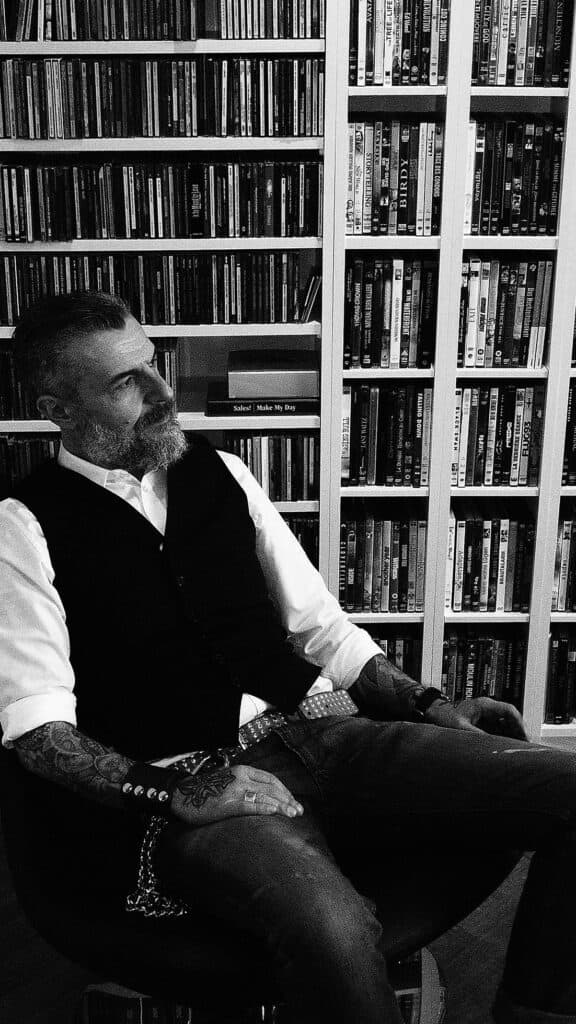 André Clémençon created his brand in 2019 and introduced his two first models to the market in 2021. André is a design enthusiast, passionate tattoo collector and a convinced Weird Gentleman. He has a life-long involvement with watches and good design: generations of his family were employed in the watch industry, including his father, grandfather and great-grandfather.
André Clémençon lives and works in Biel/Bienne (Switzerland) – the heart of the Swiss watch industry and the home of major watch producers and manufacturers – and in Berlin (Germany), regarded as the tattoo capital of the world. He is responsible for the design, marketing and development of the watches, and for the brand.
Read our exclusive interview with André here
Thilo Mühle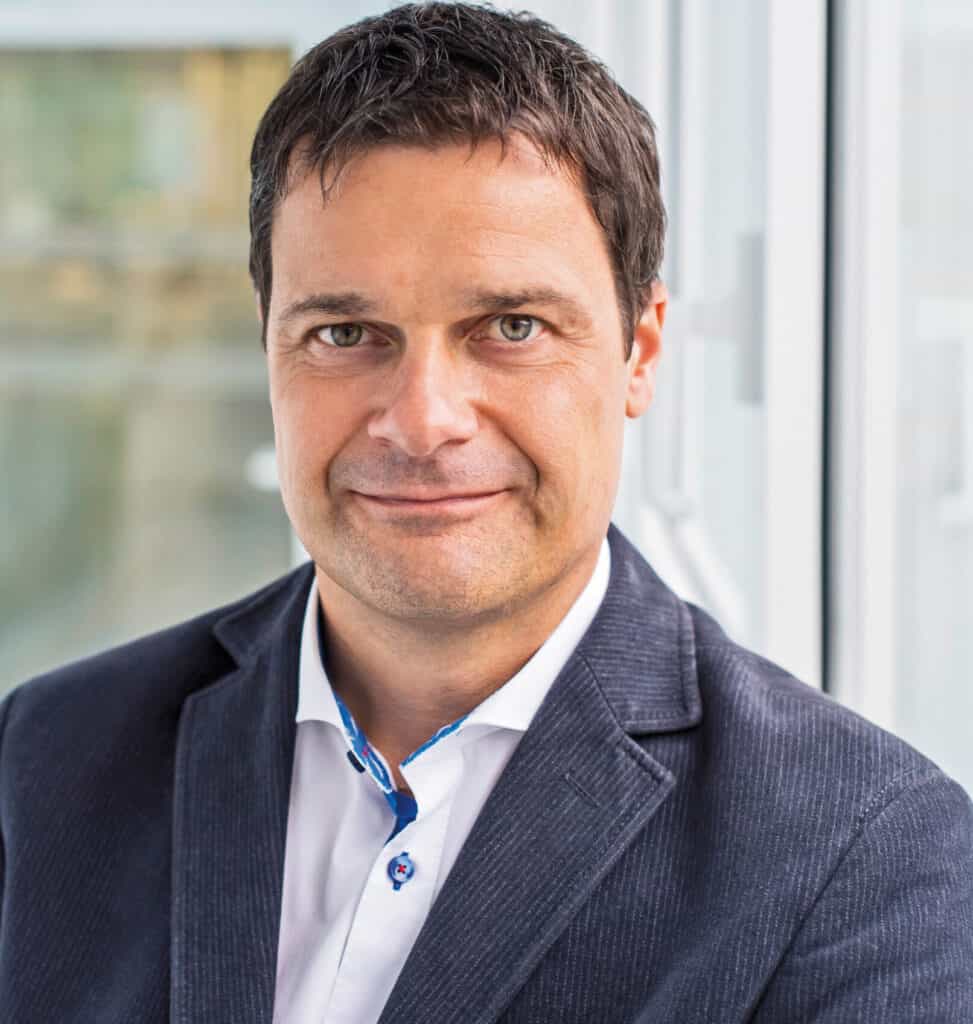 Thilo Mühle has been Managing Director of Mühle-Glashütte GmbH since 2007. In this, he pursued the same path as his father, Hans-Jürgen Mühle, who in 1994 led the family-owned company back into private ownership and managed it successfully since then
Thilo was born in 1968 in Zossen near Berlin. After completing his schooling, he began an apprenticeship as a toolmaker at the Glashütter Uhrenbetriebe, the Glashütte Watchmaking Works, with which the company of his forebears had been merged in 1980. In the years that followed, he gained work experience as a toolmaker and as an outside sales employee for a watch wholesaler from the German city of Bad Kreuznach. As preparation for his re-entry into his father's company (2000), Thilo completed a two-year advanced training as an office administrator.
One of his first projects after his return was the five-part jubilee-edition homage to Robert Mühle, which developed into a major triumph for Mühle-Glashütte and a successful début for him. In the year 2004, he became the second Managing Director alongside his father, and in 2007 he took over the sole management of Mühle-Glashütte GmbH. Since then, he has led the firm with a far-sighted and goal-minded management style. He is restructuring the company, has hired a highly-motivated, experienced team, especially for sales, and is thus making a successful transition of generations.
His profession is not the only realm in which Thilo is always seeking new challenges. His hobbies include endurance sports such as mountain-biking and bicycle racing. "Only those who are physically and mentally at the top of their game can also deliver peak performance in their job", explains his passion for sports. In addition to cycling, he also enjoys running.
Watch the video of our exclusive interview with Thilo here
Nicholas Bowman-Scargill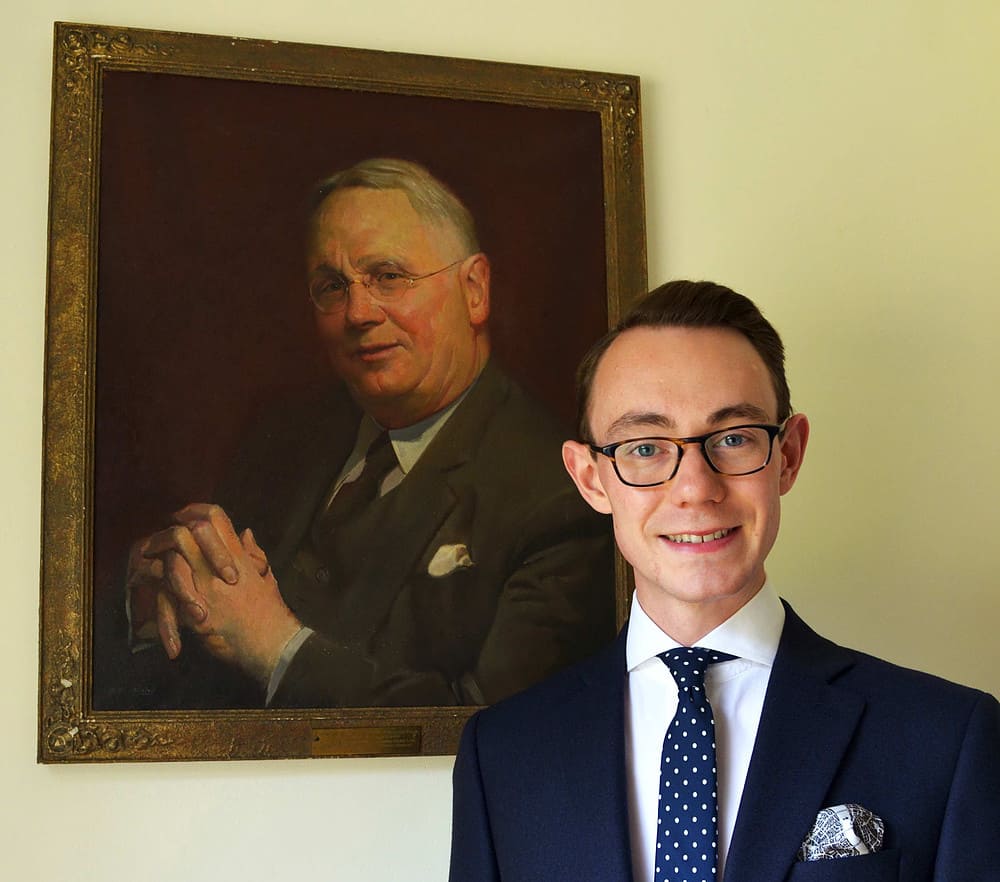 Nicholas Bowman-Scargill, is the 4th Managing Director of Fears Watch Company. After six decades dormant, Fears has been re-established by Edwin Fear's great-great-great-grandson, Nicholas, to once again produce high quality wrist watches designed in Britain and made in Switzerland.
As one of the oldest family-run watch companies in Britain, they are very proud of their distinguished history. As the 6th generation of the Fear watchmaking family, he brings the heritage of the company forward into the modern era. While working as an apprentice watchmaker at Rolex in London, Nicholas re-launched his family's company at the SalonQP watch show on 3rd November 2016. Fears released its first wrist watch in the twenty-first century, the Redcliff. Fears released its second wristwatch, the Brunswick, named after Brunswick Square in Bristol.
The first 1,000 days since the company was re-established are marked by the launch of a limited edition watch – the Redcliff 'Streamline', inspired in design and price by Fears' original 'Streamline' watch from 1946. In 2020, Fears becomes a partner of the UK Government's GREAT Britain campaign. Part of the London 2012 Olympic legacy, this campaign was created to highlight the best the UK has to offer the world.
Watch the video of our exclusive interview with Nicholas here
Leon Leong
Leon Leong is the Founder of BOLDR Supply Company a brand for the adventurers of the world.Based out of Singapore, they manufacture watches and gear that's super-tough, stylish, functional, and built to be used and abused every day.
Leon graduated from the National University of Singapore with a degree in Communications and New Media. He then attended one of Europe's leading technical and engineering universities, KTH Royal Institute of Technology in Stockholm.
He loves outdoor adventure, in particularly, Bouldering which was the inspiration to create the BOLDR brand. Leon is passionate about engineering and creating watches that last for life and is always looking to develop new products, come up with fresh ideas, and inspiring collaborations with individualistic creators.
Read our exclusive interview with Leon here
Xavier de Roquemaurel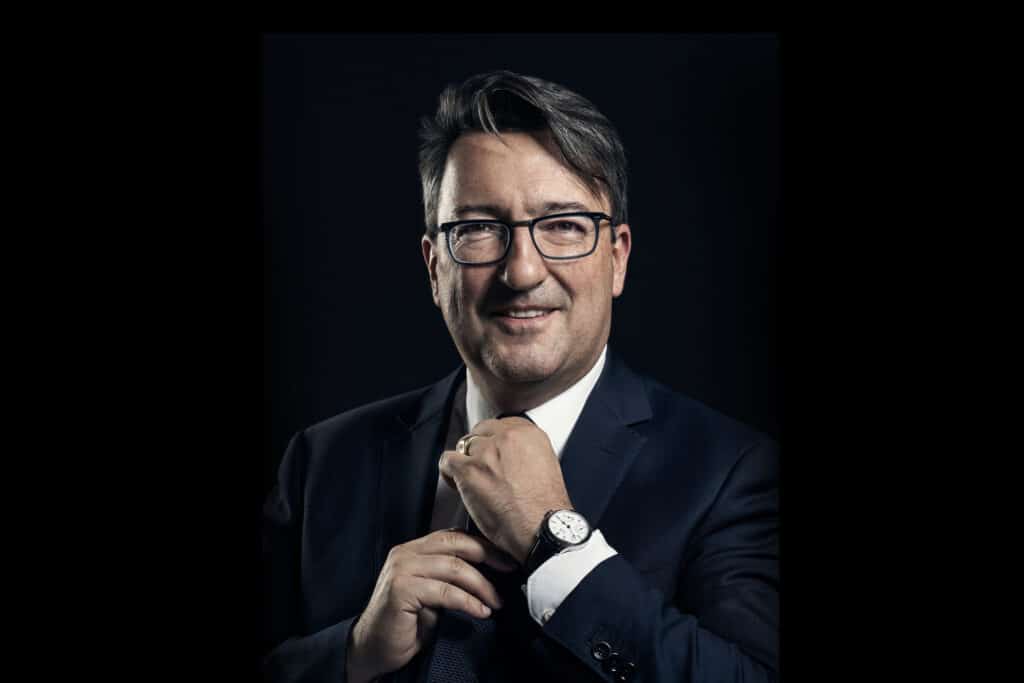 Xavier de Roquemaurel is CEO of the independent luxury watch brand Czapek & Cie. Xavier, together with partners Harry Guhl and Sébastien Follonier, revived the brand in 2015 with an exceptional collection, inspired from an original 1850's Czapek timepiece.
Xavier's background is in luxury marketing, not only in fine watches but also high-end fashion and accessories. Before starting the adventure with Czapek, he worked for several years in executive roles in Marketing and Product Management at the Italian luxury menswear brand Ermenegildo Zegna and Spanish leather goods brand Loewe (part of LVMH group). He also served as VP Brand Marketing at Swiss premium watch brand Ebel.
Xavier de Roquemaurel holds a MBA from IESE in Barcelona and serves as Lecturer on Entrepreneurship at ESSCA (France).
Watch our exclusive interview with Xavier here
Louis Jalaber & Simon Szleper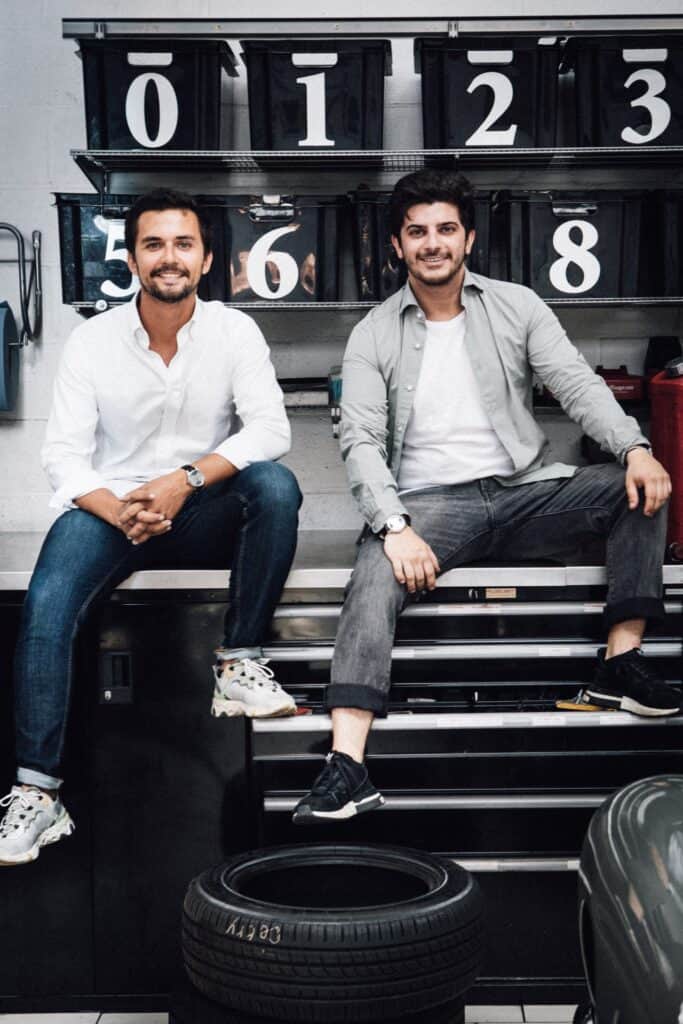 Simon Szleper
Simon (right) was born and raised in Brussels, in an entrepreneurial family, that taught him early on that vision and hard work are vital components to launching your own business. These were lessons Simon would take seriously, launching his first company at 14! Simon elected to attend university in London, falling in love with the city and graduating with a Bachelor's Degree in Marketing from Westminster University. Before the age of 25, he would also live in California, Madrid and Paris, soaking up inspiration from each city, to become a true citizen of the world.
Hugely ambitious, Simon moved to Paris to begin his Masters Degree in Digital Marketing at ESCP, one of the top European universities. It was at ESCP that Simon met Louis, founding Atelier Jalaper with him at just 22 years old. Simon is responsible for the Marketing and Production side of the business, using his multi-lingual, well-travelled background to inject his endless creativity into the Atelier Jalaper brand, always thinking outside the box.
Louis Jalaber
Louis (left) grew up in France, near to where his uncle ran Europe's legendary garage, 'Équipe Europe', the largest in Europe. Louis spent all the time he could surrounded by the master mechanics of top automobiles, a lifelong passion that soon extended to the intricacies of the far smaller, but no less complex, machinery of watches. As soon as he left school, Louis moved to Geneva, working in watch-making, where he immersed himself in every aspect of the industry, from both the more technical aspects of the mechanicsms, to the artistic side of the creation and design. These skills would come in hugely handy, just a handful of years later…
Louis gained his first Masters degree in Business Administration from the University of Applied Sciences in Tirol, Austria, but it was whilst studying for his second masters in Marketing at ESCP in Paris, that he met Simon. Louis was immediately a great counterbalance to Simon's skill-set, with his own deep understanding of both the watch and car industry. Louis went on to work at IBM for a couple of years after graduating, developing the analytical skills that would be put to great use as the Finance and Commerce Lead of Atelier Jalaper.
Read our exclusive interview with Louis and Simon here
Antonio Calce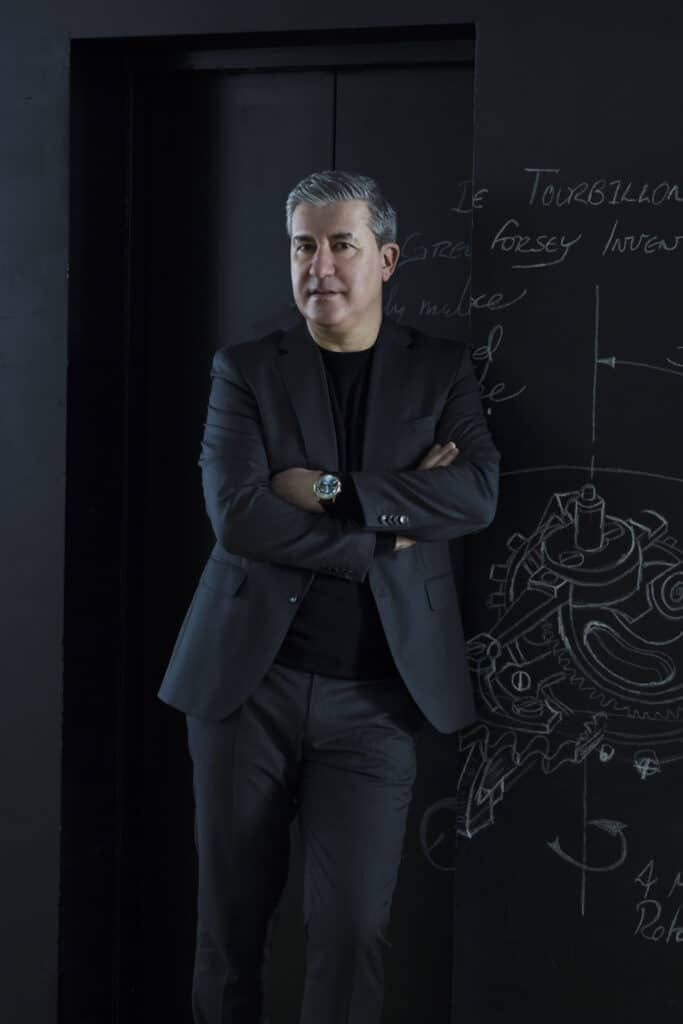 Born in 1967 in Switzerland, Antonio Calce graduated in microtechnology and business management. He began his career in 1994 at Piaget. Between 1997 and 2005, he was successively appointed product development manager and then general manager of Officine Panerai. He joined Corum in 2005, was appointed CEO in 2007 and spent a decade at the head of the brand. In 2015, he was recruited by Kering to lead the Sowind Group as CEO. In 2020, he joined Greubel Forsey, firstly as advisor to Robert Greubel before being appointed Chief Executive Officer and Executive Board Member.
Read our exclusive interview with Antonio here
Stephane Waser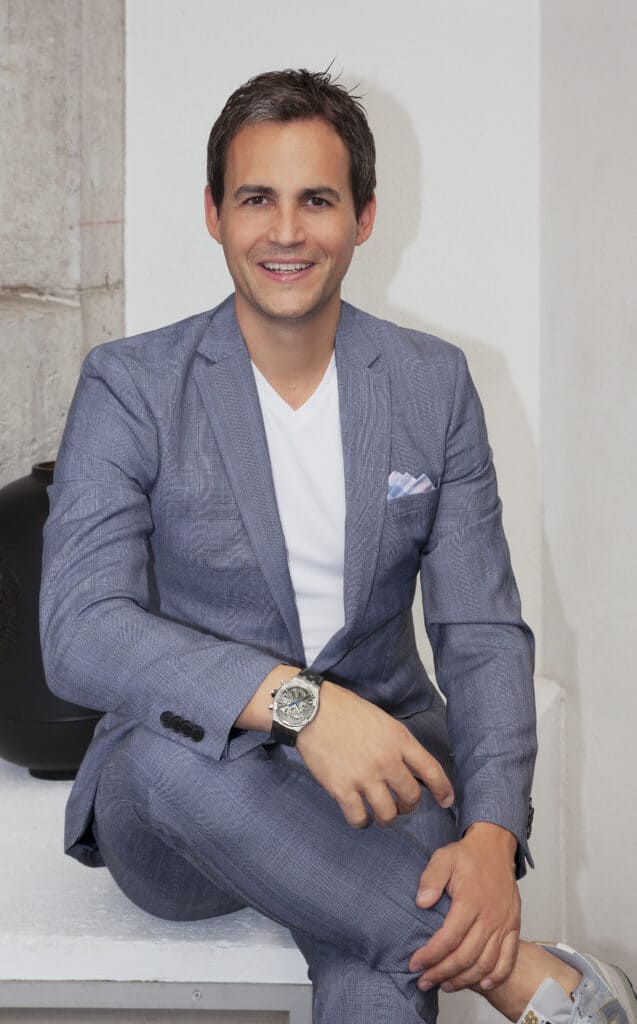 Stephane Waser joined Maurice Lacroix in 2008 as International Marketing Director and manages the brand since 2014. Recently, he has relaunched the brand and revived the Aikon (Calypso) collection to make it the hero product of Maurice Lacroix, representing after 3 years more than 50% of total sales. With this relaunch, he has also restructured the company and optimized the industrial (production) organization, accelerating the speed to market of watches. Previously as marketing director, he negotiated the FCB Barcelona partnership, won numerous Swiss and international marketing/communication awards for the social media campaign 'French Job', developed the campaign 'Your Time is Now'. Stephane's core ambition is to rehabilitate Maurice Lacroix as one of the most important luxury watch brand amongst the affordable watch segment (CHF 1'000 – 3'000). Stephane lives in Zurich and regularly travels between Saignelegier, Pforzheim and international markets (Maurice Lacroix is present in more than 45 countries). Outside of work, Stephane enjoys, yoga, fitness, golf, scuba diving and his hobbies include abstract oil painting, cooking & fine wines (goes together!).
Read our exclusive interview with Stephane here
Mathieu Herbelin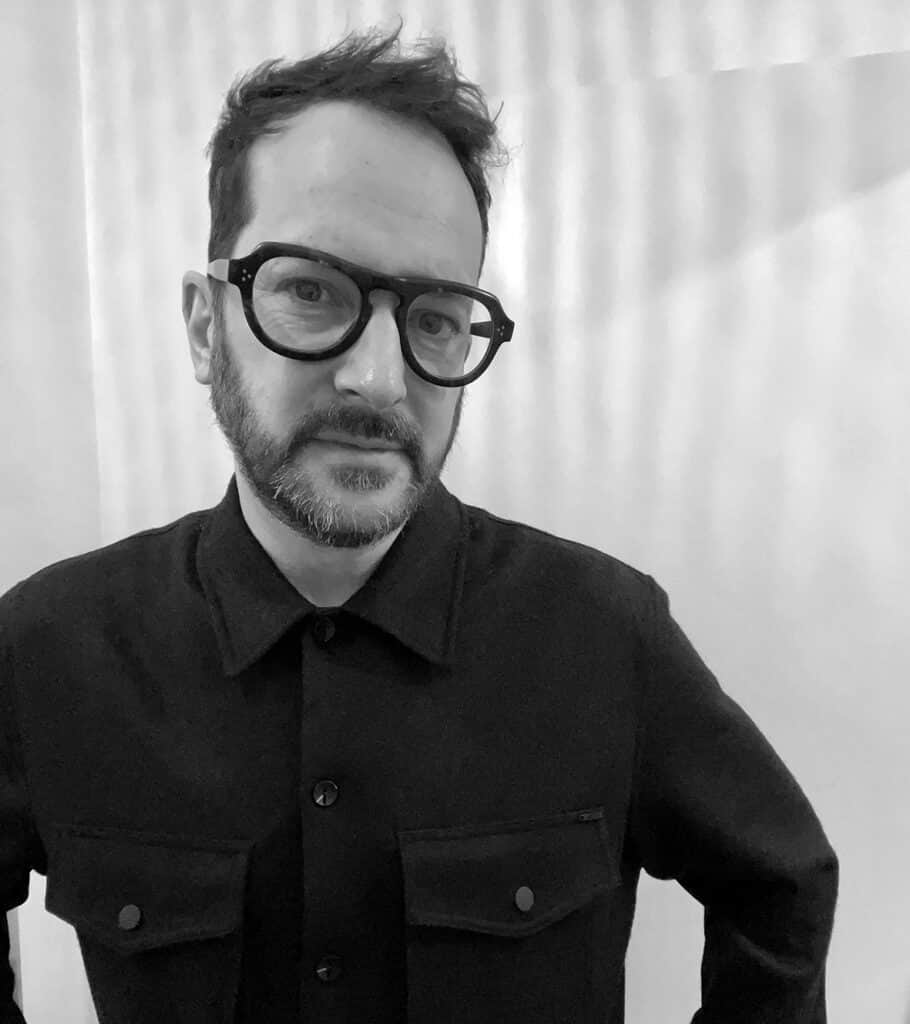 Mathieu Herbelin was born in 1977 and graduated as an architect at L'École d'Architecture de Paris in 2003. In 2004 he joined one of the most well-know and leading team of contemporary artists and architects, developing numerous projects for the "Maisons de Luxe" and for international Art Museums. Mathieu also participated in many exhibitions and "biennale d'art" around the world, Venice, Hong Kong, São Paulo. In 2010 he opened his own studio while still involved in other projects and there he developed his skills as a designer. After being for sometime a consultant for the design team at his family business, in 2014 he decided to join forces full-time at Michel Herbelin, founded by his grandfather, to pursue his passion for design. He became the Creative Director and partner in 2017, managing the product development and creating all the collections.
Read our exclusive interview with Mathieu here
Martin Klocke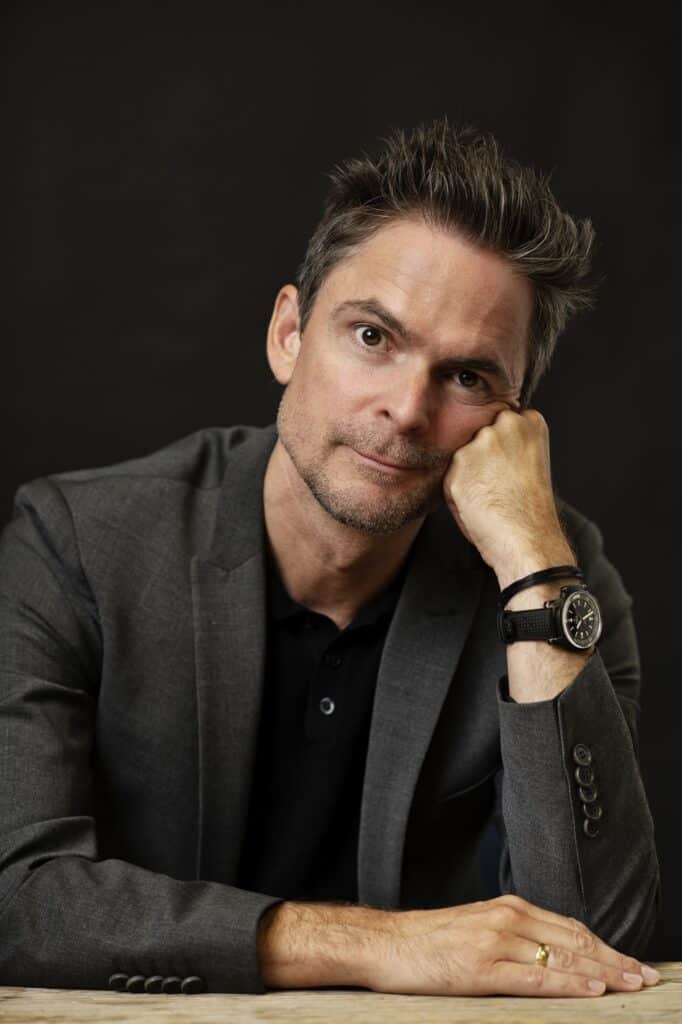 Martin Klocke is Founder of Sherpa Watches. He is a Swiss-born, passionate engineer, Buddhist, and long-time admirer of iconic watch brands like Roamer, Certina, Bulova, Enicar, Junghans and Favre-Leuba. He studied the now classic Sherpa watches from the past and is dedicated to have these celebrated models reborn and made available to a world-wide audience.
In Switzerland, Martin unravelled the secrets of highly respected watch case producer Ervin Piquerez, to stay true to the original technology, style, and quality. Together with a dedicated team of Swiss and German craftsmen, he is the driving force behind the first Sherpa Watches OPS and Ultradive models: divers that proudly show their heritage and meet the today's demands in terms of accuracy and durability.
Read our exclusive interview with Martin here
Hamzat Balogun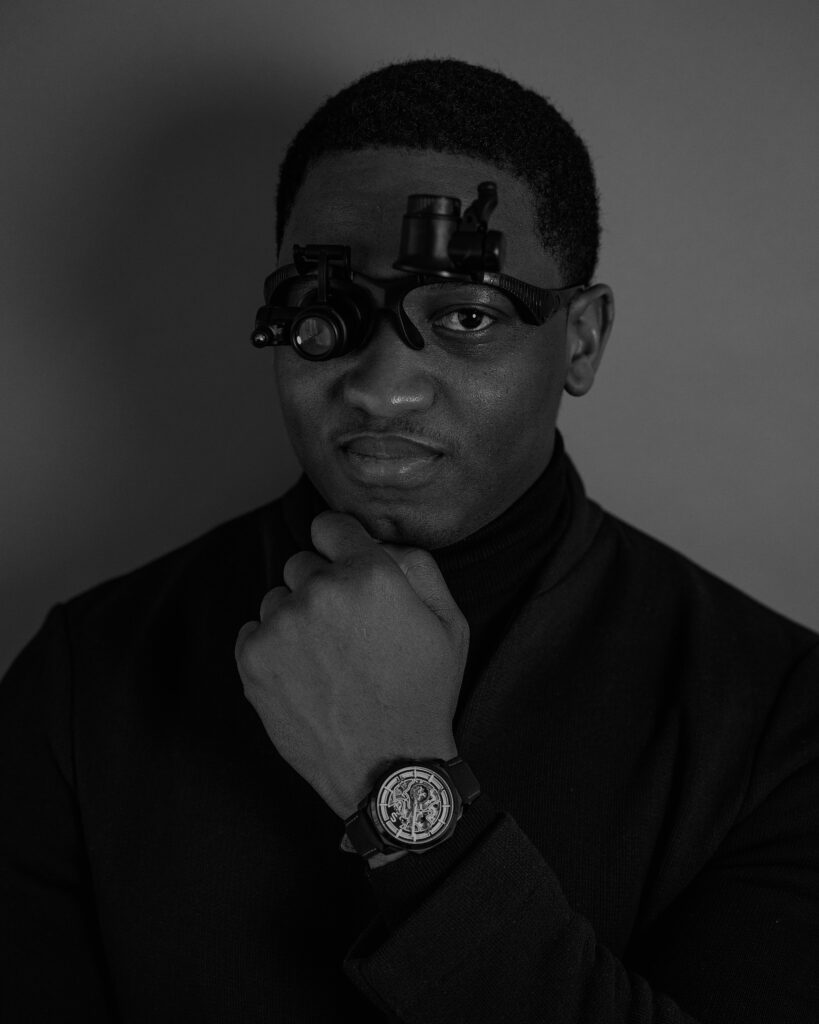 The SOVRYGN brand was founded by Hamzat Balogun, a watch enthusiast is originally from Nigeria and moved to Canada in 2011 to study engineering. Before moving to Canada, he had a passion for watches owing to his curiosity about how things worked and receiving them as gifts during his childhood. In the final years of high school and in university Hamzat started collecting and flipping watches for some extra cash. He also had a business where he served as a finder helping customers source timepieces, in addition he operated a website selling watches from brands like Citizen, Bulova, Orient and some fashion brands like Guess and Michael Kors.
With the experience gained collecting, selling, and enjoying watches in combination with the design experience gained while studying to become an engineer, Hamzat developed the SOVRYGN brand to express his creativity. The Calendar collection further showcases Hamzat's superpower in his ability to bring different elements (in this case the 5 complications of the Calendar) together to create perfect harmony on the dial.
Read our exclusive interview with Hamzat here
Maël Oberkampf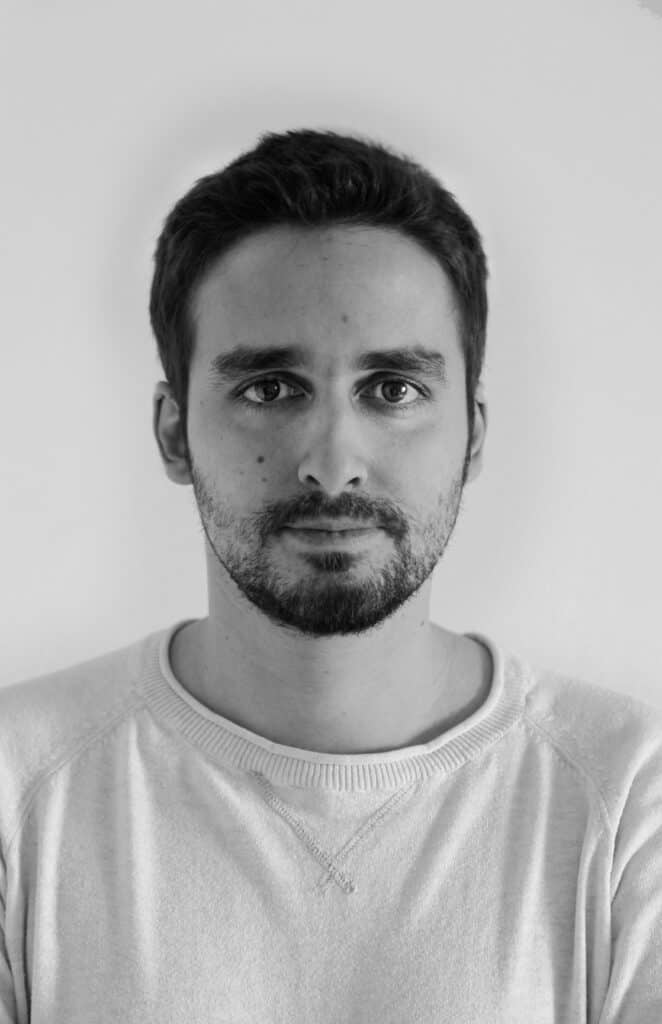 Maël Oberkampf is Founder of Timeless Watches. As a freelance graphic designer, he has been designing watches, as well as yachts and cars, for over five years; and his numerous collaborations with luxury watch manufacturers, including Ladoire, Richard Mille and Florian Preziuso, sparked a desire to launch his own brand. He set himself the challenge of creating high-quality timepieces with bold designs, bearing the Swiss Made label yet remaining affordable.
Strongly inspired by early 20th century industrial design – of which he is a fervent devotee – as well as a more classic and refined style, the creator of Timeless has imagined watches with a timeless aesthetic. As he explains: "I wanted a distinctive design, resolutely contemporary with an avant-garde touch. The result is an object naturally finding its way through time, embodying a subtle encounter between retro and futuristic worlds".
Read our exclusive interview with Maël here
Anna Rolls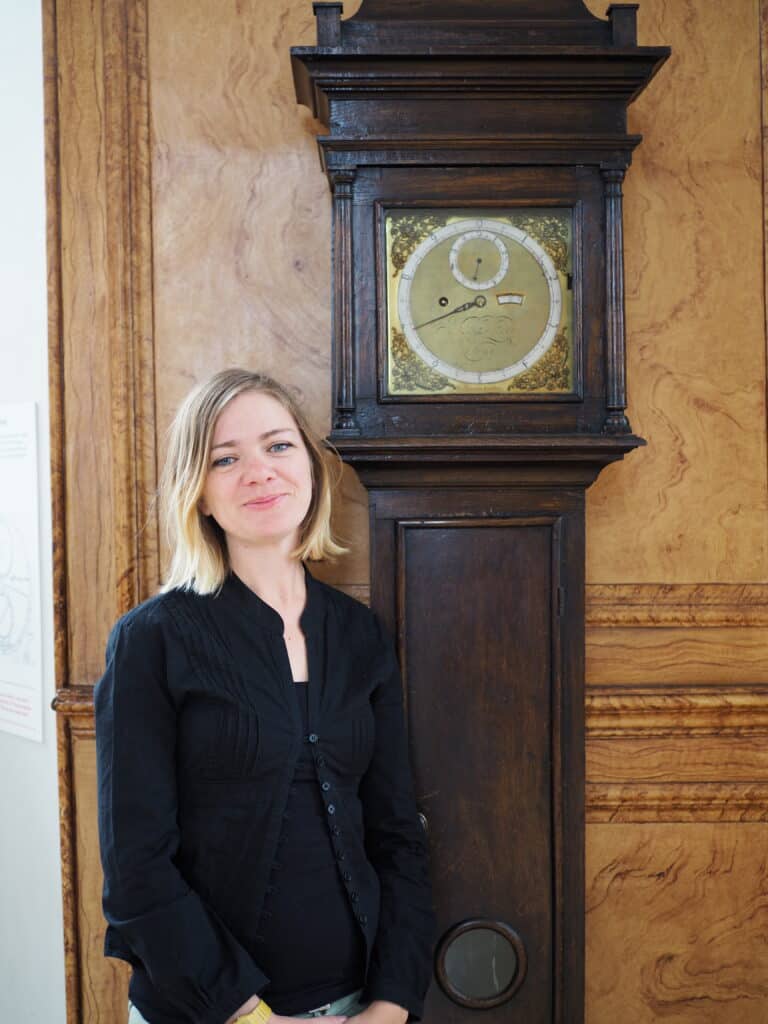 Anna has been working as the Curator of the Worshipful Company of Clockmakers' Museum and Archive since September 2018. Here she looks after a collection composed of over 1,000 watches, as well as clocks, chronometers and other horological ephemera and which is based in the Science Museum London. Prior to this, Anna was employed for nine years as a conservator of metalwork and scientific instruments at the Royal Museums Greenwich, where she worked alongside the horological department and commenced her training with the British Horological Institute's Distance Learning Course. Anna graduated in 2008 from the University of Sussex with a MA in Conservation Studies and has a Postgraduate Diploma in Conservation of Fine Metalwork from West Dean. Since 2019, Anna has been a Council member of the Antiquarian Horological Society.
Read our exclusive interview with Anna here
Patrick Getreide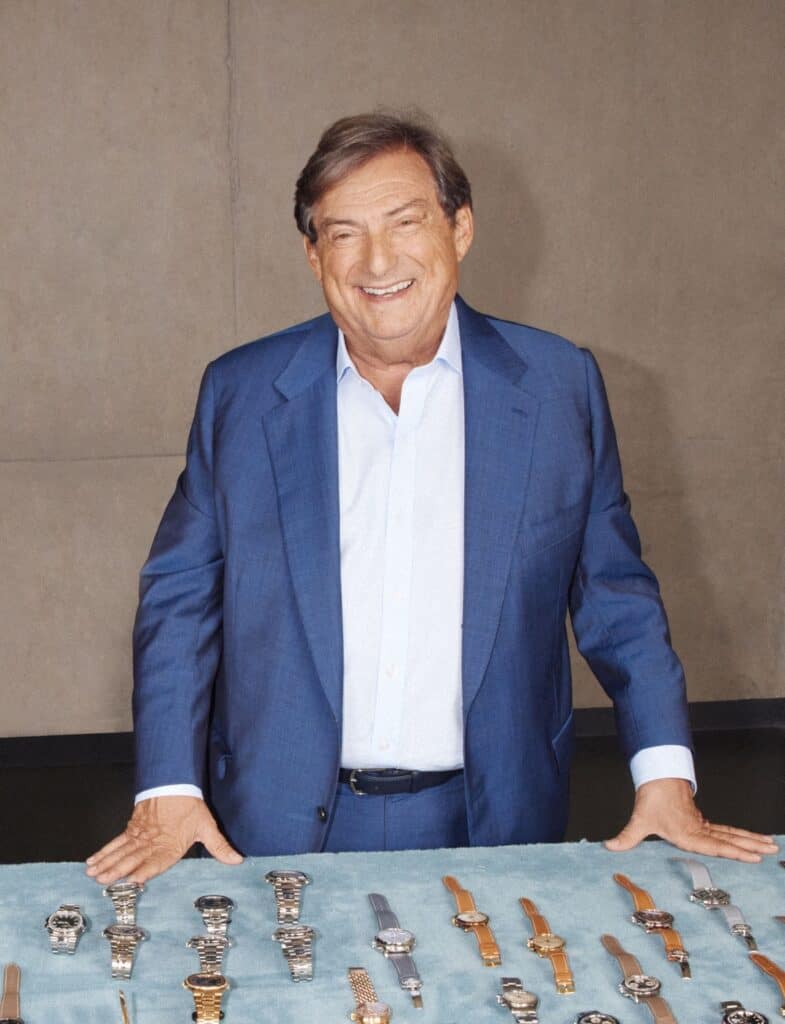 Patrick Getreide has amassed the remarkable OAK (One of A Kind) Collection, which comprises more than 500 pieces in total and is happy to share the story of why and how he came to covet, and eventually own, many of the finest watches in the world. As a young boy at boarding school in Switzerland, he lived among the children of some of the world's wealthiest people – but all he had was a small, weekly pocket money allowance. He didn't feel envy, but he did want to be like those people and their parents. It gave him what he calls 'the Count of Monte Cristo syndrome', a determination to achieve a level of success that would give him freedom to do the things he loved. Patrick achieved his goal as an entrepreneur by exploiting a natural flair for commerce that enabled him to acquire companies that he believed had the capacity to realise far greater potential if their existing business models were intelligently improved upon. Almost invariably his methods were successful, and he eventually attained the freedom he had dreamed of as a schoolboy. Over the decades he has built up a small, tight-knit network of experts who he has come to know and trust and who are now the only people through whom he acquires additions to the Collection. In the early stages of creating the Collection, he would seek-out rarities everywhere he went. In a flea market in France 35 years ago he believes that he acquired his greatest bargain. It was a steel Patek Philippe Reference 130 Sector, and when he saw it, I began to shake. The rest, as they say, is history!
Read our exclusive interview with Patrick here
Inga Duffy-Shorokhova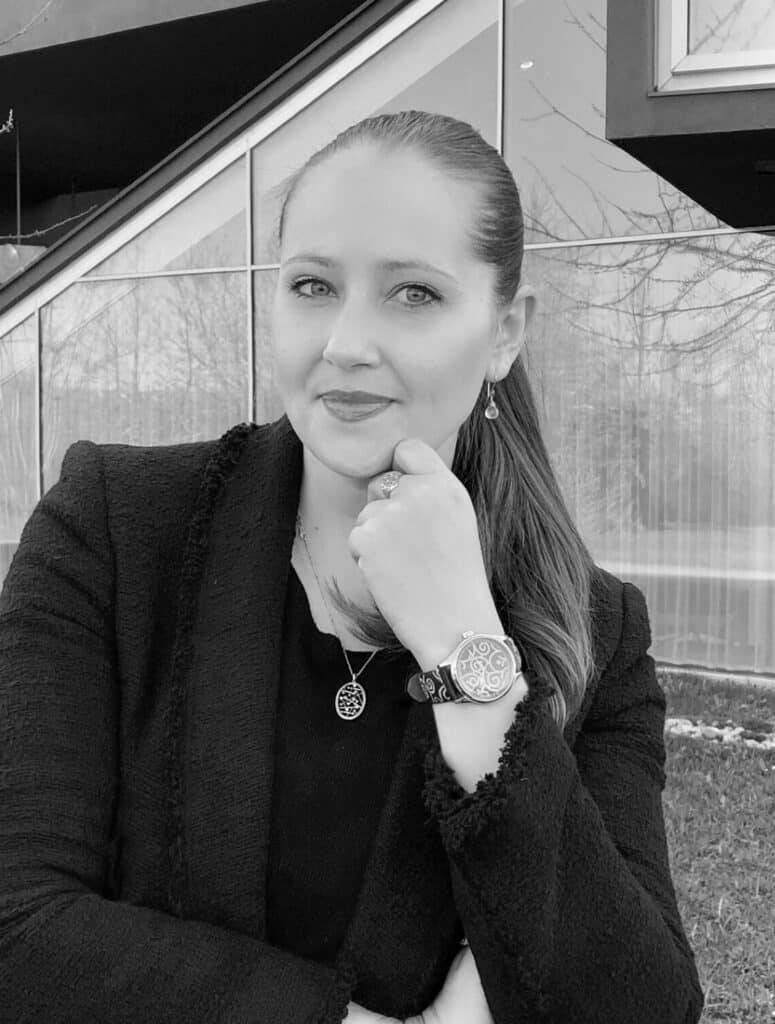 Inga Duffy-Shorokhova is the director of the marketing department at the brand Poljot-International. After graduating as a certified fashion designer, she worked as a fashion designer for almost 7-years and was able to demonstrate her creativity. In order to face further challenges and get to know the luxury industry better, she then studied at the European School of Economics in the field of Marketing & Luxury Goods Management in Milan. Shortly afterwards, she decided to join the business of her father, Alexander Shorokhov and to get involved in the watch industry with passion and great commitment. Since 2015 she has been working successfully in the marketing department of the Alexander Shorokhoff watch manufactory and also taking charge of marketing communications for the Poljot-International brand.
Read our exclusive interview with Inga here
Richard Johnson
Richard Johnson is Co-Founder of ESCUDO Watches. After years in sales, marketing, and distribution I went into retirement and moved to Portugal but was persuaded to restart work by the enthusiasm of my business partner to create and develop the Escudo brand of watches which, whilst being very challenging, has provided two and a half years of highs and lows and has resulted in the Ocean Seacrest vintage divers watch which we have launched to almost perfect acclaim.
Read our exclusive interview with Richard here
Simon Correia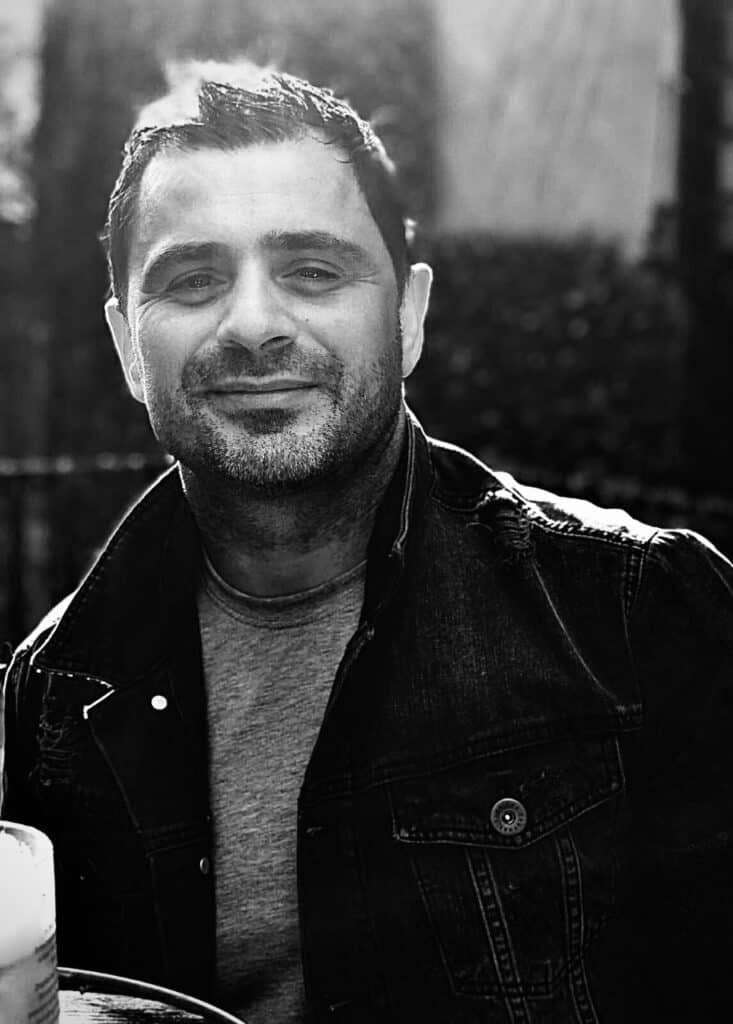 Simon Correia is the Co-Founder of ESCUDO Watches. He was born in Liverpool, but his family are Portuguese. For the past 25-years he has been in the motor trade but his love for watches from an early age, (and Covid) is what has brought him to where he is today. It has always been his dream to design and develop a watch. This was never going to be easy but with the right guidance, a fantastic business partner in Richard Johnson, who believed in the project, an amazing team behind them and of course Max Van Brauge who since day-one, has helped to turn this dream into a reality.
Read our exclusive interview with Simon here
Tim Stracke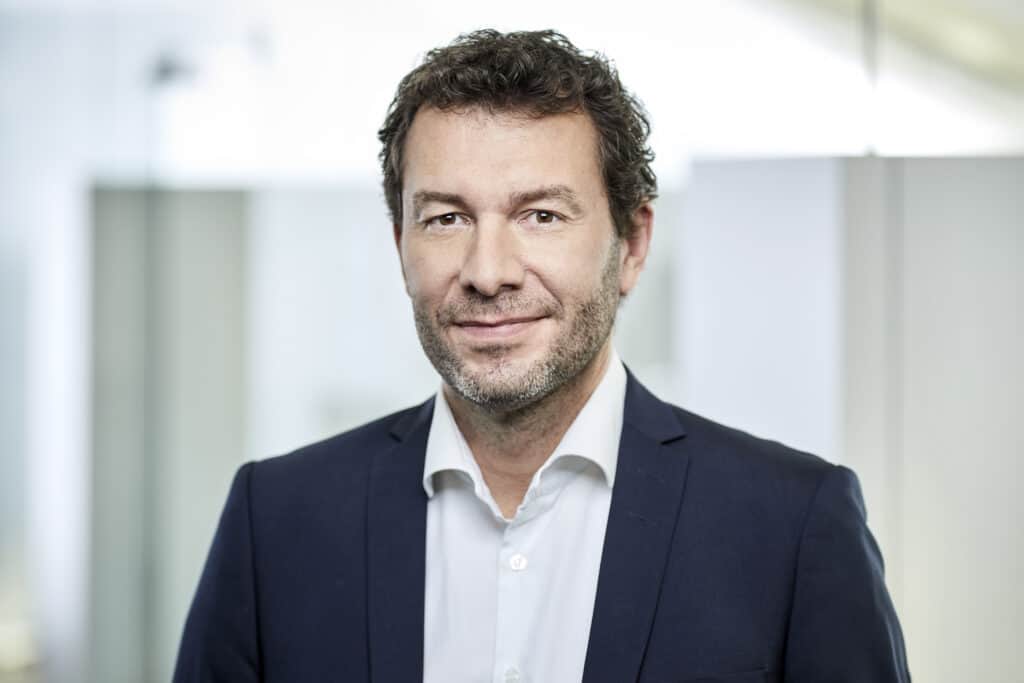 Tim Stracke is the Founder and Co-CEO of Chrono24, the world's largest online marketplace for luxury watches. Chrono24 employs close to 600 people and generated a transaction volume of ca. 2 billion EUR in 2021. Today, one out of two luxury watch lovers worldwide uses Chrono24's website and apps. The Company is headquartered in Karlsruhe, Germany and has offices in Hong Kong, New York, Berlin. Besides running Chrono24, Tim is an active tech investor and father of three young boys.
Read our exclusive interview with Tim here
Megan Young
As a founder of The Watch Atelier, Dutch born Megan Young has developed into a pioneer of the servicing industry and one of the most accredited watchmakers in the UK. Megan first started off her career as a Watchmaker at the age of 16 in Geneva, Switzerland. After developing her passion for the craft, Megan continued to advance in the industry after initially carving her career at Wempe in Hamburg, Germany.
Megan subsequently went on to set up the first-ever watch workshop at the world-renowned Harrods in London, before being headhunted by 'Xupes' in 2019 and building up their in-house workshop. Following several years of impressive growth, Megan rebranded, setup and launched 'The Watch Atelier' in 2022, a state-of-the-art service centre. As one of the youngest female leaders in the industry, Megan has ambition plans to open a world of opportunity for aspiring and skilled professionals at The Watch Atelier, while becoming an industry leading service centre.
WATCHPRO 2022 Award Winner – Watchmaker of the Year
Read our exclusive interview with Megan here
Richard West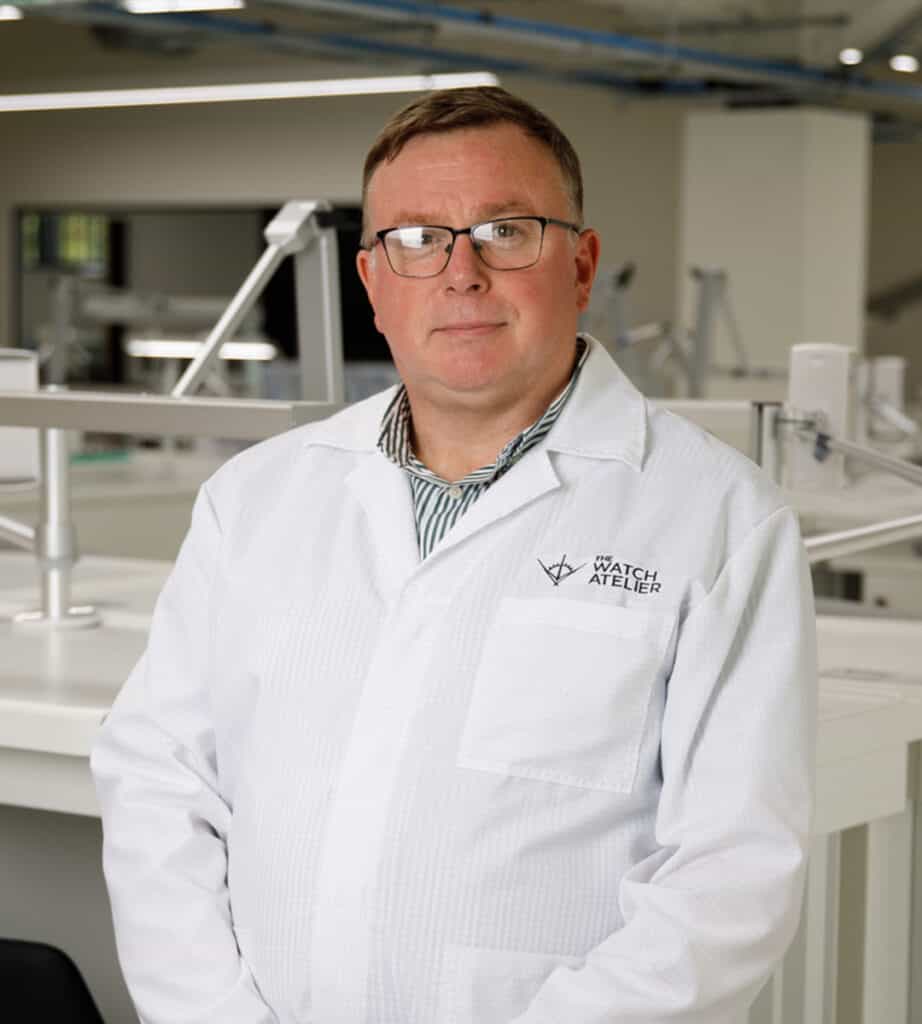 Richard West is the Workshop Manager at The Watch Atelier. As an integral member of team, Richard brings over 40 years of experience to the workshop. Having worked for many brands over the years including Rolex, Omega and Breitling, Richard demonstrates a wealth of knowledge and is vital to the daily functions of The Watch Atelier where he manages the workshop team and ensures the highest standards and quality of service.
Richard built and ran his own workshop for many years, being at the forefront of servicing and growing his business across the industry. Richard is also FBHI accredited, enabling him to train and examine the younger generation of watchmakers starting out in the industry. Plans are in place to take The Watch Atelier to new heights and grow new partnerships and relationships across the industry.
WATCHPRO 2022 Award Winner – Watchmaker of the Year
Read our exclusive interview with Richard here
Dr Jane Desborough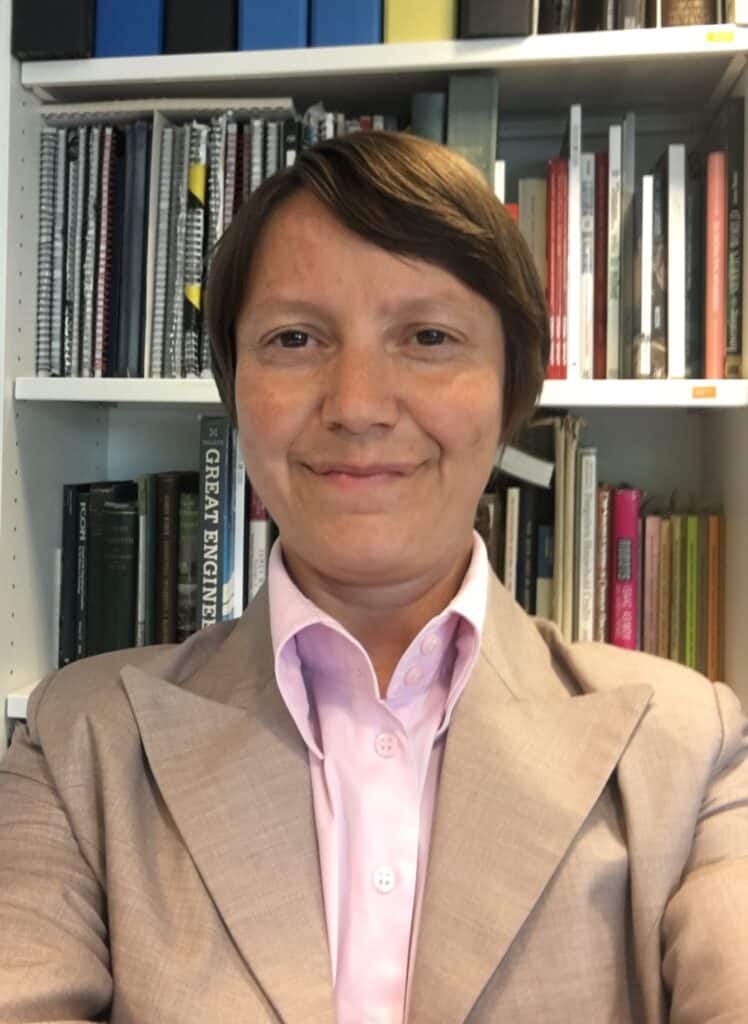 Dr. Jane Desborough is Keeper of Science Collections at the Science Museum in London, where she is responsible for the Museum's Time Measurement Collection. She is author of The Changing Face of Early Modern Time, 1550-1770. She has worked in a curatorial capacity in museums since 2008 and completed her PhD thesis in the History of Science in 2016. She is a Liveryman of the Worshipful Company of Clockmakers and an Associate Member of the Museums Association.
Read our exclusive interview with Jane here
Ken Kessler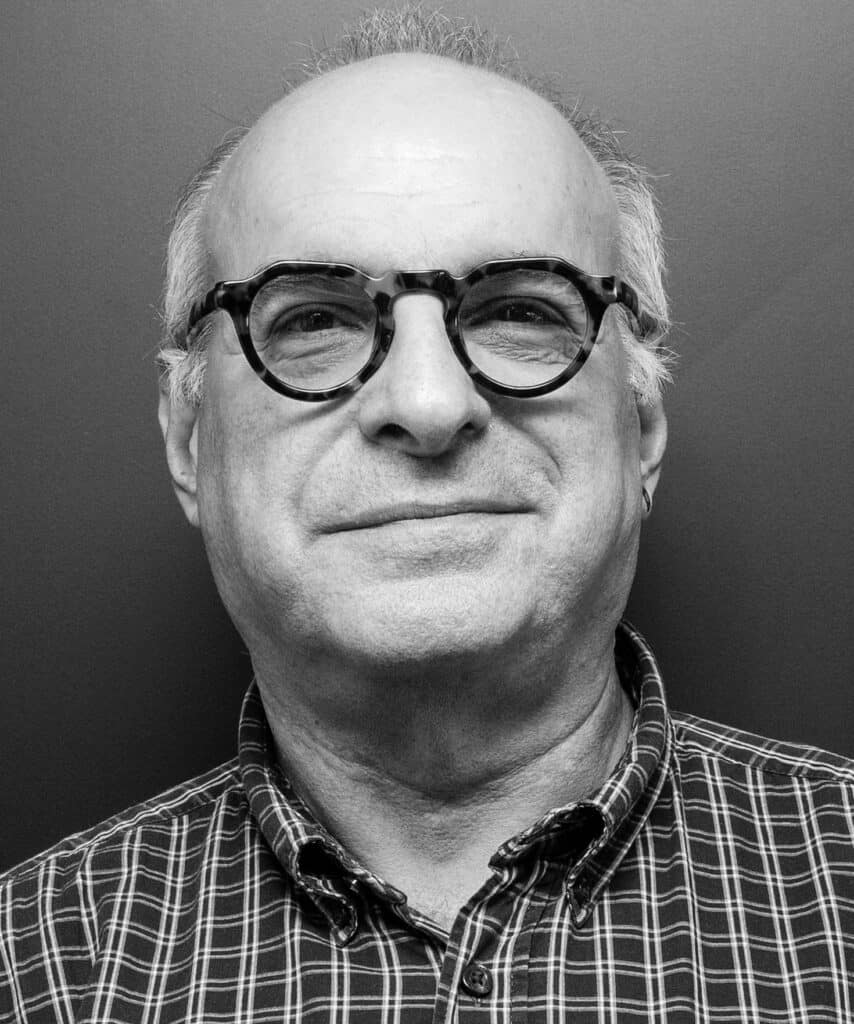 Ken Kessler has been involved with watches for 40-years, initially as a collector, then as a dealer in vintage timepieces. Editor-at-Large for Revolution (UK) from 2013-2020, he has been writing about watches since the mid-1990s, his articles having appeared in the Wall Street Journal, GQ, Men's Health, Top Gear, Esquire, Financial Times, FT How To Spend It, The Telegraph, The Times, Vanity Fair On Time, QP, International Wristwatch (USA), Status (USA), Hour Glass (Australia), Robb Report, City AM, Your London, Motorsport, Mail On Sunday and over 100 other titles. Also a renowned expert in high-end audio, Ken is the author and co-author of four hi-fi histories. His weaknesses include chronographs, military watches and diving watches, while other pursuits include music, literature and wine.
View our exclusive video interview with Ken here